In this post I explain how Conspiracy can be best viewed by understanding the big picture – of how players 'play the game'. I share the big-picture Christian worldview first (i.e. the religious aspects), then I drill down into big finances, big business and global politics. I use "big" because this makes it clearer to see trends & patterns of how things work, but the same principles apply at a low/personal level too.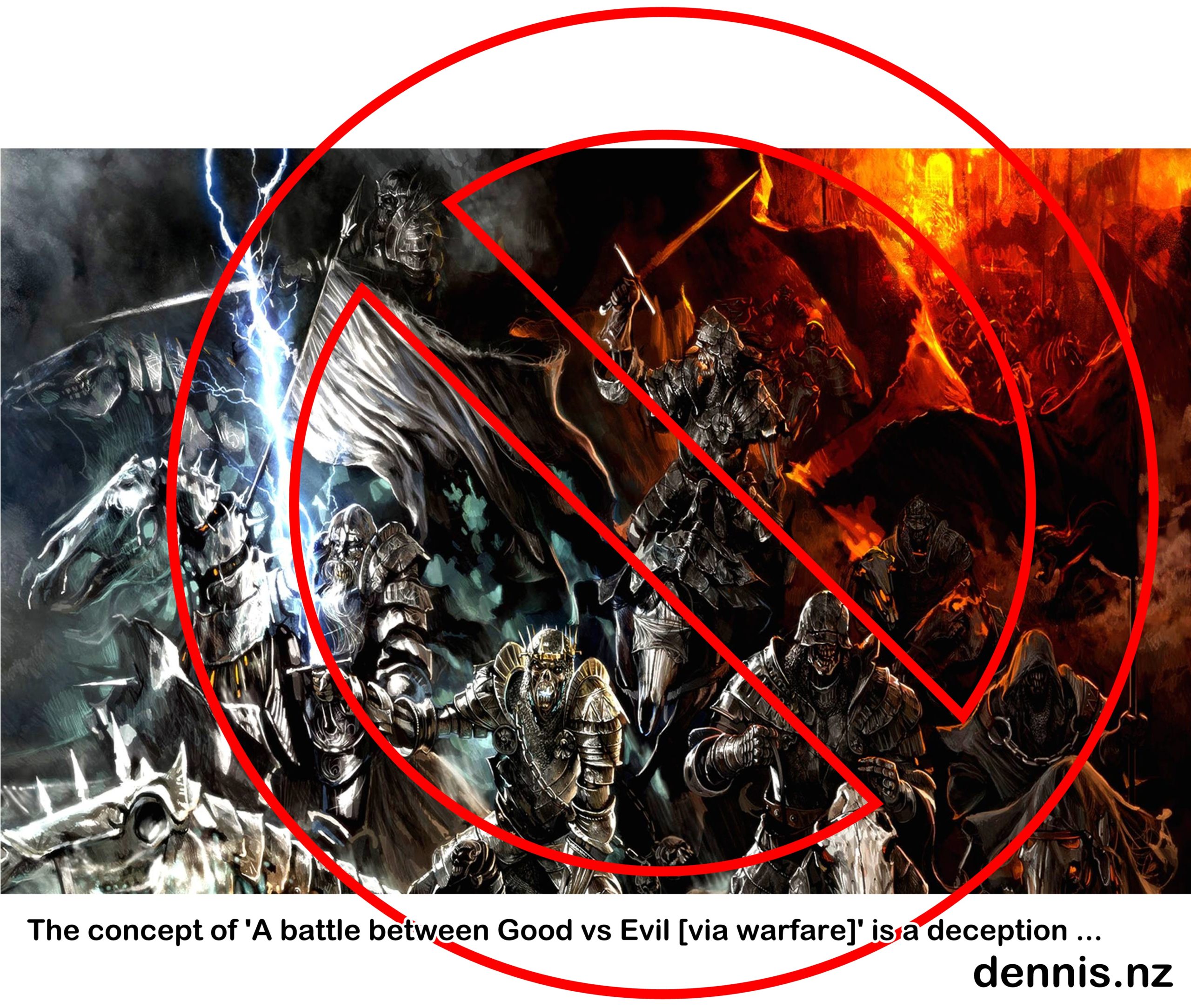 The Christian worldview is that God created. If so, then He created time, and is thus outside of it. Having created all, He will thus know all, and (unless logic fails somehow) will then own and control all.
My observations are that logic does indeed exist, as do absolutes and that His Word is true – He did give power ("dominion") to His creation and mankind did then bequeath this power & authority to a deceiver ("the Fall") which resulted in serious confusion and trauma.
The Christian message of course is that Christ's sacrifice on the cross a couple of thousand years ago opened the door of restoration of relationship with His Father (the Creator) to those who choose it.
Upon His successful sacrifice Jesus said, "It is finished!" and having won the 'battle' against evil on the cross, He now has "all power in Heaven and the earth" and the Holy Spirit does what He wants whereever we give Him authority to do it here on earth from time to time.
The concept of 'A battle between Good vs Evil [via warfare]' is therefore a deception. There is now no battle for it is already won. It is all over and has been for a couple of millennia. Knowing Him, we simply need to HEAR what He wants for us, then DO it.
This then, is the Christian worldview – a big picture overview of the religious/faith reality that standing for truth puts us on the winning side, in a religious sense.
So a usurper of this biblical authority stands and fights [increasingly desperately BTW] to retain the worship (literally) of the planet but through deception. This fight is outworked in religion, finance, business and politics where the enemy of truth seeks to gain adherence – by any means necessary.
This is the background; the core understanding by which Conspiracy must be properly understood at a very big picture.
In a financial sense, use of interest-bearing currency (God utterly prohibits the concept of renting money, called usury or interest) does a few really nasty things:
a) It sticks a single finger salute up at the Creator. Just think what it means if the Lord prohibits the charging of interest, yet the people willingly choose to use national currencies that are all (well most of them anyway) based on Central banking currencies that all settle with the BIS!
b) It empowers the elite through funding. Would you like to have interest on the entire global debt? and
c) It enslaves – and globally too!
At the outset of His ministry Jesus consciously rejected this power and saw big-finance as a temptation. It is interesting to me that the Holy Spirit led Him into the desert immediately after He alighted on Him at His baptism and let Him be challenged with issues of money and power. This is why I have shared previously that understanding money is the second most important question in life. The first being the identity and nature of the Master Himself.
Sitting naturally alongside the money-men is business. Big business used to be the prerogative of the political rulers such as Royalty. Now big-business (particularly of note more recently big-Tech) has overshadowed the power of Royalty. Once again though we MUST understand that this is not a binary matter where you have good guys vs the bad guys. Most good people do bad things and some bad people do good things. The only absolute I know is (as I have previously mentioned) is the issue of salvation, whether we know Him and go 'up' or whether we go 'down'!
Business is normally designed to make a profit. Sure social businesses and certain Not-for-profits can conduct their business to assist others but making money is more of a distraction than a core evil. The same as politics attracts those who want power, thus people will do bad things to get it and to use that power over others, business is not evil per se – not even big-business, Yes, it can do wrong or evil things (and often does, like deceive or disarm the President's Social Media accounts for political purposes) but big-business is not necessarily a problem.
Addressing conspiratorial matters such as de-platforming a President and a whole sector of society (essentially silencing a conservative voice) must be seen in the context of a war that is multi-faceted but spiritually based in nature. This warfare is not a partisan fight (like the Left vs the Right); nor is it an ideological fight like conservatism vs liberalism; nor communism vs capitalism. Nor is it a yin-yan like balance of power whereby people try to work out their lives sometimes leaning one way then the other but ultimately "this is the world whether you like it or not".
No, this is a question of whether or not, and to what extent do individuals turn back to the Creator and listen up to what He says (the continuous, present-tense) then do what He seeks of them, INDIVIDUALLY.
It is quite discerning in the middle of tensions that have been deliberately inflamed, and technical changes where many of us are having to change our platforms to see the US President stand to one side as noise is permitted to occur. But then as one commentator on the inside of the Trump camp has recently said, "Why interfere when the other side is hanging themselves?"
Touche.
This is also evident in a political sense, where the President knows that he has the full backing of the real power within the USA (the Military) and that despite outward appearances that things will eventually work out for the good of the country; he's on the winning side!
God is a bit like that and it is too His nature to sit back and let evil implode. The spiritual war is already won. Wiser then to sit back and restrain evil until the time is right, when the Holy Spirit will remove His restraining force and let the deceiver loose, destroying his own in a futile effort to destroy those who sought to take him down.
If my take on Conspiracy is right, then Donald J. Trump won his re-election in a massive landslide victory and will most certainly be sworn in as President again in due course. Think of this . . . his mastery at the political table in the last 4-5 years is pretty-much unequalled; his long-term backers and top level supporters love him and despise the alternative; they could have easily stepped in with Military force many times in the last four years but haven't.
It's my take that the real reason that this fighter knows, as do many important people around the globe, that his day will come and that nobody can legitimately call him a '#soreloser' ever! Do you really think that Donald Trump will just roll over and go away? Nah! He's President for a reason and working for his country as hard as ever. Watch as those who flip-flop as the political winds appear to them, flip back to the real power-base. This is though unlikely to include Facebook, YouTube & Twitter, IMHO!
But the real question is not whether Trump flipped California and how many of the American people voted for the populist, nationalist leader or not . . . the real question of this post is whether we as individuals understand how the Conspiracy Denial is an utter deception based in evil, and how at the end of our time we will face a real binary decision.
Oh sure we all know that there is no honour among thieves, and that Washington DC is not known for its integrity – politicians fighting constantly for power like those on the Titanic fighting to rearrange the deckchairs (for their best view of events) but there is always a day of accountability. Always.
In the meantime, sure, let the fun continue.
I trust that in due course my words will be proven true.