In this post I caution against the trap of accepting the New Age concept of "advanced knowledge" and/or accepting that there are levels of human progression. The Christian worldview is that we have a living relationship with Jesus Christ or we don't. Period.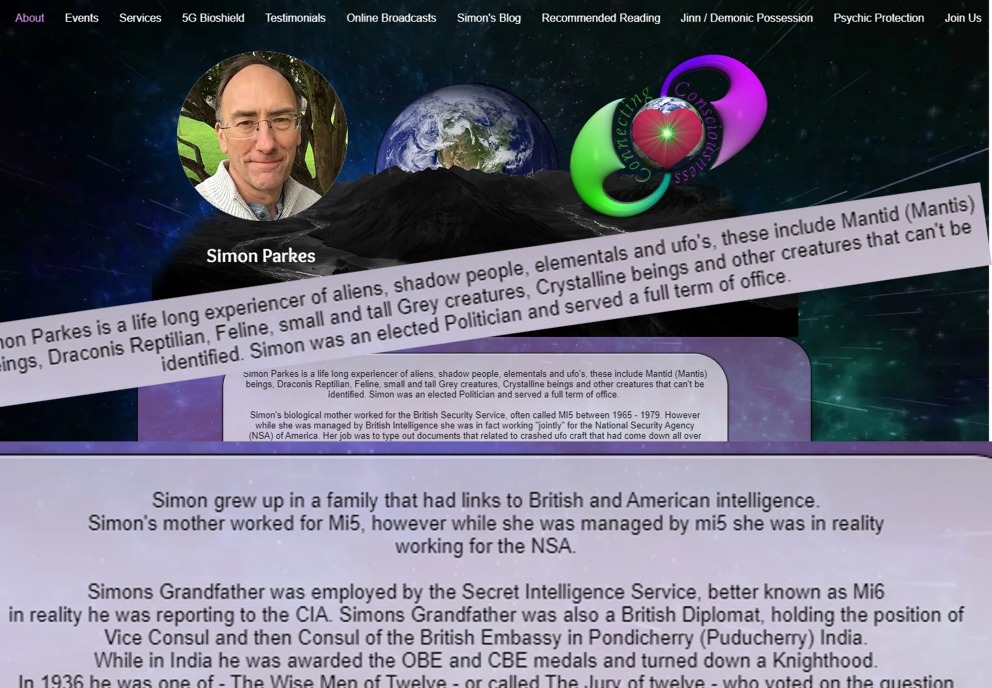 The concept of different levels of attainment (especially in a spiritual sense) is a trap. Mankind naturally always seeks to gain enlightenment, regardless of whether this is genuine through God and truth & love (and up) or whether it is through evil and deception (and down). The desire to better ourselves is universal.
Whether we like it or not, we all exercise faith. If we've got a problem with organised religion then we usually (nowadays) go for denial that there is a Creator by leaning on the Evolution deception, or if we accept that there was a Creator but not one that outworks through a mainstream institutionalised religion, then we'll put our faith into ourselves. Self-worship, where we trust our own judgement without reference to an external absolute, is idolatry.
Our money, time and belief is put where we put our faith.
The Christian Worldview
According to the Christian message, the temptation is to put that faith in self, whereas we are asked to trust Him and put our faith in Him. Where the Western world has slipped up is to fall for deception, and I'll detail three important topics here before getting into one example, the New Age teaching of a US Election Fraud Conspiracy geek, Simon Parkes, someone I deeply respect in some critical points, BTW.
Identity (Faith)
I consider that the identity of the Creator to be the biggest attraction of deception and the primary indicator of where our faith is really put. If someone tells me that they are a Christian the hair goes up on the back of my neck and I go into fight or flight mode. I've lived long enough to know that real believers have no need to tell me this and that they generally are enough to no longer submit to or go to a church! The point for me is that Truth doesn't need me to speak His wisdom to you. I do this, but He can and does talk to everyone no matter whether I speak truth or whether the organised church is alive or dead or even exists. Actually, most 'moves of God' I see occurred in times of religious oppression from antiquity to today.
Money
I've found that the second most important thing in life is a true understanding of money. Money is simply a record of a half completed transaction. It is not an asset, nor a commodity in and of itself. Money represents debts that we owe, or debts to us. Ultimately money is backed by trust (i.e. faith) in something – credit of the Central banking cabal; or gold, or the credit of the people, or the land or something. Our idolatry of money is enabled through deception in which our pride permits this. We may accept Christ's words that "looking at a woman lustfully" breaks the law that says "do not commit adultery" but we seek to gain 'coin', cash, that is created from an interest-bearing source despite usury being totally condemned and a banned practice in scripture. Even Jesus made it crystal clear, "Do not lend at interest!"
Democracy (Power)
Worship of democracy too, is a huge deception. Democracy gives power to the people, the polar opposite to that which He seeks. This is essentially idolatry, but it is through deception that the idolatry gains a foothold. In watching the fraud within the 2020 Presidential Election and the challenging [for genuine truthseekers] aftermath I am constantly struck by the huge respect for the US Constitution in the States. I noted with interest that the US soldiers swore their allegiance to the Constitution for the United States. Is not a document that even starts with the phrase "We the people" not all about self-rule? This truth is hidden in plain sight.
The Christian message/worldview puts a relationship with Christ as the line in the sand. There is no middle ground and as I have explained previously, our faith is a binary matter. It's the only binary matter I know. You're with Him or you're not. Pretty simple really! It is possible to know Him but still participate in the democratic process, or seek and use interest-bearing money despite the curse that comes from using an accursed system. So what is this idea that we can gain deeper levels of consciousness, or understanding?
The Simon Parkes Example
I'm going to use the underlying belief system and the changes I've observed in Simon Parkes' websites as an example of how this is an error and a temptation. It can also be used to control others, although I hasten to add that this control is usually not known or accepted by those who are deceived themselves.
Simon's personal website (www.simonparkes.org) started with Weebly technology in early 2015 then moved across to a Wix website and updated naturally over the last few years. Wix uses Google's services, so he should expect this to go down if he remains actively agin the system as he currently is/does. It has developed as he has developed his online persona. The latest changes over the 2020/2021 year changeover being the focus of my attention here.
His New Age website (www.connectingconsciousness.org) is a website using different technology first uploaded to German servers on 17 January 2021.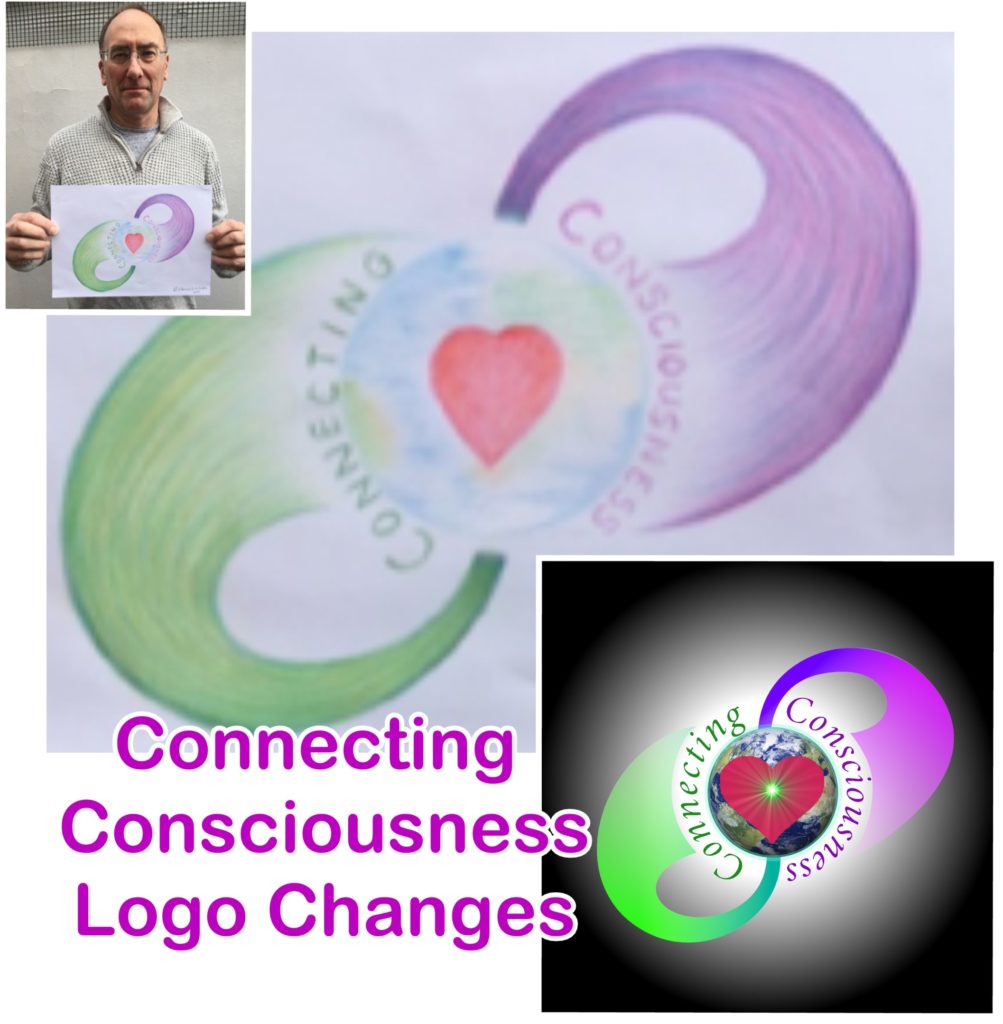 He likely drew his original logo in crayon himself (this is his style) and its digital version is used on the website. The changes from hand drawn to digital are:
Colours are different – much harsher & vibrant 2D 'infinity' shape and the black background in the digital rendition;
FULL CAPS non-serif changing to Camel Case serif;
A soft natural heart changing to a clip-art look; and
A computer image of the globe with a blue and white focus above the heart.
Personally I like the hand drawn 3D rendition much more but that's just a personal thing. A note also that he and his wife Rebecca own the copyright on this logo.
Simon's Connecting Consciousness website gives away its primary purpose in a round about way but up-front:
Connecting Consciousness (CC) is a grass roots organization where people join who recognize, that the development on this planet is not always aligned with the benefit of mankind, that global events are also embedded into other contexts than they are generally presented, and that the forces acting behind the visible level often have more dimensions than are superficially apparent.

In CC we share spiritual values, the desire to see this planet with all it's beings and beyond in freedom, peace and health by taking an active role, connected by a unifying consciousness and the effort to raise awakening and awareness, ensure as much light as possible as well as a high frequency. All this at any stage
* undogmatic
* spiritually nourishing
* mentally inspiring
* emotionally supportive

Membership to Connecting Consciousness is FREE of charge.
There are two [but competing] primary marketing messages here:
Mankind is developing, there is more than meets the eye; things are not good (and/or can be better); deception exists; and
He (or we) don't have the answers, or at least all of them.
In other materials I have seen, the concept of hidden (or special) knowledge is also talked about – alien knowledge or experiences; levels of development/awareness of thought, and so on.
The trap is that indeed, all the above is (or may be) true, but there is a BUT. Logically there is indeed a source of dogmatism and it is the Truth. If you don't like that concept, you'll be using circular or failed logic somehow. Jesus claimed to be the Truth, not just to speak it. He claimed to have an exclusive lien on the truth and because I assess that He did indeed demonstrate perfection, that claim is validated for me.
Here we come down to the wire and where the rubber hits the road . . . if Jesus claims to be the Truth and that, "None come to the Father but by Me" – an extraordinarily divisive claim – then being "undogmatic" and "connecting our consciousness" fails the Truth test.
This is the "BUT" that Simon fails. Picking and choosing the parts of His message that one does (or adding to it with 'advanced' knowledge) puts us in the position of claiming to know more or be wiser than Him. If one does show perfection equal or more than Him, fair enough but I've yet to find any source of Truth more valid. Even if ET can zap around the universe at will, the fact that they have crashed their UFOs at all counts them out for me as divine.
I note that the people that Simon connects with use Jesus' name freely, but yet His absolutes are rejected – preferring acceptance of many varied faiths. No, they are NOT all the same worshiping the same God. The Jesus I know, love and serve rejected the others' claims to reality outright, as do I.
Website Changes
So let's dive into the changes that Simon has made on his website recently and put them into this context – that Simon seeks widespread acceptance, and may I suggest over and above Truth.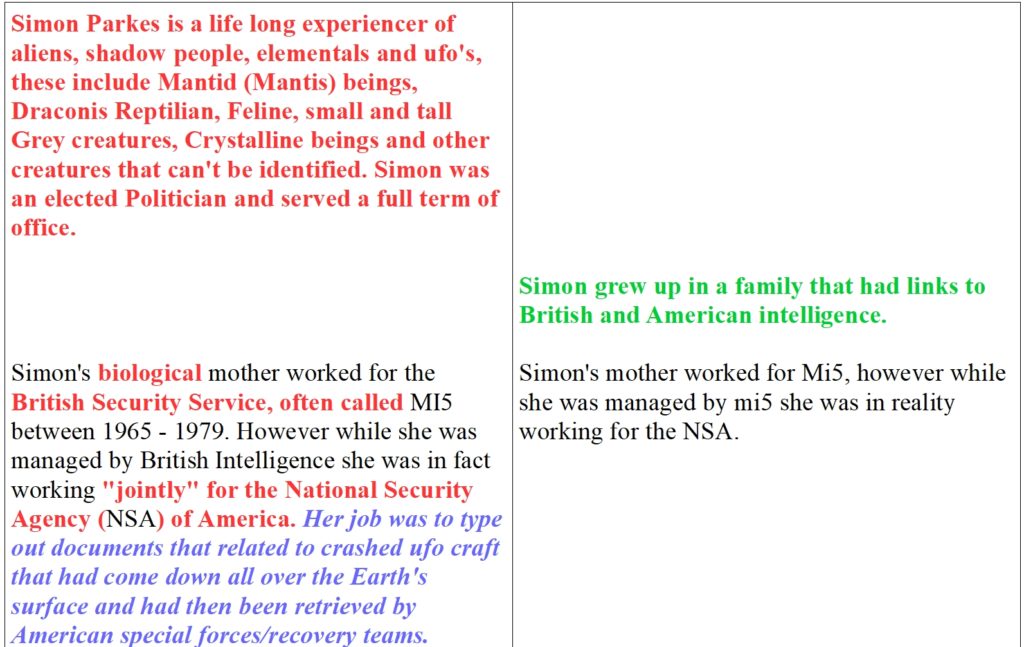 The first paragraph mentioning his alien encounters in extraordinary detail:
Simon Parkes is a life long experiencer of aliens, shadow people, elementals and ufo's, these include Mantid (Mantis) beings, Draconis Reptilian, Feline, small and tall Grey creatures, Crystalline beings and other creatures that can't be identified. Simon was an elected Politician and served a full term of office.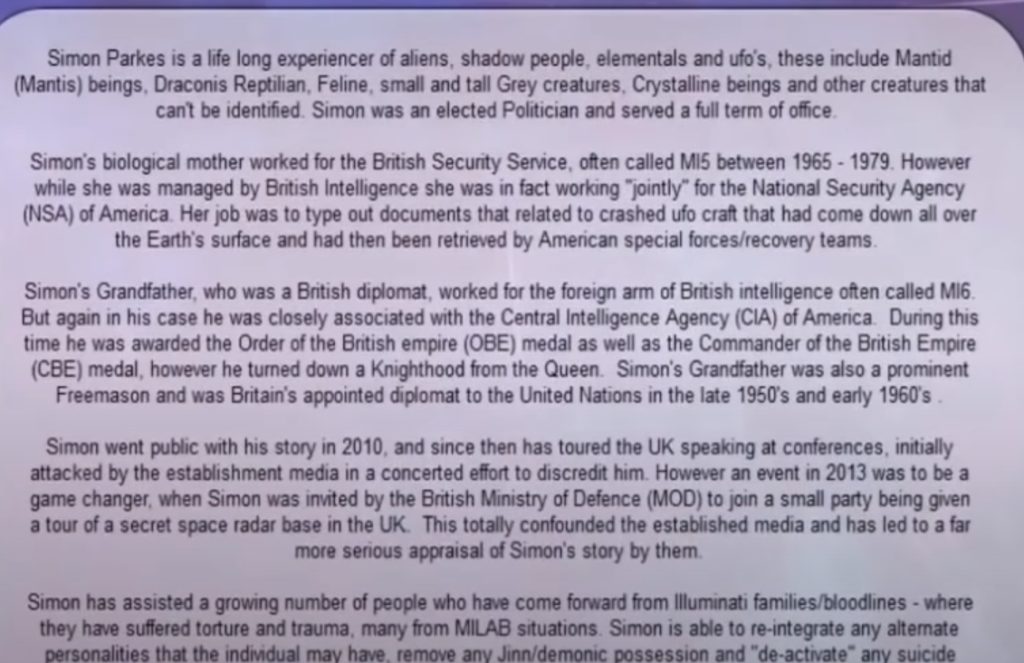 There is more on video [link added 28/4/2021] also where he is proud to talk about his encounters in much gory detail, including fathering and personal stuff. He also makes it clear that he "came out" with this all before he was elected to a public office.
May I respectfully suggest that this subject is rather distracting to his image and that he has found resistance from many of the people to his "Alien stuff' with his popularity in Election Fraud news-telling? I'm fine with this as long as he maintains his integrity in reporting current affairs, as he has done really well IMHO, but it gives you a clue as to where Simon is really at when it comes to perception.
Simon's Grandfather was also a prominent Freemason and was Britain's appointed diplomat to the United Nations in the late 1950's and early 1960's .
This becomes:
In 1936 he was one of – The Wise Men of Twelve – or called The Jury of twelve – who voted on the question regarding King Edward VIII and if the King should be removed regarding Special Branches uncovering of a Nazi plot to infiltrate the King. ( had nothing to do with wanting to marry a divorcee).

Over a secure teleprinter link he was asked in code . should the King go. or should he stay?

Grandfather voted .GO.
Again this is none of my business but Simon appears to clarify a matter and to present himself in a certain way in public. Good on him I say but we should always take this into account.
During this period and before and after Simon had ufo experiences him self.

Simons mother died in suspicious circumstances in 1979 when she asked to be released from the work.

There after Simon received £2,000 which was pushed through his door in an envelope – with a note " Don't Look back Dick Whittington" and with this Simon re-located to London.
This is all added.
In 2010 Simon went public with his experiences, and predictably was verbally attacked and ridiculed by the main stream media.

In 2013 Simon was invited to a tour of a space radar base in North Yorkshire, with a group of 20 serving and retired military.

Simon was the only civilian in the group – at the end of which he was given a commemorative medal/coin – a limited edition of only 500 world wide celebrating 50 years of the USAF being based in North Yorkshire. It is number 86.

No one else in the group were given one.

This visit was a game changer – suddenly the British media stopped hounding him……
There are quite a few changes here, but the take-home for me is that he has obviously had a rough ride with this UFO/Alien thing. You can feel the passion there as he struggles to reword things to get them as he wants them to be seen.
All the following has been removed and replaced with a couple of simple sentences talking about Connecting Consciousness:
Simon has assisted a growing number of people who have come forward from Illuminati families/bloodlines – where they have suffered torture and trauma, many from MILAB situations. Simon is able to re-integrate any alternate personalities that the individual may have, remove any Jinn/demonic possession and "de-activate" any suicide programmes placed in the person.

On a lighter note Simon also does Soul readings, where in most cases is able to identify the individuals soul/star family background. A reasonable fee is charged for these services – Simon is offering a nearly unique service and places the highest value on client confidentiality – having helped people from many countries and from widely differing backgrounds, from college students to employees of the Rothschild's. Simon understands the critical nature of his de-programming/healing/soul reading work and the support that his clients need.

If you would like to help me to continue the work that I do, then please donate via PayPal. All donations are greatly appreciated and considered as donations.
I've also gone through and analysed all Simon's blog posts and videos. This is what I see:
Simon has a large degree of integrity IMHO. His reporting of current affairs as told to him by Q appears to me to be accurate and fair. Q has his Military background, sources and approach who wish the world to hear about and back the real President (Trump) and many conservatives, conspiracy people and those wanting to see the USA go up, not down in various ways hang off Q's and QAnons' words. "Hopium" I believe is the word used!
I have yet to see any evidence that shows me belief in ET is more than belief. I can certainly accept that advanced technology exists and that this can even include anti-gravity, even time-warping. I will be looking closely when or if any military reports of UFO sightings are released but I don't hold my breath! One thing I have always noted is that those who claim to have experienced alien encounters and who have some semblance of credibility certainly believe what they say. I can certainly see how Simon does not want this aspect of his life to upset his plans for global consciousness change.
Simon is held up by his friends Charlie Ward and Robert David Steele as a knight in shining armour – a good guy; a whitehat. I can't see that. I can see a guy in the UK who has developed a brand and put it around his personal New Age experiences and is bringing together people of like-mind under his CC brand. At the moment he is reporting Q's words accurately and appears to be 'on a roll' but no matter how many thousands or even millions of people Simon gets to join up; nor how many of Q's predictions come to pass, unless he repents of this focus on "undogmatic" widespread acceptance, it will end in disaster for him.
My book, US Election Fraud UNMASKED!! explains that worship has to go back to the Creator before He can bless His people. Neither Donald Trump (for all his good points) nor Simon Parkes (and all his) can pass this on to Him. According to the Good Book, it has to come directly from individuals to Him.
Thank you for swinging by. Make sure that you do the right thing and do not trust in any idol yourself. In future posts I will expand on the legal situation in regards to the US. It's not a simple binary situation, but there are people out there making it easier for us.