In this post I explain where and why there is hope following acceptance that a Conspiracy (like the ones surrounding the US Presidential Election fraud) exists. By gaining a sound objective grasp of reality we avoid the pitfalls of deceivers, and immediately lift ourselves out of the despair and depression that is inevitable surrounding our changed beliefs. Change, of course, causes grief and dealing with grief puts us into shock, depression, anger and more. It's an important message.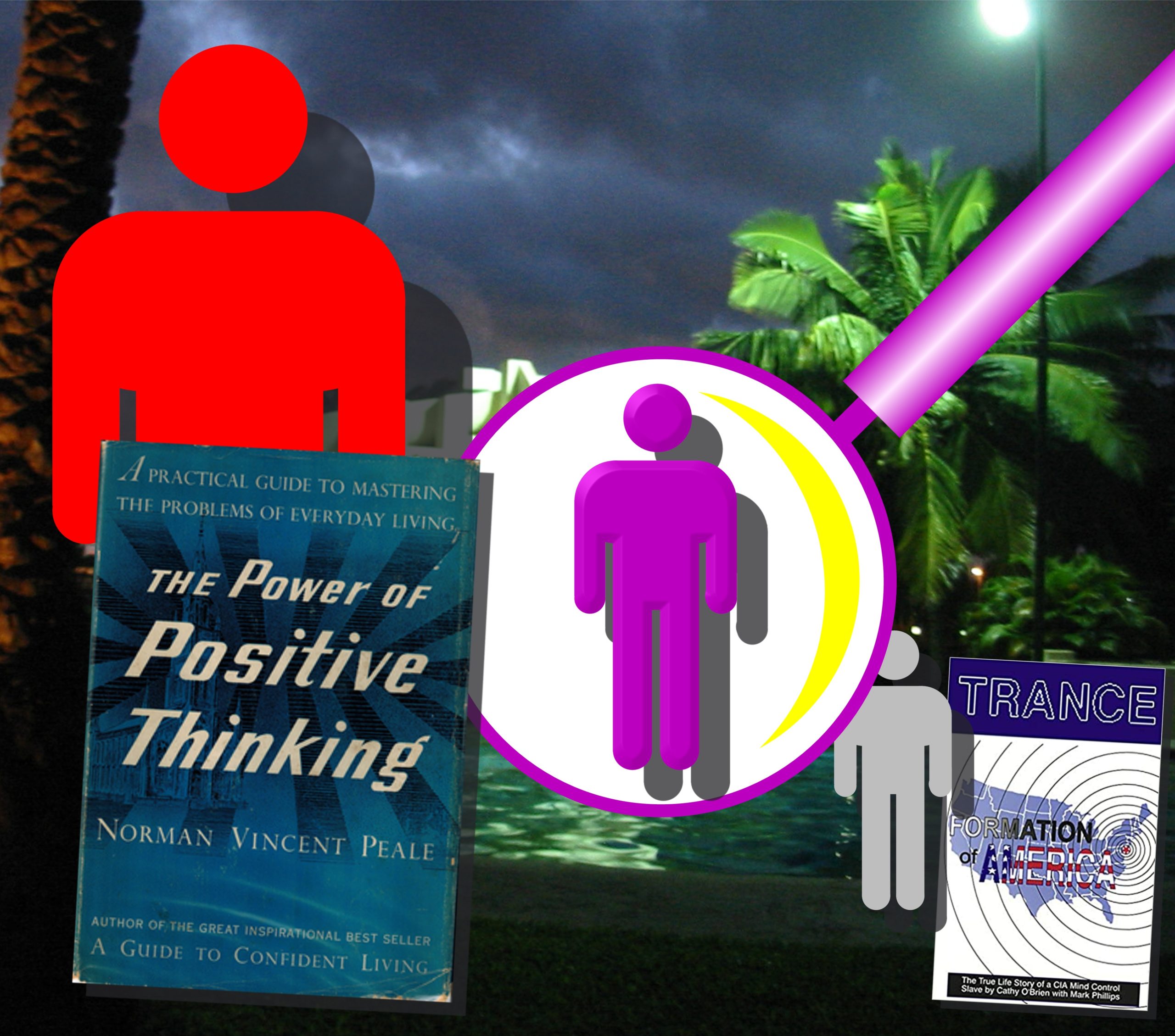 We are all born into a world where manipulation is natural. The two pulls that we need to cope with when gaining maturity are the extremes, a) where we puff ourselves beyond reality, and b) where we put ourselves down unduly.
Norman Vincent Peale, an 'insider', taught generations the power of positive thinking. This concept is so simple and profound that you wonder why he had to even teach it. Think it, believe it and it will happen (in Christian circles we also call it the "Prosperity Gospel") is just one of the many offshoots. It has an element of truth but arrogance takes it to an ungodly extreme.
US Politics in the 2020 US Election circus has shown one of the masters at work, in Donald Trump taking an entire country by storm, making them feel good about themselves. Positive Thinking is highly infectious indeed.
But at the alternative extreme is the more insidious negativity that comes with put-downs and the subsequent low self-esteem. Kathy O'Brien's experiences as a CIA, mind-controlled, sex-slave [Yes both, literally] and her 'engagement stories' showed me a couple of decades ago how corrupted the US political leaders had become, or perhaps more truthfully, always were!
Seeing herself as a victim though, re-inforced the horrendous negative effects of early child trauma designed to manipulate and control. Yes, indeed, she gained tremendous gifts of rote memory from the personality splitting process but her perceptions of reality were grossly distorted downwards – that is until another man helped her to work through the challenges of coming out of evil and engaging with the 'real' world intelligently. Her challenge in fighting evil and eventually overcoming it is an incredible story. Her old world was very real to her, at the time, but objectivity came only when she took her husband's advice and adjusted to the new reality that there is such a thing as objective reality and that it can be found, no matter how messed up we may have become.
This then, is the conundrum that all seeking to know and deal with Truth face. We can never do it ourselves due to our bias. Scripture puts it nicely when Paul says, "We have all sinned and fallen short …" and the Good Book observes that, "The heart is [forever] deceitful, [lit:] above all things". We need a third party to help us see reality and we need help to get out of this Catch 22 situation. As the wisdom attributed to Einstein explains, the cause can never bring the solution, "We cannot solve our problems with the same thinking we used when we created them".
The Christian message is that Jesus provided the solution by showing the heart of the Father, thus giving us a reference point against which we can measure reality. He goes further than simply acting as a ruler or measuring device. He reaches out to us today, now, to all who humble themselves and reach out to Him.
The two things then when it comes to obtaining hope is to first see reality, then to hang in there and hold onto the hand that does reach out to us. In religious talk this is "turning to Jesus" who claims to be the Truth and then "accepting His offer of Salvation".
Hope, from a Christian worldview is assured, as long as Christ was who He said He was and is, by His Spirit, alive and guiding and helping us all individually in a very real sense today. It has been my lifetime of learning that these two factors are indeed true, and valid.
On the first score, the issue of divining reality, I have found that comparing any situation with the absolutes of scripture (primarily that He does exist; is good and is worthy of our obedience) helps me to see things clearly. I've mentioned earlier of my early choice in life not to avail myself of sexual opportunity. I understood clearly that this came back to an understanding that the temptation I was encouraged to succumb to at the time was contrary to biblical instruction. Others there applied situational ethics and gave themselves permission to 'enjoy the moment' but as far as I am told, they later regretted their decision-making. They did not refer to an external absolute.
One of the interesting observations I have noted over the years, one that also indicates the special nature of the Good Book is that as we dive into it, we find ourselves being challenged personally. We may start off judging the words, but actually finding ourselves being judged BY it!
On the second score, nothing is gained by knowing the Truth if it is flat, dead, or even passive. In my experience, all religions and belief systems are exactly that, except for Christianity. When I was bead counting and chanting, "Hara Rama!" and more, I gained something to make me feel different. I chose to act a certain way and eat certain things but I was still me. When touched by Jesus at the age of 20 however (you can call this whatever you like but it was essentially something done to me, not by me) this changed my religious life into a living relationship. My hope was in the Person who had "zapped" me – not a belief system, nor a system of religious conduct, no matter what others called me, such as, "Christian". I note that He was most certainly living & alive … and very real! I cannot undo that experience.
Summarising then, hope in the face of any challenging life experience best comes by knowing reality, knowing reality is best established by referencing the observable challenges against a trusted absolute, then leaning on the Hand that leads and helps us. The Christian worldview is that the Good Book is the best source of the former and that Jesus Christ is the only source of the latter.
In the US Election narrative we are asked by the elite to believe that Joe Biden is the only legitimate candidate. This is an outright deception – my belief that I have shown and stated liberally in this series.
As we know that deception is the way of evil, the psychological effect of eventually finding that our belief that their power is more powerful than it actually is, could be devastating. I will never forget the months of anger that I felt when I first learned that the concept of [macro] evolution was countered by hundreds (even thousands) of respected top scientists who all interpreted the evidence into a short age, Creationist paradigm. This anger drove me into a frenzy of research activity and a determination to never get fooled again. I am a proud man and hate getting shown up as gullible, even though I was.
Groupthink encourages us to deny what we actually see and to go with the crowd which is led by vested interests rather than applying objectivity. Much better though to back ourselves, especially if we do the research!
Leading up to the 3 November 2020 US Presidential Elections we all saw massive, even unprecedented, support for President Trump. Man can be easily manipulated by trickery to believe a lie. Simply understand how we can be gaslighted to the point of belief. The term 'gaslighting' BTW comes from the movie where a woman was led to believe that the lower light levels were her failure to measure reality, when it was actually her husband tricking her and turning the gaslight level down.
Evil aims to build up the mystique around the elite/Cabal in order to control. When Twitter trashed President Trump's primary mouthpiece to 89.7 million people (OK, OK, I know, Twitter! . . . but I confess that listening to Trump's message was my only use of Twitter) we came to believe that, "We have no control!" This is an outright lie, as events of the coming days will show us, transition to Military power at Trump's command and mass arrests occur, mostly in the USA but also other places across the globe, and information adverse to the deceivers comes out.
While there is always a natural stability to our personal belief systems and we naturally resist change, it is my belief that even the most die-hard of the gullible masses who lap up the MSM message that Joe Biden won, and that there was no election fraud, that perceived Conspiracies (like Q) are indeed likely to flip back to widespread acceptance, and the population 'gets with it'. Like the JFK & 9-11 realisations, they have largely woken up in regards to the existence of widespread 2020 Election Fraud and increasing understanding of the MSM disinformation activities. The next phase will permit the awakening of understanding that Donald Trump had a major part in the anti-Deep State actions of 2021, and then an increased understanding of how the political leaders are actually subservient to TPTB and that conflict (in this case the USA vs the CCP) is engineered by the elite. Only then will the public recognise that the true conflict is not an "evil Deep State" vs Trump for President, but that it is Good vs Evil and the Conspiracy runs a lot deeper than they realise . . . deep into their/our individual hearts.
One doesn't have to have a Christian worldview in order to accept that the typical human being has the capacity to deal with change, but that capacity to handle change is inherently weak, and is developed as we mature.
Hope says that widespread social gas-lighting, Social Media manipulation & groupthink such as has occurred more and more in recent times, is being and will continue to be seen for what it is – evil. According to my information three out of four voters in the USA actually put their vote to support the current President, despite the serious efforts of opposition teams, countries and those seeking to destroy the USA for their own purposes.
Hopefully the false fear of social ostracism will be seen for what it truly is, an exaggeration of malevolence and that another step in the right direction can be taken for truth.
Thank you for swinging by again today. Remember that at the moment ALL political leaders gain their power only with the 'nod' of the Money Power, and that from the Christian perspective the Lord is restraining evil until He lets it eventually implode. No matter where we live, we are all in debt to some extent, currently 'living on borrowed time', and therefore in a period of grace.