This series covers the Crewe Murders and prepares for the release of the book 'I Fed the Baby' by the late John Ingley. John's book identifies the motive, murder weapon & identity of the so-called 'mystery woman' – the three publicly unanswered questions. But the following posts also reveal serious corruption to the very top of six sectors of the New Zealand community – i) within central politics, ii) the judiciary, iii) the legal profession, iv) the media, v) the Police and vi) within the rural communities from Port Waikato to Te Kuiti – which includes the Pukekawa region & south, what the locals call "Demler Country". In the process of explaining how the worst of human nature was manifested in 1970 I show that it is still the same today. I also summarise and give commentary on the findings of this unofficial, deceased, private 'investigator', John Ingley.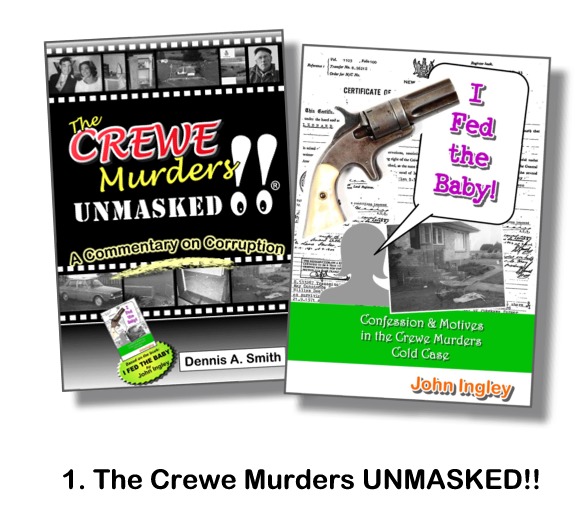 NOTE: In Q1, 2019 I purchased a company that had undertaken to posthumously publish John Ingley's book, I Fed the Baby. I am providing this resource free, here, on the 50th anniversary of NZ's prime 'cold case', on the 17th June 2020 to be precise.
John Ingley – a real Trojan*
Following an intimate relationship with the 'woman who fed the baby' from 1976 to 1980, and his incrediblely patient and persistent research over some 40 years, most of John's conclusions make perfect sense in the context of the theme of these posts.
Waking to a screaming woman alongside of him suffering violent nightmares – one who had lost two front teeth to her cousin Jeannette's violent attempt at self preservation only a few years previously – would have shaken any man.
To have actually seen the pistol that had been used to execute two people only six years previously would put the shivers up the spine of all but the most callous of individuals. Imagine John's emotional state when he later found that the British Home Office tests on the bullets concluded that 11 out of 15 weapons tested were pistols; especially when he was the one who had innocently cleaned and repaired the murder weapon at his partner's request some years before!
It was John who in April of 1980 at 1/1152 New North Rd, Mt Albert, innocently caused his beloved to crumple on the floor before him and confess her real identity, and that it was she, and 'the others' who had fed Rochelle, cleaned up after the murders and made it look like 'all was normal in Pukekawa' to the world. What a cross this man had to carry all those years!
His trusting, good nature; his determination to always do the honourable thing; to deal only with the truth; and his constant struggle against those in power who did everything they could to cover-up, to destroy and to deceive drove him to the point of despair many times, but this was all to be John Ingley's lot in life.
Then "the book". 'His' book. 'THE' book. A man wise to the ways of the natural world (a hunter, bushman and practical man), John wrote laboriously, in capitals with pen on paper, page after page, editing, rewriting and changing frequently. Spelling and writing were not his forte, but he paid to have his work typed up, then his myriad thoughts collated and rewritten and eventually, a couple of years after he had died, the book was done.
Arguably New Zealand's most infamous 'unsolved' murder mystery is that of the murder of Havey & Jeannette Crewe in Pukekawa c 8.30pm on 17 June 1970. A true mystery to many, it has been deliberately misrepresented for 50 years by many in positions of power. These two crimes however are actually simple matters to explain when you understand human nature, then apply sound logic onto facts. Many back then in Pukekawa knew the real story and some within days of it becoming public too.
Let's dive into it all now. As always, I write from the Christian worldview providing detailed commentary and analysis alongside the revelation of fact.
The Context of Truthseeking
Three things destroy genuine truth-seeking endeavours:
Unrealistic assumptions about human nature. In discussing the 'crooked cops' that planted evidence that sent an innocent man to jail in the 1970's, a friend suggested recently that it was only the few rotten apples that spoilt it for everyone. "No!" I argued. "We ALL lie despite our protestations that we aim to seek, speak and live with truth. We are ALL naturally self-centered and we are ALL susceptible to pride. It is the exception not the rule when one is found to seek, speak and deal with the truth!" Given half a chance, ALL of us will turn the other way, and fail to pay the price for speaking up against systemic corruption. If our jobs are on the line for example, we will ALL play the game. Assumptions that, for example, if the Police have been proven to lie once that this was an aberration (and will not occur again) are totally unrealistic. A sound understanding of human nature proves this point.
Logical failure abounds in a world tarred with deception. Situational ethics cause us to validate our conduct based on a perceived benefit to self. Our nationwide understanding of logical fallacies is at a low ebb thus we easily succumb to deception. Is it logical that the NZ Police, for example, would ever voluntarily reveal that along with many from the Pukekawa farming community at the time some of their leadership full-well knew the motive and the identity of those in the extended Crewe family who terrorised Harvey & Jeannette for four years before the ultra-public events of 17 June 1970? Or is it more logical that they have and will continue protect their own till death? Simply reading Andy Lovelock's written words within the 2014 review of the Police investigation will answer that question pretty simply, let alone speaking to those who know of the corruption from the inside!
Facts are the building blocks upon which logic must be applied to establish truth. In 1970, a piece of evidence was moved several metres, and then destroyed by fire within 36 hours of a photograph being taken of it beside a wheelbarrow. Selected evidence was removed from the police files and destroyed. It matters not the significance of the removed item when establishing the true nature of the Police conduct. Jeannette lost half a dozen teeth and had a seriously cracked skull when found. Shots were heard around 8.30pm coming from the Crewe farm on that fateful night. Blood marks on the front door sill show that a bloodied object was dragged IN to the house, not OUT of it. Property owned by Jeannette Crewe was only a stones throw from where the bodies were found. Prosecutors undertook activities designed to secure a conviction at all costs – suppressing critical information, planting evidence and lying outright to name just a bit of this misconduct. These are all known, provable facts. It is a truthseeker's job to identify fact, and when not sure, to categorise other information intelligently so that others can confirm or deny the claims.
WHODUNNIT?
I've explained that the Crewe murders are straight forward to understand but I've said this having had the privilege of reading John's life work. I write this introduction for those who have followed the case in the media, and I assume that the reader has a basic understanding of the case. Please bear with me if it is all new to you. I was 12 years old at the time of the murders and I am 62 years old now. These events happened 50 years ago and long before the Internet! My understanding of these events has come primarily from John's incredible research & thinking skills but also from digesting and cross-referencing the many, many pages of police documents and third party analysis. I stand to be corrected on any matter, and will correct this website and update as per my Disclosure Statement if needed. Just drop me a note or leave a comment if you wish.
There are some widespread general misunderstandings that I'll be addressing later but cutting to the chase, Jeannette and Harvey were victims of a long-term extended family conflict that boiled over the day after Jeannette signed her mother's probate. The murders were a family affair but literally dozens (yes that is a plural) in the Pukekawa farming community knew the details and benefited directly from the deaths. When I say directly, I mean directly. More on that we we progress.
The tensions however had been getting increasingly hotter in the four years they had been married and particularly throughout the first two quarters of 1970 when Jeannette's mother Maisie died.
Maisie had effectively signed Jeannette's death warrant with the changing of her will. It just took time to outwork.
John's identification of the people present at the physical murders including the 'mystery woman' shows that they were all cousins. Two boys and two girls (cousins who interchanged their identities often and they were frequently together) making four people who were present. In fact the 'mystery woman' was TWO women and they are known to have been under Police protection (either formally or informally) at least in April of 1980. The older one of them lost her two front teeth in the fight to the death with Jeannette.
It is important to understand that elements within the Police knew what had happened before the cow cover, rag (or "yellow oilskin Parka") was moved and burned. It was moved and destroyed under orders. The bottom rail of the fence was also returned to its original position after the initial scene photos were taken. These deliberate acts are smoking gun proof of somebody wanting to conceal something at a very early stage.
Harvey was executed outside first, most likely by the older of the two boys (he was recognised as more of a hothead) with a pistol that Alf or Amy Hodgson had inherited and brought from England. It cannot have been a registered firearm, or if it was then the house and weapon were exempt from searching. I will be detailing the make and brand of the murder weapon and showing photos of this kind of weapon when I publish John's book.
Harvey was shot at point-blank range at the gate as he was going through it with the wheelbarrow to get firewood and he fell to his left into the garden onto or beside the tendrill bush. His fall moved (or perhaps broke) the bottom fence rail that was either rotting or was a soft timber.
Unless Harvey turned around, or unless the shooter was to the left side of him, which ever boy was left-handed would likely have been the shooter because Harvey was shot from behind from the left to the right. Jeannette was restrained by the two girls and possibly one of the boys until the shooter returned inside to execute Jeannette, again at point-blank range, thus she was already physically suppressed.
The above scenario fits the facts as known to all parties but runs contrary to Police claims and most theories. We can derive from many pieces of information and her confession that the girls cleaned up as best they could that night. It is likely that Harvey was brought inside on the wheelbarrow, dragged through the front door within a minute or two of being shot (his blood had not congealed as seen in the scene photo of drag marks over the door sill and he bled into the chair – as I understand it, notably without urine or bullet found inside the home).
The woolshed light was seen on that night so it is possible that the cousins all took the bodies down to the woolshed that night, and the truck was seen at the woolshed the next morning thus they were still cleaning up Thursday morning. Their first destination was Section 67 & 68 north towards the river and then the moving of the bodies into the river at a later date.
It is widely believed that Len Demler was guilty. Indeed the extraordinary conclusion of the Police Review team that he was NOT responsible is false. Following the Money is one of the prime tactics of investigation and it is logical and fits with all the facts that Len was indeed involved. It could be said that he was actually the ring-leader who initiated the events of that fateful night.
Incorrect Assumptions
In the interests of completeness in this brief summary, I'd like to note that the identification of a particular person being not present, nor not being the shooter does NOT mean innocence of all indiscretions. It is a clear logical fallacy to think that because for example Len Demler wasn't at the house on the night of the murders that he wasn't involved. He was central to the events. Equally it should be noted that Arthur Allan Thomas' pardon does not automatically mean that all the Thomas family weren't involved in some ways. Fathering of a child and a potential role in cleaning up (or covering up) are two areas that John identified as possibilities. As will be seen as the story unfolds, many farmers within the Pukekawa district benefited from this couple's deaths – many!
So the primary assumption that I've noted over the many years is that the Police want to solve this crime. "We owe it to [the surviving] Rochelle!" and other such platitudes are only to be expected from an authority tasked with upholding law and order. It is of course inconceivable that the Police could ever publicly acknowledge that the "alleged" failings of a couple of their own from 50 years ago is a systemic problem still today. It is though perfectly reasonable. Speak to Ross Meurant about that if you dare! Likewise the fact that somebody else pulled the trigger does not automatically exonerate one from "being involved" somehow.
Proof of systemic corruption can be obtained from many quarters – talk about "honest cops [or lawyers]" in a pub and the astute will talk of "oxymorons" and many will laugh. This case is still presented to this day as a "cold case" (which I must say is at least consistent!) yet many within Pukekawa knew who did it and why. People moved out of the region because of the division. Police made it very clear that any evidence that undermined their official mantra was unwelcome and the community learned very quickly to shut up.
They knew all right – they knew. Maybe not the little people within the Police but there were people with vested interests who knew very well.
Logic too states that if it isn't conducive to a good reputation, that speaking out will limit one's career prospects. How often do you see members of the army rat on their colleagues for misconduct . . . ever? And how often do you see lawyers look after their own? Have you ever seen that, and if you have, do you know the consequences?
Remember above all while studying this matter that while Johnston & Hutton were proven to be crooked cops, they had superiors. All it would have taken would be for one person more senior than them to encourage them to cover it all up and for the next 50 years the country would look in all the wrong places. Is this not what has happened? 'The woman who fed the baby' (and probably her cousin too) was under some form of Police protection (she was at least known to the Police) in 1980. Somebody moved and removed critical evidence from the earliest moments of the investigation. There is your smoking gun of corruption from the outset. Never forget those facts. Somebody wanted to hide something right from the outset!
Another assumption that I've noted in many works to date is the assumption that there was "a killer", implying that the crime is therefore solvable if we can only find out who that "one person" is. The Police for example claim that if they knew who the 'mystery woman' was then that would naturally solve the crime (and they'd get their man) – case closed, sort of thing. But this assumes that the world is made up of all us good guys and the occasional bad guy who pulls a trigger.
Sure, one person shot Harvey, who remember, was wary of his in-laws, on edge and he was a big man with a temper, quite able to protect himself.
Three people though, fought Jeannette inside, smashing six of her teeth and splitting her skull badly before the fourth came back in and finished her off. Granted, this is logically likely to be the same person who pulled the trigger less than a minute previously but without detailed knowledge, this is an assumption.
Len Demler would have called Amy's boys the night before, telling them to get over to "do the needful" on the next night, the fateful Wednesday night. He skipped his daily (not weekly) meal and made himself scarce until the balloon went up.
Dozens of farmers (and others) in the district benefited and kept their mouths shut, many out of self interest and some out of fear.
Finding "the killer" may be less important than understanding the entire picture so as to allocate guilt correctly.
And after all of this, we seek the "one man" who pulled the trigger in order to solve the crime? Nah! Real life is not that simple, sorry people. I've told you that the women who fed the baby were cousins and that Rose Amy's boys were there too, one with the pistol who did the deed. So now what?
As we dig deeper into the family affairs it will become clearer the motivation; the financial shenanigans and how it all fits together with greed, power and a conspiracy of silence. Sadly, it's a scary and sickening commentary on the very worst of human nature, but stick with me please as we next tackle the historical events that led up to May Demler's extreme wealth and her death sentence upon her favoured daughter & husband.
One of the remarkable repeating stories I've noticed in researching this matter is the thought that there is always more. People will talk, but not fully. Everyone seems to want to hold things back. They are guarded, sharing only things that do not incriminate themselves or seeking first to find out how much you know about them or what they have found out. This indicates to me that bad things are a lot wider than presented. It also seems to be a code, or a test by those in the know (or think that they know) of how deep you have gone in your knowledge of the inside secrets.
I can't stand that kind of BS and prefer to let it all hang out and it has worked for me to date pretty well in my investigative blogging career. It will all make sense in the end though. I promise!
Over the coming posts I will be covering many aspects of the Crewe murders:
Analysing the 2014 Police Review and why it is clearly such a huge obvious white-wash in critical areas.
Rochelle Crewe & her pedigree – why did lawyer Kevin Ryan call her Rochelle Thomas, and refuse to correct it when challenged? Is this THE Thomas family – or is it Norma's (nee Thomas confusingly) family that Kevin is hinting at? And is she related to the woman who fed the baby? Could there more to this than meets the eye?
What trickery happened with the probates so that the family wealth slipped from one side of the family to the other?
What really happened at the Crewe house, farm & cleanup on those fateful days Wednesday to Monday? I stitch it all together in a coherent manner.
Wassup with Len Demler? Hated by and found to be obviously guilty by so many but eventually cleared by the 2014 Police white-wash report – yet he was the end recipient of the ill-gotten gains!
Those Thomases. Arthur got his pardon, and his money. Wassup, really? Do they have something to hide too? When is this all going to stop?
Was the woman who confessed to John really the 'woman who fed the baby'? The identity confusion between the two cousins dogged John Ingley to his dying days. Who was she really and does it even matter now?
Maisie's wealth. How did she end up with so much and how did she manage it and hide it so well?
The corruption I've alluded to . . . the Police were caught out with Johnston & Hutton nailed to the tree (ironically escaping justice for the lack of evidence!), but is there more? What do I mean by corruption to the highest levels of Politics, the judiciary and the legal profession? We all know about politicians and their porkies [a transparent government anyone?] but do I really mean lawyers and even judges? And a whole community of mainly farmers covering such a large area?
John Ingley's challenges to research, write and publish, even unto his death in 2017. This man really, really, really put his heart and soul into tracking the crooks.
Authors & Journos. My take on the others and their guesses, starting with the late Pat Booth who broke it all open by proving that the shell case evidence was all BS but who pushed a murder-suicide falsehood; through to Yallop who got a lot right but not the woman's identity; to Birt who played politics but ended up compromised, and the inimitable Wishart who knew instinctively that the cops were crooked to the top but got it wrong suggesting that "Johnston did it" without any direct evidence to back it up with!
. . . in the middle of all of this, I'll be publishing John's book, I Fed the Baby. I'll also give you our detailed Timeline that we've used that explains an incredible amount to the serious researcher, a Video Interview and sound Recording of John Ingley talking and lastly, I'll be releasing all John's Research Notes and Source Documents, yes hundreds and hundreds of pages of property titles & transactions, birth certificates, wills, legal notes, his file notes and drafts all scanned from his original writing – several hundred of them – even when typed up. This is an incredible resource that will validate his every single claim; facts and detail that will [quite frankly] scare the living daylights out of the crooks in power who have for fifty years lied, deceived, stolen & manipulated others for their own benefit.
As I write on the back cover blurb of John's book:
For decades a conspiracy of silence
has surrounded the real people at
the centre of the murder of Harvey
& Jeannette Crewe in Pukekawa, 1970.
SILENCE IS NO MORE
First though, let's dive into the backstory and my personal position. I do this not for ego reasons but for protection, for today [written Friday 12 June 2020] I met with the head of Taumarunui Police Station and if what I have said above is true, I will now be a target.
* A hardworking individual; a brave, determined warrior.