This is an introduction to a book containing a series of posts that explain events surrounding the 2020 US Presidential Elections as seen from what I believe to be a true Christian perspective/worldview. It includes issues such as human nature, fraud, faith, politics, conspiracy and the financial. Enjoy.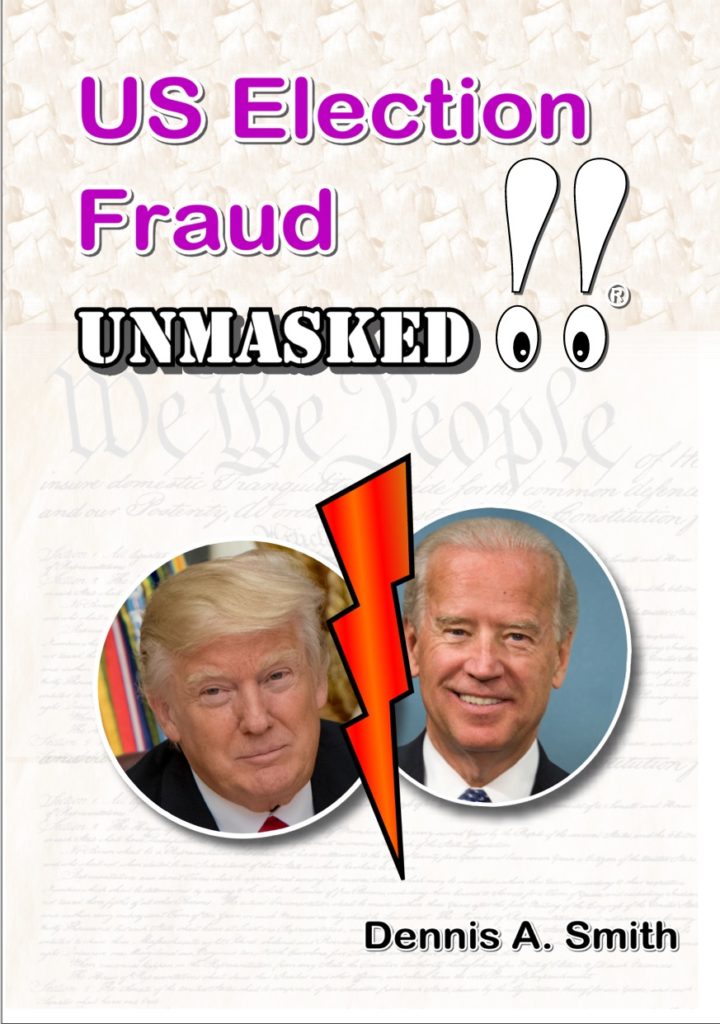 … intelligence prepares the battlefield (nothing more). Intelligence is analysed information.

Jeffrey Prather
On 31 December 2020, following evidence received from what I considered a credible source, I commenced blogging a series in which I revealed what I considered reality in regards to President Trump's plans to deal with very serious Election Fraud in the 2020 US Presidential Elections and beyond.
While it was accepted by many following the Elections that serious fraud had occurred, and that the elections were stolen from him, the Conspiracy is/was that the Military, and of course Donald Trump as Commander in Chief, knew long in advance that the elections would be stolen. He and his thousands of "white hat" backers in the Military and government deliberately let these events unfold. Thus the 2020 Elections were a 'Military sting operation' designed to flush the Deep State crooks out and to present to the American people incontrovertible evidence of that fraud.
There is much more than simply Election Fraud though – the entire future of the US is being prepared by an extraordinary political leader, a man and his team right up there in the annals of human history.
Indeed the Conspiracy actually goes back a lot longer and a lot deeper than just the 2020 Presidential Elections . . . in a political sense back to 1963 and the aftermath of the JFK assassination. In a geo-political sense it represents a war (jockeying for global political influence) particularly between the big boys, the CCP and the USA. In a spiritual sense right back to the beginning of history, good vs evil.
Time will tell whether the US Military or the Chinese Communist Party win WW4 or not. (BTW, I consider that WW3 was the War on Terror and WW4 is this digital war on truth, primarily the CCP's communism taking on the American Democratic Dream).
In the interim I would put my money on Donald Trump's mastery of human intrigue with his setup of his second term following a period of Military rule currently (as at 21 January 2021) in play, but I suspect that like all other wars nobody truly 'wins' it. The 2020 Election Fraud will be considered to be just another disinformation blip on the age-old continuum of conflict.
There are though, clearly different categories of people who have their take on these matters – first, to date the majority of the Western world who simply go with the flow. They listen and believe the Mainstream Media (MSM) version of reality. Up until the first Trump landslide (in 2016) when many realised that things were 'funny' in the MSM, I call them the gullible. A large number of these people may be seen to be 'good' in terms of their life conduct, and may have jobs, families, friends and opinions – even strong opinions. But their capacity to think outside of the spoon-fed goggle-box rubbish is limited. They poo poo all conspiracy and therefore fail in the basics of truth-seeking by assuming that conspiracy does not exist. That there is no conspiracy is actually (to a person of logic) a conspiracy theory in itself, especially for Christians who really should accept that evil can and does conspire!
Interestingly most of these people are mostly in the latter stages of life and trust the BBC, newspaper and/or don't have Internet research skills.
Secondly there are the rest of us who may be alert to the 'hidden agenda' to various degrees – often those in the younger generation more capable of seeing the MSM bias and knowing that there is a 'narrative'. Some are spiritually attuned to sniffing out deception but many of these people 'emotionally opt-out' of society. Some though, are politically aware – they know how the system works and read between the lines, sometimes getting it right.
Some are [American] patriots for whom President Trump is their Saviour and President Biden is an illegitimate impostor. Some of these people have learned an aspect of reality from various conspiracy websites or alternative mouthpieces, but their challenge (as it is for all of us) is to work out which message can be taken as true and which is guesswork, false, controlled opposition, fabrication or disinformation.
In conspiracy circles, The Powers That Be (TPTB) are usually identified as the Illuminati. The Rothschilds, Rockefellers and Royalty are all pulled in, and the Pope too is usually included. Powerful business interests such as George Soros & Bill Gates are often mentioned and more recently Big Tech moguls like Facebook's Zuckerberg and Twitter's Dorsey. The phrase "the Deep State" is also widely used now to represent the face of evil – the enemy.
Often TPTB are presented in conspiracy circles as political leaders, but the majority of the world's political leaders are corrupted by money. People with money buy influence. Money talks. TPTB are generally talked about behind closed doors because their activities are usually coercive and conspiratorial. Anyone who spends more than ten minutes in the political world knows how this works.
I saw this most clearly when I lived in Samoa and was close to the Prime Minister, Tuila'epa. It's not that I observed corruption all day, every day, it was that when you had power, it was used. The Prime Minister for example, would toy with the Media, issuing controversial stories when things were quiet and hushing things up when he wanted to protect someone for whatever reason. Releasing controversy was a technique used to distract and the concept of 'plausible deniability' was employed liberally.
Samoa doesn't have a Military force but the US does. As I write, we are watching two stories coming out of the USA – The MSM story is that the Democrat party has inaugurated Joe Biden as the new President. There are many serious problems with the MSM agenda. The conspiratorial story is that the President has appointed two individuals from the Military to run the country and 'clean it up' while he steps aside ready for an appointment under a different, legally sound, entity on or before 4 March 2021. That makes sense and fits in with the clues that I know.
TPTB, (aka the Money Power) appear to me to have installed Donald Trump into power in 2016 in a deal akin to a Faustian Deal. I cannot possibly know the exact shape of this deal but there are huge red flags for me in this financial/political deal . . .
First, The Donald is a very wealthy man. Trump for all his high IQ, political nous and business acumen can only have gotten to where he has with some very serious support. I understand that he has currently 8,000 key people around him and backing him – Military, business & government.
Secondly, I know that politics is a dirty, dangerous game, but that many in the USA see Trump as their Saviour – nationalist sentiments are galvanising around his MAGA message which tapped into this popular rising tide. His populism is clearly no accident of history. This is a huge red flag for me. Draining the Swamp is all well and good as a catch-phrase but can it be done against TPTB without their prior planning? I tend to doubt it.
Thirdly, there is enough talk around town of large financial changes relating to gold, the Gold Standard and a new US currency that I suspect a very serious financial global trauma will occur, most likely some time during Trump's second term. It makes sense, as I have mentioned in these posts, that Trump's popularity is needed to carry the populace through this "time of reset", as they call it.
If I am right then the deal would be, 'On the one hand Trump could undertake his "MAGA, Drain the Swamp, return the country to the Republic" agenda', but in the other that he would 'back off attacking the global TPTB'.
The prerequisite understanding of this potential deal is that there is actually a Powers That Be, that have the capacity to empower him to do what he wanted with the USA. If they are left alone for the next four years, would it be a problem to allow him to build up the USA, or to at least protect it from falling. They have played the long game for hundreds of years to date. No problem to do a deal with one leader for his two terms then eh?
For those who cannot accept that there is anyone able to sit down with a future President of the USA and do this kind of deal, I state as a fact that Money Power influences Political Power. Then I ask you the following two questions, "Do you accept that all Central Banks provide the default currency for the majority of the globe and that they all settle with a privately owned bank called the Bank of International Settlements?" and, "Do you accept that all Central Banks pay interest to the BIS?" The answers to both questions is affirmative and indicate where the real power to rule the world comes from. As I have said, I am not privy to this engagement but the smoke I see indicates a fire.
But while power gained illegally or legally (although not always morally) from either force or from the people voting for their representation (as in the Western world) is temporal, the Christian worldview is that ultimately it is the Creator who has the ultimate authority and power.
In my writing I take the view that, to put it simply, this authority to rule the world was initially delegated to humankind in the Garden of Eden when the Creator gave "dominion" of the world to man. It was then bequeathed to the 'tempter' when Adam and Eve fell, but returned to the Father when Jesus paid the price in full. According to the Good Book, the Holy Spirit now influences things here on earth; His nature is that of a dove, allowing man to act as he chooses in all areas of life but restraining evil; teaching, exhorting and acting when and where He is given authority to act.
At the time of writing I believe that the vast bulk of the United States has yet to realise that it currently is, through its leader who has deliberately stepped aside for a season (I understand some days, but not months), under Military rule.
There are way too many clues otherwise for me to believe the MSM story that Joe Biden was inaugurated as President yesterday. At the very least the ceremony was not real, being pre-recorded and it is highly likely that he has already been arrested and dealt with or shortly will be and could easily follow in the footsteps of other traitors to the country like Bush & McCain, who ended up six foot under at the hands of their fellow men. I would expect that nigh on a couple of hundred thousand others too will follow with arrest and Military tribunals.
Governments appear to be rocking around the world as deals are done and people previously untouchable are going down. Things are most definitely happening in the circles of power!
Election Fraud occurred in the US, especially in 2020, of that I am sure. Just read Peter Navarro's three reports if you doubt this!
That a Conspiracy exists surrounding these events is also plain to see – at least for anyone who is honest and alert.
The rest of the details of the conspiracy will of course be proven over time.
I trust that this book and series of posts brings you welcome understanding and that your faith grows – that there is indeed a God; that His character is essentially good; that He cares for His creation, and that being outside of time, He is the source of true wisdom and knows the best thing for His people.
Dennis
21 January 2021