Hopium is the phrase used by detractors of the conservative (alt-right) trends to believe that Donald Trump is returning as President of the United States. Fear Porn is the 'conservative (alt-right) detractors' phrase used for depicting the mainstream negative narrative. These are two extremes on a complex continuum. Vaccine Fraud is a strong 'conspiratorial' claim – essentially that the COVID-19 pandemic and its associated vaccine rollout is fraudulent, being planned and the population therefore manipulated for financial or ideological or political reasons. Somewhere in the midst of this there is truth!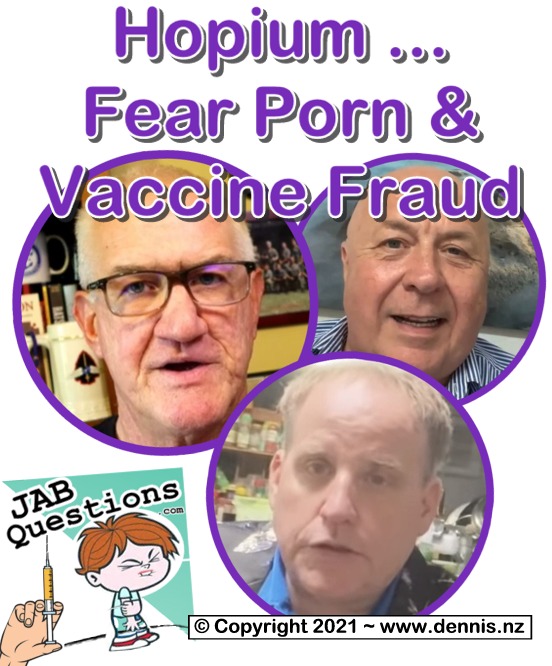 My understanding of geo-politics following the US Election has changed slightly as I think President Trump's role and approach too has changed being a fluid state of war. The basics, that the world is in the centre of a massive conspiracy, man vs God, remains unchanged in my mind. That the elite manipulate the population for the purposes of maximising power and wealth too remains unchanged, as does my understanding of globalisation, the NWO agenda of consolidation and centralisation; the theft of the 2020 US Presidential Elections and the US Miltaries use of the election as a sting operation designed to flush out the traitors and crooks.
My understanding of President Trump's role though has grown – I now see more of his international role and also in a fluid, dynamic, changing war situation rather than specifically as a US President. I try not to ping the US centric overseas media too much but it is a concern. I think the biggest change in my views has been brought about by seeing more of the global conflict between what they call the White hats and the hidden hand – the Cabal. Benjamin Fulford's descriptions along with the Non Disclosure Agreements (NDA's) with the Trump team that Charlie Ward and Simon Parkes have shared more openly about in the last few months have helped enormously. Jeffrey Prather's recent analysis too has hit hard, particularly his constant warnings that the likes of Simon Parkes and the rest of "the likes of him" are frauds. "Do it yourself. Get your head in the fight because nobody is coming to save you!" has been his long-term message. "Trump and the Whitehats are not in charge!" The snuff movie/video too was a shocker!
It is now more clear to me the role that President Trump is playing within this conflict. There is a lot more to this all than simply him returning to the White House, and on a certain date, and in the same manner as previously. A lot more, and those who peddle Hopium really need to understand this bigger global and spiritual picture!
Hopium
I love this colourful mix of the words Hope and Opium.
So the man dubbed "Mr Hopium Himself" is a UK dude living in Spain called Charlie Ward. For the last year or so he has taken the conservative world by storm sharing an apparently endless stream of hope for those awakening from their state of being duped by manipulators.
Charlie's "I'm just Charlie!" claim goes from an initial highly credible to a more pragmatic, "Well maybe! But is there more?" to a, "Hmmm, OK whatever!" the more you dig and ask questions. People are variously waking up to the monetisation, dodgy claims and gullibility of Charlie (some valid IMHO) but the concept of misinformation within the alternative community is indeed valid. Truth can be found in all of this Hopium but it is not easy. In response to negativity I recently tried to balance this by sharing the following about people who have been accused of Hopium.
Juan O Savin
Juan has clearly failed many with his stories and timelines over the last year. He talks too much and has a huge ego. His reputation has taken a hug knock as a result of President Trump not returning by 1 April 2021 and a terminal dive when his 4 July appearance failed. I strongly suspect that he is on the inside and his role is much more than he lets on. He appears to be comfortable with disinformation and deception. I am not.
I listen to Juan with a lot of interest. While verbose and as I say here with a huge ego, he clearly does have an insider's take. Unfortunately he has proven to me that he plays his audience for political ends quite badly, so this inside knowledge is a two-edged sword.
Robert David Steele
RDS stepped out of his comfort zone and paid the price for being over-zealous, trusting the wrong people for the wrong reasons. He is not a spent force by any means but his association with Juan has and will continue to cost him dearly.
Robert is an ex-CIA spy whom I have a lot of time for. His enthusiasm and bravado has taken a massive hit in two senses as a result of biting off a massive project following Juan O Savin's encouragement to get a big tour underway earlier than planned. As far as I can see Juan really got Robert in the poo by telling RDS that President Trump was coming back at the 4 July 2021, Mt Rushmore event. Robert's multi-bus US tour crashed when the money and support dissolved. I really feel for Robert but his other humbling of a personal nature appears to have knocked him "upwards" and into greater levels of faith, so it all appears to be OK. Increased wisdom all round it appears.
UPDATE: Robert has now died. Supposedly it was COVID. Why do I doubt this story?
Scott McKay & David Nino
Scott seriously concerns me and strikes me as another 'metoo' as does Nino.
Scott calls himself the Patriot Streetfighter and speaks aggressively. David Nino comes at it a little more softly but both are 'names' in the Hopium community, both with egos and personal agendas, despite their presentation otherwise. Money also features highly in both these dudes' lives. I don't like that.
Michael Jaco
Michael has a truckload of deep life-experience but not in taking the message out the way he has tried to. He has my respect but also caution.
I see Michael's contribution to the Hopium cause a little more subtle and his story is not so clear for me, yet, hence my caution. I get a little antsy about people who claim to work in the spiritual space – not because I doubt that Michael has had 'different' experiences but because while we can share them openly of course, I see the temptation to manipulate others; or to put ourselves 'up there' with God a very strong one. Yes, at times in my life I too have seen the future, walked in the 'Twilight' zone, but I question whether once can turn these events off and on like a tap. Caution is the name of the game when listening to Michael I believe.
MelK
MelK speaks the core mainstream conservative conspiracy line very eloquently and with passion so in that regard she has my respect if not whole-hearted endorsement.
Everybody loves MelK may be overstating it but her depth of knowledge and personality is indeed mesmerizing! She mixes well with Charlie Ward and has a great story and an endearing style of presentation. Hopium? Yeah, for sure! Deep researcher? Yes! Genuine? Yup! Ego? Probably, and always right? Nope! Worthy of a listen to and respect – sure!
Simon Parkes
I have blogged about Simon more than once and I see his public presentation of geo-politics as sound but the rest I see as deeply flawed. I listen hard every time he speaks and respect the way he passes on his US Military intel but I see particularly his New Age & ET thinking as fundamentally flawed.
Simon was way ahead of the field and by years. His New Age thinking and Alien experiences predate the Hopium world by a long shot. For this – his willingness to talk about his ET experiences (although he hides it now) and his accurate, sensitive reporting of military intel he is worthy of respect. As I have reported previously though, I do not concur with his take on reality in the spiritual world. Mankind is not getting better by way of New Age global consciousness change. This New Age reality is not a fundamental change to mankind's sinful nature – we still need a Saviour, no matter how enlightened we become, and no matter how many encounters we have with ET.
Charlie Ward
… last Mr Hopium himself, Charlie Ward. I like Charlie but what is more interesting than what he says or who he speaks to is what he DOESN'T say and who he no longer talks to and why this is so. His effervescence and positivity is mesmerising but after a while it does get a little too much. A shame we don't sell gold eh? As Charlie says of himself, he has gotten the timelines wrong. That's because he is overly gullible and when the QFS is eventually found to be a Ponzi scheme and that the population will be jumping from the firepan into the fire, many will face-palm and say, "If only … !" He will always have supporters but his detractors are increasing and will continue to increase.
To many Charlie is a lovable character but his gullibility is extreme. The Quantum Financial System (QFS) is a Ponzi scheme and while some can and will make good from it, the mere fact that it still requires the payment of interest means that it is ultimately yet another an ungodly system. Find out who controls it and how and why and you will get the real picture. Frying pan to the fire indeed!
I'm a 62 year old private investigator and have been an active truth seeker since I was five. I have found that everybody lies; everybody deceives; without exception. Truth is NOT the default setting. DECEPTION is!
Hopium is a deception. Truth though can be found.
Fear Porn
How on earth does one start to describe the depth of evil that pervades the world without failing to describe everything that we are told; everything that we see; everything that we participate in or that we are?
Fear, along with pain, is a major driving force for evil. It is the cause of ungodly reactions, thoughts and actions. It is the tool that manipulators use to control others. It is the thing that denies us faith that there is a good God who loves us, who cares for us and who is in total control of world affairs.
The mainstream media live off of it. Read the shock, horror tabloids and tell me that negativity doesn't rule the day!
I treasure the times that I can read great stories of people triumphing over fears. I treasure the memories of little people (some whom I have been able to help) who have dealt with their demons and pushed through, not always to greatness but to success in its various forms. I think back to the times and places where I too have personally taken on those insecurities and fears, then risen over them, always finding out in the process that almost always, fear is a falsehood. If fears are like balloons in a party room, faith is like a pin in the hands of an excited child let loose!
I hate those that push the concept that we should fear something false. I fear only the Lord, which I am told by the Good Book is the beginning of wisdom. I care about the environment but Global Warming became Climate Change by design and for a reason. The 9-11 false flag event became a War on Terror by design and for a reason. SARS became COVID-19 by design and for a reason. I could go on and on and on . . .
Vaccine Fraud
Hesitancy over the so-called COVID-19 vaccines has already become the norm in many overseas jurisdictions and high profile internal conflict over mandatory vaccinations in the US Military continues. As at the time of writing (mid 2021) New Zealand's vaccine hesitancy is still actively suppressed but the many questions remain.
Jim Stone reports that:
The Japanese media is saying the shot is reacting to magnets, yet there's not a peep about that in any English speaking MSM outlet. And, immediately after discovering the shots were not as advertised, Japan's medical association is on national television recommending Ivermectin for covid.
This horror is just the tip of an extremely large cesspit of deception – misinformation and disinformation abounds.
This post can never touch upon the myriad of concerns that exist over the vaccines but even just accepting that so many questions exist should be enough to validate any use of the word "fraud".
Planned, global, for profit, for ideological and political purposes . . . I think so!
The balancing act between the extremes of Hopium and Fear Porn result in truth to the humble. Those with vested interests, be they financial or political or whatever have to expend huge resources to defend the fraud, none better exemplified than with the analysis of the so-called COVID-19 vaccines.
Thank God that there are a few unafraid to ask questions and exercise their rights. If they act on their findings, refuse to get the jab and stand up for truth and logic, their immune systems will be all the stronger and when the seasonal flu next strikes, they will maximise their chances to ride out the annual challenge we all face. Others can expect to deal with blood clotting, skin issues and even death.
What a way to finish a post, but there you have it. Thanks for swinging by again today.