This post uses my analysis of this book to teach genuine truthseekers how to research and how to wisely view conspiracies. In summary this book is a shallow, light look at some conspiracies by an amateur new to the game. The missing subjects (such as 9-11, the 2020 Election Fraud and the Holocaust to name some obvious ones) speaking volumes about how this Penguin-sponsored effort is probably some form of 'controlled opposition'. Enjoy.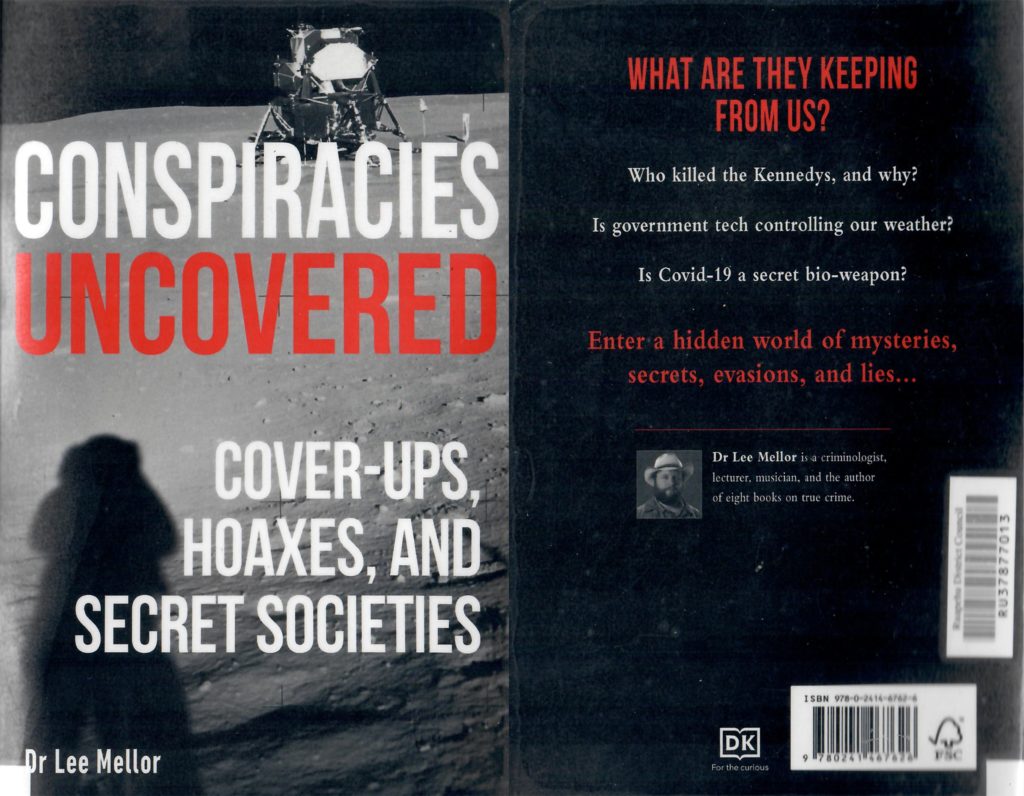 In this post I first set out the big picture of conspiracy (that in the post-Fall world, deception and conspiracy is normal – the mainstream view is usually a 'narrative' issued by those with a vested interest). Secondly I describe how I read a typical non-fiction book (from back to front) and why I do that. Thirdly I dive into one chapter (the Apollo Moon Landing) in a bit more depth quoting and showing how the author mispresents reality.
1. The Big Picture
According to the Good Book the Creater bequeathed management of His creation to mankind. In bible-speak He 'gave dominion' of it to Adam & Eve. In doing so He warned them that if they believed Him and did what He asked that all would go well but if they went their own way, all hell would break loose. They conspired then voted to go their own way. All hell did indeed break loose and the two-fold consequences of this is that Conspiracy has been the norm since and Democracy has been the method by which mankind achieves mankind's objectives. This has been particularly so in the last century or so. Our elite (more recently called the Deep State, but also called pretty much anything horrible sounding ending in -ocracy) have conspired and continue to conspire against others – most importantly God, but also those outside of their own circles (us), and what is also not commonly known or talked about – their own.
To argue this big picture summary is to argue against the primary teaching of the Good Book – along with simple basic logic and observations of life. From when we are knee-high to a grasshopper we are constantly fed BS as reality – our parents attempt to convince us gullible believing children that the Tooth Fairy or Santa actually exist. We're told that we must go to school so that we can get a good education when we mostly learn from imbibing from those beside us. We are encouraged to borrow and are told that we have to pay interest because that is normal (when neither of these things are most certainly not) and we are led to believe that success is best measured in money – theirs BTW! Money (especially 'theirs') is certainly not the best form of measurement of value in the slightest.
Believing that Conspiracy does not exist is not only unbiblical, it denies the reality that any genuine truthseeker knows to be fact.
2. How I Read a [non-fiction] Book
A friend offered this book to me as she had secured it from the local library. Before I answered her in the affirmative I asked her how old it was. It was a recent publication so I agreed to look at it.
I write and I read, but I consciously limit my reading to important and new information. This means that I can cover large swaths of information over multiple subjects and I drill down only when I need something specific. It is a skill I have developed over the years that helps me to divine truth and wisdom as well as providing an effective commercial service.
When I was given this book I could not read the back cover because it was printed in a small font in red and white fonts on a black background. Not good! The image above is larger so more readable. So I opened it to the Contents and read out to her the subjects quickly noting that I had researched all of them up until the 12th chapter which mentioned Seth Rich. So when I started to read I read that chapter, the third to last, learned what I needed to and then read from there to the end. When I then started back at the beginning I had a good understanding of how the author was approaching things from what I already knew. I was actually ready to abandon the book totally at any time, and started skim reading as I was not learning much more new to me.
The reason that I start at the end of a book is that most people leave the most important things to last. It is the summary that interests me. To be quite frank, I don't care whether it is the Pope or the Illuminati or the CIA who they say 'rules the world', but I am very interested to know how somebody derives their conclusion. If they worked for the Jesuits or the CIA or a Central Bank then this will prick up my antenna as they will have more credibility than an outsider, for example. I've blogged nigh on 2.5 million words and produced 36 books. I've been actively truth seeking for nigh on sixty years now. This book was written by some dude that has just 12 words in his bio and he's written six books on true crime and has no About the Author page?! Ummmm . . . so trying not to ping a guy too hard for writing this book but really . . . his credibility is at the lowest levels therefore even before I start reading.
Compare the likely credibility of this commentator, an ex-CIA spy Robert David Steele who has since 'come clean' and written over 2,000 book reviews in decades after reading 5,000! Just think of that – he has written 2,000 book reviews! And let's compare the kind of things he says about the CIA with that of this author:
I consider 90% of the people at CIA to be good people trapped in a bad system … the Shadow Government consists of both individuals violating their oaths of office, and institutions as a whole, particularly in the secret intelligence world. … I consider 10% of the CIA's leadership to be completely corrupt and absolutely in the service of the Deep State, and the other 90% to be well-intentioned but so loosely-educated and morally adrift as to be de facto (not de jure) traitors to the Republic.

Robert David Steele
And this Author?
[He] "is a criminologist, lecturer, musician, and the author of eight books on true crime."
Got it!
The best way to approach Conspiracy matters is to apply the big picture FIRST, then follow the evidence. Most people take this author's position and err as a result. Once you understand that the Mainstream Media are owned and controlled by vested interests this makes sense. Dishing up BS photos of the Moon Landing, hammering the official story of the 9-11 events and trying to pimp Joe Biden's so-called inauguration as genuine is just the beginning and assuming that there is indeed Election Fraud and that the MSM, big tech and others in business, banking and politics are deliberately participating in deception (par for the course) then we can see the stupidity of believing the reverse – that the MSM narrative is fact and Conspiracy is not.
Again though, we seek to follow evidence. Learning that Sandy Hook school was an empty school before it was used as an exercise, and that the first responders were first turned away "because nobody died here" may come out after the events, but the facts will always show reality. Likewise with Election Fraud. President Trump introduced legislation two years before the 2020 election knowing full well that it would occur. His sting operation has resulted in so many incontrovertible facts supporting the Election Fraud 'Conspiracy' that it is far wiser to approach matters from the Conspiracy perspective than the Fake News, MSM narrative then find facts that shock us.
3. The Faked Moon Landing
I now turn to one subject only – the claims that NASA sent a few people to the moon and back years ago. For the record, I use this as an example because if anyone still thinks that the USA sent a few flying bathtubs with men in them into space, through the van Allen radiation belts and again back, they are either paid to think that, or they are utterly deluded and haven't done a modicum of research.
This author readily acknowledges that the photos were faked but still claims that they did go to the moon! He actually says this! OMG can he be real?
Let's talk briefly about the concept of deception for a minute. Lies are told in order to achieve something – often commercial benefit (money, usually); power or control (always over others) or credibility (pride-based ego-stroking etc). The objective behind all of these things is worship. Worship is always the ultimate goal of deception. If the Christian message is correct, that Jesus is the Truth and that the devil is the father of all lies (and I believe that this message is indeed correct) then the powers of darkness seek to deceive in order to take the glory due to the Lord for themselves.
This deception over sending men to the moon was specifically designed to puff the USA up in the face of a perceived threat from Russian scientific advances. Russia was the first country to put a man into space. The author admits this when describing the conspiratorial claims:
… by 1976 NASA showed little prospect of ever fulfilling Kennedy's dream. The Soviet Union had already put the first man into space …
Here is the motive for the Moon Hoax explained well. An ungodly desire for one-upmanship which then required decades of lying and deception no matter the cost until eventually all is exposed!
Let's now take a couple of phrases and digest them:
This supposed "Moon Landing", conspiracy theorists say, must have been filmed in a circular studio about the size of an airport fuel tank, allowing photographers to film a convincing 360-degree panoramic footage …
Yes, and [surprise, surprise] that's EXACTLY what happened!
The author then cherry-picks only a few examples of hundreds, gives an explanation of them yet fails to note that there are MANY more concepts, examples and issues that right-thinking people raise. Does he explain the issue of putting men through a serious radiation experience? Does he raise issues about jet power or the mysterious deleting of all critical documents which would or could prove or disprove the claims? Does he address the dozens of issues that conspiracy theorists raise (mostly all of them perfectly valid) No! His replies are non-sensical justifications of those who wish to push the official narrative.
If any chapter shows this author's clear bias and shallow approach to Conspiracy this is it! The rest of the book is the same.
Ignore the role of the Jesuits or the Catholic Church all you want … mention Conspiracy in a bad light . . . don't even talk about 9-11, or the Khazarian Mafia, Presidential Election Fraud, Central Banking and the Pedophiles that are blackmailed in many countries . . . Oh this book is cute all right but it is of little value for a serious truth-seeker.
One of the challenges we (genuine truth-seekers) face is to sift through disinformation like this book. Subtle thinking and silky words that attempt to present things just slightly off-kilter are hard to work through for the novice. It takes a lot of time to find out who is fooling who and what games we are fighting through before we get to the truth. 99.99% true can still be lethal if the other .01% is arsenic.
Thank you for swinging by again today.