This post is one of a series exposing Australian fraudster Caroline Macdonald, CEO of BBX International, a commercial barter scam. In it I show how the crooked deceive others using what we call ad hominem attacks garnered from hidden helpers to show others up in the hope that attention can be taken off their own sins. Enjoy!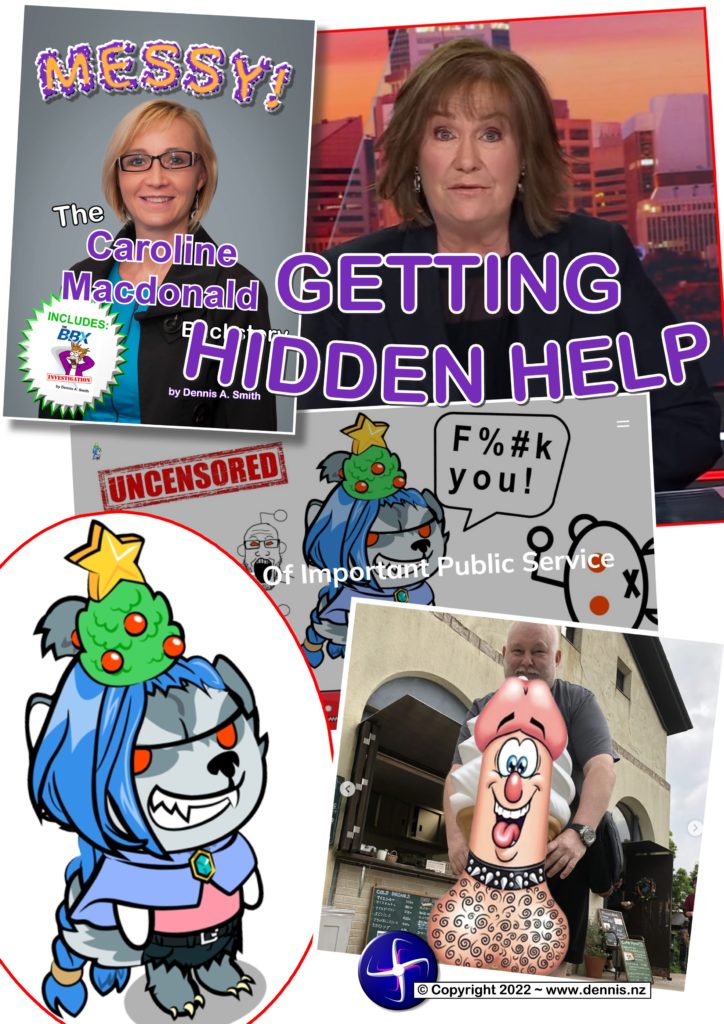 In February 2022, Caroline Macdonald conspired with one of her 'boys', Jarrad Parkes to commence an online campaign against a business partner, Robert Tidy. I guess it could be said that Rob was more accurately an ex-business partner at that stage but I won't be going into that detail here.
I'm not sure yet the closeness of the relationship between the two, nor how many others were involved in the conspiracy but there have been claims of sexual impropriety reaching me from multiple sources. I have not been in their bedroom to witness this and therefore this is only gossip at this stage but I do know that most water cooler gossip like this contains some degree of fact as its basis; this year's IRTA bash is being held in "sin city"; that IRTA conferences are known to have a strong nightlife and that Caroline and Jarrad are going to Las Vegas together – strictly for business of course. You can hear Rob's repeated accusation and Caroline's eventual swearing and denial in the tape previously referenced.
While I find Jarrad's expose of Robert the conman to be thorough enough to be exceedingly damning, there are a huge number of red flags for me in this whole "getting hidden help" thing that I will share some of them here:
There is no such thing has hidden, online. Everything put online is always visible by someone and forever. I know. I've worked in this industry for decades. I started programming before the Internet, before the PC and even before the computers we use even had hard drives. We used to save our work onto C60 cassettes and this was just the way of things back then. When something is digital it is visible to many and permanent. There is no such thing as "invisible" or "anonymous" or "secret" nowadays and I can tell you that Caroline and Jarrad did NOT know this or think that their relationship and identities would be known when they conspired to put a dick onto a photograph and write what they did about Robert Tidy.
The perpetrators of this conspiracy not only made serious assumptions about their actions and identities remaining secret but in the context of a later blackmail attempt against their target, this move lacked wisdom. Jarrad got caught out with his online deception and he lost one avenue to attack as a result. Best to play it straight Jarrad methinks!
One can lose a lot of credibility by how we say things as much as what we say. Jarrad's attack website was established in February 2022 and had some serious effort put into it March and April of 2022. It died off to only one post in early August 2022 but some of that early work was seriously solid research, particularly around the analysis of how a Crypto currency worked and specifically the research and writing up of his intel around the South African BarterCoin shenanigans, Wayne Sharpe's involvement and so on. The problem however is that the general tone is quite negative and anti. It doesn't matter how bad a guy your target is, nor how many people he has ripped off over the years, if you talk like you hate somebody so much like Jarrad and Caroline clearly do, we as readers tune out. Letting your readers think, "Oh it's just a couple of crooks having a go at each other" is a massive devaluation of the message.
Lastly, their thinking is decidedly hypocritical considering that their BBX baby is an order of multiple times worse! Glasshouse . . . stones.
The Important Points
Jarrad, I know that you are unlikely to do this, but the best question you should ask Caroline has nothing to do with any court case, nor Robert, nor even Cryptos. It is simply to ask her where the value is that has gone missing in the BBX currency over the years. The BBX members don't like you and don't trust you. They hate the currency and unless they can see some way of getting value from it they don't want any more of it! You know all of this but why? You're an intelligent young man with passion and a future. Wassup?
Ignore all the other figures, even ignore property deals cash shortages and everything else and just ask her to identify the difference between the BBX Members in debt and the BBX members in credit. That is the provable quantum of fraud right there because in any honest Mutual Credit system these must all balance.
Even just one cent difference means that somebody had their hand in the cookie jar! I know what that quantum was in 2017 – globally for BBX. You should know what it is today and by jingoes I can tell you that regardless of your 'mate's' recent performance in an Australian court recently trying it on like she did, she (and probably you if you're gullible enough and she moves fast enough) will be facing some VERY serious situations over this side of the ditch!
The next thing that stands out like dog's b*lls in this unsuccessful attempt at hidden help is what I call a "poisoned mind". It is the [usually intelligent] mind that can be seen to have been taken over by another. You see it in the younger generation whose minds have been tricked and then poisoned in some way, climate, equality, women's right to choose, or some religious cult or even an MLM drive that takes somebody else's mind and poisons it. It's the mark of a manipulator to control others. Caroline is a master at it and hates those who stand up against her – like me – because she loses control.
Being young and beautiful and able to control a rich daddy is NOT conducive in later life to empowering others by encouraging them to use their god-given talents. It does however help them in later life to poison the minds of those that they CAN manipulate for their own purpose.
Reading Jarrad's hate website, and in particular comparing the two takes of the court judgment – Jarrad's and mine show the truly poisoned mind at work. Jarrad is mirroring Caroline's hatred and warped mind in exactly the same way that he claims that Robert sucked his two whistle-blowers in so that they would invest into his vision of the future.
Can you see what I see, how an intelligent, probably innocent honest young man's mind has been manipulated to the point that he puts a picture of a dick onto another man's photo then talks about the size of his 'little bits' on a hate website? I can!
It's the VERY same thing that Caroline has done, and probably is still doing to Jarrad to this day . . .taking him on a ride to somewhere he REALLY doesn't want to go. Poisoning the mind.
Without getting into the God thing this is just pure evil in my books.
Putting "thinking" like this into the equation may be a little optimistic because of the passion associated with this all here. On the one hand you have a couple of crooks trying to hide their identities and trying desperately to take the attention off themselves by attacking another dude. On the other you have a guy who has probably one of the world's worst track records in business but who sits back and says basically, "But I'm a nice guy and I'm innocent!"
Caroline's confession in multiple places to more than one person that she set up the ACA sting operation also shows her deep disconnect from reality. To Caroline (and others in a similar situation) I say, "If you want to be a whistle-blower against a commercial competitor, go for it, be my guest, but do not cry crocodile tears when you're later found out and exposed!"
In the industry we all know you Caroline . . . every single dude at the IRTA conference up there knows the state of the BBX International currency! They've all worked out who you are and have known it for years – they all read The BBX Investigation way back in 2017 and most of them followed IRTA's shame for years before that. Don't fool yourself honey! The good ones (that's the 3% honest ones) aren't even associated with IRTA.
This then is the real take-home of this post – there is no hiding when you take it online – none. Play it straight with a straight bat and it doesn't matter how much of a curved ball or tricky moves they throw at you, you will always win.
In the next post in this series, I dive into the role of the Authorities and when and how to involve them applying it to recent BBX New Zealand developments. This concept is called "upping the ante" the ante being the starting pool in a card game.
Standby . . .