The BBX New Zealand membership and account analysis presents a remarkably simple picture, with real figures, of what happens when a barter exchange owner debases the currency. Grid-lock occurs, as the currency becomes less and less of value, down, in this case to 1.7c in the dollar and probably less. They also show the extraordinary lengths that deceivers go to when hiding their crimes . . .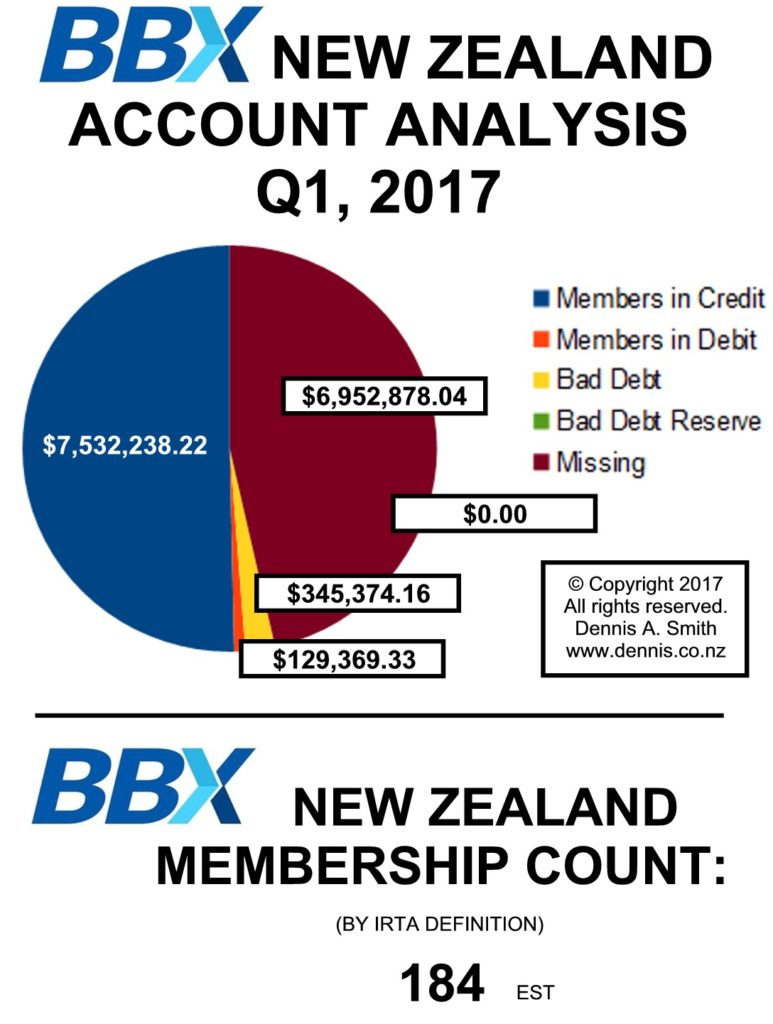 [ORIGINALLY POSTED in February 2017 at http://www.dennis.co.nz/2017/02/23-bbx-new-zealand-analysis/index.html]
When Michael Touma branched out from Australia, he took on New Zealand first. The BBX New Zealand operations were his first international foray, and have always struggled. The issues were a mixture of mis-management, cross-cultural gaffs by the big man (he p*ssed a lot of people off with his big "Aussie talk") and his failure to live up to his promises. I know. I'm a Kiwi. I was a member off and on.
But that's all the stuff on the surface. Behind the scenes for years has been constant ongoing pillaging of the value – theft, nothing less.
The figures show lots of things but the most obvious is that there are a huge number of missing transactions in the system. The BBX NZ members have sold $7,532,238.22 worth of goods and services into the system yet there is only $129,369.33 worth of value left. I have estimated conservatively bad debt at $345,374.16, members who could be "good for it" [if threatened] of $129,369.33 which leaves a massive $6,952,878.04 shortfall – missing transactions.
This is outright theft.
Here's a challenge . . . establish a business, any business from guns, to sex, to exports, to marmalade, to transport . . . and your challenge is to steal from it and/or lose a total of $7m. Easy you think? Only if you are determined White Collar criminal! BBX NZ has done that with their membership.
I have also counted members who have traded in the last 12 months, the total is 184, and this includes some dead or dying ones now, but they have traded, so I included them.
When the receiver steps in, he will find, if he is lucky, that his assets are around 1.71c in the dollar and it could perhaps even be less than that, my guess around 1.31c in the dollar. At these numbers, even if I've miscalculated bad debtors by a huge 50% this would only lift the payout to 4.01c in the dollar.
Also notable is the absence of any Bad Debt Reserve. It simply doesn't exist. When you've debased the currency so much for so ling, milking every last inch of value from the membership, what is the point of even having a Bad Debt Reserve? It's all nonsense and play-money anyway!
The New Zealand franchise isn't. It had a chequered career as Michael came and went. The last guy who ran the business (Dave Baty) has a seriously 'dubious' past with a string of fights with others in business. Many an investor has engaged with him and come away empty handed and their investments gone, but the point for me is not that Michael Touma hired someone who has a 'history', it is that I understand that he PAID, yes paid for him to operate the exchange.
Contrast this with BBX in the UK where they are attempting to SELL BBX franchises throughout the UK! Something does not compute. The figures though explain this. It's all misrepresentation.
Again, as I have warned previously, those with DEBIT balances (that is you have received goods and services from the system and are using an overdraft) will likely be required to repay the BBX exchange receivers in cash, and within 30 days too.
Analysis of the accounts reveals the following information.
An average of one member traded each day and a half (184 members:260 trading days=1.52)
The largest member in credit is $1.9m and represents 26.54 of the members in credit.
There is no member in debt with credible means or likelihood of returning value to the BBX system over $10,000.00.
Like the Australian figures, there are values in the exchange clearly relating to BBX management.
There are 320 members with credit balances, 60 members with $0.00 balance and 115 members in debt to the system.
The following is a spread of members balances over $10,000.00 in debt TO the system (all bad or at lease probably bad debt):
$104,616.69
$36,115.69
$31,800.55
$28,440.52
$26,369.78
$16,690.18
$15,947.13
$14,480.87
$14,290.85
$12,884.63
$12,076.71
$10,741.89
$10,677.07
$10,241.60
The following is a spread of members balances over $10,000.00 in credit IN the system:
$10,000.00
$10,104.45
$10,192.67
$10,242.86
$10,544.81
$10,773.30
$11,052.80
$11,403.72
$11,499.49
$11,737.05
$11,786.63
$11,991.54
$13,072.15
$13,321.50
$13,439.58
$13,544.24
$13,871.13
$14,329.98
$14,332.29
$14,362.66
$14,457.69
$14,475.16
$14,550.00
$14,584.78
$14,615.41
$14,706.35
$14,833.12
$14,972.78
$15,081.18
$15,129.12
$15,176.61
$15,580.14
$15,730.83
$16,011.03
$16,259.70
$16,273.95
$16,326.65
$16,852.15
$16,899.95
$17,343.83
$17,485.74
$17,713.11
$18,099.33
$18,662.33
$18,777.07
$19,610.00
$21,155.88
$21,206.89
$21,779.33
$21,799.52
$21,873.87
$22,511.09
$22,571.16
$22,805.00
$23,610.54
$23,694.33
$24,592.86
$25,438.69
$25,447.04
$30,369.77
$30,449.32
$31,418.83
$32,456.11
$33,565.40
$35,163.83
$35,211.98
$35,585.68
$37,384.58
$39,429.21
$40,533.30
$41,849.66
$42,021.97
$42,497.16
$42,774.01
$43,241.56
$43,388.20
$46,008.61
$46,470.93
$46,699.75
$53,339.09
$61,289.17
$63,806.90
$68,045.49
$69,305.75
$71,505.90
$72,027.79
$76,755.87
$77,293.61
$78,695.99
$78,790.86
$89,821.41
$98,069.86
$99,510.38
$100,509.06
$106,244.44
$107,820.68
$114,758.85
$135,940.88
$139,901.00
$163,784.97
$173,021.93
$178,110.87
$218,642.31
$258,443.50
$296,319.60
$1,999,060.54
BBX NZ is a perfect example of a barter business exchange raped and pillaged by the principals going back many years, a business ripe for closure. The day the authorities move in Australia, UK, Thailand or New Zealand, the entire stack of cards will fall down. For BBX New Zealand, the barrel is all but empty.
Fortunately the day this happens will not be far away.
I continue in upcoming posts to analyse the BBX figures, which interestingly from the UK and Asia tell a different but still concerning story. Next . . . to the people who have been involved in The BBX Investigation.
The BBX Investigation Series