This post is one in a series which exposes fraudster-ess Caroline Macdonald and her shonky deals using the fraudulent BBX brand and now a failed Aussie crypto company Black Tie Holdings (BT). Central to this recent drama has been a rather nasty scrap between Caroline and a fellow Australian 'betting dude' Robert Tidy. In this post I share what I've learned from digesting some pretty in-your-face aggression between the two. There's a lot to learn from this one, so grab your pop-corn and we'll get into this one a bit more than most!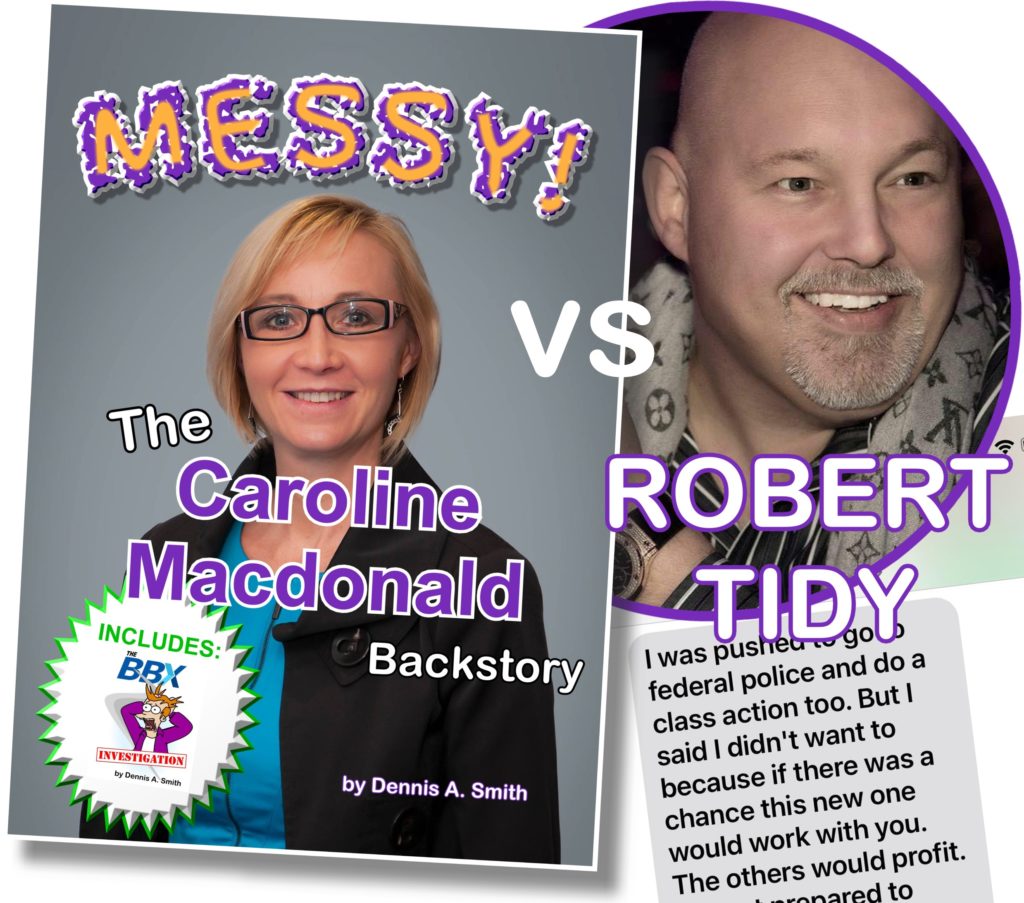 From what I've been able to work out Robert and Caroline went into a business relationship a year or two ago. Caroline took Rob's crypto currency ideas and brand. In return she promised to sell cryptos into her BBX membership and to develop a wallet, the technology needed to trade. According to information supplied on Robert's website she, Caroline, failed to deliver the wallet as promised, she sold some of the coins (nigh on a couple of million) into her BBX membership but it was way too little and way too late. Rob said he went bust, lost a lot of his money and is suing her for a whole bunch of things and according to him he's only just getting started.
Rob claims that her wallet was a fraud, insecure, didn't even work and that she had actually 'stolen' the company, by transferring a bunch of stuff out of it then used his money for unapproved purposes including propping up the dodgy BBX business. Whew! Well we know all about that one, don't we?
So he sued her, wound the company up and might have some coppers left over to buy himself a beer, if he's lucky. He also says that his life has been destroyed as a result of 'Madam's' conduct and that . . . it goes on and on. Double whew!
Caroline says BS to all of that! She presented her position to the court in mid 2022 and the judge found her (how can I say this politely?) "a little wanting in the ethics department". Basically the judge didn't believe her story and she lost. It does seem that BT will actually get wound up on the 22nd of September 2022, all things being equal. She said that there were no loans that there was a partnership agreement; that Robert worked for her and he owed her a gazillion bucks instead. She also tried to twist the crypto thing around so that she was the bee's knees and he was, well . . . nothing. Jarrad has done a good summary of Caroline's take on the court case, although he is quite condescending about the lawyers and the judge and omits all the juicy stuff, of course.
Robert appears to be quite pissed about the whole thing however and my interest was piqued as Caroline was intending to wander up shortly to the annual IRTA conference to show off her newfound business acumen – apparently she's now an "international expert" on crypto-currencies and will be sharing to the industry how to convert their barter organisation into an "innovative modern trade operation" – most likely using her own "success story" as a blueprint.
Spare me days folks and she may have a few difficulties to overcome if she proceeds with that plan as I'm 'onto her' and her BS stories, as anyone who's been around more than 5 years will know.
So, there are a few real gems in Rob's materials which I'd like to share with you.
First is the judgment itself. This is a massive red flag for anyone interested in the truth. While it takes a lot to digest a judge's ruling and you have to read things into and from what a judge says, this is one hell of a shakedown if you ask me. Caroline really got shown up to be the crook that I know so well.
A judge can't say this the same way as I can but when he says things like, "I noted that the subject heading as between the two emails has been altered to some degree [91]" and then when he quotes Mr Tidy's explanation directly in his judgment "Obviously by her because . . . it's a hundred per cent been manipulated and I believe it's fraudulent [91]" you know that serious loss is about to happen for the crook who's just been exposed in court!
Let's keep going . . .
The second thing of note, again thanks to Robert's website is an amazing voice recording of a call between Caroline McDonald and Robert Tidy which is incredibly revealing because it shows the real Caroline McDonald at work, threatening and lying her teeth out attempting to muscle her business partner into what she wanted. In some ways it's sickening to listen to it and you need to have a background to understand it but Hell's teeth it's gold! Again I'll share more of this detail in time but this is the proof of her real nature as reported to me many, many times over the years. It was a brave thing for this dude to do, putting it all out there but we should all be a lot wiser now that he's done it. As they say, the genie is now out of the bottle and there's no going back now! I hope to put some of this stuff into context for my readers to 'get it'.
Apart from his own actions, a lot of the subsequent adversity for this guy has come from Caroline's efforts to cover for her own frauds. It seems that she has a deep capacity for retribution – be it lashing out at people who dare to hold her to account or who could threaten her powerbase. She has been actively spreading dirt on Robert and has used those around her to attack – Jarred Parke for example has developed a series of hit pieces on his dedicated hate website and the Channel 9 program A Current Affair has been fed a pretty one-sided story as a form of manipulation of public sentiment. It was a little rough for sure!
Personally I think that if he's open to growth, this will all be for the best for the guy but nobody (except Caroline and those with a low-level gossip mentality) really want another dude to pay this bad, no matter if he is a user of people like they make him out to be.
For the record, I consider that all Cryptos are born of the "bigger sucker theory" mentality and that their days in the sun have pretty much come and gone so that anyone who hears the words, "Bitcoin" or "Cryptos" will immediately think "Nigeria", "India" and "Refund scams" and think of a sleazy second-hand car-salesman smiling and saying, "Oh, have I got a deal for you today!"
On this basis it does seem that Caroline's huge drive into Cryptos in 2022 is a perfect match – a losing technology for a commercial barter organisation on its last legs! Probably a good thing for this guy Robert that he's got out when he did, even though a crook ended up with his idea, brand and business, not to mention a bit of his money – according to him.
So how did this all happen then, and how could a guy get so caught up in the BBX thing in the first place? The starting point appears to be what we in the industry call a 'double co-incidence of wants'. This is when one person wants what the other person has and visa versa. Carolyn needed an idea, something to take her ailing trade exchange forward and Rob appeared to want a sales operation with technical expertise to make it happen. As far as I can work out Rob's need for a technological partner was greater than his caution or common sense, so that Caroline seemed to have convinced him that she could deliver a wallet for less than $100k and to deliver it in a few months. It doesn't matter to me how many times Robert may have pulled this scam in the past, there is just no-way that Caroline could have pulled that off, so there's your core problem.
When that deliverable was not honoured Rob should have stopped investing then and there and held Carolyn and BBX to account, but he clearly didn't. I know that it's very hard to do when you really need something but it seems to me that Rob's supposed continued investment into what we all know now was trouble meant a bigger disaster than it should have been. I know the difficulties of delivering a commercially viable software product to a budget and time and I can tell you that there is no way that Caroline and her programmer could or even will ever deliver a commercially viable product. I know this because in Q4 of 2016 when I first discussed the possibility of working with BBX live data, I was stunned, yes totally stunned that BBX held critical client data (yes this means passwords and worse) in open, unprotected and unsecured databases!
This was a massive red flag to me that simply screamed, "Amateurs, amateurs, amateurs!" and I knew that nothing had changed in the interim. The problem is not a technological one it is one of human dynamics – a conman (or woman) does not care – they do not think of the best way of doing something, nor do they consider the law as something designed to protect. They think more of ways of circumventing laws and ways of making a fast buck off their contacts rather than building something of value or doing things right.
The other thing that destined this scrap to occur is the inevitability of conflict when anyone strays from the truth. Jarrad, Caroline and the ACA team can pull a million people out of the woodwork all whom have lost money at Robert's hands but when you have one party only out for self, a fight was always going to occur, it's just a matter of when.
So having digested the whole thing then, and given my take on the big picture, let's dive into the detail starting first with this legal judgment. Rob Tidy through one of his companies claimed in court that he had loaned Caroline some funds. Caroline denied this and sought to overturn Rob's companies statutory demand:
"The statutory demand issued by the defendant on 19 January 2021 and served on 31 January 2022 be set aside."

Plaintiff's pleading, 12 April 2022, SUPREME COURT OF NEW SOUTH WALES No. 2022/00051310.
It wasn't set aside. Caroline lost, as Rob established to the court's satisfaction that the money was indeed a loan (not a gift) and that the company had to pay him back. It didn't, thus he's winding it up. I've heard that this will be happening in a couple of weeks.
"Good on him too!" I say. Caroline through her man Jarrad says that Rob lied to the judge. Maybe he did but he must have lied better than she did, because she got pinged for it and he didn't.
There were a few legal issues dealt with beforehand such as whether the statutory demand with a date error was legally enforceable or not (it was) but here are some incredible quotes, the entire document available here and the reference numbers relate to the original ruling.
The judge made his assessment that he was being fed BS by at least one of the parties:
There were a number of odd aspects of the evidence in the proceedings. [92] One odd aspect was the general evidence of the parties describing their relationship with each other. There was a disconnect in the evidence. [93]
Now in my experience judges are usually onto it. It is after all, their job to divine truth and they see so many liars and BS artists come before them that they can usually smell them before they see them. When a judge says that there is "a disconnect" this means that one party is telling porkies. Guess who this may be? Thanks to Caroline's big ego this is now a binary situation because as the judge noted in his summary, the story changed backwards and forwards a bit from 'Madam', and it didn't from the other party.
And what's this use of the plural too? "There were a number of . . . " Not just one? Not even a "couple of"? Nope!
I can tell you that this judge had 'Madam' worked out really early – she's a serial deceiver and if she ever dares to poke her head up in a New Zealand courtroom I'd be using this judge's ruling here as 'propensity evidence' of her BS skills in any private prosecution of perjury inside 10 seconds flat! You may get away with perjury like this in Australia but I can assure you that down here in Godzone (NZ), she'd be toast and wearing that orange jumpsuit too methinks!
Then when you read on down a bit there's more . . . you get to this bit:
The balance sheet is a somewhat unusual document. [129]
Umm, say that again? Say whaaaa? Is this really Caroline's balance sheet getting a bit of examination and in a court setting too?
Woah, we've gotta get a decent look at this section too don't we? What's the learned man got to say about this part of her evidence then?
Listed in the balance sheet as non-current assets, albeit conventionally they would be regarded as being liabilities, are included the following amounts:
"Loan-Carolin Macdonald ($150,000.00)
Loan- Z4 Life PL ($311,375.00)
Loan-Helen Tidy ($50,000.00)" [130]
No, surely the judge can't be serious about this – I mean listing liabilities as assets – um surely that would be fraud? Surely? Yet he simply states that this is "unusual"!
Oh come on now people surely you've got this outfit all sorted in your minds – Caroline Macdonald and her accountants would never lie to anyone would they? And trying to pull the wool over a judge, in court too. Nobody would be that stupid, would they?
Wait for it . . . wait for it . . .
Ms Macdonald [in] cross-examination readily accepted that her assertion that she had never had direct dealings with Mr Boxell and that all her dealings with the defendant with via Mr Tidy (CB 9) was false
WTF?
Now just stop there a minute and get this picture in your mind, and cement this picture once and for all . . . this is either the daughter of a Mr Clean, a legitimate honest Australian businessman, who is just about to be promoted at the International Reciprocal Trade Association's amazing annual convention in 2022 and held up as an example of innovative second-generation barter leadership that should be copied OR . . . [arrrrrh]
Caroline lied on oath to an Australian court and she got caught out! Who has told you for years that lies and theft are Caroline Macdonald – all over?
Nuff said!
So the judgment carries on discussing the legal stuff that lawyers all love to debate then the judge goes back to this disconnect thing:
I have mentioned one odd aspect was the evidence outlining the parties' relationship to one another. Another odd aspect of the matter was an almost complete disconnect in the evidence regarding the whether there was a loan account between the company and the defendant. [180]
Again the judge rules against Caroline and if you wade through a couple of dozen different paragraphs of listening to Caroline try to lie to the court time after time [181-199] he basically says, "Hey ma'am, you had the opportunity to explain things but you didn't because you couldn't, you've got a really low barrier to get this thing over but you couldn't even do that, so . . . you lose!"
The judge continued to address issues that Caroline and her team tried to raise, but, but, but … e.g.
The issue regarding whether amount claimed was due and payable is another intriguing aspect of the evidence.[215 and others]
Under conventional loan law those further sums were instantly repayable.[238]
A whole bunch of other legal stuff was argued – when and how and if this or if that, but the end of the day it was Caroline Macdonald:0 and Robert Tidy:1. The Judge booted her case out – you owe, you pay.
In the circumstances I make the following orders:
(1) Dismiss the Amended Originating Process filed on 20 April 2022.
(2) Order the plaintiff to pay the defendant's costs of the proceedings.
Honourable Justice Meek
Date: 16 June 2022
Ouch! BT lost. Rob kicked butt. Good on ya mate! I hope one day you can pop down to Godzone and we can share a beer over this one!
In the next post I dive into the personality issues of this nasty little scrap, using an MP3 recording of a phone conversation between Caroline Macdonald and Robert Tidy to show the real nature of the people involved. Standby – it's quite revealing!