BBX is a criminal organisation. Management has knowingly flouted the laws in more than one country and for a long time, even going back to the days of the Founder, Michael Touma. In this post, the ninth in a series investigating BBX, I explain the enormous significance for those involved and associated with BBX now that matters are clearly criminal. It's serious and scary, best described now in real-time, not as a ticking time bomb but as an exploding one.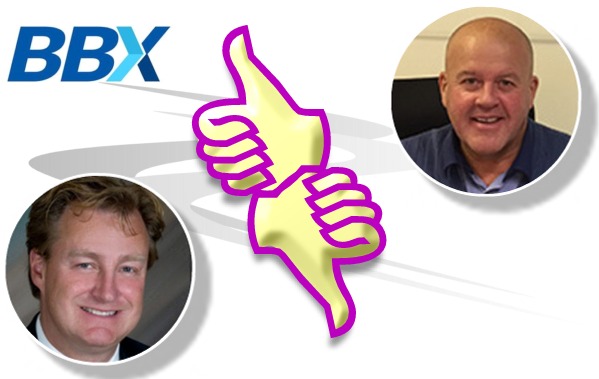 [ORIGINALLY POSTED in February 2017 at http://www.dennis.co.nz/2017/02/9-bbx-crimes-the-significance/index.html]
In this series, I have covered my investigation into the affairs and conduct of Hong Kong based, Australian run, International barter exchange operation BBX. Founded decades ago by Lebanese master-salesman, Michael Touma, it is now run by his widow and two of his daughters. What was essentially a business run by the consummate salesman who maybe 'bent a few rules' along the way, has during his illness and death now become a full-blown criminal operation destined for a rapid demise.
All associated with the BBX brand and business will now immediately upon publication of my investigation results (that show criminal negligence and indicate more criminal acts to come to light), be subject to the attention of those who enforce the laws in each appropriate jurisdiction.
This is not a wild claim nor an exaggeration.
In my previous post I have declared my stated intent publicly to 'actively bring the BBX operation down, and sooner rather than later', (and my usual oft-declared on-going desire to be seen as a straight-shooting, right-thinking, credible source of commentary). At a personal level though, I have no other agenda. These are simple facts . . . when you break the law, and the authorities find out, and the judiciary hear criminal charges and sentence you, you are a criminal. Different jurisdictions deal with criminal acts differently and different people and entities have different responsibilities ethically but basically if you aid and abet and cover up when we are dealing with crimes, you too become criminally liable when matters are finally called to account.
In my introduction, I stated that BBX is a criminal organisation. This is more than an opinion. I am stating it as a fact as I know that this is true and can prove it. The reason that I don't say that these people are "innocent until proven guilty "and hide behind the word "allegedly" is that I AM the primary accuser. The whistleblower certainly has a lot of enemies and might not have the cleanest record out there according to their stories of untoward dealings with him themselves but if you look at what he said and did, he's not the accuser. I am. He actually simply listed critical questions for people that he knew to ask.
Well ask I did, and I am the first private prosecutor (that I know of). I personally can and will stand behind my words about BBX as fact. If I am wrong then the criminals can defend themselves in court and if I am proved wrong, sue me for defamation, because that's their right. On the flip side however, when you only deal with the truth, and you can prove what you say this is an easy and low-risk judgment call on my part. As I said, I have the evidence.
The Process
So to the significance of criminality for those associated with BBX.
Let's work through the process:
Crimes have occurred within BBX. For the moment it doesn't matter what they are or how big they are but we know now that they have occurred, certainly "we" if you trust me. Not every body knows or knew about it. Some knew because they were involved of course. If they subsequently got ripped off or changed their tune then rest assured that I will probably know sooner rather than later. Others knew and covered up or helped cover up. Others knew quite quickly, some from gossip, some from my 'heaps-up' prior to publication and others from my public posts. Some still do not even know.
Believing takes time. Just like I had to do when receiving conflicting stories, we all have to assess the situation and make a judgment call on who is telling stories and who is telling porkies. Even when faced with facts it can sometimes take time before our defences are broken down and we fess up to ourselves that, indeed "Oh sh*t! Maybe I've got conned too!" This can take time.
Some will stand and fight tooth and nail and go down with the ship. Others will abandon it at the first sniff of trouble. BBX has both of these characters on board. Others will take the opportunity when it suits them and most will only do it when they have no other option – they are the ones who play political games and flick to and from situations for political purposes.
The demise of BBX is inevitable. It will occur. When will depend on who does what, why , how and when.
The authorities will act to mop up, bringing justice as best as they can given the criminals' likely attempt to obfuscate, deceive and protect what is obviously very important to them – money and power, as represented by the BBX brand and business.
All will go on their merry way making out the best they can in the circumstances. I will gloat that I have another scalp and that the power of the Internet, blah blah blah. IRTA will lick their wounds and probably try to keep a lid on the whole thing, "To protect the reputation of the industry and the proud history of the association you know!" [sarcasm]. OK they may act fast and ethically, we'll see about that in due course no doubt. Some BBX franchises will likely want to stuff effigies of Michael Touma with pins as they realise that they were conned – others will go away feeling betrayed by the people that they blame for destroying what they loved or make a living from. Others will shoot the messenger(s) – the whistleblower, me or anyone else that they think is responsible for their losses and/or pain.
The Significance
Assuming that I will continue to get the truth out there, and that I will maintain my relentless pressure on the crooks and everyone aiding and abetting them then the spotlight will move from learning about what has actually happened within this criminal operation to who is involved and how tight they are into the web of deceit.
There is huge significance to the industry when things turn criminal. Bankruptcies are a dime a dozen, but criminal acts are more difficult to deal with, take a bigger toll and [quite rightly] have greater impact.
Example 1
Take for example IRTA. In their 2016 puff-piece, Chairman of the Board, John Stabley, while talking up IRTA's achievements for the year said:
IRTA increased the quantity and quality of IRTA's membership by bringing BBX International, BBX international franchisee's and other key U.S. exchanges into the IRTA fold.
Oops! Whether or not John likes it or not, attention will be turning on IRTA and the previous and longstanding accusations (first from others then . . .) from me that there is corruption in the ranks when a barter organisation well known in the industry as led by a "talker" suddenly wants to cosy-up to the industry association.
Alarm bells should be ringing for any genuine organisation and inquiries made of those in the industry who know the real score. It's not hard . . . you just speak to the right people and you get the true intel, like this from an industry insider who said this:
Dennis,
We met Carolin and her mother at an IRTA convention. They were not members. We spoke with them about the horror we had with [redacted] and about [redacted] etc.
We then received shortly after the convention an email from Michel Touma asking us if we wanted to become part of BBX since [redacted] from Mexico also had already joined them. [We knew that] to be a big lie, so we never trusted them again, as you can understand! We knew he was full of [two letter word redacted].
They went on to explain that they had extensive experiences in the BBX marketplace and that they "never heard anyone promoting BBX back then". I will address the specific issues that IRTA now faces following my announcement that BBX is a criminal organisation in an upcoming post, as they are numerous and unique. The point here for the moment though is that there is a huge significance to announcing that criminal action is afoot.
Imagine this: A hundred people all armed may look at one lone gunman with a rifle and charge him with confidence knowing that there is only a 1:100 chance that the will be the one to pay, but if they know that he has booby trapped the ground before hand, and has well-armed machine guns with him, even a hundred soldiers may hesitate to charge.
Believing that matters with BBX are of a criminal nature is a game changer. That I have announced a Private Prosecution has huge significance.
Example 2
The UK BBX Agency is another case worthy of mention. From what I have seen it is the cleanest of the BBX agencies. John Attridge who set it up, while initially defensive in the face of my blogging strikes me as an ethical man with a decent team. It will be a damned hard ride for him to establish barter in the UK after what Bartercard has done up there in the last decade but with Bartercard's demise he will have had good opportunity to capitalise – ex-Bartercard staff, member transition from Bartercard to BBX and a membership already experienced in trade will help him in some ways but his business simply cannot survive with the BBX brand and business going down around him.
In my blogging and above, I have mentioned that the smart ones will get out. The sooner the better. While this is true of any brand or business going under, it is critical for someone like John when it comes to legal matters. Because he had engaged with me prior to publication of my report, I gave an early copy to John as a courtesy. This is a very important event because it is the date that legally, BBX UK's management has been informed that there are serious matters within the BBX operations.
While anybody can be fooled by a smart-talker like the founder of BBX, and build their business on a false premise, receiving knowledge (and ahead of the public announcement too) causes legal liability to fall on him (and his team) should the illegal acts be confirmed. Say for example there is PCI compliance problems. Say for example that BBX UK has used software from BBX International that has exposed his members' data. He now knows that the banks will move fast and firmly to terminate his banking services. This could be a terminal situation for his business – in just one day and at the very outside 7 days, he is out of business having taken a huge hit and being tarred with the savage label of operating a business knowingly with non-compliance.
This is all a very real situation for him of course as I have blogged about. John has a serious business problem right now as I blog, but again knowing that there is a problem and doing nothing about it; then knowing that there are criminal acts within his brand offshore takes it into a criminal matter for him. If he continues to trade knowing this then he is immediately, whether he likes it or not liable in a criminal sense. He will be exposing himself to all manner of criminal charges for every hour that he knows and does not act. Aiding and abetting a crime is not as serious as committing the crime but it still is a crime. Extended trading with knowledge of insolvency or deficiencies (like what I am charging the NZ Director(s) for is a lot worse of course, so unless he acts quickly, he will be exposed, criminally.
This is the significance again the moment you move from civil to criminal, the whole ball game changes. It's like you can compete at baseball with people you want to beat, but give them a weapon capable of killing and the stadium will vacate very quickly!
I can't tell people how to run their business but knowing what I do know, I cannot see how BBX UK can remain part of the BBX stable beyond a day or so. Their phones will run riot. They will get resignations by the dozens when people find out through the grapevine and gossip starts and the banks will move immediately to close him down. In due course too he will surely receive a visit from Her Majesty's Revenue boys and questions asked, perhaps even Scotland Yard and Interpol. It's all something that is unknown at this stage. He's a smart operator so I'm sure he's got a Plan B – get the data off (excluding any of the illegally stored stuff), announce to all members that all trading is suspended immediately and that he is doing something to protect them all and whatever else he feels is appropriate.
I have been told by insiders that the BBX deal in the UK was different to the ones elsewhere. This is commercially sensitive information so I won't share it here and now but I would consider it possible that the UK operation could rebrand, take the short term hit, and if they manage the crisis professionally they could emerge stronger than before without the BS that BBX foist upon them, 88,000 cardholders, 90,000 cardholders, 1000k cardholders or whatever.
John was also the only BBX operation on IRTA so he should be able to get their support for what that is worth.
One of the huge issues for someone under the auspices of anothers' brand is that when things go wrong, legal processes can delay, and delays can be terminal. John will need to track his decision-making process, make sure that it is watertight legally and then act in the best interests of those he has committed to – his agents, staff and members (promotional and commercial). This act of cutting a tie to something that is tied up legally can be fraught with legal challenges but it is simple ethically.
I personally have come to the conclusion that it is much better in the long term to err on the side of ethics. Judges can usually always recognise decisions made in the best interests of the majority by ethical operators even if the law may be a little unclear in the murk of the shady business world like BBX. It will be interesting to see what he chooses to do, and I will update here when news comes out of the UK.
In my next post I deal with the IRTA mob in greater detail. It's not a hit-piece per se but it will surely cause consternation within the IRTA ranks. They are a little gun-shy when I talk of them!
When something like this hits, fingers always start pointing at others to protect bottoms! John Strabley the President will no doubt blame Ron. Ron will no doubt blame Carolin. Carolin will no doubt blame me (or the whistle blower). Fingers will be pointed (and more) within the crumbling Touma and BBX empire, so I will try to make heads and tail out of it, discussing the very embarrassing and hugely difficult position that IRTA now find themselves in.
I also give my usual advice to their Executive, for what it's worth.
Stay tuned.
The BBX Investigation Series