BBX in the UK is currently attempting to franchise across the United Kingdom and has booked a stand at The Franchise Show in London. Coming right in the middle of my revelations in The BBX Investigation, this business expansion move is destined for disaster in more ways than one. It has the potential to put new BBX business owners at risk, it has the potential to embarrass all other trade exhibitors and the show promoters and to put huge pressure on IRTA, who are very concerned and investigating BBX for themselves.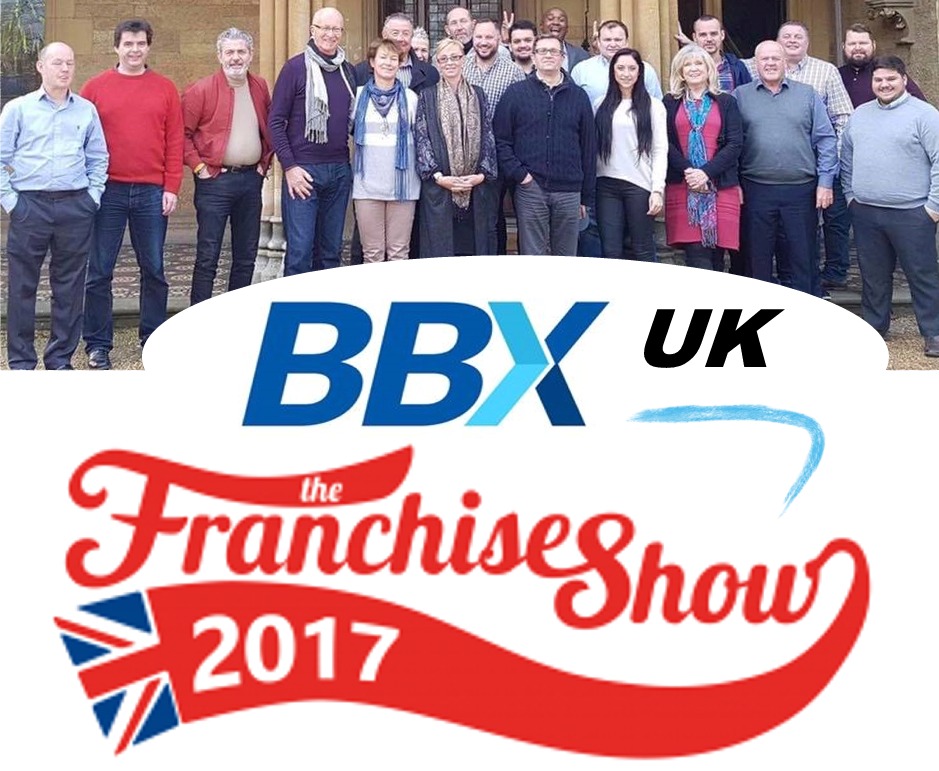 [ORIGINALLY POSTED in February 2017 at http://www.dennis.co.nz/2017/02/16-bbx-uk-the-franchise-show/index.html]
BBX UK is operated by John Attridge and others, many who have jumped ship from the troubled Bartercard operations. Some of Bartercard's members in the UK have also ported across to the BBX currency as well as their staff have jumped ship.
BBX UK appears to be following the standard business model for the barter industry, leveraging others' marketing materials and supposed success to build its own credibility, calling upon foreign (or distant) success stories within a brand or a system until there is a payday at home. Not all members of BBX UK are members in the definition used by IRTA; that they have actually traded, rather than just simply names in a database. This is a form of faking-it-until you make it, a lesser version of the Ormita fraud and Tradeqoin/Qoin con if you will. Confidence is built around numbers, and often claimed numbers rather then reality or things that mean something tangible to the members. As I have said, there is a limit to the number of restaurants you can squander your trade dollars on if you receive credits that you don't know where to spend them!
From the BBX marketing materials on The Franchise Show's online listing, we see these words, which are nothing less than outright deception:
BBX international spans 13 countries and has been established over 23 years with a high pedigree in franchising. If you are focused on getting results and have management experience we would welcome a discussion regarding our various franchising opportunities.
Nonsense as anyone who has read this series will know!
In the barter industry, like the banking industry, everything is about confidence. The INSTANT that any bank shows any signs of failing, the inevitable run can destroy their business. Credibility is everything to a bank – we know it and they know it and they will do ANYTHING to protect a bank run.
What the barter industry does is the same . . . "trust us with your hard-earned goods or services and take our barter credits. You will be able to spend them with our members and generate oodles of new business . . . " and so on, the sales marketing will go.
What is not commonly known is that the real money in the barter business is in leveraging, not the core barter business. I explain this in more detail in my book Bartercard SECRETS. Yes, clipping the ticket on all transactions and capturing ready cash for membership sign-ups (when that actually happens) and monthly/annual fees is great, and perfectly valid.
Where the real value though for exchange operators is found though, is in leveraging whatever they have by way of memberships and franchises and goods/services using their brand and currency. I'll give you three examples:
1. Leveraging Membership Numbers
Starting a barter system from scratch is hard work, actually 'damned' hard work. Once we have the first 300x members and can keep them happy and trading then most exchanges can be away and have a decent shot at survival, but claiming that we have gazillions of members, or in more recent years, gazillions of cardholders helps to present us as something bigger than we actually are. It's a kick-start that exchanges usually always leverage – numbers, numbers, numbers. Quantity does bring increased leverage, but at the expense of quality thus we have large dissatisfaction levels in the barter industry. Go big and spread wide, or stay small and keep it tight with quality. Each exchange owner makes their own choice in this but leveraging by numbers is the most common way to get established. BBX UK is really only just getting established in the big picture.
2. Leveraging Credit Creation
Exchange owners have a massive opportunity to profit at others' expense. Being in charge of the creation of credit (especially when others don't know what to look for and don't know what you're up to) is a huge opportunity. Unfortunately it acts like a magnet to the crooks and the greedy. Outright theft from the exchange by the exchange owners is common, but the real power comes from leveraging others' credit using their goodwill and credit for personal gain. There are many ways to do this – dealing with property is one of the easiest and quickest ways to into gain personally. Exchange owners learn and are taught the tricks of the trade and how to leverage the moment they have control of the hen-houses! The key . . . leverage. Franchises give increased leverage.
3. Leveraging for Franchising
Once we plug into an international network, such as what BBX UK did when it joined BBX International, we can present ourselves as much larger, more powerful, more attractive, more solid and more secure than what we really are. This credibility is gained from having international connections and this builds confidence for a future Franchisee. "Surely an organisation that has xxx members in xxx countries that has been around for xxx years must be reputable?" is the question that BBX UK wants to generate in the 'punters' by associating with BBX International. It may backfire.
Poor Quality Franchisees
One of the repeating and striking aspects of the BBX International operations going back years is the poor quality of Franchisees that have come and gone through the BBX "family". This runs totally contrary to the marketing materials that BBX UK presents to the attendees of The Franchise Show.
Founder and Chairman of BBX, Michael Touma knew very well the leveraging techniques of establishing his BBX currency. He knew that anything was better than nothing and how to leverage what he had for all it was worth.
While the sale of Franchises for real cash did occur, many of his deals were done for nothing. BBX "sold" Agencies for anything that was going. I know this from being in the industry long enough to have been offered them myself, and the evidence of The BBX Investigation shows undeniable proof that Franchises, including entire country Master Licences were given away.
Why? Why would this occur when there is supposedly money required for something of value?
The usual answer to this one is because the buyers had none! But there's more than that . . . BBX can leverage ANYTHING it gets its hands onto.
In a previous post, I gave examples of staff and I have many from members as well, lamenting the ethics and performance of Franchisees. I've been involved with BBX for over two decades and the same repeating patterns occurred. Lots of talk. Poor performance. Every now and then a genuine person would pop up – staff or Franchisees, and they were like gold nuggets in a rocky river, but overall you had bankrupts and losers and the frustrated and the selfish and the greedy all out to make a fast buck at your expense.
The point here is that it is not profit immediately that is the lure, it is the capacity to leverage off your own currency and systems that experienced barter operators know, understand and generally milk for all it is worth! I will be sharing more about how the industry actually does this with property as an example in due course.
Sure, it's great for a brand owner to have a good operator bringing in the members and getting them all spending but it's just as good in one sense to have a crook out there doing whatever is needed to keep the fires apparently burning than actually performing.
A two edged sword
But it's a two edged sword for those who associate with an 'international brand', like BBX UK has done. Great to be a 'part of something big', but a nightmare when things go wrong, as BBX UK is finding out.
It is rare that people dig deeper than the surface, even when investing their life savings, but when you do the research, like I have with BBX International, you get a vastly different picture than that presented by BBX UK thus far and one really must be concerned.
The Franchise Show
Despite what it may seem like to those who are threatened by my revelations I actually work very hard to prevent business disaster for others. I warned The Franchise Show (and IRTA) in advance of pending negative press:
Hello Jo, John and others
I am an investigative blogger operating from New Zealand.
I am currently investigating an attendee at this weekend's Franchise Show, BBX International, by way of their UK National Master Franchisee BBX UK.
I respectfully recommend that you and perhaps the show's attendees conduct due diligence on this attendee and to that end I make myself available to answer any question(s) that you may have.
I give this warning and advance notice in the interests of minimising fallout for any innocent and reputable company or entity that ends up associated with potential negative press resulting from exposure of the aforementioned Australian-founded, Hong Kong, international barter exchange.
I would particularly like to draw your attention to what I think are several important issues:
I have already published references to the Franchise Show in my recent damning analysis of BBX's conduct around the world, thus to a limited extent the story relating to the Franchise Show is already 'out there' – it cannot now be reversed;
Critical aspects contained within the marketing materials from BBX UK on the show's website are demonstrably false. BBX International (as I have already shown in ample detail in my blogging) has either a declining or nil presence in almost all jurisdictions claimed worldwide, with serious misrepresentations of their current true position the norm. Current operations are effectively in less than half a dozen countries and as far as I can determine, growth is occurring in only two; possibly only one;
The BBX UK Master Franchisee is fully aware of my investigation and blogging and received prior notice to publication of the primary expose. BBX UK has had and has direct access to me at all times during my investigations/expose and proceeds with exhibiting at this trade show in full knowledge of all matters I have revealed;
The International Reciprocal Trade Association (IRTA) who claim to represent the barter industry globally is, I direct quote "very concerned" and has also commenced their own investigation into BBX International following my expose (which is ongoing);
I have always given those associated with BBX opportunity to rectify matters prior to publication of any material that could affect innocent or fooled parties but when ignored or challenged, I proceed with the scheduled story/stories. In essence I do not wish to entrap innocent parties (like yourselves or any co-exhibitors) for sensationalism or personal marketing benefit like the tabloids seem to want to do but I an fearless to speak the truth;
I propose to commence writing the story regarding BBX UK and The Franchise Show and have it ready for publication in around 24 hours, a little challenging I am sorry, but this is due to the tight timeframes before the show;
I offer the opportunity for all associated parties such as yourselves to make comment, contribute to and/or correct any errors of fact prior to publication if you/they so wish. If you do wish to be involved (or to preview the post prior to publication), please reply to this email, Skype or phone me and I will be happy to oblige;
The tone and thrust of the post will be determined by the show's promoters response to this email. I do not wish to influence anyone unduly however obviously I believe that it would probably be in everyone's interest to be proactive and take affirmative action to either prepare for or to resolve any PR issues that will inevitably arise from my exposing the situation this weekend;
I propose to contact all show exhibitors simultaneously or slightly before publication of the critical post release so that they too may prepare for any negative press. I would encourage you too to consider the same action to prepare your attendees for the potential, that one of their co-exhibitors has been found wanting in some regard, or at the very least is under investigation by myself and the industry association. I would consider the potential for negative PR issues to be VERY HIGH as I reserve the right to actively push the story in any manner that I choose;
I have stated publicly that I have determined to do all I can to bring about the cessation of all BBX operations internationally as a direct result of the issues I have established in my investigations thus far. I will be doing this by continued and relentless exposure of the BBX International deceptions and illegal conduct. Not only that, but I am doing it in my own name personally as I believe that it is the only ethical way to live and I only deal with facts.
I am considering this email to be "on the record" and is likely to be included in full in the upcoming post.
I am aware that this email may cause consternation in the UK, perhaps in the Franchise industry, certainly within the company under investigation, IRTA and potentially the show promoters and attendees.
While this may appear to be drastic action on my part, I ask you to understand that there are thousands of people and companies across the globe who are and have been affected adversely through the conduct of BBX International and that I believe that the potential of further losses throughout the UK necessitates such drastic preventative action.
I also believe that giving people opportunity to not only do the right thing, but to be seen to be doing the right thing is the best course of action on my part. While I am determined to get the message out there, I am actually ambivalent to your combined actions from here. I intend to report and pass commentary on the events as they unfold whatever they may be.
I am showing BBX to be a struggling, mismanaged and unethical global enterprise. Should their attendance proceed, unless I have missed something important, in the context of this email and prior warning of publication of a story, I would consider BBX International to have the active support of NEW START EXHIBITIONS, The Franchise Show, IRTA and by association the UK Franchise industry, should their attendance proceed. Should losses occur to future BBX UK franchisees as a result of either inaction or active support in the face of this warning and abundant evidence already placed online, you may also become legally liable for all or some of that loss.
Lastly, I thank you for reading this email and understanding this difficult situation we all appear to be in.
Should there be any negative press surrounding The Franchise Show's proceeding to have an ailing, failing misrepresented Master Franchise attempt to present themselves on misrepresentation, the consequences are on their shoulders. I warned them.
It would take only one call from a competitor or disgruntled ex-member to tip off the tabloids and The Franchise Show could be seen to have covered-up, as would be the case with IRTA – having had knowledge that there are serious problems with one of their members for a long time, yet apparently covering up for them, potentially seen as waiting till after The Franchise Show before taking affirmative action.
In upcoming posts I will continue to describe the tricks that barter organisations get up to, explaining how leverage works in this industry and why BBX UK is keen to build a network nationwide; any how, any quality and build the numbers no matter the real value or return. I will also be detailing how leverage is used within the industry with property, something that BBX International knows and understands very well going back many years.
In my next post I drill down deeper into the BBX account and membership statistics and explain the significance of an unbalanced trade exchange. It is an important post as it shows the huge consequences of massive pilfering from the members, how the 'little guys' pay for the 'big guys' to live off their assets. I consider it an honour to be able to teach and reveal what I consider to be immoral conduct perpetuated by corrupted people in powerful positions, deceiving others for the personal gain of the few.
BBX & IRTA, and now The Franchise Show appear to colluding to prevent this knowledge get out. I encourage any reader of this blog to share the above to the discerning.
The BBX Investigation Series