BBX International is a company in crisis. In previous posts I have shown that the company has been mismanaged (for years); has high Franchisee turnover and huge member dissatisfaction that stem from the owners raping and pillaging the credit of their members. In this post I analyse and explain the significance of debasing a currency, and in this case the BBX trade dollar. It's fine when confidence is high and you can get away with it, but it's usually terminal when the word gets out. BBX is facing accountability now.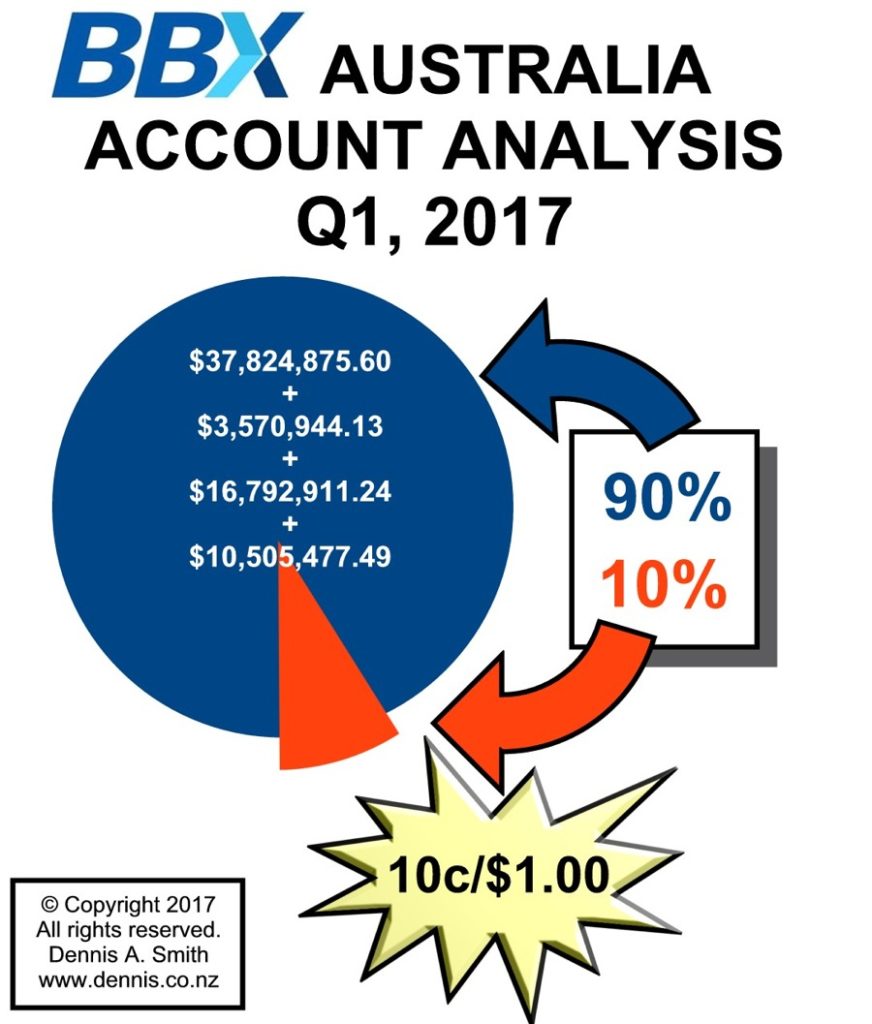 [ORIGINALLY POSTED in February 2017 at http://www.dennis.co.nz/2017/02/18-bbx-currency-analysis-10c1-00-backing/index.html]
BBX International has a very serious crisis which will resolve in only two ways, demise in a short space of time, or demise in a very short space of time.
There are two primary reasons for this prediction.
First, it is run by a corrupt, unethical and incompetent management, clearly out of its depth. They have run it into the ground and the gravy train has all but stopped. Indeed it is already going backward at a rate of knots. Expect the downsizing to continue.
Secondly, when the truth gets out there, the members will cease trading (refuse to sell into the system) as confidence drops even further. Franchises too will continue to fold and/or walk away from the BBX disaster and/or back off if they either have or were about to join the system. Indeed while this has been happening for years my blogging is simply hastening the process.
While I intend to continue sharing the reality as long as the corpse of BBX twitches, even if I was to remain silent or even be 'suicided', the die is cast now and death is inevitable.
The core reason for this business failure is not me, nor the opposition pulling strings behind the scenes, nor disgruntled franchisees or ex-staff (and there are lot of them across the globe) even though these things are factors. The core reason is that the truth I presented in a previous post is out there – the BBX currency is debased to at least 10c in the dollar on available figures and most likely even less.
Let's dive deeper into the accounts and get a grasp on how serious this currency debasement really is for BBX.
Any Mutual Credit currency has, by nature, equal debts and liabilities within the currency. I sell something worth $100.00. I have a credit of $100.00 and you have a debt of $100.00. Increase the people involved and you have the same thing. Six people sell something worth $100.00 each and there is a total of $600.00 in debits and the same $600.00 in credits in the system. This is basic accounting and there can be no exceptions.
What BBX (and other barter companies such as Bartercard, Ormita and other dishonest operators) do is to conceal the reality, pilfer the real goods and services which devalues the exchange. In our examples above, BBX may buy something worth say $200.00 which means that there are members with $600.00 worth of credits but only $400.00 debits left in the system.
When a currency is debased to 10c in the dollar, like BBX is, it means that 9/10 of the value that members have brought into the system has been extracted by it – almost always by the foxes that are guarding the currency – the ones who build and do everything to maintain the trust.
How can they do this you ask? Surely they would owe the system and it would be recorded as a debt? Ah-hah! But remember that the foxes are guarding the henhouse. How would YOU know that theft had occurred? You don't!
Unless you know how to get on the inside of the BBX system and look at the real figures, you would never know, would you?
Multiply that all by a few million and add in a decade or two and you have . . . BBX . . . and Bartercard . . . and others!
Creating a system of credit such as a barter exchange is ethically fine. It's a natural and a perfectly sound business model. The problem is however human nature which is to pander to our wants in the context of secrecy. BBX has done this very well and secured substantial gains for the few at the expense of the many.
In the above example, where we have six people buying and selling into a system at $100.00 each we should have $600.00 credits and $600.00 of debits. If somebody removes 90% of the wealth from the system then we will still have $600.00 credits but the debits would be only $60.00. $540.00 of value has 'gone' leaving the backing of the currency at 10c in the dollar.
BBX's currency mimics this example. There is (according to the figures I have showed previously) just under $70m in credits in the system yet only $7m in backing. That's a currency only worth 10c in the dollar, calculated from their actual figures, member by member, account by account.
Infographic
I now explain a little more about the two infographics and how serious this is:
In the first pretty picture we have [on the left in blue] a presentation of the members who have credits $37m. These are the ones who want to spend their credits.
Balancing that are the ones in red [bottom right] who owe the system. These are the ones who have purchased more than they have sold into the system. This is the only true value in the system. At the moment they are sitting pretty, and as long as nothing changes they can laugh at the other suckers who have input value and got nothing back! Should BBX go under and the liquidator moves in, they will need to pay it back IN CASH within 30 days, so they are increasingly exposed, but that's another story for another day.
The yellow totalling $10m is bad debt. Now I can only estimate this but I've tried to be conservative – it may be even more, but looks reasonable to me. This is people and entities who have extracted value from the system, who still owe it but who are unlikely to repay it. These include big value BBX accounts, friends, associates and trusts etc. Included are the big accounts who trade well but have ceased repaying their borrowings.
Moving up then is the Bad Debt Reserves of -$16m [green]. These reserves should be positive and thus be of some value – a safety net for the members. In BBX's case though they are in the negative, which means that this is DEAD MONEY in the system. Nobody with a credit can claim against a debt! The cause of this is member defaults, a system that permits transactions to be deleted and/or hidden or outright theft – pilfering from the members' system.
Lastly at the top right is the missing credits – $4m. That a system is out of balance by such a large amount (both in a percentage of the currency in circulation and the actual value) should be of grave concern to members and is very telling. In a proper accounting system (in either the cash economy or a barter exchange) a system must, by design, always balance to the cent. The only way it doesn't is like IRTA's Universal Currency where figures have been hidden. Can things be hidden or removed from the system in BBX? Yes! Have they been removed more to the point? Again, yes!
So there you have it.
The consequences of this all is that we have a devaluation of 90%, inflation and debasing of the currency to only 10c of what it is held out to be. A whole bunch of members have credits wanting to spend them ($37m) only a few with debit balances and liable to pay back into the system ($7m).
When you have the ability to print money, most do. BBX did and does, and concealed the debt . . . until it was released here.
People cannot spend within BBX the system locks up. Incomes dry up for BBX. People are laid off. Branches close. Receivers will be appointed. Liquidators will move in. Bye Bye BBX.
In future posts I will discuss the insider tricks that barter companies (like BBX) use to profit at their members' expense – the above figures which essentially show gross dishonest and greed, will then make sense. The true situation is though, substantially worse than these figures for while these are accurate today, the entire picture cannot be understood until you see the historical situation and understand how BBX has, for years, gamed the system for millions on a regular and ongoing basis.
These figures are like a snapshot, like a still photo. In future posts I share how the system really worked over time, giving a picture more like a movie.
I also give practical steps that BBX members across the globe can take to protect themselves and give the lessons for others such as Franchisees and future franchisees who have lost or could potentially lose involving themselves with a crooked barter company.
The BBX Investigation Series