This post provides an overview, documentation and commences my [limited] commentary on civil litigation I commenced against Kumeu businessman Ian Plowman, his company Nikau Grove Nurseries Ltd (in Kumeu, not the Bay of Plenty) and others. As with all posts here, I offer full Right of Reply. I also note that while the matters are now before the court comments may be moderated as it is the presiding judge's prerogative to dispense justice. I aim to present the facts here as presented to the District Court. Enjoy.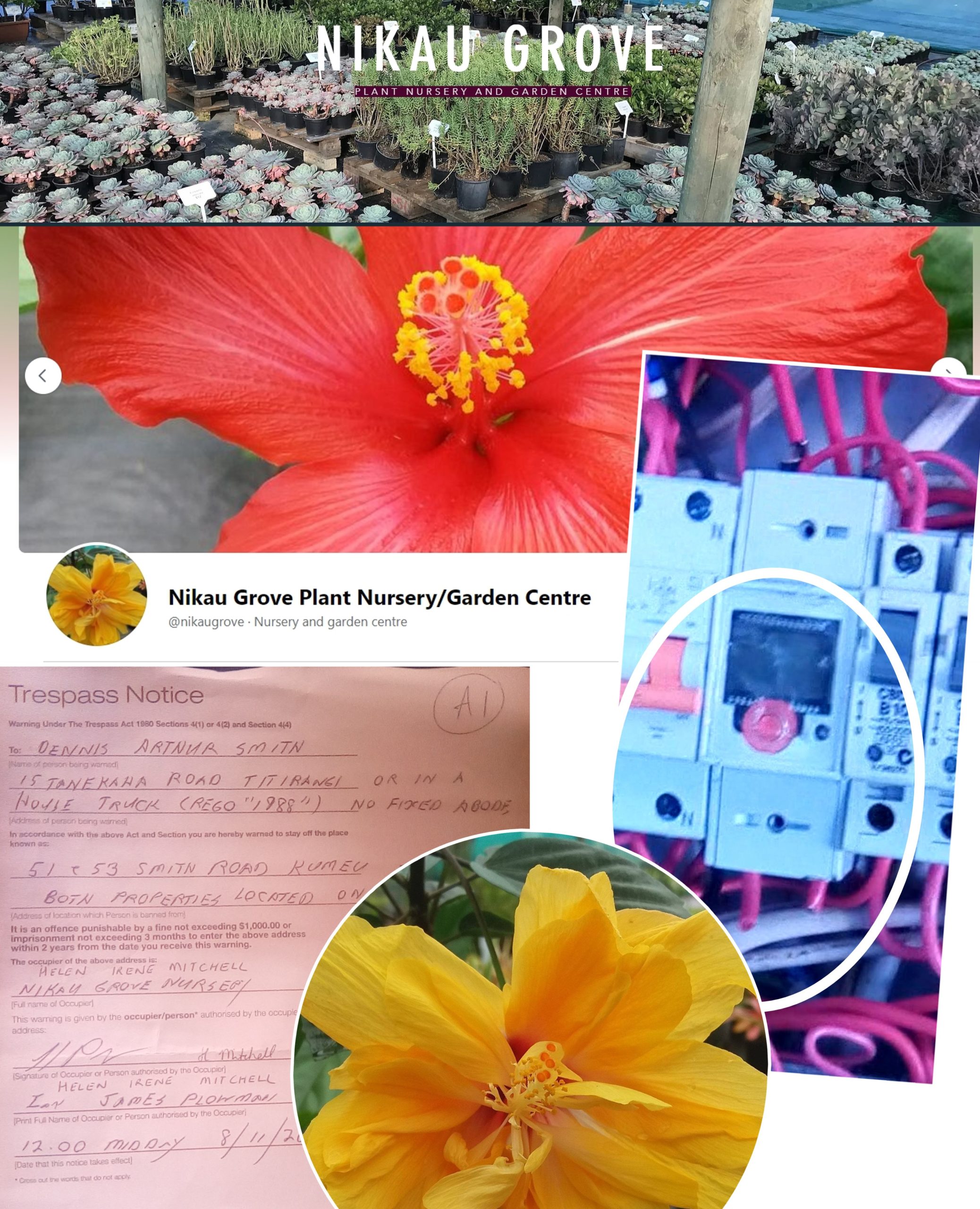 I first met Ian Plowman in 2018 after visiting a Kumeu-based mobile home opportunity. I was offered space in which to park-up and potentially establish a community of like-minded individuals. My friend introduced me to a woman who was leasing part of a property for $50.00 per week with power a nominal extra $5.00pw. She had two mobile homes, car, use of a large greenhouse and with a small area of suitable land I considered it a possibility but went away to think about it and keep looking.
Following that visit I drove into Kumeu and passed what turned out to be a 28 acre property, the old Corbans viticulture property in which Mr Plowman had been running a nursery business, Nikau Grove Nurseries. I saw his signs and stopped in to look around, asking him specifically if he had any fruit or nut trees, which he didn't. The Nurseries were maintained in excellent condition ("the nursery was gaining a reputation as one of the tidiest and best set out plant nurseries in Auckland" he later said) but they were not standard. It appeared to have huge stocks, yet little marketing, neither online nor in person. I met with Mr Plowman and found him a self-confessed ultra-talkative guy, a little unusual but a 'nice' chap. In the course of a couple of hours chatting he explained that he had done everything himself (incredibly, with no hired help), that he really needed help and that he had currently (as he put it) a very serious problem with a tenant, a Bruce Corban that he was clearly desperate to get rid of.
I explained that I was looking for land and described my business model. I suggested that we did business, with the intent that I would bring my business to the land, negotiate with his landlord to become the head lessee of the full 28 acres, establish a community of people with a horticulture focus with the aim of cross pollination to bring his own share of the rent down, hopefully to nothing as the community members worked in with him to develop his business. I perceived a win-win scenario. He was seeking to secure a lease longer than he currently had; to solve his current marketing and sales problems and to get rid of Mr Corban whom he told me more than once that he hadn't spoken to for seven months previously. He was very open to any possibility. After a few hours of talking we agreed on the arrangements as just described, I chose the area that I wanted and offered to pay him the $50 pw rental in advance (which I offered based on the same value as my just completed viewing). He agreed but asked that we do not do any documentation because he had had huge difficulty with other tenants over lease agreements and he gave me a long sad story of his troubles with Mr Corban. I agreed to that and he gave me key to the gate. I summarised our agreement though by email that night (to which he replied and noted his agreement of the applicable laws) and I then over the next week or two I moved in and started work.
All appeared on the surface to be fine, indeed while he demonstrated a few little personal idiosyncrasies he was always polite, I paid everything as I had promised and I engaged with his landlord to find ways to do what we had planned. In fact all the beautiful photos of hibiscus rosa sinensis flowers on his Facebook page all came from my cuttings that I donated to help him. Fifty one different varieties and hundreds of cuttings I gave him as he had none!
But this did not shape up the way we had both hoped as the land owner could not enter into any long-term arrangements due to internal issues, nothing to do with me or him. A few weeks into the lease I advised Mr Plowman of the fact that our plans could never come about because of the landlord's insistence that the lease would be terminable on 12 months notice, and this was an insufficient period for potential community members. Sure, some people could uproot themselves and move on with relatively short notice but if you invest into (for example) planting a fruit tree, you need a few years to see it grow and get a return. Five years, preferably renewable, would have done it but one year – not. I let Mr Plowman know the bad news by email and told him that I'd be moving on when I found a new place but he didn't respond.
So things carried on as far as I knew everybody was happy. I continued to pay the rent on time as agreed; I had already moved my container and house truck into the land we had agreed and I continued to build the Tiny House Workshop in my 40′ High Cube container. And then Mr Plowman dropped a bombshell, he unilaterally terminated the lease. "You are making a mess on my property, causing me and my clients trouble, so bugger off. You're a squatter because you've got no lease and so you've got to get out inside one month or else!"
WTF?
I've since worked out that this dude has Asperger's Syndrome but I didn't know this at the time. It's typical Autistic behaviour which I seem to have a knack for sniffing out. Mr Plowman had gone around behind my back, told everybody that I didn't have any lease, that I was a 'bad man' and that the Police and their legal team had told him that I was a squatter, "because I didn't have a lease". A lot of horrible stuff happened thereafter. He turned the water and power off and locked the toilet door. I had to shit in the paddock as a result. He trashed a whole lot of stuff, locked me out of the Container Workshop and physically assaulted me more than once. Once I was hospitalised; twice called the Police and received injuries causing blood to flow. Not good, in fact VERy not good! The local Police advised me to vacate the premises while he was present, thus preventing me from getting the workshop ready to move and I lived in a little Toyota Vitz for a month until I was eventually evicted.
The details of all this will all come out in court, of course. I have the evidence – all of it!
Now Mr Plowman has his own take on the whole thing, has gotten others to support his story (that Mr Smith is/was a squatter; he has/had no agreement; he was only given three weeks (tops) casual stay and that he was the one who trashed his own property not visa versa and so on). Whatever. Hopefully the judge looks at the evidence and uses it to decide who is telling porkies.
So in the process others got involved. He coerced his neighbour Helen Mitchell to sign a Trespass order [above image]. He contacted the container supply company and conspired to take the container away. What happened to teh entire workshop I'm buggered itf I know but I sure as eggs don't have it! I had to start afresh. Mr Plowman got a fellow tenant to haul my house-truck out to the road with his tractor, and overall his actions cost me dearly with a total loss of many tens of thousands of dollars. The Tiny House Workshop alone contained more than $60k worth of machinery, stock and plant! So Hi Ho! Hi Ho! It's off to court we go! This Thursday we commence proceedings with the first round finally getting a whack – Covid and procedural delays have pushed this thing out from its initial filing in Q4, 2018 till this week. The court has allocated three hours for Mr Plowman to present his Application for a Strike Out, and in the alternative his Application for security for costs. I'm defending of course and asking the court to proceed with a trial in the normal manner.
In the New Zealand court system, one lodges a Statement of Claim to initiate proceedings. If the Defendant(s) (in this case Mr Plowman, his company and Mrs Mitchell) believe that the Plaintiff (that's me) has no case, then the court can boot the case out (Strike it out) without a hearing. There are strict rules for the courts in order to do this and they don't like to do this as a general rule so unless Mr Plowman and his lawyer can convince the judge that the case clearly has no merit, then it is likely that the matter will proceed to trail in the normal manner.
The Plaintiff's in this case are not all of the Defendants in the substantive case, so the case should still proceed no matter what against those left if they manage to convince the judge that there is no case to answer, but as the facts as presented in the original statement of claim must by law be accepted at this hearing, my take is that Mr Plowman should be preparing for a proper trial.
Now if they lose this Strike Out thing, their "Alternative" is that I should have to put a deposit down to cover their costs in case they win at the trial and I can't cough up the costs. Seeing as Mr Plowman has challenges paying his own lawyers, I consider this a bit rich but hey, it may be worth a try, after all I am listed as a Beneficiary so it 'might' be that I cannot afford a grand or two. The judge can determine whether or not he thinks I am not good for it or not. Hopefully again, he will use evidence not just some crazy belief from an angry fruitloop and lawyers out to cause trouble.
To recap, this is the first public mention of this legal matter here. It is designed to inform and share the facts, using the actual documents supplied to the court, with only light commentary from myself until the judge eventually rules. My take, for the record, is that everything I have presented to the court is 100% accurate and that Mr Plowman, his company Nikau Grove Nursery Ltd, the neighbour Mrs Mitchell, the Container supply company Sea Containers NZ Ltd and the last added Fifth Defendant, Bruce Corban will all eventually lose in court and have to cough up. We'll see. I'll keep this post updated with the latest news as it happens.
A quick note here on reporting matters before a court. Unless specifically prevented by statute or court order, (both highly limited situations) all court matters in New Zealand are public and on the record. It is commonly believed that one cannot comment on matters before (that means being dealt with by) the court. This is not correct. It is perfectly possible for the public to attend court hearings and it is perfectly proper to report on events as they occur in court. What is frowned upon by the courts is any reporting that is not factual or that does or could influence the court in a way that interferes with their dispensing justice – and they get titchy about this too. My blogging is always opinionated – that's what people 'pay' me for – to share my opinions but I respect the role of the courts and the legal/justice system in NZ. I don't like nor do I approve of many aspects of it but I respect it. My take is that if Mr Plowman, his legal team or anyone else has an issue being blogged about here then they should go to the judge in question and ask him to order me to Cease and Desist, whatever it is that they take offence to. The court provides a formal mechanism to do this.
Key Documents filed
Statement of Claim (current version). This document initiates the "matter" to be dealt with before the court and along with formal notice (not shown here) must be served on all parties and of course a copy given to the court. An application to include the Fifth Defendant is also before the court.
List of Documents. It is required that the Plaintiff (me) supply the Defendant(s) with a list at the outset. IMHO this is only fair as it gives the Defendant(s) an idea of what they are up against. Nothing much in the list probably means that no real evidence will be presented but a decent list (like this) probably means that there will be a fair bit of evidence used in the proceedings. The actual evidence to be used will all come later, and before the hearing proper.
Statement of Defence (the first version). This document is Mr Plowman and his companies first formal response to the Statement of Claim filed in the court. It does not follow standard legal procedure, rambles on a bit but makes his position 'sort of' clear, that there was an agreement of sorts but then there wasn't an agreement.
Statement of Defence (the second version) issued by Mr Plowman's first lawyer, Neshia Holdaway from Norwest City Law.
Application for Strike Out. This is the formal application that attempts to halt proceedings and get it all turfed out without a hearing. This Application also includes an "alternative" request – that I should have to put down cash to the court as a deposit, (just in case I lose), probably to be held later in the year or maybe 2022 if the courts or others hold things up. Even though it costs their own clients unnecessarily many lawyers often try this all on (it's really just a game to them) against self-represented litigants but they know that they can't win easily when they are up against other lawyers so generally don't bother messing with the courts. It's all a big lark if you ask me! You get used to it as a self-represented party and it really p*sses the legal people off when they get their beans lose.
Affidavit of Ian James Plowman.
Plowman Affadavit Attachments.
Affidavit of Helen Irene Mitchell.
Affidavits are important in that they are a sworn statement of fact, with potentially serious consequences for issuing an affidavit that contains a falsehood which is called perjury. One would have to question the legal advice given here, because evidence is not normally accepted in a Strike Out Application and these unnecessary and probably ignored Affidavits have exposed some flaws in the Defence – Mrs Mitchell repeats her claim that she thinks I is/was a squatter. This now prevents her potential claim that she is/was just an innocent party fooled. The courts will use all this in evidence when assessing my claim I'm sure.
Additional Synopsis.
This is an additional document that the court received from Wendy Andrews (the lawyer presenting this case) that combines the previous lawyer's attempt with the new lawyer's take. Obviously the new lawyer didn't think much of the first lawyers efforts, or she wants to 'pee on the post' to make her mark and justify her fees/involvement. Mr Plowman will not be happy with either of them though if his Strike Out Application fails. After all this time incurring a debt of over $150 per working day AND incurring legal bills from two lawyers all for naught may frustrate him somewhat! I know that it would, if I was in that position.
Notice of Opposition.
Defence to Strike Out Application.
Response to Strike Out Synopsis.
Defendant's Submissions.
Obviously I don't agree that I don't have a case. I've summarised the events above which (along with the Statement of Claim) show the world that Mr Plowman and others caused me losses as a result of breaking the contract we entered into, as well as breaking the applicable commercial law. I am asking the court to adjudicate this matter, so yes, obviously I should and will defend any attempt to get my case thrown out of court before I can even present the evidence!
The First Mention of this matter was in the North Shore District Court where the presiding judge gave Mr Plowman the opportunity to apply for a Strike Out. The next hearing is to hear this Strike Out Application and this is the one scheduled for Thursday this week, 25 March 2021, 10.00am 5th floor at Auckland District Court.