From the "OPEN-MINDED SKEPTIC", a phrase that speaks wisdom in its various forms.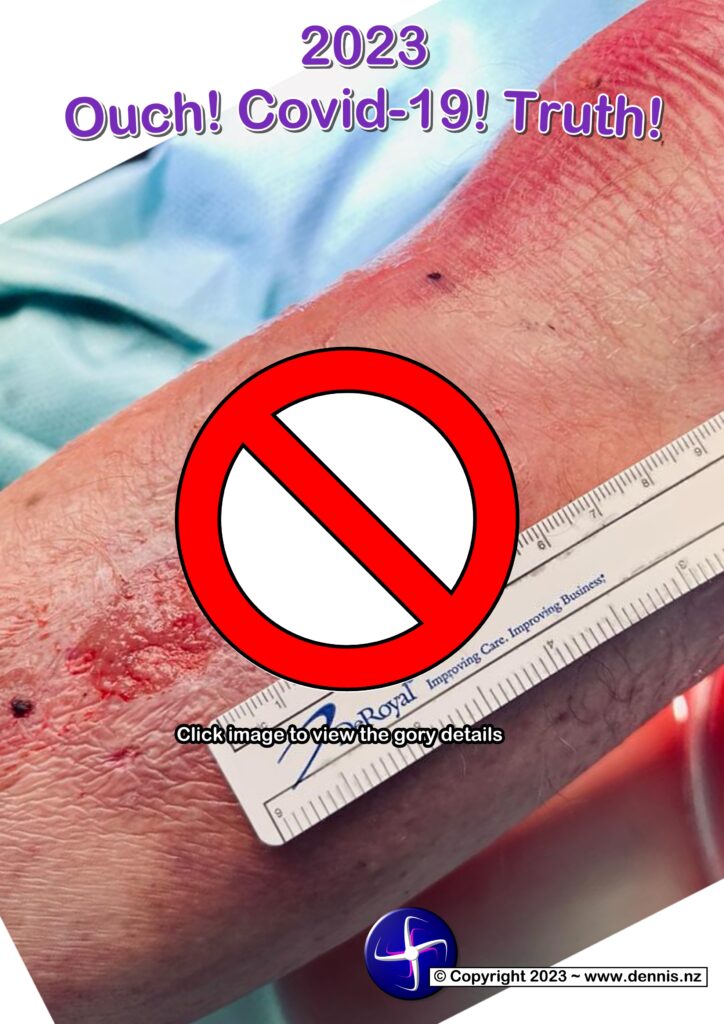 Ouch!
On Saturday 25 February 2023, I tripped and fell at 2a Para St. It wasn't a big deal then but it did turn into one. I attended the A&E department at the local hospital the next day and they determined I had not broken any skin, nor bones, but I had a haematoma (internal bleeding). This subsequently turned bad with a hidden (internal) infection that ended up in extended and multiple visits to hospitals, as well as medical misadventure thrown in for fun. Apparently they call this now a "treatment injury".
Simultaneous to this hospital experience has been developments on the legal front with my landlord LINZ finally presenting their case to the High Court in Hamilton – yay, at last! Their efforts to evict me by way of a Summary Judgment are based on their claim that I am a squatter because I have no defence don't seem to pass muster to me, but we'll see what the court says about that in due course no doubt. Hopefully the beaks will look at ALL the evidence and not just the selected stuff deceivers within the government want them to see.
The point here is however that my pain has turned into loss, and hence little commentary and commenting here, this year and probably more.
The Covid-19 Story
In early 2020 I posted a public warning over the early signs that I saw of the use of Covid-19 as a control mechanism. I didn't know the extent of the real nefarious issues at that time, but I've been fascinated to see the general public's widespread gullibility, their active resistance to facing the truth and now increasing recognition that they have been duped by their leaders, many of these who have either been, or who are in the process of, or who will be removed from power for their treasonous conduct. Jacinda Adern was one of the early ones to go but many across the globe are to follow in her footsteps.
That I informed my friends of her house arrest three weeks before her resignation, is one of those 'hmmmm, I wonder what else we haven't been told' issues!
A recent shout-out by Jon Rappoport of Michael Bryant's work, starting with the Italian fraud but then moving into a wider field, brought some pretty direct words from Michael. Listen to this direct talk:
The official story of Covid is fictional. There is not one single facet of it that holds up when you provide evidence, data, context to the operation … Gain of function; it's a myth – Michael Bryant
I was listening to YouTube a while back and heard a kiwi accent. I turned around and saw a kiwi girl Dr Sam Bailey interviewing a big shot in the alternative media space. Refreshing to hear a voice that spoke without an American accent, as well as agreeing with her core message I really took on-board her words. She goes much further than many down the medical rabbit hole thing:
The no virus argument is the most heavily censored of them all – and for good reason because it doesn't just destroy the Covid-19 narrative it destroys all [of them] – Dr Sam Bailey
Waoh! That's even more radical.
Seeking (& Speaking) the Truth
I've noted previously that all claim to seek the truth and most who speak also claim to speak it. On the contrary I have found that few who claim to do this actually can or do. It seems to me that all stop short of the ultimate Truth. We all claim to want to know the truth and we all claim to speak it, but even those I respect cover-up, deceive and distort reality somewhat.
I learned this well in Samoa when all I sought was to find one person I could trust. Seven years; 190k people – and not one. Back to NZ and people all around me after their own piece of flesh, in various ways!
I love and concur with Paul Rosolie's comment about authenticity which matches the words I quoted of Dick Brunton [founder of the Colman Brunton empire] on his retirement in my second book, 'Lipstick on a Pig' – i.e. that "integrity in marketing" was his biggest takeaway from his career as "Kiwis can smell BS from 100 paces":
Authenticity is the greatest currency . . . Paul Rosolie
And I noted Ole's commentary on the truth too, which I found at https://beforeitsnews.com/alternative/2023/01/michael-jaco-shocking-military-intel-video-3786906.html:
The truth is always there … we don't need to create the truth … we just need to replace the crap that is in front of it by individuals who don't want us to see it. Remove the darkness; remove the shadows; remove the crap … Ole
I've also collected a few more titbits for your good viewing pleasure. Enjoy.
Accuracy doesn't matter to Wikipedia … I'm not the only victim of Wikiality … When Wikipedia isn't outright fake, they exaggerate trivial stories.

Michael Cernovich
We try to filter out messages that are lies … we try to minimise the amount that the bot would lie … we found that lying would make the bot perform worse in the long run … Once the bot lies, people would never trust it again and trust is a huge aspect of the game of diplomacy. [Lying is a really dangerous thing to do] Diplomacy is a game about trust and building trust in an environment that encourages people to not trust anyone.

Noam Brown, developer of AI game, Diplomacy.
I've learned that cowards are worse than arseholes

Kate Darling
Talmudism holds western civilization in utter contempt. It ritually curses Christians and Christian society.

Michael Hoffman
Capitalism struck me early on in my life as not that great of a system and nothing has happened to change my mind –
https://youtu.be/o0Bi-q89j5Y [Proud to be a critic of society]

Richard Wolff
DO NOT FEAR HOPE. It's less risky to say something then to remain silent when you there's something to be said.

Jordan Peterson
Resentment is a powerful force … It is convenient for the West to have an enemy . . . in geo-politics, having an enemy is useful for forming a narrative … in terms of maintaining power … it seems good to have an enemy

Lex Fridman
"The Cold War was not an accident … Truman deserves credit for standing up to Soviet aggression. [While it is convenient to have an enemy], there was an enemy [in the Cold War]

Stephen Kotkin
The great lie we tell ourselves is that people who are evil are not like us. They are a class apart . . . The best protection against evil is recognising that it lies in every human heart

Ben Shapiro
War is often represented in black and white terms but usually it is murky. Both sides will be culpable.

Nicky Hager
YOU CAN'T TWIST THE FABRIC OF REALITY without having it snap back

Jordan Peterson
Working in the realm of secrecy and half truths, another essential tool in investigative journalism is self criticism: Have I got this wrong? Is there a different explanation for the facts I have gathered. Also, am I being fair?

Nicky Hager
The Talmud is poison and its toxins are contagious. Due diligence is mandatory when approaching any of its votaries.

Michael Hoffman
By the time students enter into higher education many are already seeing themselves as elite and enter easily into the spirit of elitism. Encouragement to this viewpoint is part of the trickery. Instead of the gifted and the educated being allowed to see that their gifts and education give them a greater responsibility, they are ego-boosted with ideas of greater importance and authority.

Anthony Grigor-Scott
Provincial westerners — both libtards and FOX patriotards — often fall into the trap of viewing the Chinese "Communist" Party as a monolith, simply because it is the only party. The reality of the situation is that the party has internal factions which, in essence, function as sometimes-cooperating & sometimes-opposing parties — very similar to the Demonrat-Republican't axis that has existed in America for many years.

Mike King
The advancement of knowledge and the progress of the human race depends upon the absolute right to be wrong.

Michael Hoffman
As for all my despicable, unethical, immoral, treacherous, sleazy conduct (they called me everything but a terrorist didn't they?) . . . this business is not an ethical arena. Our legal system is adversarial by nature where it is often the very function of a lawyer's job to to prevent the truth from ever coming out. We get paid to suppress and squash, and conceal evidence … Every first year law student is taught don't ever, ever equate legal ethics with morality – they are almost always mutually exclusive. It's an ugly world where underhandedness is often celebrated.

Alan Shore, The Practice
It's true we no longer impose the burden upon attorneys to be honourable and that's unfortunate if not disgraceful but it is also true, which you know full well legal ethics and morality are not only two distinct concepts, they are quite often mutually exclusive and if lawyers start letting personal morality be their compass the system and all the participants within it are collectively lost.

Judge Rudy Fox, The Practice
The Black Art of Government is twofold: on the one hand a vicious mix of terror and make believe. Creating narratives to sway the masses, and terror to imbue them deeply into the souls of men. Basically trauma based mind control.And on the other a meticulous, utterly rational and scientific study of everything observable in the natural world.In this way, men are kept in the dark, while the rulers know everything…
Torturing, raping, and killing purely innocent young children is the most terrible crime known to man. And it does invite demonic possession.

Anthony Migchells
Tom Lewis spills the beans in "Cover ups and Cop outs" First published in 1998. SUBJECTS: Police misconduct, Police corruption. PEOPLE: Tom Lewis detective sergeant.
New Zealand police officers are not used to public scrutiny and in fact, resent it. To be fair to them, however, neither are politicians, the judiciary, the legal profession or public servants. As New Zealand police have made a 'art form' out of writing off complaints over the years , the Police Complaints Authority is a toothless tiger. Standing up for your rights is never easy, it may risk losing your job or being threatened, it can cause family turmoil. Almost always it results in emotional upset. However anyone who has felt stuck or trapped in a corrupt system knows the sweet rewards of exercising PERSONAL POWER.
Until another day, when, who knows, "chin up and blessings to you all."