I interrupt a series, to share a warning to my friends (well if I have any left that is) and readers (that's all three of you that I know of) relating to the panic surrounding the COVID-19 lockdown a relatively unknown viral threat that is supposedly now a "pandemic". Enjoy but don't expect me to suddenly believe the BS from TPTB, IYKWIM.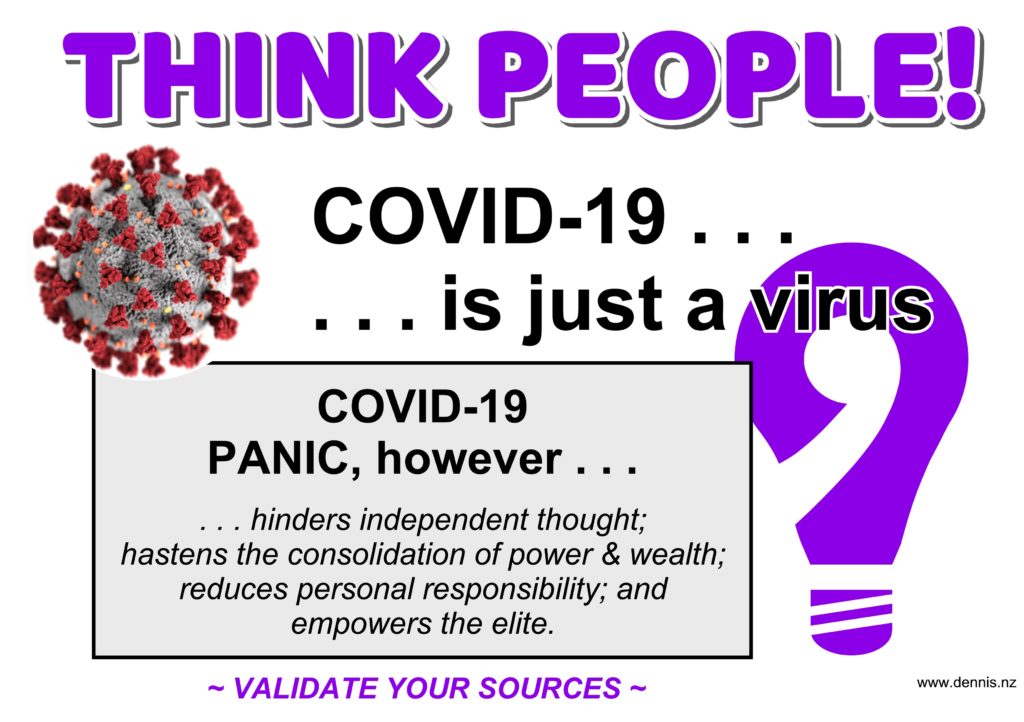 Any truthseeker with any amount of skin in the game will know that red flags for truth are always to be found in officialdom. The louder the noise; the greater the BS. Truth has always been found in the polar opposite direction to the official story – this I say qualified – always since the Fall.
Before that there was no problem, at least according to Adam & Eve's offsprings' accounts the Garden of Eden didn't have too much deception inherent.
Now the goal of deception is the increase of power and wealth, and it comes through worship – that's when we put our faith, time, money, energy and loyalty into something. In the most recent dispensation (say the last 200 years or so) we've privatised money; introduced worship of democracy which has enforced its influence and reach into most Western nations. Democracy of course is an immoral and ungodly practice whereby the 51% rule the 49% (right of might) and is used by the elite to empower usury, the tool by which enslavement occurs.
That's the big picture . . . so when we see WHO, CDC (and all the other acronyms of the elite) get behind something we know for sure that global consolidation of power and wealth is being outworked. The World Health Organisation and the Centre for Disease Control are well known in conspiracy & truth movements for very serious deception.
This is not the time nor place for detailed exposure – please do your own research – but trust in officialdom (especially when there is a lot of noise) should be guarded.
Let's go through a simple truthseeker's questioning process and apply it to the current COVID-19 lockdown.
Where did COVID-19 come from? The official story in the West is Wuhan in China. Therefore it is likely that this is a falsehood.
Who gained or gains from this deception? China's adversaries include the USA which is the leader in an active trade war with China. A fight over power & money again!
Does the populace end up losing something as a result of a pandemic, if so what? Here again just like all other false-flag events power is now consolidated, with a big leap. Dictatorships; Marshall law; state intervention and control becomes the norm.
Is there evidence to validate the alternative to the MSM mantra? You betcha there is and more of this (and huge disinformation campaigns as well) will all come out in due course for those who question.
Truthseekers should be researching the source of the virus focusing on the closure of the US lab that developed it; the global logic behind the bailouts, false news, lockdowns etc; the role of philanthropic organisations known to support population reduction and their preparation; the timing of actions by the authorities; the role of Political Correctness and the buttering up of the populace with monetary bribes. Virtually every big-picture conspiracy box is ticked with this panic.
Expect enforced poisoning through panic-induced deceptions (I'm talking here of compulsory vaccinations); increasing governmental responsibility from the populace who actually demand this (bailouts; interventions; protection etc) and a huge fight within global populations between the believers and the doubters.
My take is that the COVID-19 panic is totally unwise; that the virus was developed as a biological weapon in the USA; exported to China and that all global events have been planned at a central location (in a general sense) and that the outworking will achieve the elite's goal almost like a miracle. The world was plunged into a "pandemic" status under totally false pretenses for utterly nefarious means.
Now in opposition to this is God's instruction for us to take personal responsibility for our own lives, and He empowers us to do that in a fallen world. It is our prerogative to choose whom we will serve – man & his money; or the Master. My money is on the latter.
Panic . . . is totally unnecessary, unwelcome and unwise in His order.
In the above graphic, I finish with three words of advice, "Validate your sources". I say that because of the huge groundswell of stuff that is being based on deception from people and organisations highly skilled at deceiving with masses of power entrusted to them by a panicking people.
I'm neither a scientist, nor a doctor but your children will likely NOT die if they get this man-made flu. You (and the old people in your life) probably have more chance of getting killed by a falling packet of tampons in a supermarket than this virus!
Will there be chaos and upheaval, losses and pain – yes. A pandemic – nope, thus the reason for this post.
THINK PEOPLE! THINK.
BTW, do you like the question mark with a koru and lightbulb? I do. It's one of my favourite creations.