Well that didn't take long at all – this liquidator is clearly a top outfit – and the Sting Operation can now be revealed. Enjoy. I know that the word is already getting out and about in the Taranaki business community so you will be sharing a smile with others if you have seen the local rag tonight.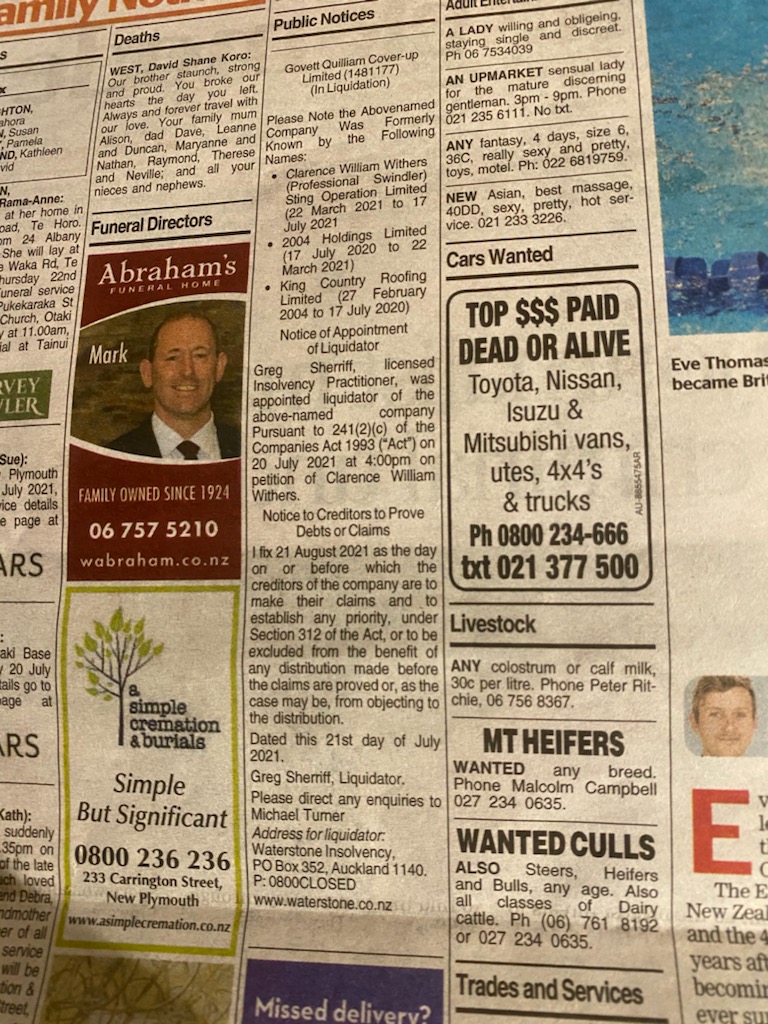 A friend, colleague, mate or client, probably a bit of all, was chatting to me back in 2004, and I helped him set up his business affairs. My understanding is that he's as straight as a die, perhaps a little bit trusting or soft in business (we're working on that 'failing') and found himself like many New Plymouth businessmen getting wound up (and down) with what they call down him there, a Taranaki "Professional Swindler", Clarry Withers.
Basically he and his wife had had enough of this idiot and wanted out of legal BS, courts and so on. Clarry is built differently and sues all and sundry as a game, to try to avoid paying his bills. "That bastard has been doing it for years!" is what I've been told some people very in high society down there say about him. As I said recently. those that know him genuinely attempt to encourage those agin him in their various battles. I've seen some pretty damaging comments about his stories in court from judges – things like, "He's talking all BS!" and "Cough up Clarry!" paraphrasing the legal speak of course.
My mate asked for help so I commenced an investigation and found a little bit more than Clarry wanted me to know. I've blogged thousands of words about him and his crooked lawyers Govett Quilliam too, but basically the guy clearly has psychiatric issues human relationship issues and is, as the people down there say, a "fruitloop on steroids". I mean, I've been trying to tell him, and his lawyers and anyone who would listen that the company has nothing and that spending a cent on litigation was wasted money, but hey, what do I know? He and his lawyers know more than a pesky Taumarunui blogger, surely? Every time his lawyers sneeze it will cost him a grand!
So I bought the company, traded it down to a nil balance sheet – all fully ethical and legal conduct BTW – then let its registration lapse and it eventually got struck off. Clarry's lawyers Govett Quilliam should have known the same as the liquidator the different names the company has had, but Lauren Wallace dropped the ball, then did a few 'naughty' things; threatened me with defamation if I claimed this in public; then went real quiet when I asked them a few things and did publish their naughtiness.
Basically I was refused the capacity to defend the company and judgment was entered against it to the tune of over $300k which would have given Clarry and his fools lawyers wet dreams about court wins and pots of gold. I'm sure that they are thinking and hoping that the company has misappropriated assets that they can clawback to the previous owner personally and his new company. Well, that's according to Clarry anyway! I know this dude and he's a straight player, so I reckon the barrel is empty good and proper.
Hopefully the liquidator will continue in the same manner as he has thus far, professional, onto it and thorough.
So why? Why rename a company as I did and what is a Sting Operation? What is this Sting Operation?
The Sting
The best kind of con is that in which the victim doesn't even know that he's been stung, but if one knows and understands how Search Engines work and the supreme importance of them now and into the future, Clarry and Govett Quilliam have screwed up badly. My intention has been only one thing, exposure. I wanted the world to know and understand who this fruitloop was and how many people he had hurt and how badly they had suffered at his hands over the years. I wanted people to see and understand the monster of a house that he had built off the backs of so many contractors who told me that they gave up, finally, after exhausting their energy trying to get this crook to pay them for what they did in business. I've heard some horrendous things about this dude Clarence William Withers – especially in terms of how his games stringing along others waiting for their agreed payment has devastated them.
Autism does that though. People with ASD can often appear to have no conscience and miss basic social clues that the rest of the world just gets naturally.
When I started the sting operation typing in Clarry Withers or its various equivalents into search engines brought up pretty much nothing. Not any more, and now already, with blogging galore things are totally different. This change is forever and Clarence William Withers will always have wound up a company that sports his own name and an allusion to him being a professional swindler. Word on the street is that the business people down there are already cracking up and reckon that I got it dead right calling him that. Oh, Clarry, please, please, please now, sue me for defamation so that we can get the word out more . . . please?
Sadly I think that maybe even he might get it eventually and realise that the barrel is empty cupboard is bare, and that he is fast becoming the butt of a very, very successful, sting operation.
The Ethics
A sting operation like this cannot be planned out in detail like the movie, The Sting. Planning is invaluable but totally goes out the window the moment the other dude gets involved because he (or in this case he & she) get to have a vote.
The best way to deal with the ethics of exposing a crook, or a bunch of crooks is to tell them up front what you are doing and let them do the work. I had no idea that Lauren Wallace would not do the basics of any legal firm worth their salt and fail to even put my company on a free weekly Companies Office watchlist. I mean come on? This basic is not even taught in law school because it is so basic. Then when you tell a lawyer to advise their underwriter that they have issues, and they don't (nobody listens to legal advice, especially lawyers) how can you think anything other than, "Too bad! You were warned".
Then when you give them a copy of a blog post before it is published and you invite their comments and/or correction and they don't respond, then threaten defamation? So I tried to talk to this fool. I tried to negotiate with his lawyers. A total waste of time. All I got back was lies, lies and more coverups. I actually don't begrudge their silence because I would have told them too to STFU if I was their underwriter!
So I renamed the company in July 2020 when I bought it. I did deals to trade it down and they were all genuine, legal and documented. Then two things triggered me into the renaming that has worked so spectacularly with this Sting Operation. The first was that they reinstated the dead company, just so that they could sue it – despite it not having anything. The second was the constant cover-up by Govett Quilliam in court. Their lawyer claimed in court that the presiding judge knew that the company was struck off when he issued the judgment. That's not how I see it, because no judge in his right mind takes a factor into consideration and doesn't put it into his judgment – unless he's crooked and in on the con. My take is that somebody deliberately filed her memorandum at the last minute and arranged to bury the paper in the judge's paper pile so that her screw-up was covered up!
Establishing a company to do others harm is not good. Using the law in the way that it was not intended can be a challenging exercise, but legitimate creative use of the law to achieve a secondary purpose is perfectly legitimate conduct, morally and legally. Many people establish trusts for creditor protection or estate planning reasons and get tax benefits as a result. Likewise with this sting operation. I didn't buy the company to run a sting operation – I did it to help a mate and in the process ended up with a stunning advert put in the Taranaki newspaper that starts off:
Govett Quilliam Cover-Up Limited (1481177) (In Liquidation)

Please Note the Abovenamed Company Was Formerly Known by the Following Names:

Clarence William Withers (Professional Swindler) Sting Operation Limited (22 March 2021 to 17 July 2021

2004 Holdings Limited (17 July 2020 to 22 March 2021)

King Country Roofing Limited (27 February 2004 to 17 July 2020)
What gold this has been for me, and this is the very information that Govett Quilliam don't want you to see.
Thank you Greg for your professionalism and for delivering us all the payload!
Payday indeed!