In this post I take an interview between Greg Hunter of USAWatchdog.com with Clif High that had me nodding my head many times in support. Clif does not share the same faith as I do but in this one and a half hour video interview Clif nails so many things and puts it so elegantly and matter-of-factly that it appears important to share for the few that lean on me for guidance. Thanks also to Alexandra for summarising it all in writing.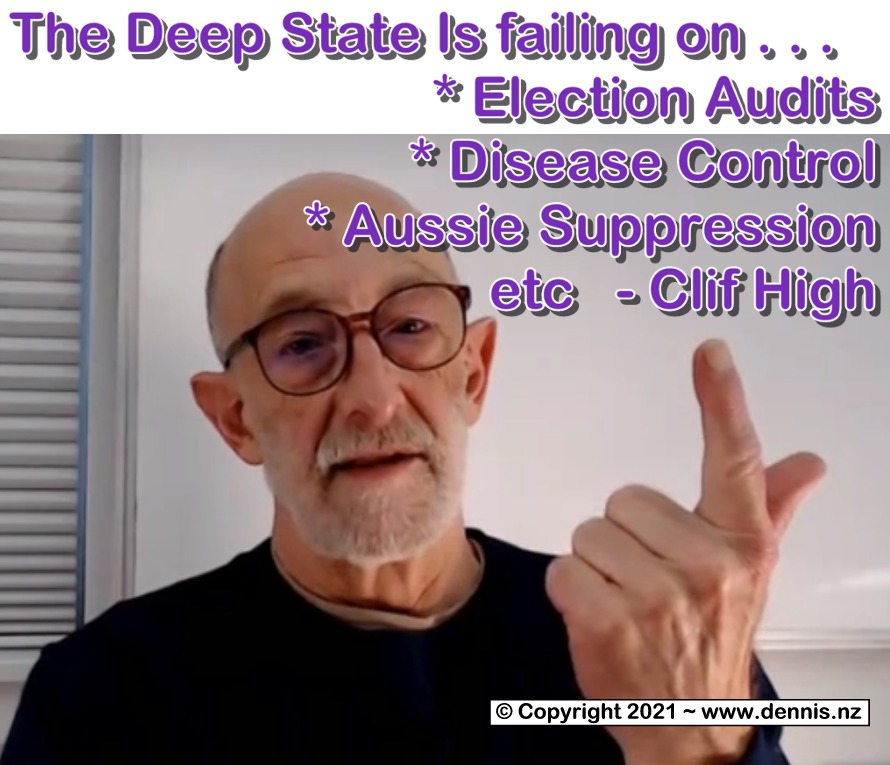 This is a multi-faceted analysis of world events from a highly respected analyst, Clif High. His take is the conspiratorial one through and through and notes that false premises exist at the core of globalism, the viruses & vaccination events & Critical Race Theory (CRT).
He calls the COVID-19 thing like I did in March of last year, a control mechanism – but describes it as an act of desperation in lieu of a war.
I agree, totally. He says that the Deep State players operate in a world of hurt, desperate to find ANYthing that will get traction, playing their war with emotional energy to manipulate the masses. Their attempts to control our societal energies are failing. They are simply not working and they are casting around for any point of leverage. Breakdowns in the hospital systems, banking systems, 'Just in time' distribution system are currently occurring and TPTB's hypocrisy and lies are failing as civilisation as we know it is currently breaking down.
His hope though is that we have seen from past events that desperation will bring invention.
The failure of the US administration to honour bond payments due end of September 2021 will exacerbate the public's understanding that there is now hyper inflation and that breakdown is now currently happening. This is not a drill. It is actually happening now as the Fed the CCP (and others) will try to limit inflation. 1 trillion per day will be shortly doubling and between now and the end of the year it will get worse – much worse. Fake markets (stock) are independent from the real markets – emerging gold and silver revaluations to ultra high levels, a BULL run in commodity prices with a last gasp in October/November of 2021 will be, he predicts a crushing and burdensome time; an oppressive, terrible time, but one from which mankind can emerge, later and create best of times,
A common phrase used by those of us in the know, "Normies" will view cash as king in crises as technologies make banking systems but precious metals and a reconsitituted adminstration (Donald Trump's return to power in the USA being more along the lines of a leader in a constitutional republic) more likely than a return to the same Presidential system as before.
In this regard I note that New Zealand has already 'gone bust' and will naturally be aligned more politically with Australia and its tight political alignment with the USA.
One thing of concern to me is that fate of the likes of the local rag owner Mark Ebrey and others caught up in the COVID-19 vaccine BS as the population wakes up to the agenda being stuffed down our throats. The future leaders of our people seem to know instinctively that the "vaccine, vaccine, vaccine" mantra is propaganda. I note that the neighbouring local rags from Te Kuiti & Ohakune are both prepared to entertain alternative thought whereas the Taumarunui Bulletin will not even carry paid advertisements for www.jabquestions.com! When young men ask me for my opinions, "Dennis do you think that the [COVID-19] vaccinations are a depopulation agenda?" and you get wildly varying figures and so much conspiracy talk that one wonders if you're ewalkin in the twilight xone, then you can see the potential for a backfire.
While Clif backed off highlighting the extent to which resentment against the Deep State backfires – he says that it will be ugly. Apart from the credibility loss for one class of people the fact that the mob of awoke suffering normies will be motivated to take revenge – when they realise that it was not be by chance that they or their loved ones were injured or died. Deliberate intent to misinform, financially driven medicine by force will not be able to stop individuals who will take revenge on world leaders, politicians and gatekeepers. It could be dangerous time for years.
I also find Clif's description of an abnormal level of release language to be perfectly understandable. He calls it "an unusual emotional tension" akin to a huge grief/joy where you cannot help yourself but one that is accepted socially. His computer analysis calls it "high intensity and duration values of ANGER, GRIEF & FEAR!" He's on right on the nail there and shock to the normies will be huge.
His justification of this is an Arab saying that, "If you don't punish the guilty you are defacto punishing the innocent/victims" and continues with his comments that "Justice is a principle in the universe. Absent justice we have revolution. Our government structure is in the process of crumbling & dying!"
Things are NOT what they seem. All governments are broke and the power that the Deep State has only exists through deception. We can and will win because we do so through integrity using our minds. Wow! A strong message indeed and well worthy of a listen and read.
On another matter, I see that Hunter Biden is facing the music for treason and conspiracy, rape, and child sex crimes. His comment in reply?
"This trial is a circus"
UPDATE: Hunter was found guilty and his hanging date was set for 15 October 2021.
Oh, and those who still think that Hillary Clinton is still alive, or that Bill was her father, listen to what Chelsea says about the US Military as she faces her own trial at Gitmo and probable and removal by hanging:
What was she done for?
"Does it involve child trafficking? Yes. Does it involve accessory to multiple murders? Yes. Does it involve money laundering? Yes. "
Ouch!