Citizen journalists have now taken over the Mainstream [Legacy] Media (MSM) to the point of no return. Events surrounding the US Election Fraud have ushered in an incredible change globally as multitudes have realised, some for the first time that they have been seriously lied to. The awake have good reason to say, "I told you so!" In this post I share some of the many anomalies that demonstrate how deception rules the MSM; how conspiracy theories shamefully lie at the heart of the MSM stories, and how conspiracy theorists are winning the day in the truth department.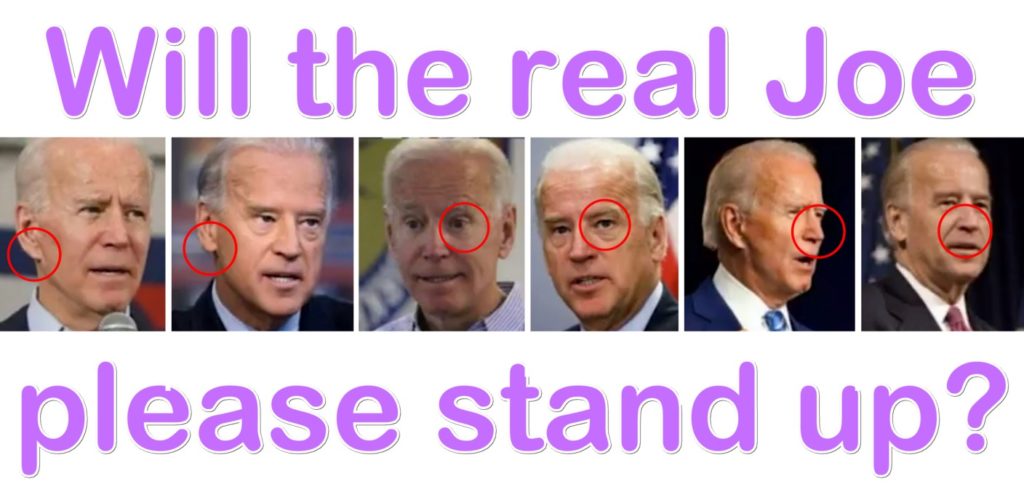 How many Joe Bidens are there?
There are scores of anomalies that fit the theory that an active conspiracy is under way to fool the American (actually the world) public. The attention upon the activities of the Cabal (aka the Deep State) has risen to white hot temperature post the 2020 US Presidential Elections, with vast swathes of the public switching off, or at least questioning the MSM stories.
"Baseless" has now become a joke, and citizen journalists have come into their own. The quality of information in alternative sources of course varies but watching the democratisation of information occur in the digital age we are all now in is exciting for one who has attempted to get others to think for themselves. I watch as those who previously looked at me with glassy eyes as I warned them now prick up an ear and listen.
It is a good feeling.
I list now several factors or anomalies that should call those seeking the truth into this questioning mindset. It is not that important to me whether a particular one or two factors can be explained away; it is more that so many factors cannot all be explainable. In time, a genuine truthseeker will see the big picture – that the world is in a massive change and that we are all in the middle of a war over information. If WW4 is upon us and the first casualty of war is truth, then people like me who seek and speak truth should be treasured.
Personally it seems to me that the events of 2020 Election Fraud are all related to a massive global societal change, with a likely impact far greater than the Second World War. I think this period of global change commenced with the impact of the Internet in the early 2000s then kicked into high gear in 2020.
Biden does not fly on AF1. Charlie Ward tells us repeatedly that Biden (and Hillary Clinton too BTW) was arrested and shot for treason in 2020. Charlie can get things wrong but he has repeated this claim more than once and seems certain.
Biden was supposedly inaugurated but the events were a sham. The nuclear football/codes were taken to Florida. It was a staged event like a movie set with only 75-100 people present.
The Whitehouse has been totally closed since 20 January 2021 with the lights out each night like they are on a timer.
Washington DC is in a long-term miltary lockdown, enclosed with fencing and the blades facing inwards – locks on the outside!
Kamala Harris has not checked into VP residence and all events surrounding Congress appear to be scripted.
Pentagon blocked Biden's access to military information and it appears as though Trump handed power to them on or about 20 January 2021 in a prepared move.
Jeff Besos has bought Castle Rock Studios where the Biden movie is being filmed and yet his stepping down appears to be associated with his impending or completed arrest.
There is a long list (100s) of CEOs stepping down and many arrests of sexual criminals.
There is a long overdue State of the Nation Address.
Thousands of Q drops seem to be ultra well-informed and more are being verified daily. I could go on and on . . .
Of great interest to me was a recent admission that the US government has indeed been researching downed UFO craft for years. I've always known that advanced technology existed – an official admission that memory retentive substance has come from outta-space, is a first. It's revolutionary in fact.
Vibrational significance (essentially creation [life] consists of information and vibration), anti-gravity and free-energy along the Tesla line of research has the hallmarks of truth to me, but the warping of time and existence of ET & Co however I've always associated this with the New Age and woo-woo science. Thus anything "quantum" causes me to be careful and to think very carefully about the claims.
Perhaps this subject will now get a decent airing with the demise of the Deep State? We'll see in time I'm sure!
Martin Geddes identified Q as an amazing communications strategy. I'm not really bothered whether Q is JFK Jr, or a group of top Military insiders or whatever, but the results, just like the Protocols of the Elders of Zion speak for themselves.
Martin's advice is to take the big-picture view. I concur emphatically. We may get a few minor details wrong but the Deep State elephant certainly exists.
Citizen journalists like Joe M are the mass media now. I recommend that you judge it on its whole, not the individual part messages. We're all feeling the elephant of the Deep State from different stances.

Source
I conclude with my take that Robert David Steele appears to have a fantastic handle on who's who and how the big picture fits together. He is currently quite active in various advocacy in his own right, but after that dies down (nobody can continue the same effort as they age and I predict that his age/energy will balance shortly) I think that his understanding of global geo-politics is excellent.
I like some things particularly about his work:
He is an ex-spy; is opinionated and speaks with authority probably because he is a widely read individual. These are all positive attributes in my book!
He is not pretentious. He admits when he does not know something and notes that he's a little uncertain of the Alien stuff. Me too. We keep our minds open but are cautious.
He is very careful to differentiate between Zionism and Jewishness. He is actively agin the Khazarian Mafia who he claims are impostors to the Semitic people and that they are all crooks that represent the pinnacle of evil on earth. This is wisdom.
He's not afraid to speak it like it is, with rich language use. Sometimes it takes a few choice words to get the message across to an apathetic or sleeping audience. I just love the little clip where he was tricked into speaking it honestly and where he tells the bad guys to "take the deal motherf***ers [or else they're dead]!"
He's big on truth and reconciliation. The desire for revenge is natural but Robert's focus on getting the truth out there then getting the crooks to do the honourable thing is IMHO very sound.
From a Christian perspective it is clear to me that the Lord is engineering things to cause an awakening. IMHO, this is not the long-awaited New Age, global consciousness change of Aquarius in which the Christ-consciousness or Nirvana arrives. This is though an important time in which the scales are being removed from the eyes of those hoodwinked by the CNN, Washington Post, and other MSM forces.
Donald Trumps supreme intellect and divisive personality was employed by certain groups of people (they call themselves "whitehats") to transfer power and wealth from one sector of society (the 'blackhats') to another. I do not confuse President Trump's phenomenal achievements nor his intended actions as they outwork over the next few months and years as pure godliness. They are designed to return the United States of America to a Democratic Republic under the Constitution after all, not to the Lord.
This process of revelation and wakening of people is though an important part of the entire process. Like filling a jar of child's milk with adult's beer, there is a need for washing it out properly. I see this process as a step closer to the implosion and that after a period where the old deception is revealed, the new deception will find itself exposed as insufficient to meet the Lord's criteria.
The big-picture is that just as one man (Joe Biden) is presented as something he is not; President Trump (while light years ahead of the old Biden and the new Biden impostor in the IQ department) is also in the same category – presented as something he is not.
It is my belief that once the changes have occurred as planned by the old-money Chinese families and as President Trump restores the US Democratic Republic, then the Lord can and will move to return His people to true worship of Him. It may take a while and happen long after I have gone, but this implosion is certain to occur.
In the meantime, I encourage all readers to listen up and do that which He asks you to do . . . nothing more nor nothing less!