If crooks, crims & crazies use deception to trick others into their evil how then do the 'good' people get caught up in the same traumas? And why does the hopium addiction catch us when we can see evil so clearly when it comes to Satanism and pedophilia? In this post I zero in on Mr Hopium himself, a 'pom' living in Spain, Charlie Ward and his QFS – the Quantum Financial System. Again, it is pride that causes us to turn away from the good things of God – His advice; His guidance; His word.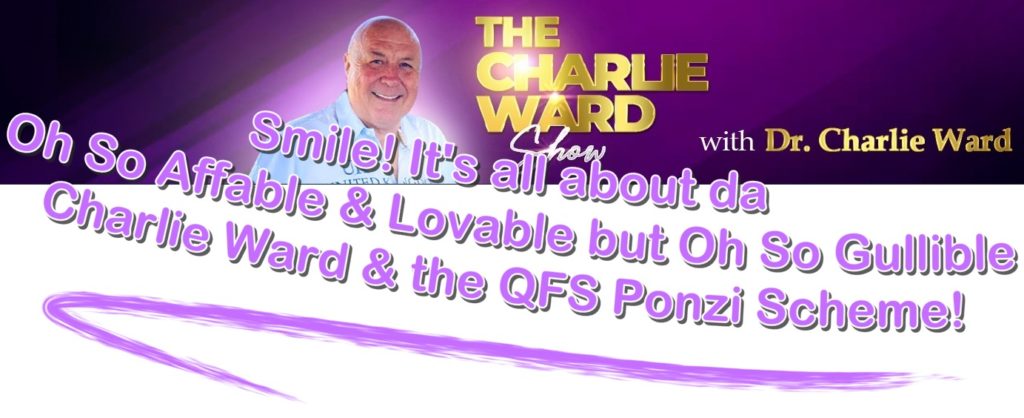 Charlie Ward gives the alternative conservative community what they want to hear – hope. With the rise and progress of the New Age New World Order agenda over the last century or so, the conservatives (led by mainly the Evangelical Christian community but also including a large component of New Agers) have really taken a hammering in confidence. To be honest it is a bit tough to watch the world go mad as the Deep State (or before President Trump it used to be called, the Illuminati) has centralised global power, enslaved and manipulated mankind to the point of George Orwell's predictions.
Thus Charlie's rise to fame (and fortune too it appears) has come as a welcome respite to many from the persistent MSM negativity.
I've shared previously about Charlie. In some ways I like him. His operational style is to sit and drop nuggets of news 'intel' as he talks on video to a range of wannabe reporters many of them seeking fame, themselves. His fatherly, down-to-earth approach to life and living mixes well with the 'intel' dropped into his conversations. He is however, for all his bubbly enthusiasm for life, gullible and (as we say downunder, "a weetbix short of a breakfast!" or "a sandwich short of a picnic!" if you want to be pedantic.
Charlie has a string of hangers-on, those who come and go (going generally once they have worked him out) and his products include selling gold bullion, and the QFS funny-money. He's already "got his" [funny money] of course and you too can get yours through him (yet again) of course. This QFS thing has all the marks of a Ponzi scheme – it sounds too good to be true with ridiculously wild claims of 'goodness' (whatever that is defined as); secrecy and exclusivity is key; MLM is the method of distribution; and you can never get back to the principals (unless of course you know an insider).
I want to see things and when I can't see it (like the wind, spiritual stuff and God), I want to see the evidence of them before I believe in them. So personal attacks and generalisations aside now, let's analyse the QFS thing a little deeper.
Marketing of the Quantum Financial System taps into the goodwill that exists within the community towards the multitudes of trafficked children. Sadly the trafficked children part is very real, as the recent execution of Hillary Clinton and the ongoing Epstein & Maxwell sagas show. It preys upon this deep human desire for global consciousness change and promises to offer a perfect solution. The blinding power of this desire for good can be seen in a video interview between Charlie Ward and New Age guru Simon Parkes when Simon asks the Hopium peddler some simple basic questions and Charlie responds with the phrase "consciousness", to which Simon immediately 'understands' and accepts. Simon's desire to achieve something good transcends his instinctive good & honest measure of reality – which is founded in simple logic and mathematics – common sense.
A currency, any currency is always based upon trust. This trust (Our trust) is ultimately invested into the capacity of the issuer to honour the dollar, yen or ruble or whatever it may be that is used – a digital bitcoin, a piece of paper, a shell, or a gold or silver coin, it doesn't matter. That's why when we see inflation coming and they start printing money, we buy gold and silver because we trust that others will honour its value, as proven historically.
Trust of the QFS set of currencies comes to Simon (and other suckers) through their trust in Charlie Ward and is justified because we believe in our capacity to spot a fraudster at work over our common sense. For example we rely on the talking heads on the goggle-box so that we do not have to think things through. Another example is the division of labour (a.k.a. siloed learning) where we specialise in one trade and pay others to do what we can't specifically. This helps us economically and we tend to enjoy our speciality, rather than stretch out and deal with things uncomfortable to us. A broad learning though (mockingly referred to as "a jack of all trades") is more healthy as it gives us the life wisdom to see a conman at work, and not get sucked in to a con. A farmer, for example, used to raising, growing & trading produce has a lot more common sense and can spot a snakeoil salesman from a mile away!
I have found Charlie's style to be enjoyable, even mesmerising but trust in his judgment to be unwise. Others have pinged him for letting others down. One video gives 30 reasons why the creator doesn't trust him. IMHO, a few of these concerns do stack up but most of them are a bit of a stretch. I only need a few seconds though to see and appreciate who the man behind the mask really is, and especially when it comes to analysing in one of my specialty areas – alternative monetary systems!
My alert sense go into full attention when it comes to 'quantum' anything (especially when ET and consciousness is used in the same sentence) because in this sense I am old school. I have found that the word "quantum" is often used in 'funny' [funny peculiar, not funny ha ha!] business and it seems to have taken the world by storm especially it seems since the 2020 US Elections. First, this crash-hot, sexy, conscious-driven system is managed by ETs from space. Arrr, right! Secondly, we do not know who issues this currency and who is setting the interest rates. Umm, Charlie, you may trust others in regards to this all but isn't the charging of interest contrary to the Lord's specific instructions? Thirdly the amazing 'good things' that this currency will support is not defined. I know that you are too busy to read this but tell me please, is it a "good thing" or a "bad thing" to try to help people think independently and therefore see the QFS for the con that it is? Fourthly 'they' have been attempting to bring in Gesara for a long time, and you say that EVERY country in the world has signed up to it? Nah! There's only one organisation that gets global compliance and it's the one that uses deception to consolidate power and wealth! And it goes on and on . . .
Look, money is a measurement (like a litre, metre or an hour) thus it can never be a commodity and therefore can never be 'issued' except by somebody, someone who issues their currency which measures debt. That's all it ever is. Who issues the litres we all measure our petrol and milk with? Who dishes out the metres that measure the roads and the height of my house? Who issues the hours that I invested into sharing this wisdom with you here?
So who issued the dollar, pound or yen that you used to buy your recent purchases? Who has the right to tell me whether or not I can trade with my neighbour using a unit of measure of my choosing to record the transaction back and forwards? Do I really need to get an inflating USD to trade? Can you see the deception?
Mutual credit is always the basis of a true currency. I trust you; you trust me; goods in, good out; money is simply a record of a half-completed transaction.
Now trust is and will always be the only thing that truly backs a currency – gold, silver, Uncle Sam, land, energy, a formula, whatever . . . it's always human trust that is behind whoever issues a currency, even though 'they' say otherwise.
Conmen use the gullible, like Charlie Ward and Simon Parkes all the time, to suck in others. Bring in the concept of ETs; use the words "quantum" and "consciousness"; talk good things about the poor kids, or the homeless (or whatever tickles their fancy) and ask people to put down their hard-earned pennies in return for a promise of something in the future . . . which never arrives! It's been going on for millennia!
Charlie Ward admits that he is no financial advisor. He tells people to do their own research. He exaggerates and promotes his own things in his own way and ends up with a bit in his own pocket at the end of the day. Help him as much as you wish, but PLEASE do not expect him to personally back the products he introduces to you. Who knows though – I might be wrong and you might end up with something for nothing or perhaps a little more than you invested which came from . . . umm where did it come from Charlie . . . Simon?
For the rest of those who have already or will invest in the future, take it from me . . . trust yourselves and your own judgment or like those who trusted the crooks who run Bartercard, BBX, Tradecard, Qoin, Ormita and all the others that I've accurately warned the public about over the years.
The QFS is a con (a literal Ponzi scheme) and Charlie Ward is either a knowing conman or he is a lovely innocent but gullible old man talking about the QFS because the conmen saw him coming. This doesn't mean that everything he says is BS – not at all, but be warned: There is no such thing as a free lunch.
So how on earth then do we get ourselves so caught up in this BS? Why do (or did) we get ourselves into this dirty, smelly stuff?
It's because while the world was created good, the Creator gave us a brain, common-sense and free-will choice (the last thing He wants or needs is a bunch of robots bowing down to Him), then we (humanity) went off on our own way. We fell. We sinned. We got deceived. God said but we didn't do it His way. We got ourselves tricked in the process. It's all because we're up ourselves, putting it a little more tactfully – it's all about pride.
The solution is simple, maybe not easy though: Humble ourselves; listen up and do what He says.
Hint: Putting your money into the QFS system is unwise, because this is not it (what He says)!