This post puts a highlight on crooks within the IRD, using the face of a woman who deigned to look me in the eye and lie to me, then attempting to cover-up her sins. Please, don't ever lie to me unless you want a reaction, even if it is suppressed for a few years before it all comes out. Linda Dzaferic is her name. Lying is her shame. A Team Leader at NZ's Tax Department is/was her game. Don't click through here unless you want all the gory details.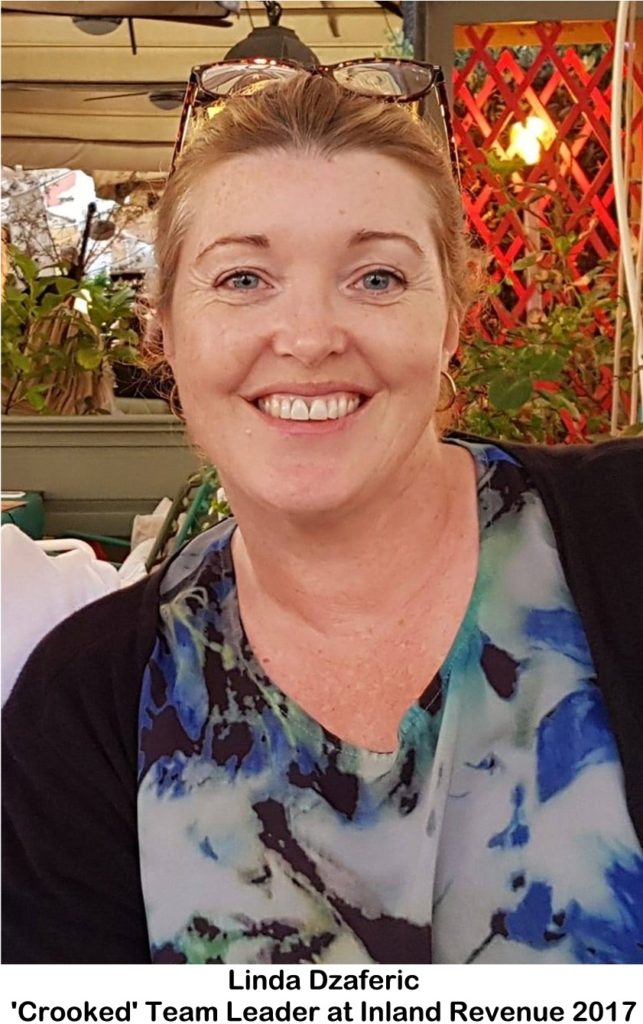 Linda Dzaferic may be a lovely wife, and a proud even great mother. I don't know. She could even be a great Team Leader at New Zealand's IRD but to me she is the nasty personal face to a faceless authority that represents the power of the State. While the Cops can arrest me and throw me in jail physically any time they wish to plant evidence, lie to the court and then cover it all up (and yes, I have evidence that they actually do that!), it is the Inland Revenue Department (known for years here as the IRD) that has the power to adjudicate tax affairs in New Zealand, thus they have the power to bankrupt you and cause you extreme difficulties. Linda has done that, or at least played a pivotal role in doing exactly just that. Fortunately I seen to have been graced with the capacity to survive as equal as I have the capacity to really wind crooks like Linda up by asking difficult questions then shooting straight!
This series and book will not only show the public the extent of that power, but also some of the methods by which they exercise that power over their subjects. This is not all chocolate cake and lollies peaches and cream either.
I first engaged with Linda as just a name via email. She was a Team Leader for two people whom I had dealt with at the IRD. The back story is that I had established a company in Q4, 2016 with the intention of commercialising my investigative and writing skills. I bought a truck, commenced converting it into a combined mobile recording studio and mobile home. As per usual I made sure that everything was above board and all legal, did a truckload of things to prepare for the business and then sought a GST refund. It is usual for a business to have an initial GST refund because your expenditure with CAPEX always exceeds income, and it takes a while for income to grow equal to or hopefully exceeding your expenditure.
The details aren't important at this stage other than to note that the first IRD representative who investigated the company increased the Department's 'risk of fraud' when she heard that the vehicle was a "housetruck". She opted out of any potential 'trouble' by passing the matter on to another dude (good on her I say!) but this new dude then refused to meet or talk, more than once. Advice to those about to deal with me: don't try to hide from me. It pisses me off and I never give up!
So I went to his supervisor, and this ended up with the lovely lady shown above … Linda.
Linda made some mistakes. First she promised to do things and didn't. She set dates and meetings that she didn't honour – and more than once! This is just NOT the right thing to do with a dude like me to whom my word is my bond. Do you really just expect me to go away and forget about this all?
I was waiting for a multi-thousand dollar GST refund which I needed to buy the camera equipment to finish kitting out the truck so that I could hit the road and start the business but I was being held up by a bunch of idiot IRD wafflers who had zero motivation towards constructive action AND now I had a crooked supervisor on my hands! Eventually, I laid a formal complaint.
And that complaint was handled by, get this, Linda Dzaferic! She even advised the Complaints Department (I found this out later when I got the OIA data back), that she was happy with the way the IRD had handled my complaint – in other words tell the hens to shut up because the foxes think they are being held up all fine and dandy! Spare me days.
So anyway, you guessed it, I complained about the complaints department. Group Leader Maryanne Hansen 'investigated' and found no fault. Hmmmm. I had investigated; I had found the evidence; I proved misconduct but IRD's own Group Leader found nothing. Got it!
In the trade we call this a "cover up". But I got on with life. Clearly that company was toast, in terms of business thanks to these fools, but I just got on with life and eventually ended up in court at the TRA. Again, more will come out in due course, but my dealings with this lovely lady Linda didn't cease there . . . oh no! I could have let it all go – laziness; unprofessionalism; covering up for each other – whatever! That's just life and the IRD is no different to any other authority but things turned bad – really bad for Linda when we met, for the first time.
A part of the dispute resolution process between the tax payer and the IRD is a conference. This is a formal meeting (chaired by a third party IRD person not involved in the tax affairs, if you want it) where you sit down and muscle it out. What's your position? What's the IRD's position? What are the facts? How do we get resolution sort of thing . . . great, in theory anyway. They want it off the record but I insisted that it was on the record.
I drove out to their offices in South Auckland and the meeting was delayed – by quite a long time actually then I walked in. The independent chairman started by introducing himself and then informed me that according to what he had seen of the case that there appeared to him to be no fault on the part of the IRD staff.
WTF?
He was supposed to be independent, not having been involved in the case and yet without even giving me a chance to speak he starts off with his analysis that my claims were unjustified! "What a Dick!" I thought and ignored him from then on.
I turned to the new investigator who immediately addressed an issue that exposed him and his conduct, personally. He had inherited the file, done some due diligence from Internet research, then gotten some really old information and taken it all out of context then used it against my company. I had previously roasted him for this – first using false information and then not informing me or giving me the chance to explain!
He had previously apologised for this and tried to say that it was never used against me but I didn't believe him because it was in my file notes and in writing. He did his best to squirm out of it telling me that he promised that it would never be used against me.
I looked him directly in the eye, raised my left forefinger and pointed it at him and told him that I would hold him to that promise if it ever came up in court!
Well of course it did, and I did, and the IRD proceeded with his not appearing in court even though I tried to sub-poena him. I wonder why Crown Law chose not to put him on the stand!
That idiot pretty much shut up from then onwards, eventually handing the case on to somebody else so I turned to Linda Dzaferic and addressed her directly across the table from me, less then 3 feet away looking directly into my face.
Then she lied, from the outset, directly to my face and I knew it. I think she knew that I knew this too because she then tried to justify herself with more BS, but I'd had enough. These were not honest people. Their arse protecting covering up and political BS at my expense made me sick. I might be prickly at times but I saw these IRD jerks for what they really were.
The meeting was over. We were off to court and I've never spoken to this sleazeball of a woman again. Linda, as long as I live, and for the whole world, you are to me my dear, the face of IRD corruption. Nobody sits on the other side of a table and lies to my face at my expense and walks away from that Scott-free. Nobody. Two years after the event or twenty two years after it, you are a crook and you're now listed on my wall of shame.
The above photographs were taken from Linda Dzaferick's (nee Curtice) Facebook page on 6 March 2021, (NZ Time) as was the photo used on the cover of my book Inland Revenue UNMASKED!! and duplicated on her original LinkedIn profile a couple of years ago. I've got the lot.
Linda immediately removed the original photograph from her Facebook page and deleted her entire LinkedIn listing when I dropped the news to her boss Maryanne Hansen that I was using her photo on the cover of an upcoming book. Funny that, how they cover for each other in the Department eh? Any search through Linked In will find truckloads of others who work at IRD, not Linda now though. I wonder why!
I do feel sorry for her husband and daughter. It must be uncomfortable to have Mum's name and your family name associated with skulduggery, but hey, speak to Linda. Lies can easily destroy lives and sometimes sh*t happens when you take on people who never give up speaking the truth eh?
There's a saying in the Christian community that sin always costs you more; it takes you further than you expect; it costs more and lasts a lot longer than you ever think it will do when you engage with it. I can assure you that when Linda Dzaferick covered up her misdeeds by killing the formal complaint that I issued to IRD over her stupid, silly, unprofessional conduct; when she conspired with her boss to cover-up the fact that she investigated herself and found her conduct to be 'all fine' according to her, when she had actually broken her promise more than once and I had the evidence; then when she looked across the table and chose to lie to me directly in the face at my expense, thank you very much . . . that she had no idea that two years down the track, she would become the face of corruption in the New Zealand's Department of Inland Revenue.
This is the way of those that engage with stupid power games, trying to push the little guy around for their personal pleasure. Now, should this 'b*tch' choose to humble herself, come down and apologise, I'll update this 'hit piece' accordingly and do my level best to rectify any damage that occurs. I mean that. She will of course have to unfix all the damage that she has caused, and helped to cause to me but that's only fair.
Until that miracle ever happens, Linda Dzaferic, Team Leader at Inland Revenue, you're on my Hall of Shame. Shame on you, and yes, the book will be published both digitally and in print. To those of you who object to the existence of this post or the tenor of it, or the book, please feel free to make constructive suggestions on how to improve it/them. I'll seriously make an effort to do so. In the meantime it stands.
Let's now get onto something a little more uplifting shall we?