This post explains my recent resignation from positions of social responsibility pending my trial before a jury – the charge, "obtaining by deception" by the Taumarunui Police. I've been charged and have pleaded (not guilty of course) but I haven't received the full documentation yet. I know that it relates to scrap steel that a local builder lays claim to – a matter which BTW is already before the Civil Court down here. A man of integrity cannot really continue in positions of responsibility when charged with criminal offences of dishonesty. Ethically, I believe that he should step down, defend his name, prove his innocence (and/or admit his guilt, do his time and/or seek societies forgiveness) before he returns, if ever. So I have. This post gets a bit personal, which I would have preferred it not to but I cannot see how to avoid it without hiding others' involvement. Those who know me will scratch their heads and wonder what Jungle Juice these crooked cops have been drinking but hey, it's really just another story living life on the edge! Par for the course. Grist for the mill. Let's go . . .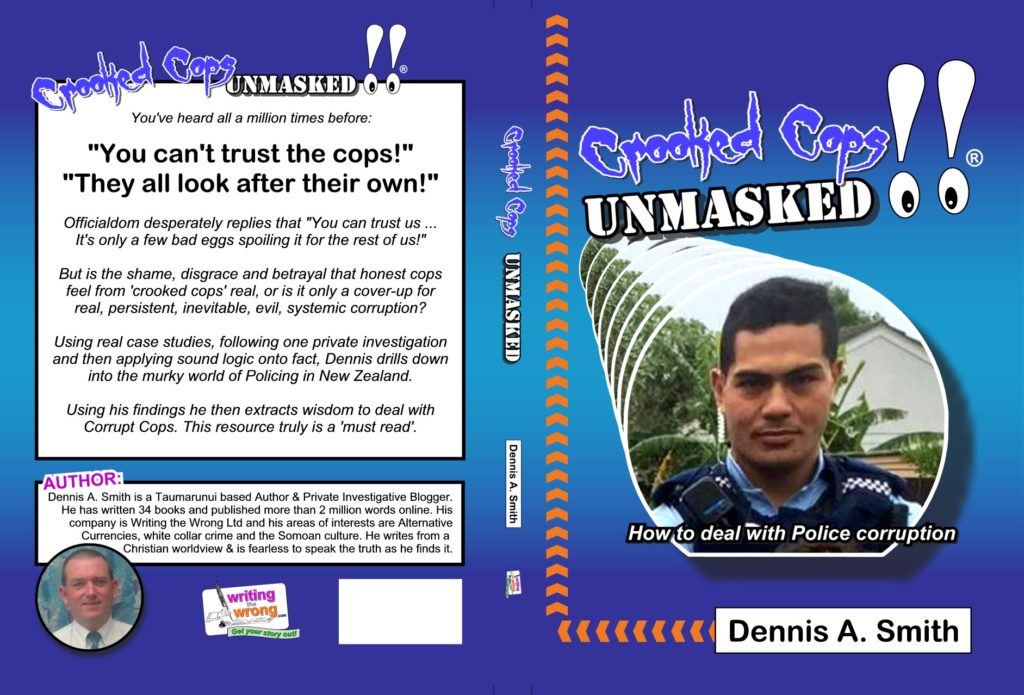 It's clear that Taumarunui 'Crooked' Cop Sam Edwards (CC1) doesn't like getting pushback. So he's got his man and he's proud of it. You can hear in his voice and see in his walk that he carries a huge swathe of power over pesky little people – like me. He's the dude who shouted at me that he would have, "no hesitation to arrest me for theft (or even burglary if you've jumped the fence)" then changed it back to theft without notice when he realised that there was no burglary; then again secretly to obtaining by deception when he realised that he couldn't get me on theft. I actually think, as I said to him and his supervisor (CC2), that if he didn't charge my neighbour too for giving it to me, then this would be obvious bias!
Spare me days, how ego gets in the way of truth and logic all the time eh?
I have no idea what the judge or the jury will think when they all hear the truth come out in court.
Knowing the way this thing has gone down so far, they'll probably try to get me to go down for it and go for the maximum sentence too if my experiences with this fool is anything to go by! I've seen also many other times where the cops will push their weight around and withdraw charges at the last minute when they realise that they could lose. Whatever! I've lived long enough to know that what goes around comes around and that the Lord looks after His own, but often in a way and manner outside of what our puny little minds can grasp. It's kinda funny that all these fools can come up with was "obtaining by deception", seeing that deception is all I ever seem to be writing against for the last ten or twenty years eh?
So let's get into the guts of it. I've previously explained that when my neighbour moved in early March 2021, he told me I could get rid of the scrap steel that the local builder had left behind for him. I did that. My neighbour opened the gate for me approx 4 weeks later and I zipped over to get it with my forklift one night. I got a visit from the builder last Friday a couple of weeks ago who laid claim to the steel that he had left there for the last 20 months. "Nope!" I said, "it's now mine. I don't want to fight ya, so come back when you've calmed down and we can talk about it man-to-man!" He said, "Nope!" and called 111 right then and there. Did I tell you that this builder has a rich father and acts like a spoiled little br**? I didn't? Darn.
Now the 'crooked cop', I've called him CC1 has difficulty doing things in writing, but I piss people off in person and I told him so. So we had a little verbal set to didn't we? You gotta this and that. I gotta nothing brudda! You've got my name and address and phone and DOB, now get going off my land and outta my way. Hmmmpf!
So he issued his own Search Warrant despite knowing that this was a civil matter before the courts and forced his way in to hook it all out! This is his way of letting me know that he's not going to get pushed around and so that the builder got his steel back and he's "got me" with a crime for it all.
Spare me days again, but that's his choice. He's got the law power.
The bottom line here is that their investigation has shown them first that I probably stole the scrap steel from jumping over the fence (unless I could prove that I was given it); then when I did exactly that, that I stole the steel (umm, but with the neighbour's permission – somehow); then by tricking the neighbour (somehow) for pecuniary gain so I could get some cheap beams or something like that as if I needed them! OMG me, of all the people to accuse of dishonesty for personal financial gain, but them's the breaks!
So they came in and got their steel a while back, busted the padlock and had the right to do so they reckon, and they will let me know what they took in due course, of course once the complaining builder has documented it all for them because they don't actually know what they took – of course. They have photos but they believed the builder not me who took what he wanted and left what he didn't want. Apparently the neighbour has told them that he didn't know whose the steel was and that he just wanted it gone, and that I never told him whose it was, or something bad which I can't really work out yet.
The neighbour though seems to have told me something different (first that he couldn't remember what was said – he just wanted it gone, and then secondly that yes, he does think I told him that it was originally the builder's) but pretending to not remember and then lying to the Police about it doesn't really matter, even if it gets your neighbour arrested does it? So we've had a little set-to over this arse-saving BS ourselves haven't we?
Who needs enemies when you've got neighbours like that eh? Do you think I'll call the cops or confront people on this neighbour's property like I have done for the last three years from now on? Nah, he's on his own now. You know the real sick thing about this dude and this situation? I told him FIRST THING to just tell the cops the truth. I didn't need to know nor did I want to know the details of what he said. I just trusted him to tell the truth – that's all. Then I repeated it the next day and then a third time I did it when I emailed him and cc'd the cops when I had found out that there was a difference in our stories! "But I don't want to cause anybody any problems!" he says.
Idiots! I'm not impressed as you can probably tell. The world is full of BS and liars is it not?
So when the authorities go rogue with their exercise of power, what can you do? What should you do? Well, these events need to be viewed in proper context. I am a blogger in the middle of writing a book called "Crooked Cops UNMASKED!!". I am just finishing a book called EVIL UNMASKED!! in which I explain how evil can be defined and measured all written from a Christian world-view. I have been cast around town to be trouble, dangerous and crooked myself by people who should know better and will try to take me out at the drop of a hat, and it will be a miracle if the landlord now would consider extending our lease beyond it's expiry with all this BS going down. Sure we've paid the lease on time for a few years. Sure, we've bought the buildings outright and have done the place up and by rights should have the renewal but I tend to doubt it now. Especially if I'm stuck in the slammer for the next few years!
There's been some real body blows to the bad guys around me over the last few years, so I think that in context it is wiser to let the dog have his day, give me a little bit of space and let the dust settle. Retaining positions of power within organisations that need to trust their leaders is a big call for those charged with crimes of dishonesty. It's easy for me to stand up and say, "BS!" or "You're wrong!" (or corrupt or whatever) but it is not fair to those asked to assist or who would suffer at the hands of a crooked leader (assuming that I was found guilty). Who knows too, there may be someone better for the job than me!
So is there any other reason or thing that has influenced this decision? I'm not depressed and going to top myself am I?
Sure! Plenty of reasons for anger! And . . . No, absolutely no way would I ever let little people force me down! I've constantly said that if I am ever found dead by suicide that I will have been suicided and that the perpetrator(s) could be easily found by reading my blogs!
A lot has happened in the last year or so, and while I've achieved heaps personally, adversity has always been just around the corner – little things, like the local rag not willing to publish material that questions the Mainstream COVID-19 narrative hurts me because I know how devastating the so-called vaccine is likely to be for those hoodwinked into getting the jab. It's actually a big reason why I've done www.JABQuestions.com.
Seeing a High Court Judge brush over a DC ruling that was clearly issued against all common sense and most likely law too, is on the surface "just the usual" but it eats at me, and bugs me that they can do this and get away with it. Especially too when other innocent parties have to pay or have paid for this kind of thing.
Watching a low-level DC judge side with a stroppy lying lawyer instead of doing her job according to the laws of the land pisses me off too quite frankly. I dunno if my Appeal will pass muster – it should by my calculations but I'm not really a lawyer so who knows what my chances are on that one! It wouldn't be the first time a crook gets away 'cause of a smart lawyer.
The tax department caused me my first loss in 43 years in court when they claimed that Writing the Wrong Ltd wasn't conducting a taxable activity and they've now extended their investigation claiming that it still probably isn't. How many years loss do I have to take before it becomes harassment? I ask! It would be kinda cute to start up WTW vlogging one day . . . IRD comes first in the exposure?
So, I'm reducing my responsibility down and it's now just one thing I can do to protect myself and to help others. Hopefully it will allow a greater focus on defending truth and showing how to deal with those local crooked cops – CC1, and CC2, bring it on!