"How the h*ll can you understand reality in woo-woo world?" is a [paraphrased] question I have been asked more than once. In this post I share the take-homes from a US-based commentator Clif High and while he and I have differing value systems (he is New Age and I am Christian) I certainly concur with his take on this subject. I also include reference to a video from ex-CIA spy Robert David Steele, Penny Kelly (a conspiracy & ET analyst) & futurist John Peterson and others. Enjoy.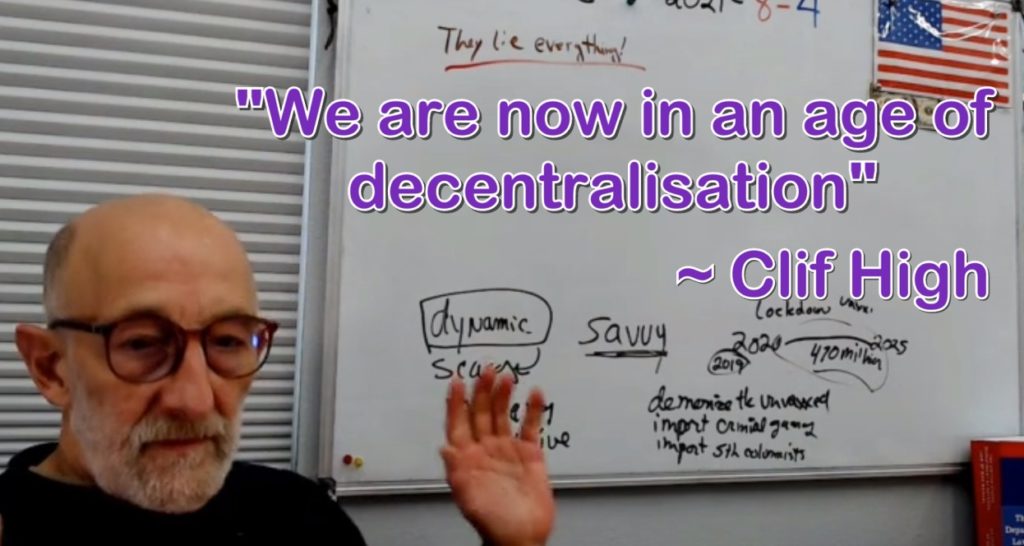 High profile, US, big data analyst Clif High commences a recent video with the premise that The Powers That Be (TPTB) lie about everything.
Ouuuuuuuuuh! I love it!
Having watched the politicians manage truth to their own and their funders' advantage for many years, I totally concur. I'd prefer to use the phrase that they "put the facts in a way that favours themselves" because of the insensitivity of calling someone a liar – most seem to resent that claim. I know I do!
In my investigative endeavours, I see the concept of "plausible deniability" being used ad nauseum to cover-up for deception. Deception of course usually always being deliberate and hurtful to others. That's why it is a crime.
One of the reasons I have established the website JAB Questions is because the message from TPTB is so strong, united, obnoxious and harmful that I feel obliged to share the knowledge that I have. If I do not at least provide an alternative view and even one person suffers or dies as a result of TPTB's current insanity then I would have difficulty standing infront of my Maker. It's not that I want to save the world, or people from themselves (after all if they want others to make decisions for them, let them be), it's more that I want to provide wisdom for those that care and wish that they had been told before they get sucked in and get jabbed with poisons, or whatever.
Clif tells us not to respond to anything that comes out of "the veil of woo". Manipulators manipulate in order to get reactions which they can control. Being careful about (i.e. measuring) our reactions is wise. I concur.
Centralisation
Clif then talks about centralisation and then explains how this will fail because we are now in an age of decentralisation. I absolutely agree but view this implosion from the Christian world-view and through technical and business lenses.
I grew up before and in NZ's Muldoon era watching the power of centralisation increase with a cresendo until the late 1990s when the Internet empowered the populace and changed the dynamics of power. Google's business model changed the paradigm which moved from what I called in my 'Web Thought Leadership' material, an "own and control" model to a "brand and influence" model. Whereas previously big business worked with government to profit through centralised control systems (such as import licensing and brand loyalty) the arrival of free information, parallel importing, Open Source technology & thinking, Google and such-like opened up the possibilities of decentralisation. Small is beautiful; local is important, sort of thing.
Big-business, socialism, political powers and so on still fight back to retain their power and control but the tide is turning with virtually every discipline going private, small and/or local. The final frontier is finances, money, with cryptos taking an increased role in the financial sector. The basics of this financial thing are quite simple – centralised control of what they called the "Legal Tender" monetary system occurred in stages around the globe in the first half of last century. Centralised privately owned banks conspire with political forces to issue 'Legal Tender' currencies that enrich the few and enslave the masses utilising compounding interest. Remove the interest component and you remove enslavement. Remove constraints on the issuance of currencies and you depower TPTB. Remove deceptions over the nature of money (it is not a commodity that can be issued and controlled – it is always a measurement of a half completed transaction i.e. debt) and you will find naturally that Mutual Credit is the basis of your currency and freedom results. Simple.
This (the matter of centralised money) is likely to be the next frontier to fall to decentralisation. Understanding the true nature of money is the penultimate challenge, the final and most important one being that of the identity of the Master, but we'll leave that one for the moment.
Along with some flowery language, Clif uses big words (Like WTF does "philosophical level of examination" actually mean?) but his assessment is IMHO accurate:
Dictators will lose control – they are centralised by nature … They will totally collapse – everybody is on our side.
Well, maybe not everybody but this is increasingly becoming true as people wake up more and more.
Clif continues:
We are in a dynamic and scary woo period.
He advises us to personally not allow it to control us, comparing the current period with that of DDay. Everybody knew that it was coming but not the actual date:
Exist within it. Find our place. DDay is about to be launched and we are [the equivalent of] 10 days away from March 4th when the ships actually set out. We at that point right now with [the equivalent of] reports of soldiers moving around.
Clif then points out something really really important and I agree with him 100%. He says:
If you don't know what role or part you have in the dynamic activity, then you don't have one and shouldn't participate in it!
Not only is this wise but the inverse is also true and in my case viewing life from a faith perspective, when we are called to do something, or in my case to say something, then we should DO IT, immediately, forcefully and with passion. Tepid, timid, uncertain is NOT the name of the game here. If it is true, we who know something and have the power to say something not only SHOULD say it, we MUST say it.
A Plandemic?
In another post I've recently seen, the question of whether or not the COVID-19 was manmade or planned was discussed. It is my take that indeed this is much more than a possibility – it is reality. There is way too much evidence out there that the so-called pandemic wasn't a natural event. It was clearly planned and foreknowledge is proven by a French poster showing the printed date months before the pandemic was declared. There wasn't a pandemic and that there is ample evidence of outright fraud, aside!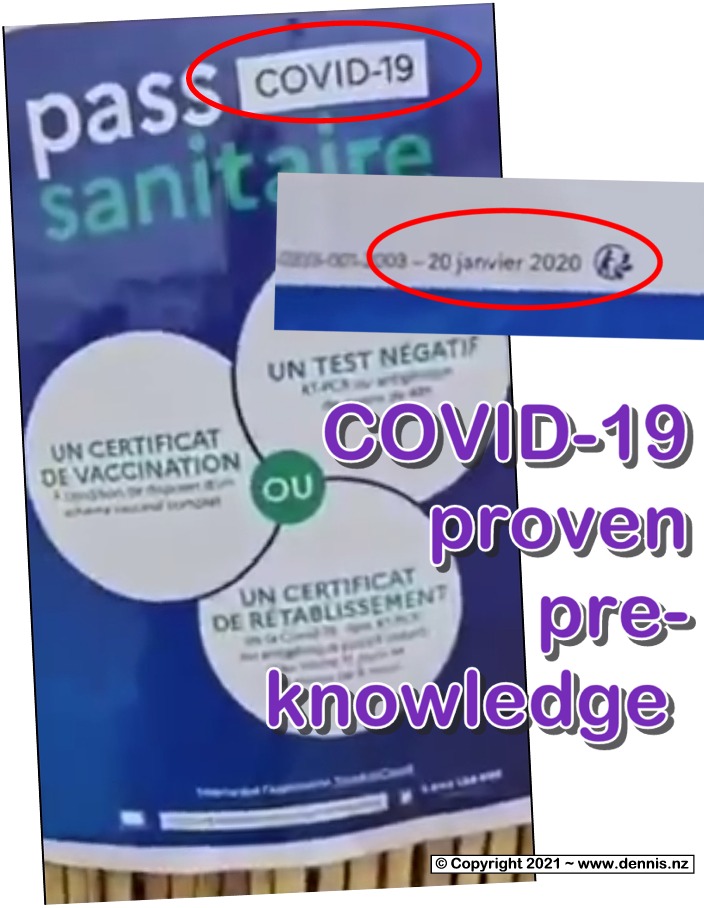 The people are beginning to finally face reality – they see what is happening …
I think that this is indeed true. Particularly in the USA as COVID-19 and weather manipulation and political intrigues and financial restructuring take the people 'down the rabbit hole". We all play a part in questioning and identifying liars and cheats and manipulators. The possibility that politicians are lying to us; the possibility that the Mainstream media do the same; the possibility that even truthseekers have been duped to avoid the 'real' money-men's activities; the possibility that leaders have led the populace knowingly into a deception is a scary thought for many.
Awakening is a process, whereby truth often comes by way of revelation, step by step and it can be traumatic for many when they realise that "OMG! Surely not! I now see that the Conspiracies are real!" I agree that this awakening process is a dangerous one. As these people explain:
[It} has to be navigated carefully. [like] dismantling [a] bomb – [asking ourselves] what is real – what is possible [i.e. true]?
The question for those awakening is clearly what to do with the corrupt system [democracy] that can be "too easily corrupted". After all we must have a leadership mustn't we?
Do we dare maintain it [the corrupted corruptible system]? Then what? What do we do? How do we govern ourselves? [Surely], if we don't govern ourselves, somebody else will.
If we agree that the political structure has to be undone as a result of a lack of belief in the leadership (as these people do), then what replaces it?
John mentions that a large number of US politicians will be resigning – 300 or so. Possibly so, I do not know. I do know that President Trump's team has done many deals with a huge number of politicians, many of whom have co-operated in order to save their sorry arses avoid jailtime or worse. I am very comfortable that appearances are important too and that things are not what they seem, on purpose. John says:
It is clear that the energy is changing – we are going different direction , accelerating. There is no substance or power under the Biden administration (i.e. that President Trump does indeed head the US Military who have the power in the US at present).
True! He talks about Martin Armstrong's predictions:
We will have a period of time that gets worse before it gets better. Fragmentation that reorganises itself into a new reality – more or less chaotic – a new world.
Obviously I don't KNOW this but it does make sense when listening to the many voices out there in the Conspiracy world.
Robert David Steele talks a lot too about how the issues of "LOCAL & TRUST" are important moving forward. He makes the point that "Greatness needs to be redistributed" meaning that in the ruling class (or political class – aka TPTB) Satanic Pedophilia rules – 20,000 – 100,000 our towns
Local is "lifting up (or coming up)". 'Local' is the only way to make good rules and to enforce them with compassion. 'Local' is the only way (i.e. the anti-fragile way).
I agree but IMHO the reason that centralisation and corruption is so prevalent is multifaceted. At its core is that we as a society have rejected God's values and gone our own way. This is the core human failing, from the Garden of Eden till today. This is represented by money which represents power. Our self-interest means that we will break moral laws in order to advance our own position. Greed. We trust fewer and fewer people and therefore evil gains a foothold in society. As RDS says here [paraphrased], "Increasing trust lowers the cost of doing business, thus trust has a tangible value".
It is also said (and I agree) that the 1% is "desperately trying to hold their line but they have lost". Unfortunately this is not a binary matter and it is not so simple, but, yes, I do concur that TPTB are fighting a rearguard action.

RDS has a lot of time for Penny, and my hat goes off to anybody who has spent 40 years presenting any philosophy or belief system. Penny claims to be in direct contact with ETs and she talks respectfully and confidently but I'm not so sure about this ET thing. I've yet to see evidence. Cold hard credible evidence and the association of Aliens, Galactic and so on with New Age thinkers makes me think that there is a spiritual component to this entire inter-galactic ET federation thing. When I can see it and claims stack up I could believe it but until someone comes along and explains how ET created, and should receive worship above the Lord, He (God) 'has my money'.
That said, Penny explains things that the biblical scriptures agree with, about how special our little planet is, and how humans are special:
Earth is a pretty juicy little place … a special location (on the edge of outer bands).
She explains how the ET thing has been relegated to Science Fiction because "it has been denied by so many for so long." I think that is true but the alternative, that ET reside above the Lord doesn't pass muster in my book. Claiming eons is also unrealistic. Claiming advanced knowledge or advanced technology, even demonstrating it doesn't necessarily mean that the Lord's word, nature and purposes are wrong. Can somebody show me that ET's even if they do exist are not just a human/spiritual hybrid and therefore worthy of worship? I doubt it!
She continues by saying that:
A planet of useful people [to ET's I presume] raises our consciousness beyond a planet of savages. ETs have advanced technology but have not evolved their consciousness. Earth is a good anchor point and the 'bad guys' who used us for slaves, food, etc planned to takeover but this plan died. The bad guys went.
As I say, this may be true, certainly in a spiritual sense I could accept this, but it sounds like a New Age interpretation of a spiritual war to me. I also concur with her assessment (although not her logic or reason of why) that:
The leftovers are tearing each other apart because they do not have the mindset or off-planet resources/backup.
The implosion of evil is inevitable and we are witnessing this more and more as each day passes. I tend to doubt the ET thing though as a reasonable justification. I do concur though with her analysis that:
We're in a watershed moment, everything is about to change as layers above us collapse.
I find it interesting that they agree with what RDS says, "Truth is not high maintenance, but lies are!" Touche and Amen to that! He also notes that he's seen that:
Long-term efforts have existed to condition humanity/culture for this moment – flouride, tv, chemtrails, plus some wild and interesting things e.g. transgender. Who's doing this? There must be some direction in all of this, CIA intelligence (secret information) Drones, Torture, etc. We're into a closing period with evil hitting the wall, not being able to sustain itself. Secrets will be revealed and the social fabric will come apart with forced vaccines, job losses and so on
I also find it interesting that these guys predict that schools & hospitals will not survive. That will be an important development if that occurs. I cannot predict this but it does make perfect sense to me.
The desire for private or home schooling has grown enormously in and around me in the last few decades and hospital treatments have become more fringe and pill-pushing ventures by my observations. If they are vaccinating nurses then of course there will need to be changes as they all get sick or die off.
Let's someone else finish up this section with some 'positivity' eh?
We're in for a hard, difficult US winter – demoralising, but we must keep going – a world recreated, rethought, regenerated. Our only limits are ourselves! We haven't got the time to grieve. We must get creative. There will be no schools or hospitals – everything will be local. It's an important move. We'll find new ways of governing local because we have to. There will be an explosion of local – our food system, our TV all de-centralised. We should be looking at changed forces of frequency and the evolution of our consciousness. We will be a generation where we are the first ones to govern ourselves. The alternative is that our society collapses and we go back to dictators. Nobody wants that!
Excited about the necessity for you to take increased responsibility yet? No problem. Just go and get the jab. Others can and will step up to the mark when you have 'gone away'.
New Age guru and founder of Connecting Consciousness, Simon Parkes, too notes the recent groundswell of awareness, particularly in the USA:
There is currently a seismic mountain of a change. There is a huge movement to realisation/awakening. The MSM are beginning to crack. Some elements are beginning to cover these topics. There is a groundswell of secret meetings in the USA flocking to support [conservatism/patriotism], and the media are getting ready for the coming truth to get out there, for example the MSM is turning to covering the US Election Fraud.
He says that they may try to claim that they had been lied to or that they were tricked, with a real possibility of them "taking it up to the last second" before they capitulate but that they will then face the EBS if they don't. The Emergency Broadcast System is a planned White Hat technology to provide enforced video and messages from "a trusted source", if the MSM don't cave in and become open and truthful.
Why did they lie? Why did they got it so wrong?
I think that Simon is dead right that mankind is at a turning point. Whether there is yet a critical mass of people, I don't know. Perhaps there is in teh USA but I've not seen it in NZ yet.
It is Simon's wish that people will ask, "Who was behind it all? Why did the USA have a fake Biden administration with their President Trump sidelined, the Military 'secretly' in control?
Simon is an insider selected by White Hats and the alternative/spiritual/conservative TPTB to share things that President Trump and his team want gotten out there. He sees that the US Military will secure a safe environment before they return it to a civilian environment based on the US Constitution. He sees President Trump coming back at that point and I concur. This is IMHO a certainty and that Simon indeed speaks truth and wisdom.
I do not share his take that the new financial system (the QFS) is a godly alternative though. Indeed COVID-19, the vaccinations, weather BS, political ups and downs and much more can be distractions from the primary war over information. Power and money though are ALWAYS at the forefront of international conflict.
I trust that this rundown has helped you understand current reality in a woo-woo world!