In this post I share more facts on Yusufa (Tom) Faye, a guy that I've previously called a fool, a loser and similar, and one who seems to be lacking a bit up top but does apparently listen. His latest attack on a local celebrity with more years building a decent reputation that he's been alive makes you wonder, but I conclude though with a stunning finding – they guy's the first dude out there in a couple of decades who's actually listened and done the honourable thing by yours truly – thus he's worthy of respect! Good on ya Tom! Enjoy.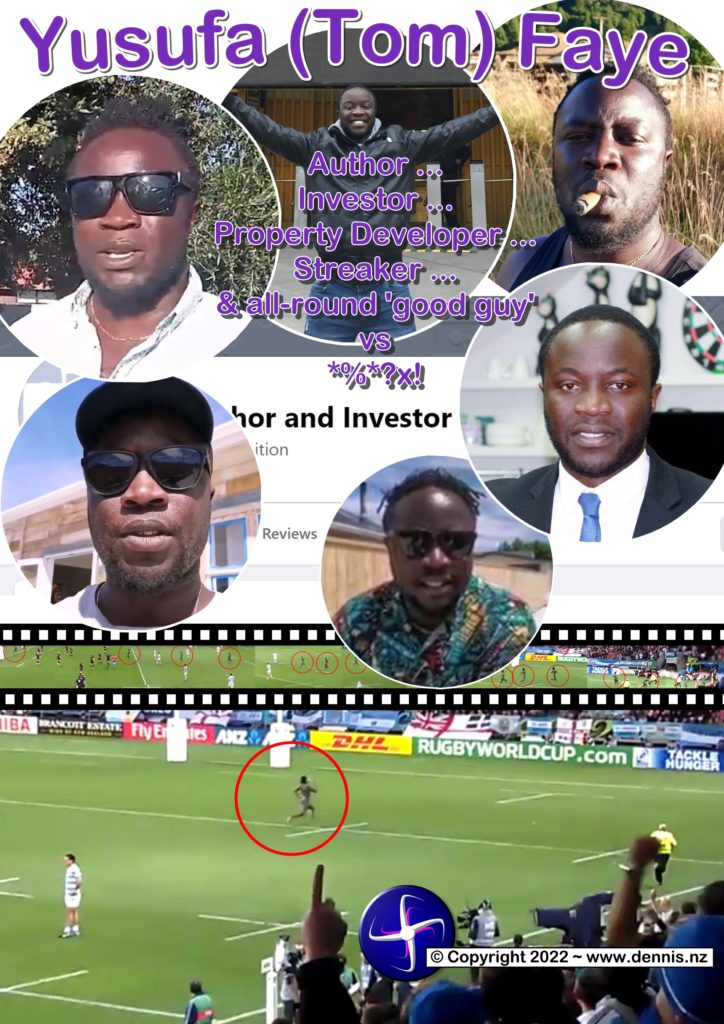 Yusufa, he now calls himself Tom, has made a strong of mistakes over the years but he's really got one thing right with a recent alteration to a defamatory blog post, pinging a local contractor, Peter Cribb and King Country Roofing. I know Pete very well, meeting him the best part of a couple of decades ago in a Taumarunui church and helping him in business since. As far as I can establish, Pete's reputation around town is one of the best you could get – a straight up guy who'd never say boo to a goose and will go the extra mile for his clients any day of the week.
Tom and Pete had a tiff, over money of course and I helped my mate enforce his contract. Tom eventually paid up, under threat of course, and Tom wisely backed off with his BS, until this week when he popped up with a Facebook post calling Pete a conman. Pete buzzed me, not quite in tears because he's not that sort of guy, but asking me for advice. I told him not to worry about it, that I'd sort it all out and slipped a little note to the guy. "Think whatever you like about Pete, or his team or me. Call me names and tell the world whatever you think as much as you like but when you call another dude a 'conman' you've defamed him and you gotta face me!" was the essence of my little note.
Bugger me days and the guy listened and changed the post. Tom, I reckon that was REALLY smart thing to do and you sir deserve all the credit due to a man who has indeed done the honourable thing, and I herewith acknowledge this. Not only do I state that this action to change the wording is 'doing the right thing' but you are the first person and only person that I know of who has EVER done this! So while many would say that you only did this change because you had to, and that you may lack a little bit up top, nobody can ever take it away from you – you did it!
So let's dive into the words spoken first by Tom (analysed); the words of warning by me and then my overall analysis of who this dude really is. I will conclude, as always with my advice and learning from this all.
Tom's Words
Tom defamed my mate. He specifically called Peter Cribb (and his team) a conman. He's not and Tom can never prove that he was. The notice contained multiple marginal comments, mostly negative, some opinion and others potentially defamatory but if you clearly call someone a conman and they are not, then this is defamation. Peter has every legal right to sue and get a declaration that Tom has defamed him. My mate would definitely get that declaration.
Peter knows this as do his clients.
Tom knows this well too, at least he does now.
We all do, and if you don't then you should.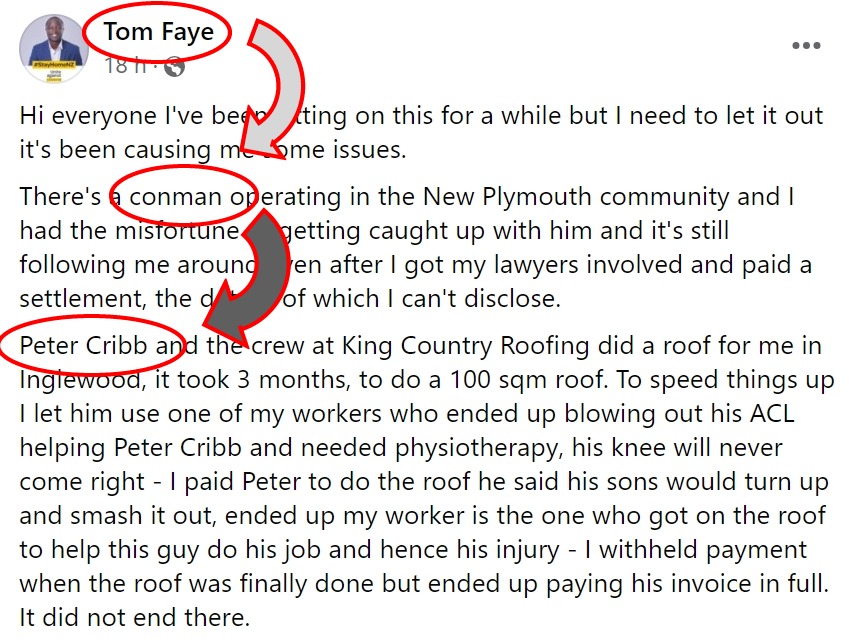 A couple of quick points here … First, defamation needs to be proven that a specific person said something false about another person at a specific time and place. This is clear in the above image. Damages are another, secondary matter.
Secondly, Tom says that he has "sat on this" for a while, then states that he brought it out recently because it's been causing him "some issues". Specifically people have been reading my posts and have contacted Tom, referring to them as ammunition to use against Tom. Don't ask me how I know this please, but I do know this.
Thirdly, Tom states that "the details of which [he] can't disclose" which implies that he has an agreement with my mate not to talk about the details. This inference is not true. If Tom will let me talk about it, I will but as a third party it is only me that can't disclose my client's affairs without their permission. The reality is that it is Tom who doesn't want the details to come out! There is no gag order. Let the truth be known Tom!
Fourthly, Tom did indeed "[withhold] payment" and that he did end up "paying his invoice in full" and it is true that it "did not end there". What Tom is not willing to admit here is that:
a) he put his threat to withhold payment in writing totally contrary to his contract with my mate and that he also admitted to spite (a very bad, bad move there Tom); and
b) Tom ended up paying thousands of dollars more than he had to, because by law he simply had to and his lawyers told him this!
Again, please don't ask me how I know, but I do.
My Defamation Warning
So what happened was that later the same day that Tom posted this, I slipped Tom the following email with the subject Defamation Warning:
Hi Tom (cc Peter)
I note that you have called Peter Cribb a conman in more than one location online today. 
Today? I can guarantee that Tom did not expect to get an email from me that same day!
Take notice that this is an act of defamation and unless you alter the wording within 24 hours, I will help Peter to sue you immediately. This will mean that I will have defamation documents ready to be supplied to the High Court of New Plymouth on Monday morning with an urgent application from Peter personally seeking an injunction to have you remove that defamatory word. If successful this will cost you dearly, firstly in damages and secondly in more negative press as defamation cases usually take around a year to progress, although only months if urgency is granted.
A few points here. First is a "Take Notice" comment. Anyone receiving anything written like this should indeed take notice. Secondly I make a clear statement of fact that what Tom has written is defamation – no ifs or buts. Thirdly I have given Tom a timeframe (yes, I know that 24 hours is a tight one but I also know how Tom works and that this was reasonable in the circumstances) with a specific demand. It is a clear, "do this by then or I will do that". Fourthly I am fair while being firm – I tell him the likely timeframe and note that the case result is conditional.
You know me – you know that I don't f* around and that "I'm Peter's mate" out to help him. You betcha I am. If you're smart too you will have also worked out that I've been there and done that. Don't be an idiot or optimist. You haven't!
I now get personal. I know these people like Tom VERY well. I understand them like the back of my hand and as I say here, I say what I mean and I mean what I say. Tom knows this and in this regard he is smart. He's a man of the street and knows that I shoot straight and don't suffer fools gladly. He knows that he's already lost thousands of bucks at my hands and that is the reason why he has never and probably will never emailed me after losing previously. In time your reputation precedes you.
Now, for the record please note that we do not require you to change any other wording nor to take the post down, despite your words being opinionated and provocative. In order to get the hounds off your back you just need to change one word, "CONMAN". You may easily change this to an opinion piece and say whatever you want as your opinion but making a statement of fact is defamation.
I could have got a LOT more aggressive with Tom over this but there is an advantage to leaving stuff like this up there. A change of the obvious falsehood was necessary. No action from Peter though would invite further nonsense. I think that everyone has done the honourable thing, although obviously I do not agree with Tom. I think that it is obvious to most, including the few who have seen it that there is another side to Tom's hit piece
 While this is Pete's call, Peter is no conman and I would love to see you defend that claim in court!
Again, for the record, you are welcome to share your opinion and say something like, "I consider Peter Cribb to be a conman" which is clearly an opinion – that will do for Peter and me just fine. A statement of fact however is clear defamation and this will not be allowed to stand unaddressed. Simply change the wording and you are home and hosed. In fact, should you do the honourable thing early I will post your early response and give it favourable comment – because this will IMHO be a wise step. Most however ignore my advice and dig in, Perhaps you will listen and I am surprised?
It was a wise move, IMHO and I was [pleasantly] surprised.
Now the defamation has already occurred, but it will surely backfire on you if left up there unchanged because I can tell from the people that contact me and Pete the same – what they say, his conduct and reputation around town differs just a little to yours. It is only by Peter's grace that he does not want to hit you hard, rather give you opportunity to rectify this issue first. You may call me by phone if you prefer or just fix your problem before tomorrow night. As always all communications between us are open and up for my public commentary.

For the record you may wish to swat up on defamation – my website has a few tips (https://www.dennis.nz/?s=defamation) and there is a great commentary at www.defamationupdate.co.nz.
Tom has changed his post which IMHO is great. The way he has done it is more in keeping with a proud young man still trying to look cool, but that's who he is . . . most will understand this I am sure!
So Peter Cribb from King Country Roofing Limited is not a 'conman' per se as I can't say that but in my opinion he is an unethical operator. I hope that clears everything up.
Yup – Thanks Tom, perfect: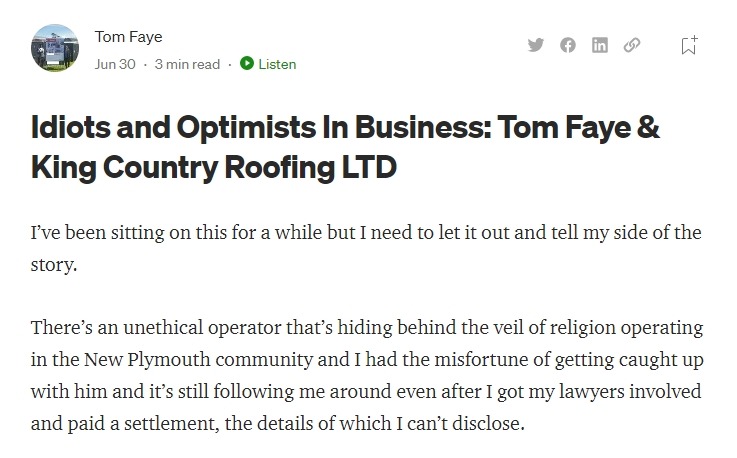 My Analysis
In any tit for tat flame war like this, it is tempting to try to argue. Sure, I could, but Tom has only presented one side of the story to all of three people and claims to be an author without even listing one unfinished book – it's hard work isn't it Tom? I could also challenge him to show any fabrication regarding any post mentioning Yusufa or Faye or suing him for defamation myself, but seeing as I have listed 36 books with their ISBNs and have already published more than 2.5 million words online in the last couple of decades without being sued yet, what's the point?
And can you see how the real reason for Tom's embarrassment comes out when pushed . . . the religion thing pops up now, after all this time? I've yet to see where anybody hides their faith! It's a pretty obvious thing to me – from this quarter anyway! Got a problem with the God thing Tom?
I can keep going like this, for example if you speak to the people he mentions in his hit-piece they will give you a totally different (and opposite view) of the personalities involved. Again don't ask me how I know but I do! If anyone in the King Country needs attention to their roof it is Peter Cribb and his team that you SHOULD trust – not the likes of Mr Faye. If Tom ever meets my two half-Maori kids, or my half Maori and half Indian foster son or my three 'affakasi' Samoan step children and repeats any BS that I'm a racist or mysogin*[something] whatever that means, he better protect himself pretty quickly, methinks. Particularly my foster-boy, who is fiercely protective of his 'old man' foster father who taught him all about truth and love and Godly things, when all he knew before he met me was the gangs and their ways of violence! I'll hold him back but by jingoes it's a dangerous game he plays there!
If you put the missing parts into Tom's story you can see the way his pain at getting outed expresses itself.
Tom has a legitimate beef in some counts – not so much with Peter, but with the way that the Internet and Social Media has attacked him over things from the past. He is a young man trying to get ahead in life, so good on 'im for that, and who really cares whether or not a decade or so ago he dropped his strides and ran from one side of the rugby field to another – look at the way the crowd cheered him on and the number of times he raised his hands while he ran! And that final side-step of the security guard at the end was legendary! I reckon the whole thing is funny!

I mean, who else would have the b*lls (excuse the pun) to do what he did especially with his dark skin in this white country? Maybe not especially wise; nor was it an action filled with humility but really? Did you see how fast he ran, and how far? Whew! Oh, sorry, did I mention skin colour? Oops! Maybe this 'darkie' is right and I shouldn't have called this a "white country" after all?
Originality lacks somewhat here as well as maturity and integrity but when you think about who this man is, what he was trying to do, from his perspective, it certainly makes sense does it not?
My Advice
This is the easy part for me, dispensing advice, so I'll keep it simple here . . . just let it go and do the honourable thing will you? Years ago in the introduction to my book, Lipstick on a Pig, I shared the advice from a Kiwi legend in business, Dick Brunton of Colmar Brunton fame when I asked him what was his take-home from decades of doing business in NZ. I'll never forget his reply. "Integrity!" he said. "Kiwis can tell BS from a hundred paces".
Yusufa is right – don't be an idiot or an optimist like the label on my father's 'funny drawer', well certainly an unrealistic optimist anyway. Don't go there unless it is for real. Idiots and optimists aways get outed, eventually! Just don't go there . . .
Thank you for swinging by again today!