My work on Declan Curran's book, 'DECEPTION – the MH370 & MH17 Stories' continues – they do say that rust never sleeps eh? A core component of this deception is the hidden then admitted, then denied and ignored technology that can (and does) take aeroplanes out of the control of the pilots charged with the safe flight of their machine – all at the whim of others of course. Throw in a dose of the aptly named Twilight gas and you have a book that presents as close to fact as you can get in this day and age. Welcome to probably the most stunning explanation of the MH370 & MH17 'downings' – truth!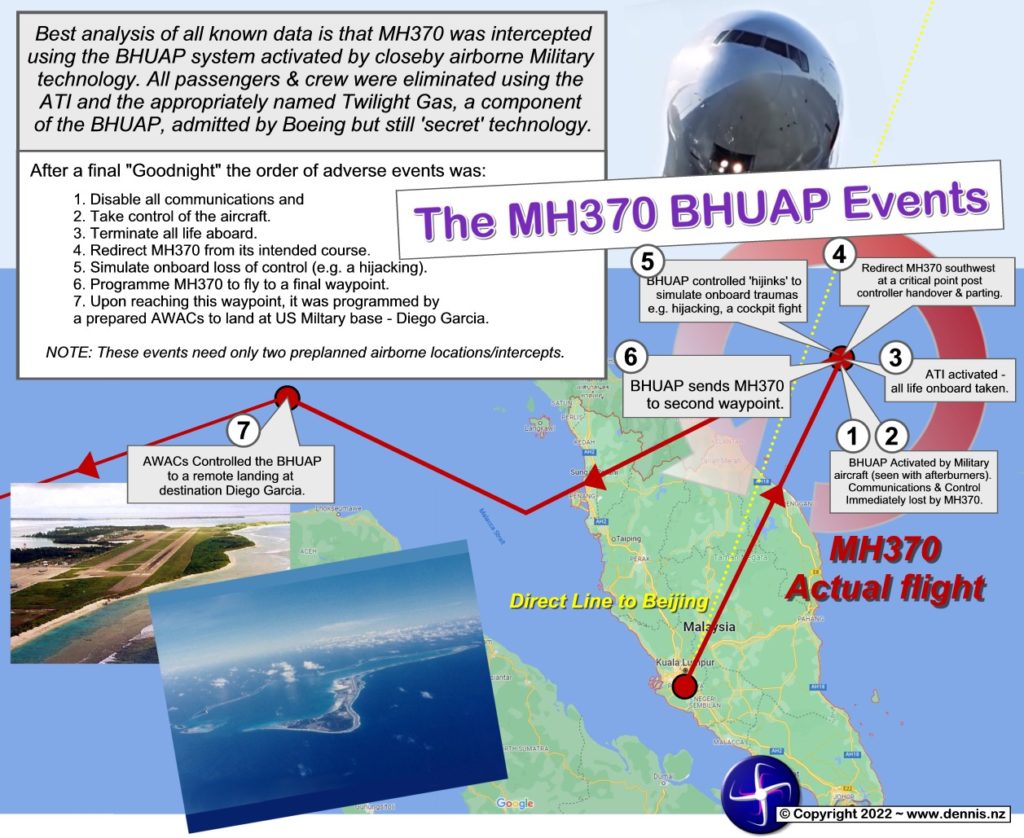 As more and more wake up and realise that deception is a part of the world we live in, the term conspiracy is becoming more realistic by the day. Declan's book explains the events of the Malaysian aircraft from 2014 in chronic detail. He's a nutcase like this – getting the angles and maps and dates and verification down to a tee. I've assessed his work as "the best of the best conspiracy theories" – of course anyone who still believes the official story that a suicidal pilot flew this modern aircraft South until it just ran out of fuel needs their head read!
MH370 was commandeered by a technology called Boeing Honeywell Uninterruptible Auto Pilot (BHUAP), software admitted by but kept secret by and installed illegally on all Boeing aircraft for years. Lufthansa reportedly didn't want the Americans controlling their planes so spent nigh on a billion bucks to get it out, but the BHUAP has been in all other Boeing fleets and (I think) the BUAP in the Airbus fleets for years.
Media
Declan's book details the various patents and so on but here's a few random stories, two from before the MH370 loss and one from after: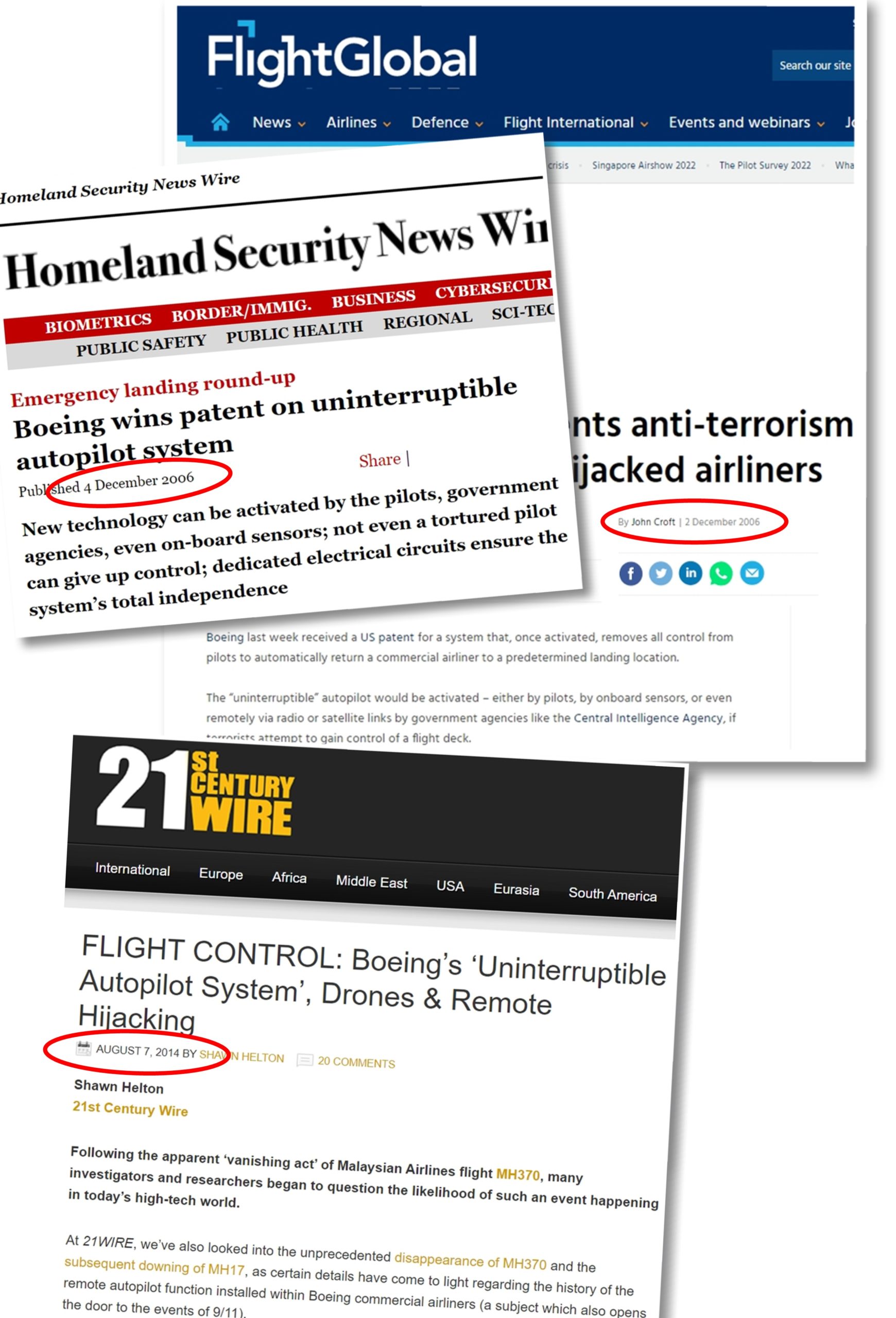 The 'Chilling' ATI
The thing that is so chilling to me is not that an aeroplane can be controlled remotely against the pilot's express wishes using some remote control – hell's bells, drones have been around for years – it is that there is a component within the BHUAP called the ATI specifically designed to dispense a gas called the Twilight Gas. They say that this gas can placate a concerned planeload of passengers. Yeah right! Believe me, this is just a smokescreen if ever there was one, especially if they call it "Twilight"! A million to one, it will be terminal if dispensed in larger quantities!
The top infographic shows how the BHUAP and the ATI was used as best as Declan can work out. The sequence of events in this graphic matches all recognised data, with the falsified information to be dealt with shortly.
Another interesting consequence of this kind of deception is that legally a pilot must not fly something that he cannot vouch for. It is my understanding that most airline pilots sign off on aircraft with a remote control capability. What on earth would happen in the aviation industry if it got out that it was technically possible to take remote control of a plane totally against the pilot's express wishes. It could even be flown into a mountain or sea and then blamed on a crazy suicidal pilot. Come to think of it, maybe if one has a spy called Fang Fang onboard who knows a little too much about corruption as a result of a little bit of Bang Bang in Washington DC . . . or . . . !
Witnesses
A couple of eye witnesses have been used in Declan's book to corroborate the use of military fighter jets in the initial takeover. Both an Australian solo sailor (f) and an oil rig worker (m) on an oil rig observed the afterburners of these fighters – clearly not knowing what they were really seeing. One appeared confused, thinking that he had seen MH370 on fire at a high altitude, but in one piece.
Declan tells me that this would most likely have been a sighting of afterburners of military fighters on the way towards the intercept, not a sighting of MH370 itself, especially given the entire content of the email.
It's instructive to see his actual email so I've ringed in red the appropriate points: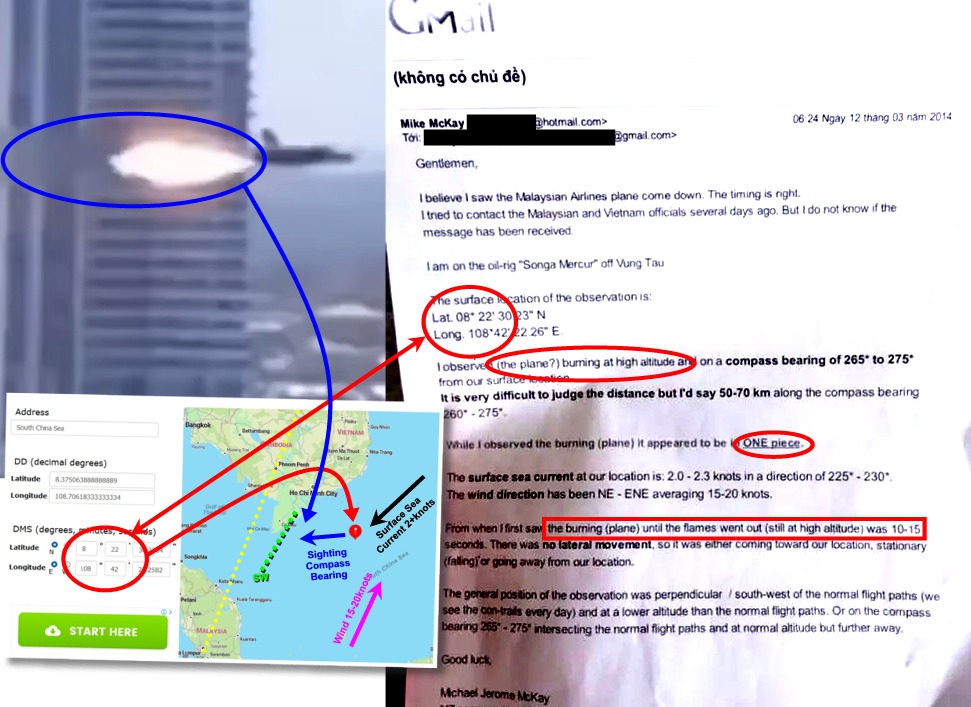 The red dot (and lines) refers to the oil rig location. The blue lines refer to the location and bearing of his sighting, and red box reference to a 10-15 burst of flame which "went out" at high altitude. Umm? The actual MH370 flight was more along the SW direction as a straightline (yellow) Kuala Lumpur to Beijing trajectory is never flown.
Update: Saucy Sailoress is the other reported sighting of MH370 but appears to be at a different time/location.
Analysing False Data
There are a couple of dangers in truthseeking – one is to assume that everything you read is false. The other is by assuming that everything we are told is true. In the latter case the controller of the storyteller has control of the narrative. In the former case our trust in everything is evaporated as we see everything as a conspiracy. One indicator of falsehood however causes us to ask more questions. If they lied about one thing then what about another?
I found this important when I established (thanks to Field McConnell's early reporting) that the "new" or "novel" (meaning, never used before technique), in this case to analyse the PING times from a satellite to MH370 was actually included in a patent application some years before. Ahuh? A porkie then? That's one!
Update: Jeff Wise has a great handle on the oddity that the Inmarsat actually has any data at all – kinda like a setup. He reports a boffin saying, "I never thought I'd say this….I think there is a good chance that MH370 never came south at all. Let's put it this way, I don't accept the evidence that the plane came south."
So now lets analyse their own ping times analysis knowing that porkies may exist. In the following graphic red equates to falsified data – green probable reality: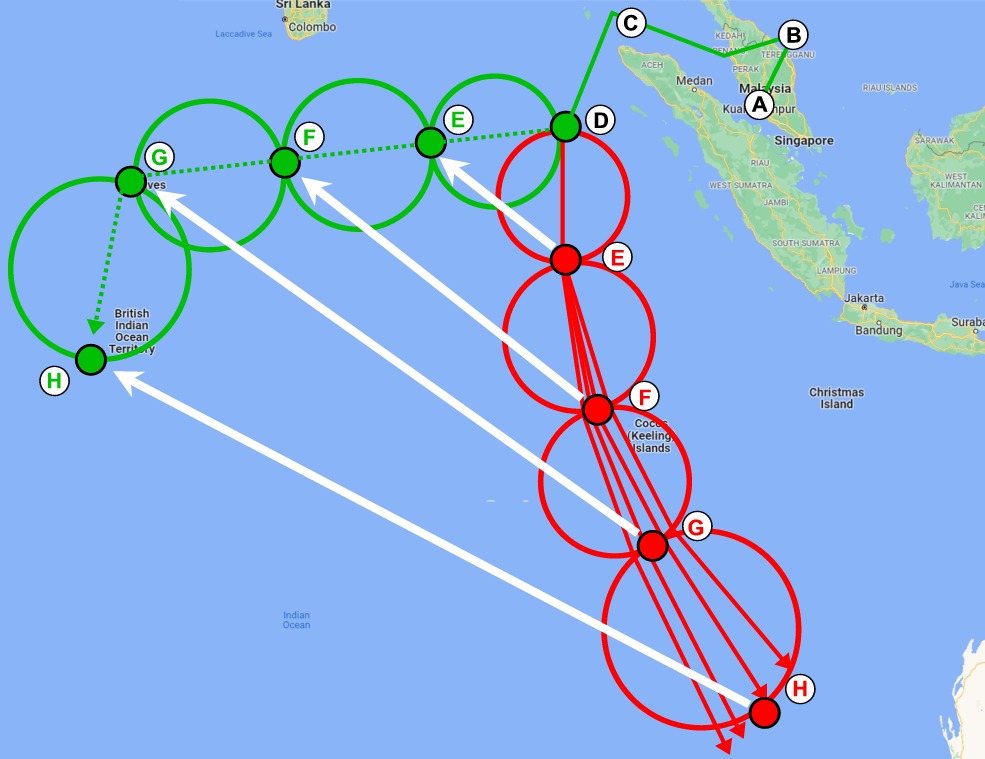 Declan's book is a thorough and professional work. As we get these infographics together and it all tidied up it will become available in printed format in due course. How long he can keep it up before the authorities kill it is anyone's guess but the truth will always out – always!