Michael Hoffman's handling of usury is exemplary. His book on Usury is a real treatise and his recent rehashing and quoting of this topic is worthy of note. I share here his recent words along with my commentary. Essentially, usury is the primary tool of enslavement. I endorse these words and trust that those with the capacity for truth will enjoy them.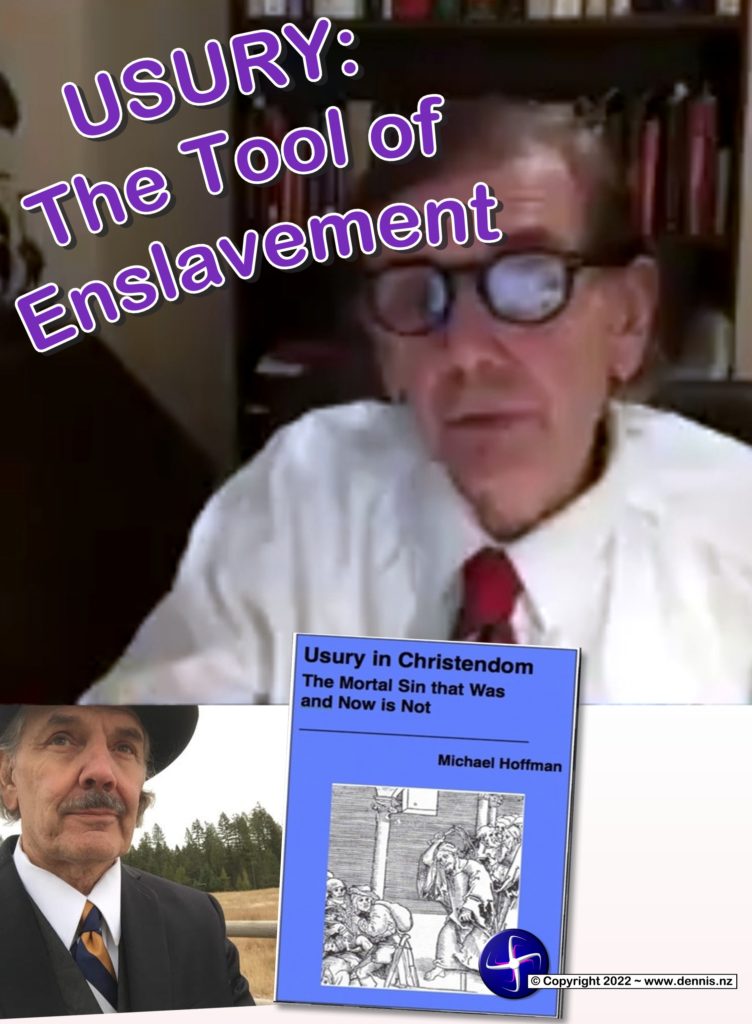 By Michael Hoffman

Dividing Humanity

…As historian Anthony J. Hall relates in his eponymous book, "The competition entailed in the drive to transform the Earth into property has divided humanity between slaves and slaveowners, tenants and landlords, laborers and capitalists, colonizers and the colonized."
Michael loves big words. I've linked an online description but am still bamboozled. I do understand the concept of Hall's TPTB vs us mere mortals though!
In the course of this conflict, combinations of private individuals ("corporations") have sometimes gained inordinate influence over national governments, establishing monopolies that triumph over competitors, making a mockery of the free enterprise that is their outward guise. The Federal Reserve Bank is among the most striking examples of this privatization of the Money Power, against which American voters have been powerless to abolish, curb or even audit. Mr. Hall writes:

"The privatization of the capacity to inflict violence represents a recent expression of an old phenomenon. Some European sovereigns such as England's Queen Elizabeth I secretly delegated the delivery of overseas violence to privateers. The more recent privatization of the means of violence flows from the process whereby some government agencies in the United States, Israel, and the largest of the formal imperial powers have downloaded the exercise of state terror to proxy regimes, for-profit agencies, and non-state groups and individuals. An important development in the corporate privatization of the public sector occurred in 1913, when the US Congress created the Federal Reserve system." (End quote from Hall).
Quoting the man who quotes the man who quotes scripture!
To severely degrade the power of Predatory Capitalism and Eliminate the Federal Reserve, restore Christian Civilization God's Way:

…Where is there a church that consistently boycotts the renting of money and all those engaged in that theft? Without charging rent for sums of money loaned (usury), the Money Power would shrink drastically. If you are a Christian, you can't take interest on loans. If you are a leader in the Church, then you are teaching all of God's Word, including the fact that lenders engaged in renting money are transgressing His divine law.
This is where I think that Michael is not only right but that his attacks are too light and too few.
The Bible tells us so:

"You shall not charge interest on loans to a brother (Israelite), interest on money, interest on food, interest on anything that is lent…You may charge a nokri interest, but you may not charge your brother interest, that the Lord your God may bless you in all that you undertake…" Deuteronomy 23:19-20.

[Because usury is a weapon of war, God permitted it in the Old Testament but only for use against a hostile foreigner—"nokri"].
Many people, including the religious do not seem to accept that the both the Old Testament and the New Testament clearly teach against usury. Did you know for example that the only exception to this rule was to use the concept of usury as a tool of enslavement?
"Yahweh, who shall abide in thy tabernacle? Who shall dwell in thy holy hill?…He that does not take interest on loans, and cannot be bribed to victimize the innocent" (Psalm 15: 1; 5).

In the New Testament, Jesus declared that no one can be charged rent on a loan, whether a foreigner or an Israelite:

"If you lend to those from whom you expect to receive, what credit is that to you? Even sinners lend to sinners, to get back the same amount. But love your enemies, and do good, and lend, expecting nothing in return, and your reward will be great, and you will be sons of the Most High…" (Luke 6: 34-35).
And for those who think that Jesus contradicted Himself in a parable talking about the value of money making, no He did NOT! His example was contrasting something not endorsing an immorality!
It takes a Talmudic mentality drenched in situation ethics to come up with loopholes in the preceding unambiguous divine commands which, if obeyed, would cripple the Mammonism that is at the root of the evil in our world (1 Timothy 6:10). The solution to our woes is to obey God. If we love Him, we will do so (John 14:15).
Yes, indeed!
"Conservatives" pursue every remedy for the restoration of Christian civilization except the one established by our Creator. This dooms our children to more of the same subjugation by the Money Power. This is totally unacceptable. God destined His people to be overcomers, not slaves! Oremus — Let us pray — for sufficient faith to humbly submit to God's economic plan, not man's self-defeating rebellion against it.

— Michael Hoffman
Now the interesting thing here is that one does NOT have to commit one's life to Christ, nor to the Church nor to any God to gain benefit as the principles Michael espouses here are universal!
The charging of interest (aka usury) is immoral and ungodly; it is used as a technique for enslavement and anyone participating in this practice must live under a curse.
There are alternatives and they do not have to include blockchain currencies, either!