My recent use of the phrase "Ewen Mee" (popularised by institutionalised, old-school, Kiwi cartoonist, Minhinnick) provoked the ire of a mate of mine. "It's YOU and I!" he proudly spouted, as I argued with him. Taking out the "YOU" and it doesn't 'make sense' meant nothing to my mate, but the fact that we argued and can still share a pint shows our combined character – a good to and fro never did true friends any harm! Enjoy this one.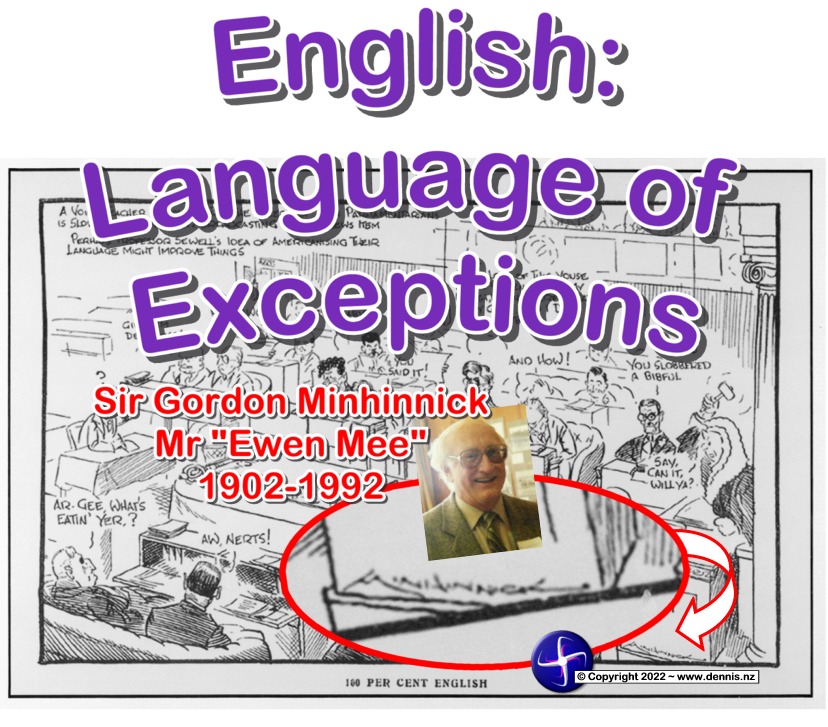 Here's what the folks at Wikipedia want to tell us about 'me ol' mate' Gordy:
Sir Gordon Edward George Minhinnick KBE (13 June 1902 – 19 February 1992) was a New Zealand cartoonist.
He was born at Torpoint, Cornwall, England, educated at Kelly College, Devon, and left for New Zealand in 1921 where he studied architecture for four years. In 1926 he joined the New Zealand Free Lance as cartoonist, but soon transferred to the Christchurch Sun and thence to the Auckland Sun. He joined the New Zealand Herald as a political cartoonist in 1930 and although he officially retired in 1976, contributed cartoons to the newspaper for more than another decade.

https://en.wikipedia.org/wiki/Gordon_Minhinnick
Dad's receiving of the New Zealand Herald was a form of religious experience – it was accompanied by an importance that superseded family and marital relationships, food, and indeed reason as the poor delivery person found out if the paper was not delivered on time – read here before Dad's breakfast time – or heaven forbid if never at all!
Once he'd had his pickings at the news, as kids we'd quickly grab the used portions and skim through to the cartoon of the day, inevitably Gordy roasting the PM for something juicy, and often a drawing of "Ewen" with the surname, "Mee" plastered over his back or belly. Ewen Mee being as I'm sure you've already worked out a cartoonist's rendition of "You and Me". I loved this breath of fresh air in an environment of English pomposity and stuffiness!
So my mate got stuck into me yesterday scoffing at me supposedly having written a gazillion books and all that, correcting me as I said above. He was wrong of course because the use of personal pronouns is important in English. While me and I are both personal pronouns, they both have different functional uses, and using one in place of the other can cause trauma for those either learning English, or like my mate and anyone of his generation who need to 'get it right'.
Natural English speakers know that something may not sound right instinctively and ESL speakers are obvious from their literal interpretation of rules – hence why English is recognised internationally as the language of exceptions.
My mate can be correct when he says "It should be "YOU and I" – but only sometimes and not always. This is a context sensitive rule. I've found that the easiest way to work out which one to use is to simply remove the "you" to make things simpler. If "you and I" would convert to just "I" correctly then we should be saying "you and I". The same with "you and me". If we'd naturally use "me" rather than "I" then the correct usage would be "you and me".
Boffins around the globe have been teaching on this one for decades. Here's just one example:
The simple answer to this question would be the phrase "you and I". This is especially the case when we are talking about you and I as the subject of a clause. In such a case, the word me will stand grammatically incorrect. However, in some instances, when the pronouns are considered the object of the clause, then the term me can come into play without causing any grammatical errors.
…the basic understanding … is that the pronoun I and me are used in two different contexts. When we are referring to ourselves as the subjects of the sentence, then we use I because I is a subjective pronoun. That means it is doing something. But when we are referring to ourselves as the object, something that is being acted upon, then we put to use the word me.
Using me in place of I or I in place of me can make the entire sentence wrong. While, you and me sounds quite correct and common, in subjective cases, it is absolutely incorrect.
But in others it is correct:
For example:
You and I can meet later on. (correct)
You and me can meet later on. (wrong)
They applauded for you and me. (correct)
They applauded for you and I. (wrong)
My mate was wrong yesterday but we'll still share a beer, so good on him for being a real mate! Unlike the next dude I'll be sharing about . . . a neighbour who personalises everything – everything!