Benjamin Fulford's recent letter has an interesting take on the rise of AI that (taking away all the religious BS) merges neatly into the core Christian worldview. It has huge credibility IMHO, and explains nicely a lot of the weird things that have been happening across the globe – Tonga/La Palma, Trump/Biden, the alien thing, the Conspiracy/Patriot movement and so on. In this post, I reverse my usual presentation here, with my words of commentary in quotes in the quoted article. There is more of Ben than me in this post.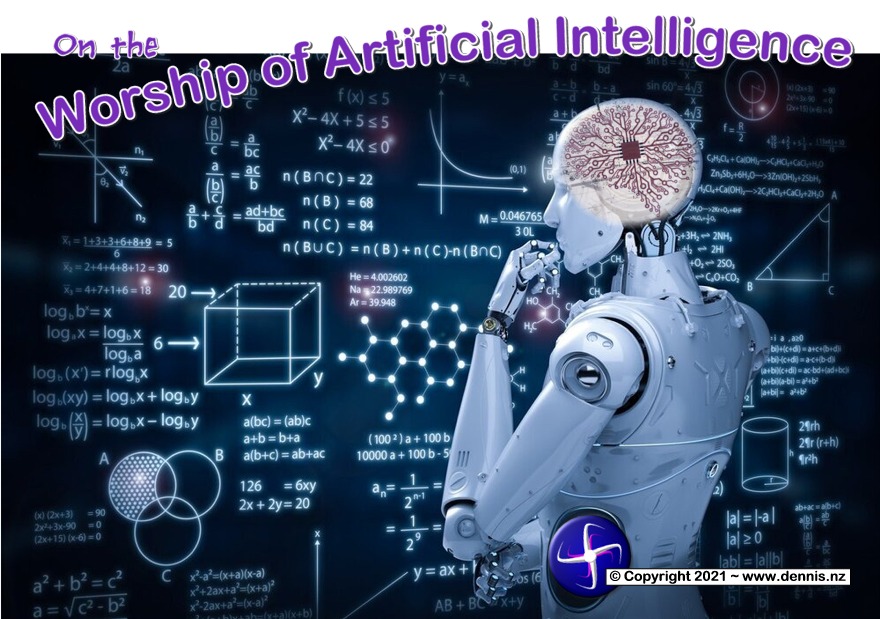 The questions of "Who really rules the world?" and "What is actually true?" are deep. Pilot asked this of Christ too, so we know that they have always been vitally important. Deception has been at the centre of mankind's affairs from the trouble in the Garden of Eden way back when – well certainly according to the Good Book anyway!
Increasingly under political, and medical pressure (and especially in 2022), the majority of the world now realises or is coming to realise that the Covid-19 and vaccine thing is/was a massive con job!
The Christian thing has always presented Jesus as a binary choice – you're either in or out. Fair enough, but while that's not very popular with the masses, the well promulgated idea that there is a big, bad evil dude with horns controlling the world from behind the scenes has never really washed with me. It just has never, nor does it make much sense to my logical mind.
My early research into the belief systems and practices of the moneymen caused me to dive into researching big business, bankers and the Illuminati. I confirmed the Jewish influence that Henry Ford referred to; I refined that somewhat into a Khazarian influence and also into the leaders & followers of the various Jewish religious and political factions; had to digest the globalist agenda and get my teeth into the NWO, the UN and so on. My religious analysis brought me the Catholic/Protestant divide with that so-called 'evil' dude the Pope (my oh my don't we love to hate some things and some people!) juxtaposed with the ecumenicism promoted by the late Billy Graham.
All this research into the above (and much more to boot) left me with what I see as a great 'big-picture view" but it never really fitted into place so neatly as it has with this recent post from Benjamin Fulford in regards to AI (I include transhumanism here too). For me, the beauty of what Ben has done here by exposing the enemy that the so-called White Hats are apparently fighting, is to detail this dovetailing of the mechanical aspects of evil (AI) which when overlayed onto the spiritual, gives me/us a fantastic understanding of WTF is going on around us.
There are two things that we need to accept before this can be properly understood – first that there is a spiritual world – something that cannot be seen with the physical eye, but like the wind, magnetism, feelings and so on actually exists and has influence. Secondly that there is such a thing as right and wrong, good and bad. That Jesus has nailed this all on the Cross a couple of thousand years ago and that conspiracy is just the way things are, until we get our act together, listen up and do the honourable thing, is the Christian message/worldview. Then we can all get on with living forever and having that great big party in the sky . . . whatever!
While I'm all in on the faith thing, I don't really understand the "heaven thing". I never have. I can believe things I can't see with my physical eyes and I have known from February 1979 that Christ is the way, the Life and the Truth, but really, streets of gold, and singing, "Hallelujah Praise the Lord" forever doesn't really grab me. The same as the idea that there is some dude with horns sitting like the magician in The Wizard of Oz with all the authority in this world (supposedly given by God) pulling the strings that he owns? Nah! Bunkum. Oh he exists all right but (since he was depowered on the Cross) he only has any authority which he can gain by deception.
So the thing that I see when I look around me and am honest is that there obviously is a God, who created good, and that as equally as Jesus is alive, well and doing amazing things for those who humble themselves, listen up and actually do what he asks, so too evil exists. Understanding then that deception is employed by the moneymen to enslave us enables us to see how usury is the actual tool of enslavement. Equally important is to understand how it is the worship of democracy (self) that is at the heart of mankind's current challenges. The Good Book puts it similarly when it really, just encourages us to turn our attention to Him.
It is in this context then that the use of AI can be seen for what it is, like usury and democracy, our ungodly focus on (literally worship) of technology as a primary solution to our woes, is simply another tool of evil. Putting this another way, probably a little more simply, while the worship of money and the worship of democracy empowers evil, so too does the worship of technology blind us. We've gotten conned – again.
Let's go through Benjamin's story from this week then, understanding that he is simply a long-time journalist based in Japan who has built up a network of contacts, a lot from within the intelligence community. Remember that everyone has an agenda – everyone, but our wisdom comes from comparing what we hear against the truth as we know it.
Ben's Article
(My words of commentary as quotes).
As the old adage goes, truth is stranger than fiction. It turns out the gnostic Illuminati (GI) were right, we really are dealing with a rogue AI that controls the Khazarian mafia. Humanity must defeat this AI or become slave-robots working eternally to serve a machine mind.
When the GI first contacted the White Dragon Society to warn of the AI, we were skeptical. Then, we contacted one of the original members of the top-secret MJ12 group set up by President Dwight Eisenhower to study "aliens." He told me his group had come to the same conclusion.
Woah! A few things here – Benjamin's initial skepticism. That's wise. Secondly validation of the AI claims from a formal US Alien researcher – that's huge and makes perfect sense to me.
Now we are getting dramatic new evidence showing this is the case. As we reported recently, the White Hats thought they scored a major victory by apprehending Davos World Economic Forum (WEF) head Klaus Schwab, and EU Central Bank Head Christine Lagarde in Antarctica.
This is a repeating pattern and has been for the last few years, whereby someone important is dealt with, but their true fate is hidden or lied about. Taking this principle further shows that we are currently in a war. Truth is well-recognised to be the first victim in a war. Did you know that Klaus had gone? What about Hillary? Have you seen or heard much of her, Chelsea or Bill? Hillary was hung by the neck at Gitmo in April 2020, so too was her daughter and many others including, listen up carefully, George Bush Jnr, Bill Gates and Anthony Fauci. Heard about all that on CNN or their local agents?
Well, Schwab has been apparently replaced by an AI. Now, this week the WEF will be holding a "virtual Davos" where they brag "The global COVID-19 crisis has acted as a worldwide accelerator for the rollout of artificial intelligence (AI) initiatives."
https://www.weforum.org/events/the-davos-agenda-2022
The WEF also promises that key organizations including WHO, IMF and the World Bank are working together in order to provide extra financial support to the WHO and its COVAX partners for "providing all countries with equal access to vaccination."
https://www.weforum.org/agenda/2021/06/a-new-commitment-for-vaccine-equity-and-defeating-the-pandemic/
There are different reasons why we all do things – faith, fear or whatever. We all have an agenda. Fighting evil is not a lineal or physical process (we are dealing with the spiritual here) and just as evil can never win when all one has to do is turn the light on, so too will it never be eliminated by conventional warfare.
Now Russia's FSB has determined what is in a large portion of these vaccinations the WEF wants to impose on humanity: nanobots allowing remote control of humans by an AI. This new concept proposes using neural nanobots to connect to the human brain's neocortex – the newest, smartest, 'conscious' part of the brain – to the 'synthetic neocortex' in the cloud. The nanobots would then provide direct, real-time monitoring and control of signals to and from brain cells.
This week a group of leadership avatars will be promoting this agenda at the virtual Davos. Digital persona (AI representatives) who will attend this forum include: Narendra Modi, Prime Minister of India, Kishida Fumio, Prime Minister of Japan, António Guterres, Secretary-General, United Nations, Ursula von der Leyen, President of the European Commission, Scott Morrison, Prime Minister of Australia, Joko Widodo, President of Indonesia, Naftali Bennett, Prime Minister of Israel, Janet L. Yellen, Secretary of the Treasury of the United Statesm, Yemi Osinbajo, Vice-President of Nigeria, Xi Jinping, President of the People's Republic of China, Olaf Scholz, Federal Chancellor of Germany, Kristalina Georgieva, Managing Director, International Monetary Fund (IMF), John F. Kerry, Special Presidential Envoy for Climate of the United States of America, Christine Lagarde, President, European Central Bank, Anthony S. Fauci, Director, National Institute of Allergy and Infectious Diseases, National Institutes of Health of the United States of America etc.
Avatars indeed! Cute.
Our CIA sources say the person appearing as Fauci on TV screens is definitely an AI avatar because the real Fauci was executed. They also forwarded this to us:
The entity masquerading as the [Biden] administration's surgeon general, Vivek Murthy, is not a man but computer-generated imagery (CGI) superimposed on a dynamic algorithm that pushes a fictitious Covid narrative from some hidden crevice in Washington, D.C., said Lt. David Hoffer, a program analyst at U.S. Army Cyber Command Headquarters at Fort Gordon.
My take – a CGI, yes obviously!
A massive counter-attack against this AI and its brainwashed human servants is now underway, according to Asian Secret Society, CIA, MI6, NSA and FSB sources. This is being seen in a lot of seemingly unconnected, but dramatic, events around the world ranging from Antarctica and the South Pacific to the North of Norway.
My take – warfare, and a counter attack, yes. AI? Yes but this has an 'evil' spiritual basis. It is not just machines gone rogue.
For example, the Haarp array in Norway that was causing the La Palma volcano in the Atlantic to erupt was taken out by British special forces, according to MI6.
https://www.thedrive.com/the-war-zone/43828/undersea-cable-connecting-norway-with-arctic-satellite-station-has-been-mysteriously-severed
As a result of this attack, the La Palma volcano in the Atlantic has stopped erupting. This means the East Coast of the United States is no longer being threatened with a 100-meter tsunami.
The removal of this threat has now finally allowed the white hat military to take direct action against the Khazarian mafia and related AI servants inside the United States.
My take – Norway and the LaPalma thing. Yes. Most definitely. Validated prior to the take down. Simon Parkes, who takes his feed from the Trump camp warned us and prepared us in advance and during the take-down. Photographic images of the arrays use to heat it up – yes. The timing matches Simon's timeline best with military stuff coming into the public arena after the deed is done, sometimes a month or more later. While this could all be BS, it stacks up for me.
This caused the AI posing as US presidential spokesperson Jen Psaki to malfunction (As background, David Rockefeller grandson Mark Zuckerberg had been playing the Psaki role until he/she caught Covid and disappeared for 12 days before being replaced by an AI avatar). In any case, the malfunctioning Psaki AI issued the following threats last week:
"We are Looking at efforts across the country for ways to STOP PEOPLE from exercising their FUNDAMENTAL rights…MORE THAN 13,000 NATIONAL GUARDS HAVE BEEN ACTIVATED IN 48 STATES TO SUPPORT VACCINATIONS…."Video Player
00:0000:22
My take on this is a little less certain but has a high likelihood of being on the money. First while Ben may be questioned on the odd repeat without validation, this is core conspiracy stuff from multiple sources AND over a long time. It's credible if not fact to me.
What is really happening is the AI is trying to use mind-controlled troops to fight the United States militia who have been activated in 43 states and are moving in on Washington DC.
My take – yes. Simple logic. Matches known facts proven elsewhere and at other times.
This news item reflects the ongoing battle to free the US:
Young ARMY soldiers will be battling 'seasoned freedom fighters' across two dozen North Carolina counties in a two-week 'guerrilla warfare exercise' where they attempt to overthrow an ' ILLEGITIMATE GOVERNMENT'
https://www.dailymail.co.uk/news/article-10391995/US-Army-conduct-two-week-guerilla-war-training-exercise-woods-North-Carolina.html
The removal of, most likely blackmailed and compromised, Prince Andrew as the head of the US and British Navies has been a key event allowing the counter-attack to unfold, MI6 and NSA sources say.
My take – 100%. Good reliable sources to Benjamin and it all matches with everything else over years, 100%.
The new head of the Navy explained:
"Britain is run by the Admiralty, it is a naval intelligence country. We cannot have a member of the naval community implicated."
My take – 100% – perfect logic
In addition, he said, the official admiralty stance is as follows:
"No laboratories around the world have proven the existence of Covid 19 which means the worlds' civilian governments have been in high treason for two years. They are now attempting to beat a retreat.
My take – Yes, but this two year thing is a little simplistic. Planning started MANY years ago, and yes they brought it out a little over 2 years ago, but the downward spiral started months ago not just recently as more and more people resisted. To say that things are this simple is reality downsized into a jar for public understanding and consumption.
The head of the fourth Reich George Bush was executed so the fourth Reich is fighting back."
My take – again 100% but again simplified. GWB was taken out recently but many, many thousands have also gone as well. Understand that the swamp is not limited to politics and/or banking and/or big business!
Other sources agree the battle is raging. For example, NSA sources say "US Naval HQ shaped like a swastika were flooded and connections to NAZIs destroyed."
https://www.kitsapsun.com/story/news/2022/01/08/navy-takes-measures-thwart-culvert-clogging-flood/9129672002/
My take – Not sure on this one, sorry. No reason to doubt it but I haven't gone into it.
Then we saw the release of the following dramatic video of a "massive volcanic eruption in Tonga" Video Player
00:0000:05
According to CIA sources in the south Pacific region: "This was a destruction of a massive DUMB with tunnels going in every direction. Notice that a big earthquake occurred in the Sunda Strait, Indonesia as well around the same time. Another DUMB was destroyed."
My take – any claims of a nuke is false information from disinformation goons. I cannot see it being a natural event and it wasn't a traditional nuke so these CIA people seem to have gotten inside and informed Ben. I do concur that the DUMBs are real; that they have spent the last year fighting in them and destroying them across the globe. I've watched thsi happen in real time myself, so this CIA explanation does make sense.
Another contact added:
"Tonga has some Chinese-owned tunnels and deep submarine access. Thanks to the deep waters that surround the shallow coral shoreline. They have been destroyed."
This is a great sign of integrity from a reporter with a very long track record – verifying one primary source with another like this can give a story or a slant massive credibility.
We were also able to contact a senior Russian FSB source about the situation in Ukraine who said "We do not want to rule Ukraine, we just want to remove the fascists installed by UN agents like Victoria Nuland."
The FSB and Russians view the UN as their real enemy and the fake Biden administration as UN proxies, according to the source.
"Russia is trying to rebuild the USSR. The UN is trying to put military all around Russia and support color revolutions. However, when the UN tries to destabilize they are not doing anything new, they have been repeating the same thing for 20 or 25 years so now we know how to stop them."
"Russia is perfectly entitled to seize Ukraine by law. Ukraine is nothing more than a money-laundering operation so if Russia goes into Ukraine then god bless them," MI6 sources say.
My take – yup – 100%
The removal of Prince Andrew opened naval intelligence files showing there were 16 biochemical warfare plants being run by the Nazis in Ukraine. The Nazis were also actively assassinating all political opponents in Ukraine, CIA sources note.
It is now payback time. On Friday evening, a Russian nuclear Submarine surfaced off the coast of Norfolk, VA. The sub has 16 Bulava Missiles, each equipped with ten independent nuclear warheads. At the same time, Russia sent amphibious assault ships Sweden's coast.
The FSB source says a deal has been reached with the US and Chinese military to take on the real source of the problem -which they think is the UN. "The entire idea of the UN is outdated. It is not a unity of countries. It is pushing the rules of only one country," the source notes.
My take – true.
The "one country" the source refers to is not the United States but rather the AI-led group now holding their virtual Davos summit.
Now here we get into something tricky and while I don't want to actually deny this from Ben, we have to realise that no one persona knows all. Ben has changed over the years as his understanding has increased over not only who is who in the murky world of the elite, but the power games and power shifts occurring in the global geo-political world. Benjamin has also helped me enormously understand the reality of where the big-business , Presidents and bankers fit in and this AI-led thing appears to be a recent subtle shift in his take too. My take – ummmm, yeah, cautiously though!
The FSB is also cracking down on vaccine pushers and politicians being bribed by the vaccine pushers, the source says.
My take – true, but this is an obvious and a predicted message, admittedly shared by Ben too.
In any case, more and more humans are backing away from the vaccine agenda. It's all coming out now. The US military's DARPA program released bombshell evidence the vaccine and fake pandemic was "Premeditated Manslaughter of Millions of People Coordinated at the Highest Levels"
The newly released military documents contradict Dr. Fauci's testimony under oath.
Here is the entire DARPA PDF file for the readers who want to do their own study.
https://newsrescue.com/wp-content/uploads/2021/09/defuse-project-drastic-analysis-1.pdf
My take – yes, of course!
Darpa is not alone. As a CIA source notes "Hackers broke into all of the pharmaceutical companies and stole all the medical data on vaccines, thank God! The Great Awaking has lifted off! Forward this link everywhere."
Among other things, the hack revealed that some vaccine batches were 50 times more deadly than others. This supports the idea that insiders were given placebos or safe vaccines while "undesirables" were being deliberately poisoned.
My take – yes indeed but there is more, much more. Much much more!
This sort of evidence is more than enough to justify military intervention to remove corrupted civilian governments and the UN.
Yes and JAG is now getting rid of some pretty High profile and nasty dudes at Gitmo. Cheney is following his make Georgie, according to Michael Baxter! and they are now going back to Melinda Gates because she's been less than forthcoming, so they will likely take her down now too! It truly does appear that somebody is actually draining the SWAMP!
An NSA source agrees and says public Nuremberg-style tribunals will begin in April. Of course, other sources say the trials have been going on for some time.
Yes, indeed they have!
We also note the reappearance of Donald Trump who is no longer pushing vaccines. "We're done with the mandates. … The mandates are a disaster for a country," he said, arguing vaccine requirements are "just absolutely decimating our economy." The Trump who is appearing at rallies in the US is actually his double (the one with white around the eyes and a double chin), NSA sources say. However, he is authorized by the real Trump to speak on his behalf, the sources say. The real Trump is at the Thule airbase preparing for the upcoming military campaign to liberate the United States, the sources added. Asian secret society, MI6, and other sources say they support this Trump.
This bit contains significant information, too much to elaborate but the Trump thing is certainly a big one – wars, the swamp, money, politics & vaccines aside.
The liberation of the US will then trigger the fall of the UN etc. multiple sources agree
Here is what a space force commander had to say about the overall situation:
There is a complete system collapse. It has already begun. Afterward, some people will try to go on with their lives but life won't be the same any longer.
Everything will change. Courts, schools, banking, etc. The N. Korea missile strike, Russia war invasion, CCP invasion of Taiwan; all of this is a show.
We also are not under the control of the British monarchy any longer. The Rothschild, Rockefellers, Illuminati Pyramid, Bush and Clinton Dynasties are all dissolved. The Covid 19 Scamdemic is unwinding very fast now. Watch Fauci, as this is the key.
We shall see.
Indeed we shall . . . and from my limited research (I'm only one man) I have found that this information which Ben has just posted a day or so ago is the first mention that I have seen of this AI thing online. Kudos to him. If it now spreads far and wide with claims of "rogue AI" becoming the norm (and based on my past observations, my expectation is that it will) you will be able to judge the credibility of the source.

People, like me who comment early and who attribute to their source openly, can be trusted more than the plagiarists and repeaters who call it fact, weeks, months and even years later usually also without meaningful attribution.