Among the many things I have tackled in life is a teenage period that consisted in playing the French Horn (a classical orchestral instrument dubbed the hardest instrument in the orchestra – and for good reason too!). In a flash-back to happy memories I post here a couple of versions of "Tchaik Five" played by a true master and global hero Stefan Dohr of the Berlin Phil. Not getting the lingo or the drift? Please let me explain and give you a little edumacation in the art of the classics.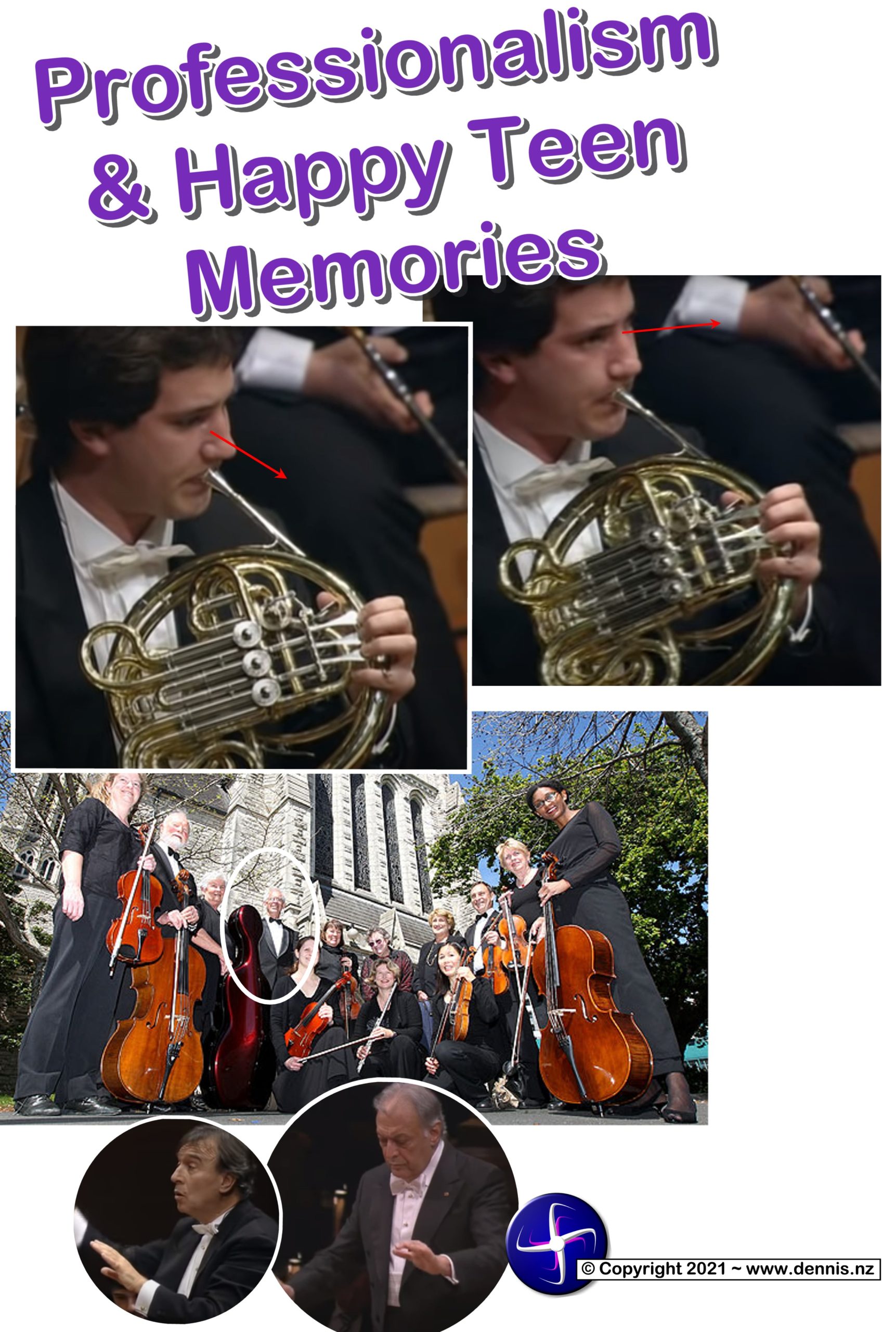 For those who follow me to keep up with true crime, conspiracy and even the world of faith applied, sorry. This post brings in a little culture of the classical music variety.
Tchaikovsky was a Russian composer who wrote one of the most amazing French Horn solos ever, the second movement of Tchaik Five. In the industry we call it Tchaik Five because it is Tchaikovsky's Fifth Symphony, and the Berlin Philharmonic (the Berlin Phil for short) is recognised as a long-standing top tier orchestra on the global stage. The US, has it's own orchestral and French Horn sound traditions and has its typical ways of doing things – big loud and somewhat raucous to me to be honest. So too do the French have their own style – a little tinny, narrow and corney for my liking, the British and the Eastern bloc also have their distinctive orchestral sounds.
Englishman Dennis Brain too had his own style and an early following but he was killed in a car crash decades ago, so his memories on vinyl are very limited. His genius was that he was a natural player, able to make any old axe sing, an 'axe' being a nickname we use in the industry for a horn.
Germany however has it's own unique sound which is a softer, crisper, more middle of the road – one that in terms of hornists (French Horn players) across the globe, two names stand out – Herman Baumann and more recently Stefan Dohr. Top professionals. Top!
These two clips come from the Berlin Phil – one from 2008 and another a decade later. Stefan is a true professional, pulling the piece around beautifully in both renditions. In my teens, I played this in the Christchurch town hall and was later lifted enormously by both conductor and members of the audience who consciously sought me out afterwards to note my "beautiful musical expression", "professionalism" and indeed "perfection" (if that can ever be applied to a subjective art). As an insecure teenager though, I lapped up the praise, being on a high after a "professional on-stage" performance. It does it to you. It's also highly addictive.
As a passionate person (even back then) and having been raised by parents who could both have been professional musicians if they chose to be (they didn't) I was a natural to bring in expression into the classics. I did, from the age of 13 to 20, working my way through the Auckland Junior Symphony Orchestra to be its lead hornist for a few years.
We have four horns in a typical orchestra, identified as the first to fourth (from left to right as we look out of the stage). The first and third horns are 'high'; the second and fourth 'low'. Supposedly the first horn gets all the solos because he (or she) is the best player. Politics, age, tenure and other things though can influence this a bit and there was one player who was more technically capable than me for a short while but I was probably suited to be the first horn, trustworthy, reliable and always there both musically and professionally. It is the job of the first horn to lead with a melody, the second horn to follow – typically with a harmony. Third and fourth follow suit.
My teens were a period of severe personal difficulty with a high IQ but chronic inferiority complex but music brought me healthy social interaction and personal success that balanced this nasty self-esteem issue. At the age of 19, I continued in my quest for meaning and purpose by continuing to play the French Horn professionally in the Auckland Symphonia under Juan Matteucci resident conductor until I married. At that time I gave up playing professionally when turned my musical interests to self-pleasure via the piano. It has stayed there in the decades since with my aversion to public performance remaining strong.
I really upset my father for giving up the French Horn as we had just ordered (and paid for) a Conn 8D, which was an expensive investment back in those days. The Conn was America's best known manufacturer and the 8D was a large, big sounding 'beast of a machine' that we were all going to enjoy getting our teeth into until I decided to marry and get out of the professional music scene. One of those missed opportunities in life I guess but things went otherwise.
The French Horn – fondly nicknamed a plateful of brass spaghetti – is difficult to play because of a 'middle of the road' set of harmonics. The trumpet and the tuba for example are much more restrictive in that their wider and narrower range of harmonics mean that it is easier to 'hit' a particular note than the horn. With a lower brass instrument (like a trombone or tuba) there is a lot of tolerance – you can be a smidgen off when starting a note but still get the note to speak properly. With a higher instrument there is more tension in the lip muscles but it is easier to pick out a tune, or a given note because you are largely playing the tune more with your lips.
The horn though sits in the middle and is unique in that a player really has to hear the note in their mind, set their lips correctly and then get the air column moving all dead right before the sound is even made, let alone it reaching our ears. In some ways this can be a real bastard to do, but I have always had good relative pitch, meaning that as long as I can 'hear' a note in my ear, I can pitch up or down naturally to be able to determine what the sound should be like (up or down) before I play it. This is not exactly perfect pitch, which is the ability to hear say a train whistle or a wind vibration on the car and tell that it is an E flat, or an F. It is relative, so that as I spend hours playing an instrument, I learn where the sound sits in the silent vacant space and in my mind I can hear it before it plays. For example when I was playing professionally I could hear a note then hum it and name it, or play it on the piano, accurately. This is perfect pitch but not natural – it was developed and came from familiarity. I had to convert the sound into a French Horn pitch though in my mind in order to do this, which is a mixture of perfect and "relative pitch". I relate the new sound to a known sound, even though this known sound is internal only.
This ability to pitch is a very valuable natural ability that when developed with practice really helps a hornist. Strong breathing capacity like scuba diving (developed during my formative years) also helps so that our diaphragm is engaged before the blowing even commences. These are all factors that help a hornist.
It's also interesting to me that I have a form of mild aphasia (genetic) that causes me to fail to digest new or unfamiliar sounds easily or at all. This prevents my capacity to learn new languages but it means that I can differentiate known sounds very easily. I can pick up any instrument you want in an orchestral piece for example, I can hum what the cellos are playing or I can hear that the third hornist cracked a particular note at a particular point in a piece, but even after years of me listening to my Landcruiser speaking to me in Japanese to "insert the card" and all I actually hear is "Hardoor. Yekatasich!" or something weird that nobody can understand until they hear the original!
So missing a note on the horn is very easy and we call this, "cracking" a note. Doing this in a performance can destroy a piece in the minds of the audience (it comes across as very amateurish or incompetent) and can also tarnish a hornist's career! With digital editing this can be masked in-studio later but in live performances, while it is not uncommon in lower levels of excellence, it is rare even in professional circles due to the excellence of these players.
Stefan's renditions here are quite a bit slower than the norm but this is his style and it accentuates the beauty of his 'pulling' of the music – by pulling we mean going faster and slower and playing louder and softer throughout the solo. My performances were slightly faster than this but still a little slower than the norm.
Speed is a taste thing and is primarily determined by the hornist. When you see the conductor in these videos you can see that they are essentially following the soloist. This means that the orchestra, primarily the strings only to start with are being led by the hornist (normally this is the other way around) and while it may appear unrehearsed and natural it is all worked out well beforehand in rehearsals.
At this level, the orchestra, the soloist and the conductor will have communicated something like, say, "We [this orchestra] do A442" (meaning very slightly 'high pitch') a smidgen above the norm of the A440 pitch, or that "The hornist will drop back a bit in speed or volume or pull it around a bit" which means that in places the conductor will need to keep on his toes, and the strings [violin, viola, cello & bass players) will need to listen up and be careful to time their playing with the solist! Things will get back to normal when more players, like the oboe, clarinet and others join in but this is Stefan's moment of glory for sure!
This reminds me of my father telling the story of the argument between a hornist and a conductor, one who didn't communicate in English very well. In their rehearsal, it wasn't Tchaikovsky's Fifth BTW, the horn soloist was playing away merrily when the conductor stopped the orchestra. "No! No! No!" he said to the hornist. "This is your solo!"
So they started off again. This time the hornist played a little louder and more 'importantly' but the conductor stopped them all again. "No! No! No!" he said to the hornist in his halting English. "This is your solo!" with an emphasis on the word SOLO.
The third time they all tried it again and the hornist gave it all he had, blasting it out as loud as he could. Stopped again, he got really peeved with the dopey conductor who didn't seem to realise that he could not play it any louder.
"No! No! No!" the conductor again said to the hornist. "This is your solo! We are all listening to you. Shh!" meaning to play it softer because it was a solo!
While most conductors at this level have their own opinion on how things should sound (as do the musicians) it is usually the musician who determines the tempo (i.e. speed) and nuances of his work, something so important (and beautiful) as this solo. They will therefore work together as a team. In my case, with Michael McLellan the Junior Symphonies resident conductor he pretty much left me to determine the way things went and they seemed to work out pretty well, certainly according to the feedback I got afterwards.
I kept the tape recording of this music for years – a treasure. Sadly, I lost it and all other family taonga when the PM booted me out of Samoa but hey, that's life eh? Sh*t happens!
Mum and Dad played clarinets in the St Matthews Chamber Orchestra for years – Dad faithfully recording all their concerts. That was their buzz. Mine was the AJSO for something like seven years during my teens and this piece of magic was a happy memory from those days – sorry I can't play you my version of it anymore. Enjoy this magic from Germany nonetheless
Thanks for joining with me today in this reminiscence.