I shared the pain of a mate of mine yesterday as she said her final goodbyes to her youngest son – cremated in Taumarunui. He'd gotten killed last week – hit by a car after dark in Manunui. He had his life ahead of him but he only made it 15 years. Sad, so I've tucked a few positives in from this week at the end. Enjoy.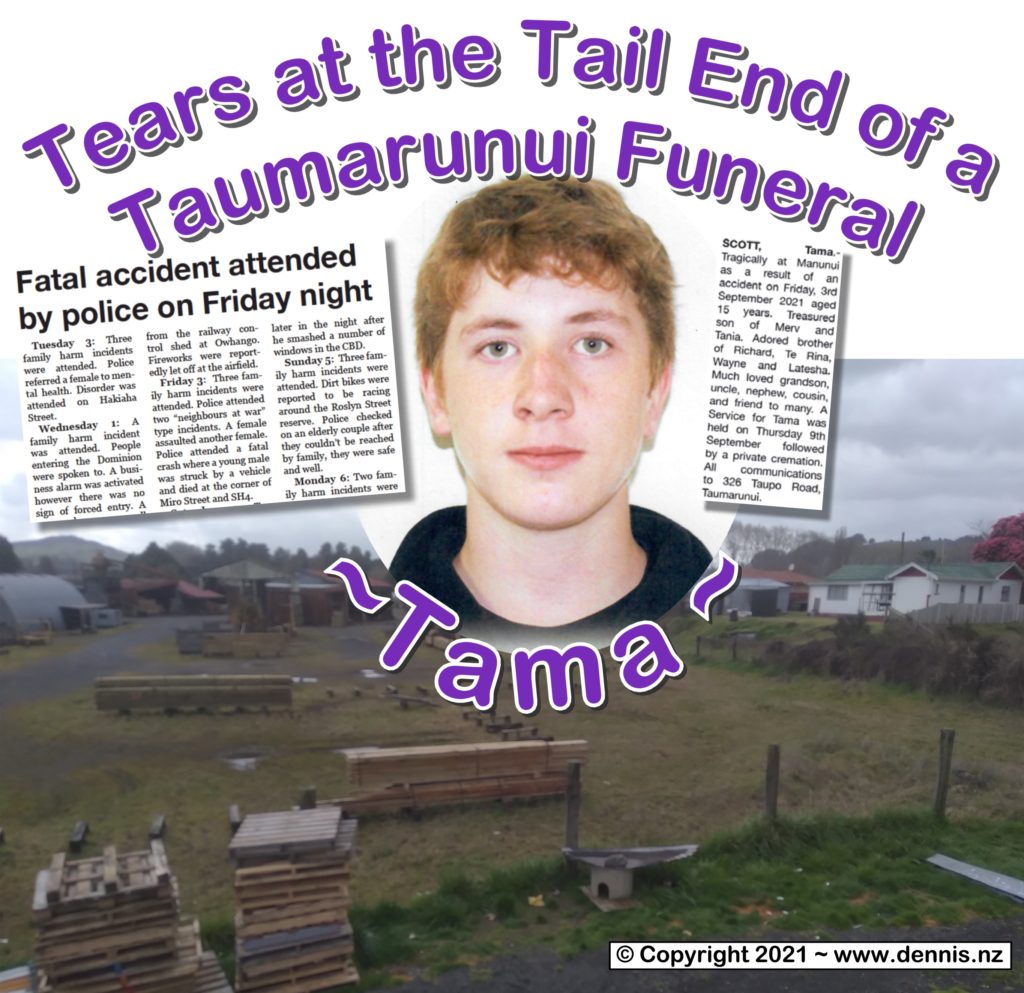 A few years ago I was looking for land for Club Wairua. I checked out a couple of vacant properties down in Matapuna, (3km south of Taumarunui and just before Manunui, going south). I eventually leased one of the properties and befriended a few of the boys who used to play down there. Eventually as a resident I got to know their parents and Tama was one of these boys.
I once took the transformer of an old microwave out and helped the boys to make an electromagnet which prompted one of the boys to ask me if I was a teacher. I guess once a teach, always a teach! Tama was one of these boys. His mother used to pop in to the club to chill out and did do so quite a bit up until the cops broke in and I had to replace the numbered padlock with a keyed lock.
The experience of learning about Tama's death and dealing with the aftermath wasn't a nice one. Memories of a mother pushing through the pain of losing her baby to a Friday night accident; personal recriminations and self-doubt; whanau arriving and doing the needful; wandering in to see the lad lying in state; and then watching the hearse drive away with a dead body to be dealt with cannot be undone in a hurry.
I first knew there was something 'up' when I heard the medical helicopter arrive down in Manunui on Friday night. It usually goes up to the Taumarunui Hospital but this time it arrived the other side, as seen from my deck in the background photo above, settled, then later departed. By then Tama had died, thus it wasn't needed. Apparently the old man thought he had run over a dog. Nope, in a tragedy, it was a 15 year old boy. His mate got across the road in time but not Tama, I am told.
Death is not nice, especially for parents who have to bury their kids. I know. I have buried my twin boys in Snapper Rock Cemetery in Albany, and the act of putting them in the ground wasn't easy at all. You know then and there that things should not be this way. Dealing with your parents' death is different. They age and you expect it, but not your own kids. I don't know what my mate was really going through because you can't walk in another's shoes, but I would have done anything or given anything without limit to be able to have swapped places with Jacob and Isaac.
My mate's words "He gave his heart to the Lord!" and "I know he is in a better place!" may be true but, the tears flowed and I cracked up a little as the hearse departed the crowd who had all given the lad his send-off.
What is it about funerals and weddings that set me off?
I have two half-caste Maori children who did make it (so far at least, and hopefully a bit more assuming that they don't get the jab) and a few afakasi and Pakeha step-children so I have a bit of experience with different cultures. The Polynesians really are good in and around births, deaths and marriages. It is when their cultural norms show the stiff-upper lips of us up quite frankly for the stupidity of pride, self-interest and greed. Who cares really when we try to leave the grieving to themselves? Nah! Far better to get in there, and be there for the ones that are hurting.
It was also interesting to watch the people who turned up for the food. Samoa it is the same, food and talk, then back to their villages with supplies for their family. I know the culture well. I can now also see through the games that people play.
I was speaking to a new-found friend this last week who used the word "genius" when she described the way that I had taken previous researcher's and author's work and stitched it all together into a coherent work, solving issues that she and many others had struggled to understand for decades (many of them BTW). I tried to moderate her enthusiasm and suggested that "genius" may be too strong a word to use, but she was emphatic. "No 'genius'!" she said, again and again. "Own it! You deserve it." Perhaps I do!
Getting Positive
I later recalled with a smile the graphic that I love, [walking] the fine line between genius and insanity:
Do you see that fine line between the coloured and black and white shapes? Can you see the use of colour and how the triangles can never be? Neither of them? Just look at the coloured triangle for a minute and imagine yourself walking around it. How the h*ll can people come up with these incredible designs? It sure as eggs wasn't me! I just took the core ideas and developed them into a coherent message. I put in the fine line and did the graphic, true, but it was not my genius that created in the first place. I just used another's concept.
I did though create this one myself: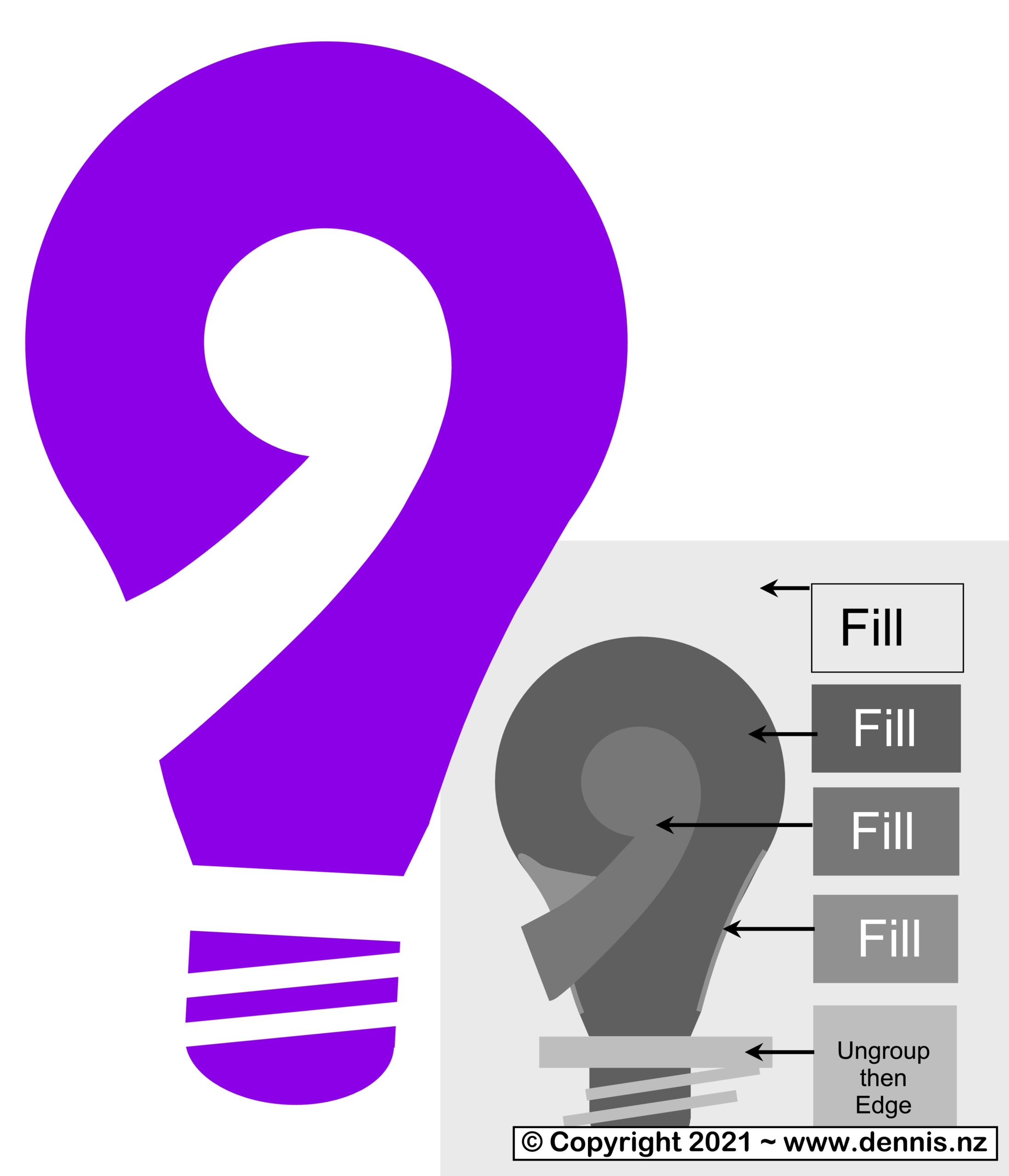 Funny that I phoned another mate to get the fat head out of my system having been called a genius and thanked profusely. He said, "Funny that you called me. I've just got good news for you too . . . " and he told me how my efforts to help him had resulted in more deserved glory!
Oh well, an idiot from the local community can always walk through my property like he owns it and then call me an arsehole when my dogs bark at him and I stand out on my deck and watch him make his way across my land and through the neighbour's too! Wouldn't it be nice to be able to shout out, "Honey go and get that gun from the safe will you?" I think.
Nah! Too much pain around me at the moment. Another day . . . maybe.