I share here a list of COVID-19 Conspiracy questions which seem to me to summarise the key points of contention. This is way more than a case of 'where there is smoke, there is fire'. It does seem that the extent of the conflict – global in nature – points to something beneath the surface! For the record, my research has confirmed that the COVID-19 thing, including the vaccine, was most definitely a planned event and that deception for the purposes of control is sky-high! As always, the core conspiracies do stack up but some of the more whacko conspiracies don't. Enjoy as you peruse or dive in to the extent you so desire!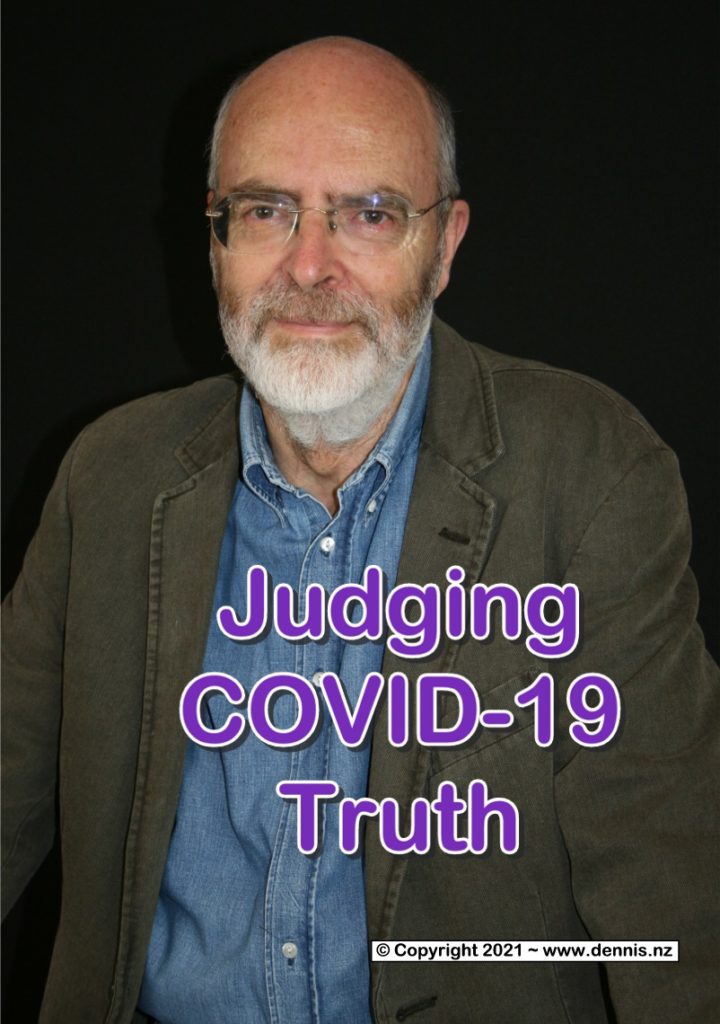 Another interesting document by an 80 year old Aussie veteran Anthony Judge that I've been digesting recently discusses the issues of establishing truth in a murky sea of misinformation, disinformation and deception.
Anthony applies these issues it to the COVID-19 thing, and becomes another link in the JABQuestions database.
Vulnerability, severity and protection:

COVID-19 is no worse than the flu.
Only older adults and people with preexisting conditions are at risk of infections and complications
Children cannot get COVID-19
Everyone with COVID-19 dies
Receiving the COVID-19 vaccine, makes people more vulnerable to other illnesses.
COVID-19 vaccines can increase vulnerability to COVID-19
Vaccination ensures inability to transmit SARS-CoV-2 to others
Masking

Mask wearing is unnecessary
Face masks always protect against the coronavirus
Microwaves sanitise masks
Mask-wearing exemptions are available in exceptional cases.
Those diagnosed with COVID-19, don't need to receive the vaccine.
The CDC is now recommending fully vaccinated Americans return to wearing masks in indoor spaces in communities where coronavirus transmission is substantial or high (Joseph Mercola, More Bad News for Masks , 16 July 2021)

Transmission / Vectors:

Goods, products and facilities

Covid-19 can be transmitted through goods produced in countries where there is ongoing transmission
Clothes can enable the spread of Covid-19 2019
Urine and feces spread the infection
Ordering or buying products shipped from overseas (China) can spread the virus
Eating Chinese food can result in infection
The outbreak began because people ate bat soup
Coronavirus can be contracted in swimming pools

Animals

Mosquitoes spread coronavirus
Cats and dogs spread the coronavirus
Coronavirus (COVID-19) can be caught from pets

Temperature

Hot temperatures kill the virus: Covid-19 is transmitted in cold climate to a greater degree than in hot and humid climate
Low temperatures kill the COVID-19 virus.

Vaccines and the vaccinated

Vaccines are increasing the number of new variants of the COVID-19 virus
Vaccination makes individuals more likely to infect others with new super-strains.
People vaccinated with COVID-19 vaccines can shed disease-causing particles to others.
Authorized vaccines shed or release some of their components

People

It is necessary to be with someone for 10 minutes to catch the virus
Herd immunity will slow the spread of COVID-19.
Herd immunity can be achieved by letting the virus spread through the population
Small gatherings don't spread COVID-19.
Public protests lead to increased transmission.
:COVID-19 is a disease of affluence.

5G mobile networks help the spread of SARS-CoV-2

Treatment:

Drugs

Vaccines are available to prevent COVID-19 infection
There are drugs that can prevent and treat Covid-19
Flu and pneumonia vaccines offer protection against COVID-19
Hydroxychloroquine is an effective treatment
Antibiotics kill the coronavirus
Ibuprofen exacerbates coronavirus

Conventional remedies and disinfectants

Drinking alcohol can help prevent Covid-19
Injecting, swallowing, bathing in or rubbing on disinfectants or alcohols offers protection against COVID-19
Injecting, consuming or gargling bleach offers protection
Ultraviolet (UV) disinfection lamps kill the virus
Vitamin C is an effective treatment
MMS (miracle mineral supplement) is an effective treatment
BioCharger NG can help treat coronavirus
Eating garlic/immune boosters prevents infection
Gargling salt water will prevent coronavirus
Breathing techniques can cure the virus
Rinsing the nose regularly with saline solution (saline nasal wash) prevents Covid-19
Hand dryers kill the coronavirus
Home remedies can cure and protect against COVID-19
Drinking water prevents infection
Taking a hot bath can stop COVID-19.

Nonrequirement

Those not dependent on regular flu shots do not need COVID-19 vaccination
Those with strong immunity can handle the illness without a problem
Fit and healthy people should not need to be vaccinated
Having been diagnosed with COVID-19, there is no need to be vaccinated.
Those not at risk of severe complications of COVID-19 do not need to be vaccinated.
Certain blood types have less severe COVID-19 infections, making vaccination unnecessary.

Vaccine testing, safety and long-term effects

Hasty inadequate testing:

COVID-19 vaccines are potentially unsafe because drug companies did not follow normal test protocols

Biased or constrained testing

COVID-19 vaccines are not being tested against a placebo in clinical trials.
Trials for COVID-19 vaccines were not designed to show the vaccines' effectiveness in preventing severe cases of the disease.

Safety

Natural immunity (immunity after natural infection) is better than vaccine immunity
Any vaccine will be unsafe and a bigger risk than getting COVID-19.
A negative COVID-19 test means a person is not infected.
The mRNA vaccines being developed for COVID-19 will alter human DNA.
Vaccines contain toxic ingredients that can harm
COVID-19 vaccines will cause "pathogenic priming" or "disease enhancement," meaning that vaccinated individuals will be more likely to develop severe cases of COVID-19 if they are infected with the COVID-19 virus.
mRNA inactivates tumor-suppressing proteins, meaning that mRNA vaccines used to protect against COVID-19 can cause cancer.
Vaccines wipe out the body's natural antibodies (rendering the blood unsafe for donation).

Statistically problematic testing

Spikes in cases are a result of increased testing

Long-term health effects

Vaccination evaluation, failure, adverse effects, injuries and safety:

Joseph Mercola: Signs of COVID Injection Failure Mount (27 July 2021)

COVID Surges in Countries with Highest Injection Rates
Case Counts Lowest in Low-'Vaxxed' Nations
CDC Doesn't Track All Breakthrough Cases
Even Complete 'Vaccine' Coverage Won't Stop Infections
Israeli Data Indicate Pfizer 'Vaccine' Failure
CDC Tries to Hide COVID Jab Death Toll

Side effects

COVID-19 vaccines have common serious and dangerous side effects
COVID-19 vaccine has severe side effects such as allergic reactions.

Specific concerns regarding COVID-19 vaccines:

infertility or sterilisation in recipients (preventing pregnancy)
miscarriages and menstrual cycle changes.
contain a protein called syncytin-1 that will result in female sterilisation
cause people to develop COVID-19.
mRNA vaccines can cause an increase in rare neurodegenerative disorders called prion diseases.
blood clotting
heart inflammation
are unsafe for kids

Testing for COVID-19 and diagnosis:

Misrepresentation for the media

Absence of hard evidence that celebrities being vaccinated for public relations purposes are actually receiving genuine vaccines
COVID-19 vaccine injections, as delivered to health care workers, are fabricated, using syringes with "disappearing needles"

COVID-19 vaccine causes people to test positive for COVID-19
Thermal scanners and digital thermometers are effective in detecting those infected
Ability to breathe for 10 seconds (without coughing) is an indication of non-infection
PCR tests: There is extensive commentary on the questionable value of these tests, notably with respect to false positives:

False-postive tests: Without the following two policies, there would never have been an appreciable pandemic at all
Questionable changes to CDC case counting policy:

This notably means that in future unvaccinated people will find it much easier to be diagnosed with Covid19 than the vaccinated people. The CDC is understood to have put new policies in place which effectively create a tiered system of diagnosis. To boost the appearance of vaccine efficacy even further, the CDC also will no longer record mild or asymptomatic infections in vaccinated individuals as "COVID cases". The only cases that now count as COVID cases — if the patient has been vaccinated against COVID-19, that is — are those that result in hospitalization or death. (Joseph Mercola, CDC Caught Cooking the Books on COVID Vaccines, Truth News Hub, 19 June 2021).
New policies artificially deflate "breakthrough infections" in the vaccinated, while the old rules continue to inflate case numbers in the unvaccinated. CDC is altering its practices of data logging and testing in order to make it seem the experimental gene-therapy 'vaccines' are effective at preventing the alleged disease. (Kit Knightly, How the CDC is manipulating data to prop-up "vaccine effectiveness", Off-Guardian, 18 May 2021)

Efficacy of vaccines

Short-term inefficacy:

COVID-19 vaccines are not effective
COVID-19 vaccine do not always work so being vaccinated is not necessary
COVID-19 vaccines do not work on new strains of the virus; since viruses mutate, the vaccines not necessarily be effective against new variants .
After vaccination, it is no longer necessary to take precautions and life can go back to normal

Long-term dependency

vaccination requirement even after recovery from COVID-19 (because length of natural immunity is not known)
multiple vaccinations and booster shots are becoming the norm (Clinical trials show that these offer the best protection)

Incidence, reporting and misrepresentation

Inflation of death rates:
Inflation of case rates
Under-reporting of vaccine injuries
Under-reporting of post-vaccination cases and death rates
Misrepresentation:

mRNA vaccines for COVID-19 do not fit the CDC and FDA's definitions of a vaccine, which state that vaccines have to both stimulate immunity and disrupt transmission of a virus.
Life insurance companies won't pay out benefits to anyone who dies after receiving a COVID-19 vaccine because the vaccines are considered experimental.
SARS-CoV-2 is just a mutated form of the common cold virus
COVID-19 is just like the flu
The coronavirus is the deadliest virus known to humans
Hospitals are giving out secret prevention tips

Origin of COVID virus

Coronavirus was engineered in a lab in China
Coronavirus was deliberately created or released by people.
Manufactured origin of COVID-19 (Joseph Mercola, Patents Prove SARS-CoV-2 Is a Manufactured Virus, 24 July 2021)

Hundreds of patents show SARS-CoV-2 is a manmade virus that has been tinkered with for decades. Much of the research was funded by the National Institutes of Allergy and Infectious Diseases (NIAID) under the direction of Dr. Anthony Fauci, and may have been an outgrowth of attempts to develop an HIV vaccine
CDC holds patents to a SARS coronavirus that is 89% to 99% identical to the sequence identified as SARS-CoV-2, as well as the PCR test to diagnose it

Exploitation and financial implications

Wealthy elites intentionally spread the virus to win power and profit
Vaccinations and testing are not necessarily free and may be beyond the means of many

Legality and imposition (whether mandatory or by coercion)

Government food stamps will be denied to those who refuse COVID-19 vaccines.
COVID-19 vaccines violate the Nuremberg Code, which bans medical experiments from being performed on humans without their consent.
Although not necessarily mandatory, people can be penalized for failure to be vaccinated

Hidden agendas and undeclared content:

The COVID-19 vaccine will use microchip surveillance technology created by Bill Gates-funded research.
COVID-19 vaccine includes a tracking device.
PCR tests used to detect the virus that causes COVID-19 can also be used to secretly deliver the COVID-19 vaccine
Vaccines contain ingredients which are potentially harmful
Hydrogels in some vaccines are also used to stimulate stem cells and may enable electronic implants
COVID-19 vaccines alter a person's DNA
Vaccination programs are a cover for collection of DNA