As part of my research into the workings of the NZ Court of Appeal, I 'winged' my digital way down to Wellington and was a fly on the wall for Christopher Skagen's Court of Appeal hearing this morning. I got a lot more than I bargained for when spying on this very interesting exchange. I'm sure the beaks will adjudicate it all properly in due course, but my take is that he's pretty much toast, probably deep-fried toast at that! Here's my take on it all. Enjoy.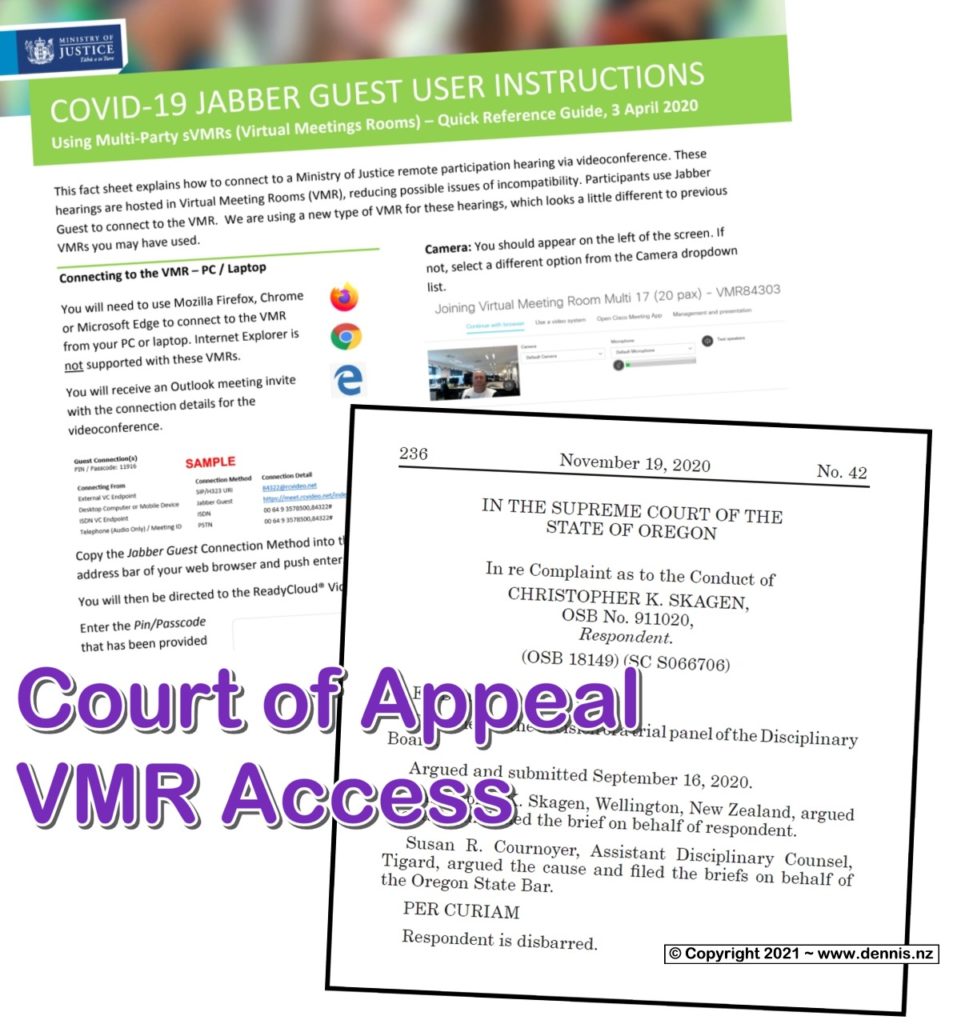 The Technology
The New Zealand court system allows for remote attendance at public hearings, especially with increased communications technology and the COVID-19 pandemic, plandemic, panic, ummm let's just settle on a neutral descriptive: "COVID paranoia". This is a great service thank you to the court team and makes life a lot different and easier for us non-legal-eagles located outside of the city centres.
All I did was email the Deputy Registrar. She confirmed that indeed the Judge did allow me (the public) to attend via remote viewing and in came an email with two attachments – one giving instructions and the other a clickable link with password. Easy. Cool!
So while you get the odd participant looking directly up at you (i.e. at the camera) and the sound came and went quite a bit, I did see and I heard the three judges very well, as too the Appellant, the lawyer representing the Defendant and the public/audience. It was a good user experience as a silent observer, although I think I'd probably prefer a court-based VFR experience if it was something I was involved in.
I cannot show you the courtroom nor any screenshots (sorry the terms to use this technology doesn't permit me to do this) which is a bit of a hole in the system as IMHO it should be only images of the trial in progress that they restrict, not the closing or preamble, but hey, that's their rules!
The Case
The matter in question today was an appeal by a dodgy lawyer, no guesses for why I wanted to see this one over all the others eh? who was appealing a High Court decision from a few years previously that kicked him off the NZ Register. He claimed a range of things went wrong; that the Law Society had picked him out for unfair attention, lied to the High Court then chased him up to Oregon to hound him still further, giving evidence in their legal ethics stuff up there and then finally getting him disbarred up there too!
Sound a little up my alley? You'd think I'd be rooting for the underdog and shouting, "More corruption!" from the rooftops, but I'm not.
Now, I'm not a lawyer and there may be some legal things that he has touched on but unless there is, I think Chris is toast. IMHO he'll lose this one, for sure. In order to claim that an authority such as the Law Society has a bias or has done something utterly wrong, you gotta be specific, clear and personal. You gotta know your stuff and you gotta shoot to kill. Chris was none of these and I would never recommend him as a lawyer from what I saw. Nice guy? Probably. Great father or husband? Maybe. But whoever gave him his ticket obviously didn't know about Autism, or they've not got good systems for picking up people who 'just don't get it'. A lawyer? Nah!
The Issues
Christopher Skagen applied for a long out of time appeal against multiple adverse judgments going back half a dozen years on the basis that a couple of emails and a letter were withheld from him at critical times and places during his trials. He didn't have them and wasn't convincing that they were central to his case, but the mere fact that the authorities had them and didn't give them to him seemed enough for Mr Skagen to take this matter to the Court of Appeal.
Judging from what I saw, nope!
Chris was previously found guilty of taking money off clients directly up front, (Barristers cannot do this) and a range of other things – refusing to return money paid in advance, failing to comply with the regulator's requests, not doing the needful – all over the place. He fought and battled away using computer breakdowns, loss of Internet access, others failures and personal agendas to 'get him' as excuses but at the end of the day as he was called, the "disgraceful and dishonourable" Barrister eventually lost out.
They, the Law Society may have had it in for him; they may have indeed chased him up to Oregon and dobbed him in and given evidence up there. They may have withheld evidence indeed, and plausible denial is always engaged by those to whom power is important. The key point however was today, does the new evidence (if it is indeed accepted) really prove his innocence? Nope! Not in my books at least. We'l see what the three judges say about it all no doubt.
The case this morning was: CA267/2020 S (In Person) v Wellington Standards Committee of the New Zealand Law Society (J L Shaw) Application for special leave to appeal Mallon J [2015] NZHC 2634, [2016] NZHC 1772, [2016] NZHC 2799, [2020] NZHC 762 held in teh Wellington Court of Appeals
The People
Central to the hearing was the Appellant Chris Skagen. In teh court preamble I watched and heard him wander up to the Law Societies representative and apologise for not having a copy of his case precis available. Ummm, and why not? And even if you don't have something as a courtesy, I doubt that I would expect to have to apologise for this. Strike One.
Then when he started off into his explanations I didn't quite nod off, but it wasn't really clear to me what he was really on about. Sure, I had yet to do a lot of research into his case but you gotta get it out there cleanly if you want people to see you and your story! Chris failed in that department too, so Strike Two, for me.
Then the killer blows started up when the judges started asking questions, simple factual ones like, "Who were these missing emails from and to?" Chris couldn't even answer the basics which really turned me off. That was it for me, Strike Three, this guy's out! But that wasn't all because the deeper questions like, "But how do these missing emails apply to your appeal?" just made the whole thing pretty embarrassing actually . . . "Well the fact that I still don't have them and can't show them to you proves that the other guys are crooks, doesn't it?"
I was impressed with the judiciary and their patience and professionalism. I think that they weren't really challenged with this all. They did their job and should really be thankful that their colleagues took this guy off the bar previously. I think Skegan may have some problems grasping reality. I know that he said that he had gone broke over all of this and that he did things that weren't the smartest but I wouldn't think this was one of his better days! He reminds me of a lawyer that I crossed swords with up in Samoa – Autism to a tee. Honest but crooked at the same time. Nice guy, creative but just downright stupid! He should never have been a lawyer. Same as Chris Skegan in my books.
The Biggest Take Home
I gained a lot personally from swinging by this courtroom today – understanding the legal systems more, the technology that's available now and all the above-mentioned points. But there is a bigger issue here and it is that when we are in "the zone", doing the right thing, in the right way, at the right time we have an internal peace, even if we are in the middle of a war. In the Good Book it is called, "The peace [of God] that passes all understanding".
I watched this dude wander out of the courtroom today with it (not a care in the world) and I can assure you that I would have slunked out trying to hide my face in shame. He didn't though and all I can think of is a cognitive dissonance that allows somebody to do socially unacceptable things; like breaking the law; then come back to the law enforcers to cry wolf at their hypocrisy and power games expecting them to read your mind and get behind your way of thinking because . . . well just because!
Look, I can empathise with a man whom the media dub as a crook, when to his eyes he just stretched the rules a little bit because he was broke and had already spent the clients' money so couldn't return it. I understand how you can p*ss people off who ask you for something that you do not want to share information about because of client confidentiality rules – sure I understand that! I can empathise too with people on the tail end of a witch-hunt, but the Court of Appeal and this sort of thing? Nah!
The Oregon case is quite condemning as it is a review of the New Zealand findings, essentially a second look. Chris, you got debarred for a reason. My advice? Listen up; get real and get another career, fast, preferably something where you are dealing with machines or nature, not people.
To the rest of you without any form of ASD, thank you for swinging by again today! I hope you learned something.