This book is what I would call "core conspiracy theory". Written in 2016 it summarises the 'Mainstream' Conspiratorial message well, if you want call it that! I appreciate Thomas' willingness to make his work available to me. I trust that you enjoy it too.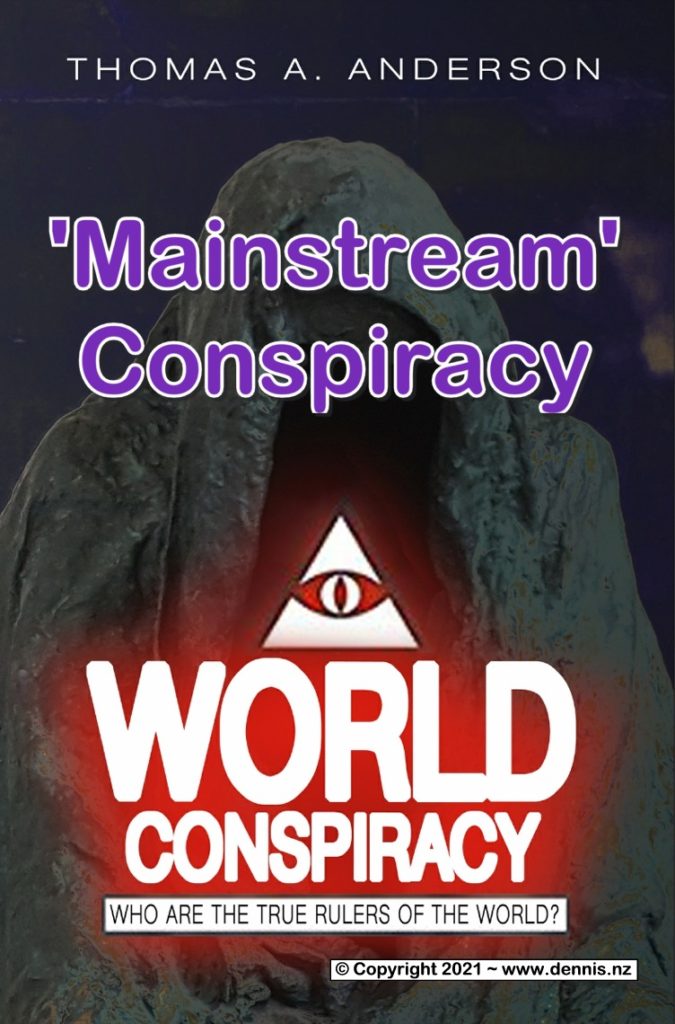 I first engaged with Thomas when I noted his frustration with a top Illuminati commentator's misinformation. Benjamin Fulford had made some claims about German-specific information, repeating something that Thomas found dodgy. Benjamin failed to address the dodgy detail and later repeated the claim, thus showing me that like most commentators, they have a storyline and an agenda. Saying, "Oops! Sorry I may have got that wrong!" devalues their credibility to their followers because their sources are revealed and they are shown to have been fooled. Also when their sources are shown to be out of date or downright wrong thus their exclusivity of knowledge or understanding is naturally challenged.
Nobody with an ego likes this and as I share Thomas' desire to deal only with the truth, we 'connected' in that regard I guess you could say. I found the research Thomas did on the matter mentioned to be solid and Benjamin's cavalier attitude towards detail to be very revealing. He is clearly a journalist first, telling stories to those who will listen – a truthseeker second.
The Book
So to the book, which I have called a good representation of "Mainstream Conspiracy". I have found that most conspiracies relating to power and money do stack up. The "Political Class"; TPTB; the elite; the 1% as they are variously called most certainly do include powerful, evil people, many Jews, Catholic leadership, Central Bankers, Business people, Royalty and so on. Yes their use of politicians too brings them extraordinary power. Globalisation, what I call the centralisation of power and wealth is indeed a NWO, Illuminati objective and yes, pedophilia, Adronchrome and Satanic Ritual Abuse of the worst kind is common and very real.
I find it incredibly exciting that things previously only ever spoken about in hushed voices, even in alternative or Conspiracy circles 30 years ago, are now out in the open. Long gone are the fears that "Big Brother is watching us", or that there are "Reds Under the Beds", or that in more recent times there is even such a thing as "Fake News" and most recently that "The Election was Stolen". More and more this is becoming spoken about and accepted.
Many get unnerved when their worldview is threatened. In the beginning, I often wondered why this was so. I finally came to a conclusion: people form their worldview along with their own personality during their childhood and period of education. The older they get, the more they are unconsciously trapped in the roles assigned to them in this life by society, by their family and last but not least, themselves.
Things have changed in the time since this book was written. Conspiracy is now mainstream. Pride though, as the originating source of this trauma is not well identified but Thomas takes us through his learning experiences with Chapter headings thus:
Foreword
Chapter 01 How It All Began – Forbidden Books
Chapter 02 The Awakening ​
Chapter 03 Research, Research, Research
Chapter 04 September 11th, New York
Chapter 05 2005, July 7th, London
Chapter 06 Politics and Terror
Chapter 07 El Shaddai's Powerful Hand
Chapter 08 War of Worlds
Chapter 09 How Could We Forget This?
Chapter 10 Mr. Illig's Phantom Time: Solved!
Chapter 11 Ancestry Research Back to The Beginning
Chapter 12 Stories of Mankind and Earth
Chapter 13 Creative Genesis and Bible Truth
Chapter 14 The Single Origin of Languages
Chapter 15 The Anunnaki, Cain & the "German Connection"
Chapter 16 The Grand Puzzle
Epilogue
About the Author & Special Thanks
Attachments: Overview of giant skeletal finds
Map to and about Asgard
Literature & Source List
Picture Sources
Of the reason he wrote it, Thomas says;
My wish is that humanity stops trying to make everybody the same by force and finally starts to take advantage of the differences that make all of us unique individuals. We all have traits or characteristics that make us special. And this being unique could be an advantage for all of us – if we share it. Differences are not so easy to handle as a homogeneous mass with all being the same.

Anderson, Thomas. World Conspiracy: Who Are The True Rulers Of Planet Earth? (p. 12). Kindle Edition.
He begins with his own story, one that he also ends with, that a stranger shared [conspiratorial] secrets with him.
His awakening is personal but this is the same for us all. We all have to realise that the tooth fairy or Santa is actually a story; that Media manipulation exists and that money makes the world go round. His first four chapters talk about his personal awakening as he realises as do we all that the world is not what it seems.
I met an elderly man whom I would like to call 'Mister X' … He was very likeable and had a peaceful demeanor. He didn't talk much and asked more questions of me than he answered. If he did answer, his answers were quite diplomatic … I remember exactly what I thought when I was back on the train: "If all of this is true, then my world view is complete garbage. It's unbelievable, incredible …"
He goes on from his personal experiences sharing how the reader needs to assess the big one for many (the 9-11 events) in Chapter 4.
I was shocked that day like everyone else. I thought, now it's really happening – war and chaos. I watched on television the heart-wrenching reports of the people who had called their relatives from the hijacked planes to say goodbye. I was overcome by tears. A few days later I thought; Wait a minute …
Thomas gets into political intrigues, terror, time in Chapter 6 and onwards.
I always find people's handling of creation interesting and his delving into origins through genealogy was fascinating. To find that he was related back to Adam and Eve and how he dealt with that possibility is revealing.
I found myself in the era of the deluge, then in the times of Noah and again a few weeks later with; Adam and Eve. I was perplexed. And I had to laugh. I did not expect such a result. In my opinion, the seriousness was withdrawn from this project. But what should I do? I had really checked all the data several times, and I had to assume that I had done everything right according to the current scientific progress and that the data was sound, as far as one could say from data that is several thousand years old. And as I already reached Adam and Eve and many names of the European aristocracy, I had fun and searched for all kinds of people that I remembered and built them in according to the connection data. Adam is my 116th great-grandfather, Jesus a cousin 14 times removed, Richard the Lionheart the son of another cousin's wife x times removed. I found a lot of interesting dates and names and had fun with it. However, I found, among other things, a name that is listed both as the "son of" and at the same time as the "mother of". That could only be an error, I thought. But maybe it wasn't an error… I continued my research and found incredible things!
His ending Chapters showing the Alien story is (to me, anyway) unconvincing.
There were apparently even … As unbelievable as this may seem to us because of our education … From the sources one can find … Heinrich Brugsch, a German researcher whose results are almost hushed up today … provides a huge bandwith of details and sources … Manetho and Herodotus both report the reign of the gods … almost appear to agree. Accordingly, the dynasties … began probably in the year
His translator gets a valid mention but while they are enormously tricky to undo it still contains grammatical German-isms. His documented sourcing is strong, and for that I endorse his work. I enjoyed reading it.
The first section is written in the first person and has high credibility, but what I can see most from this book which really does summarise the core Conspiracies well, is that the capacity to divine truth is rare. It is so easy to jump from the frying pan into the fire. Rejecting MSM narratives as propaganda does not automatically mean that all conspiracies are valid, or the full truth.
Are We All Agreed Then?
No.
Truthseekers need to put all claims, conspiracies in particular, into a rigid validation process whereby pure logic is applied onto proven fact. Thomas does this well in regards to his initial fact-finding in regards to his home country and their role in WW2. Indeed this is trigger that started him on his journey of truthseeking, then (in our case) truth speaking.
Speculation however is not fact, and claims that cannot be substantiated can set us off the path of truthseeking.
In the conspiracy world, while the core "Who rules the world?" question is popularly answered with an overly simplistic, "Well, the Illuminati of course!" the particularly challenging ones are the confusion between religion & Christ, and Aliens & Nephilim. Once we have 'met the Lord' ('come to Christ' or 'seen Jesus' or however you want to put it) and once we have humbled ourselves enough to see what He is doing in the world, things become much clearer.
My take is that the conspiracy world contains a lot of bunkum – unverified claims, misinformation and deliberate disinformation that, like this book, can easily distract. The MSM world perceptions, peddled by TPTB are mostly wonderland stuff too. Somewhere in all of this the Truth can be found.