This is my commentary of Wayne Willott's second chapter to his short 37.5k word, four-chapter book released in Q3 2020, The Kid by the Side of the Road. I love 95% of Wayne's work and deeply respect his experience, knowledge and thinking, just backing off a little as I always do, with supporting his American & Western Christian theology. IMHO, the Lord seeks for us to stop worshiping both Democracy and the US Constitution. I found Chapter 2 to be a bit of a rant but I've quoted nigh on 2,000 words out of 14k words in this chapter here. It contains some real gems however. Enjoy.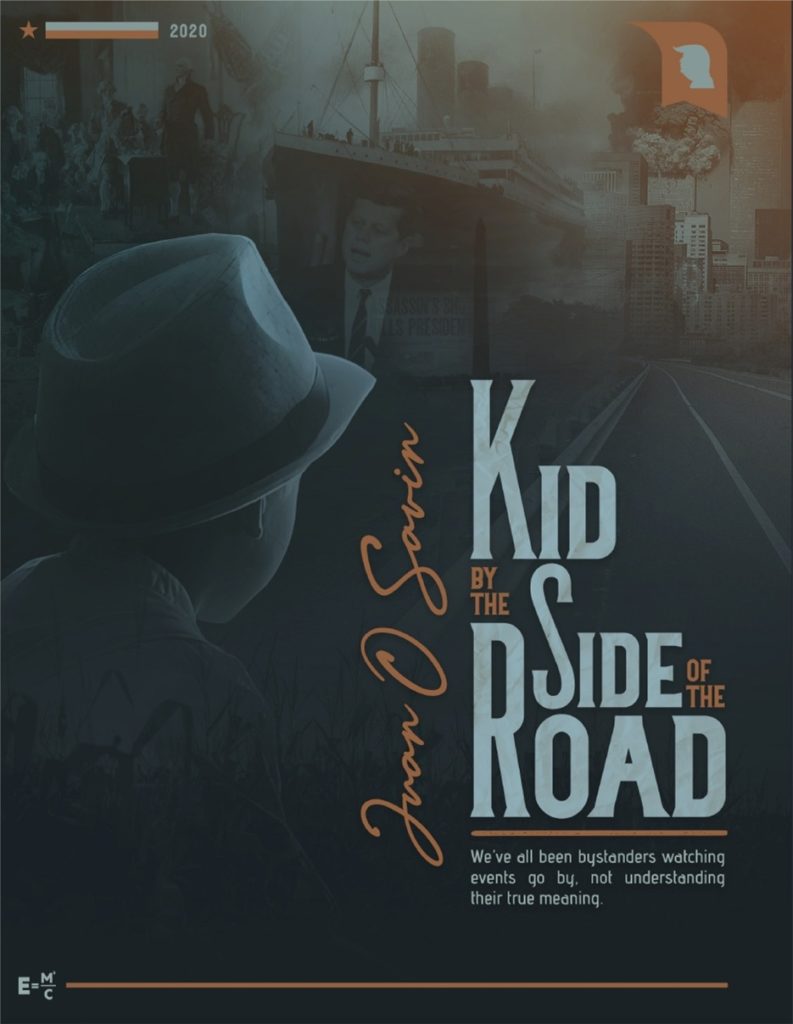 Wayne Willott uses his latest nom de plume [Juan O Savin] to write and Chapter 2 is of course one American speaking to others:
From the time we first came here, on through to today, the history of our country has been an ongoing battle between freedom seekers and the ruling bloodline families we've been made to follow. Who's in control? Do we choose our course, or keep trailing behind on their course? Are we working for ourselves or for them?
The author really gets stuck into these leeches and parasites that suck out the economic blood of the country. You can tell the passion that Wayne brings to this chapter even from just a few quotes here.
These Cainite (descendants of Cain) bloodline families think they are not just merely human but are more than human, while we are only here to be their servants and slaves. Even prior to our Declaration of Independence, the people that came here and built out America were seeking self-determination; to escape these controllers and have their own land where they could conduct life according to their own whim and will.
Here then is the theme of this chapter – some of the animals are just a little bit more equal than others and this is not the American way!
When those men gathered to work out the final details and sign the Declaration of Independence, that was the culmination of countless individual hours, days, months, and even decades, during which our people had rich private and public conversations, including plenty of heated discord, before eventually arriving at those concepts in our sacred documents that we eventually built an entire country around.
With the signing of the Declaration of Independence on July 4th of 1776, the founders drew their first deep line in the sand, committing their lives and fortunes to this new idea and grand experiment.
I am wary of but basically happy with the US Declaration of Independence because this sentiment is based on freedom from oppressive mankind – something that the Lord too is concerned about. When it comes to Democracy though, IMHO this goes too far.
The concept they backed together was unique in the modern world; a nation not governed perpetually by kings and bloodlines but, instead, administered by the best and brightest based on their character, leadership, and ability for innovation, as well as the right to be judged exclusively by a jury of their peers. Those first Americans announced to the world, We will no longer be anyone's slaves! We will not serve any foreign masters! We will not have people ruling and reigning over us, just from some false claim of a blood rite.
All good so far but be careful here Wayne.
And what's their goal? They're not happy to rule all of Europe, or even with adding control over America; these foreign masters and hidden-hand families want to rule the whole planet.
Now he's on solid ground. Wayne is getting directly into the conduct of the Illuminati now, and the Chinese Communist Party desires too if we're into discussing evil!
Though untrue, a lot of people have been led to believe these issues have to do with left and right. Instead, it's about right and wrong. Are we headed to heaven or hell? Do we follow those on a heavenly course or the ones taking that hellish route? These people create our entertainment and sports heroes, political leaders, and the media with its constantly-false narratives that they program into our heads through repetition.
Agreed, totally. As Christians we must though be careful to ensure that replacing the manufactured left/right paradigm with the right/wrong paradigm doesn't exclude God's actual differentiation – knowing Him and being close to Him with the horror of being cast away from Him – "because we never knew Him"!
Though our corrupt media and other institutions have caused it to immediately be dismissed as a crazy conspiracy theory, the Illuminati is real.
Absolutely! The phrase, "The Illuminati" can raise fear for some akin to the "Mafia". I have more fear over getting run off the road by some idiot drunken driver at midnight than getting offside with these people. They fear me because I have a brain and use it and am infinitely creating. Evil can only copy. It has no creative power, so they are so predictable you can smell them a million miles away. They are more afraid of me than I of them and this by a factor of multiples. Secondly, once you understand how they think it is child's play to deal with them constructively. All bullies fear exposure, of themselves. They are like animals that live by fear, so they can smell fear and attack the weak. Conversely they run a mile when confronted – the smart ones scuttling away like cockroaches when the light comes on. Thirdly, anybody who thinks that greed, money, darkness and evil is good is basically stupid. Apply logic onto fact and they dissolve in disgrace. Sure, the term 'evil genius' can apply to a few at the top, but this is the exception rather than the rule. Lastly, the fact that they have tried and tried to rule the world for hundreds of years and it can all be taken away from them in a minute or two shows their impotence. Hey, millions get and have gotten sucked in by their BS, but more and more are starting to see the reality of who they are and how bad these people really are. So, thank you Wayne, and President Trump!
These next few years are going to set the world on fire. You need to be part of bringing that change. The crises we must deal with are whether we end up having to do it by ourselves, or if we are the ones letting others do it alone. Either way, that puts pressure on those taking a stand to help eliminate this threat to our country and the world.
This is the "Team Trump", "Team America" rally call and is perfectly valid IMHO. Wayne has been good in the last year or so at patiently preparing the people for taking up their responsibilities. VERY good in fact. This book is just one of the many things he does, and his efforts have matured enormously too, as far as I can see.
… the American way is not one of being our brother's keeper. Instead, it's to be our brother's brother; reaching out to help other nations, as opposed to the constant thirst for domination that those colonizing and centralizing crown-families like to put people under. They manufacture enemies to divide and weaken us, enriching themselves and enslaving us.
As an outsider I have had qualms about American conduct and I have often supported the Arab sentiments, "the Great Satan" but seeing the good people stand up and question good and bad in their leadership recently has given me cause for pause. If this groundswell moves to faith and is not just lip service, then I can see a Godly blessing returning to the country as the change occurs. Hopefully this does become a permanent and meaningful change for the country. Time will tell if the change is genuine. Remember that a vote is a prayer, and it is the people turning to the Lord and repenting that heals their land – not abdicating their divine responsibility to those they vote for. Doing that and simply transferring an ungodly practice from rotten eggs to good guys does not change the fundamental underlying issues.
The same people that funded the property given for the U.N., also put up the money for those 9/11 buildings. It was the Rockefeller family. From that family, have we been subjected to Trojan horses that most haven't known about? Yes, Bill Clinton is a Rockefeller. His dad is Winthrop Rockefeller. What you got with Clinton was a story; another false narrative for you to believe. They told us William Blythe was his father but it's more fake news. You wouldn't elect him to office as a Rockefeller, so they had to give him a different name. That false identity kept you from shutting him down. But there he is, hiding in plain sight.
Did you know that? There's a truckload more like that when you start digging, and in EVERY country right down to pokey little Samoa too! Shhh!
But now, you have to grow up. This book is about that moment where we all mature as a nation, take on our responsibilities as adults, and begin to say, "No more! We will not be your slaves anymore! We will no longer buy your lies. We're done with that! And if you want to try manipulating our elections, again attempting to decide who we get, or if you try to snipe out our choice, this time it will matter. We're not going to continue to let one family of good people, whose head occupies the White House, carry the weight for our whole nation. And even if you succeed in taking an entire family out, (though we won't let you), the rest of us will still be standing here together against you!"
This book is a great encouragement for those who desire change, like the Conservatives, and has a large component of 'hopium'. President Trump's popularity has gone up since the election but it must be that America's faith too rises.
The good guys are closing ranks and we're taking our country back. We're going to rid ourselves of you monsters and treasonous vermin … Some will be going to jail and a lot more to GITMO!!!" In front of the whole world, we will soon see hearings where these people will be made to sit and explain why they did what they felt so justified to do. Of course, they will have their secret-handshake allies in political office, who will try protecting them with all sorts of stupid investigative delays and political procedures. It'll be like a scene from The Godfather movies. But in the end, this time you're going to see real prosecutions. There is a reason President Trump upgraded our prison holding capacity at Guantanamo Bay, Cuba … our country has over 195,000 federal sealed indictments at the time of this writing. Normally, our 94 federal judicial districts carry a running average of around 1,500 total sealed indictments nationwide. So, we are now at approximately 130 times the usual number of sealed indictments, and still climbing. That reality is no game; it's a vacuous dream on the part of those under the cloud of indictment, that these charges will somehow go away. Additionally, one sealed indictment can have up to 99 persons listed. Those people named in the indictments, have no prayer that these charges will just go away. Every single sealed indictment was handed down by a federal grand jury made up of 14 to 23 citizen voters—not some political flunky like a bought-off prosecutor or judge.
It really must be tough knowing what Wayne knows and watching the people around him miss the boat so often. Oh golly gosh the politician lied! Oh me oh my somebody from Hollywood took Adrenochrome! Dear dear, the Whitehouse (or Bukingham Palace) is empty and somebody famous was suicided off when they [whatever]. It is exciting for those seeking answers to evil to hear of this sort of thing, but really, some people like weeds will always do their evil deeds. Wayne really believes that things though are turning for the better. These statistics are amazing though, aren't they!
On the other [Democratic] side, there may be many reading this who can't get excited about President Trump, for whatever reason. Maybe it's that you think he's a bit caustic, coming across with a different demeanor than you'd like to see or think is right. It could be that you disagree with him on climate change or some other issue. Well, all right, let's have a conversation. But I would like to ask you not to think in terms either the Democrat or Republican parties, who both hate him.
While the book is designed as a rant for President Trump and an effort to help him in the 2020 Elections, it is more about getting people involved and tackling evil across the board, in the USA.
How about Mark Zuckerberg? Is he a business genius, as they claim? Did he come up with Facebook because he's a computer programming whiz kid? No! He's just a puppet; a pawn used by others to bring them more money and further their goals. DARPA (The Defense Advanced Research Projects Agency) developed the social media platform model, which we now know as Facebook! U.S. taxpayer money perfected the militarized social tracking tool and the technology was handed over to private parties to pirate over us!
And while he continues to name a few others, there are thousands upon thousands more in business across the globe (probably millions actually) who are likewise profiting from corruption. Women who spread their legs to gain something of benefit; financial fraud where those with knowledge or power use it for their own purposes; those entrusted with public funds find ways to transfer them for their own benefit. I know and understand Samoan corruption having lived there and been on the inside, but you just have to look around you to see signs of this universal human ill – greed!
What about George Soros? Pay close attention to this: Do you think "doctor evil" (Soros) became mega-wealthy because he's more of an investment genius than most anyone else? Are you kidding me!? Soros is an asshole and an idiot.
Ouch! On the nail there Wayne, and more!
As the Q team has said many times, "These people are stupid."
True! There are a few very intelligent manipulators out there. There are many more who have stunted emotional growth (either by way of trauma, immaturity or psychiatric reasons such as ASD). The vast majority of others though are just stupid, small thinking, lazy and greedy people who get caught up in nonsense and become trapped.
The problem has been that we've had leaders who would avert their eyes; they would countenance evil in our national institutions, just like our fellow citizens have also done. This is a moment about good and evil. The revelations will steadily come out over the next couple years about just how far gone many of these people have been with what they've accepted, what they have done, and those things they are still willing to do. That's when you're going to have to be able to dig deeper and decide what level of evil you'll accept. Is just a tinge of evil okay? What's your threshold? Where is your line in the sand? Besides being about slavery, this also concerns heaven and hell; both individually and as a nation. I say that in a serious and solemn way because we cannot be trite about it. This has to do with eternal decisions, as well as your kids and grandkids. What kind of a world are you going to hand them?
Now this is really important and the essence of Wayne's diligence and me too. This is increasingly becoming where the rubber hits the road.
… it should be very clear by now that these people will not go away without a fight. They believe in a centralized government and the full power of it, which is the opposite of this President. But neither you nor I can give up or go away.
"this President" of course being President Trump at the time of writing. Note the terms he uses here, "They believe in …" and for us who, "can give up …". This battle is not going away and "we" will win. Failure is not an option now. This is a statement of fact now, not so much one of opinion which it really has been for many years.
Up to this moment, we, as individuals, a nation, and a whole planet of people, are still captive to the events of that Dallas day in 1963. America has been a captured operation that is still being held back from our dreams, best hopes, and aspirations. Since that day, America has been in an MK-Ultra, trauma-induced, and programmed state, which has been able to keep people from growing mentally, emotionally, even developmentally. We've been militarized in our development and diverted from a godly and wholesome path, to a destructive one for ourselves and the rest of the world. Until justice is meted out in that 1963 matter, along with all the other mischief that has followed, we will not become the people, nation, and humanity that God intended for us. The Scripture says, "Who will be valiant for justice sake?" That is our prayer and our battle cry.
I concur with Wayne that the battle is neither going away, nor is it going to be lost. I see huge signs that the tide of the battle (this good vs evil thing) has turned and that this is actually a life and death battle. As a Jewish client taught me years ago, the one who has to win the war will always win the war! The whitehats will win because they have no choice but to win. The other guys are just playing!