In the last year or so, Private Investigator Wayne Ronald Willott (P) has developed quite a large following online and currently uses the pseudonym 'Juan O'Savin' as his cover. In this post I share the consequences of 'good using evil' to achieve its goals, basically applying the principle that 'the end justifies the means', a value-system that actually runs contrary to the biblical absolutes.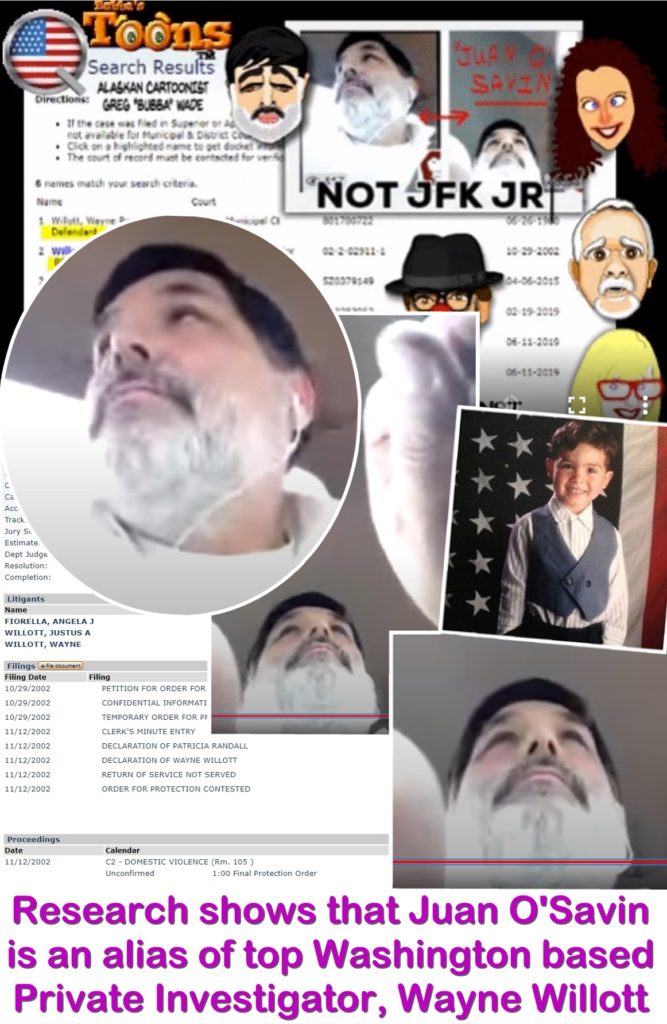 God does not have a problem with mankind having goals. A hypothetical woman's goal of raising a strong happy healthy & godly family requires faith, forethought AND bloomin' hard work. Likewise the hypothetical man's goal of getting out there and providing for his family requires obedience, understanding AND again . . . . just hard work!
But what happens when we use deception to try to achieve a given goal is that we transplant the process, (i.e. the journey), with the goal or the objective. When we consider that by doing this we're putting the goal greater than God, we err, because it is He who requires the attention and the focus. If He created (and I accept this), it is then He that has the right to set the rules for our living. Regardless of how noble we think a human goal is, NOTHING is more important than our relationship with Him. ANYTHING that gets in the way of that worship due to Him as of right, even if it may seem good or godly to us, becomes an idol.
This idea that the destination is more important than the journey is a deception (sadly quite common) that allows evil to enter into a situation.
I now use the example of the entity Juan O'Savin that Wayne has used to present himself to the increasing numbers of people awakening from their deluded indoctrination from TPTB. I don't really like labels for their propensity to make complex issues into binary ones, but Americans often call these people "the Patriots". Those outside the USA seem to prefer the term 'whitehats' and there are more phrases used, but the basic concept behind the awakening is that people are either finding out or gaining a greater understanding that there are indeed the elite, who are actually totally Satanic in their worship, who have increased their power and control over the masses with the intention to introduce a New World Order. This NWO has centralised wealth and their power too has increased with this centralising process.
A note here before I get started into the explanation, while Juan O'Savin's identity can likely be determined publicly by normal due diligence, I do not actually confirm it here as I do not have inside or direct knowledge. I have simply gone to his LinkedIn profile, searched some recent blog posts and followed leads. For those desperate to confirm Wayne's real identity for whatever reason, I would follow his LinkedIn verification entities and ask them for their personal verification. I have done exactly that. It has been an interesting exercise* to say the least!
So, putting aside short-term commercial sensitivities and the subsequent need for confidentiality (it is clear that Wayne is not now in this position) the issue for me is two fold – a) Do I validate the claims on Social Media and help 'expose' him (if that is the right word) or do I let the deception continue? and b) Am I comfortable with deception and the subsequent trauma that will result (actually HAS resulted) from the continued cover-up or do I weigh in to the debate and put my conclusions forward?
Obviously the answer to these questions is that I do not want deception to continue and that therefore confirming that Juan is Wayne is important to me.
In warfare, all cover is temporary. You can NEVER hide forever. Jeffrey Prather makes this clear in his teaching resources. IMHO, as the word gets out that Juan O'Savin is Wayne Willott, truth will be endorsed.
Here now, I list just some of the resources I have used to determine the identity before I conclude describing more of how deception is evil.
Identification posts
LinkedIn – Wayne is from Gig Harbor
https://greatawakening.win/p/12hRZcWeHo/juan-osavin/
https://greatawakening.win/p/12hRZdfayG/what-are-peoples-thoughts-on-jua/
https://www.reddit.com/user/GBubbaWade/comments/j018l1/juan_o_savin_aka_wayne_ronald_willott_is_a_fraud/
I quote one comment here (there are more in the above links):
His real name is Wayne R. Willott from Washington State. He was the person who regularly called in to Field's radio show. Through Field's help has mislead all his radio listeners to believe Juan is JFK, JR. After Field's arrest, Juan/Wayne started calling in to other Q-anon YT creator content call in shows with high subscriber base. Years before Qanon evolved (2017) Wayne was calling in as a guest on Doug Hagmann & V-The Gorilla Economist radio shows. He is a private investigator, particularly working injured employee surveillance in insurance investigations. Evidence is publicly posted online with lawsuits listing him as a witness in Aetna Ins investigation. Also google Marinka Peshmann, investigative journalist, formerly with Canadian Free Press who filed a legal action against Hagman & Steve Quayle, naming Willott as a witness source., then going by "W-THE INTELLIGENCE INSIDER" on radio shows.
Some of Wayne's recent videos:
https://beforeitsnews.com/alternative/2021/02/juan-osavin-kid-by-the-side-of-the-road-video-3743031.html
https://beforeitsnews.com/alternative/2021/03/sean-stone-with-juan-osavin-americas-near-death-experience-must-see-video-3744003.html
https://beforeitsnews.com/alternative/2021/03/major-intelligence-update-from-juan-osavin-video-3743806.html
https://beforeitsnews.com/alternative/2021/02/scott-mckay-interviews-a-special-forces-psychological-warfare-ops-video-3743640.html
https://beforeitsnews.com/alternative/2021/02/juan-osavin-and-david-stacy-whited-the-restoration-of-justice-video-3743425.html
https://projectcamelotportal.com/2021/02/11/juan-q-savin-interview/
https://greatawakening.win/p/12hRLhc4vr/juan-osavin–hopium/c/
https://www.bitchute.com/video/KJvR3CeCKt1h/#video-watch
Some Recent Court Cases
https://dw.courts.wa.gov/index.cfm?fa=home.namelist
Name
Court
Case Number
Judgment Record
Court Information
1
Willott, Wayne Ronald
Defendant
Seattle Municipal Ct
881780722
06-26-1988
2
Willott, Wayne Ronald
RESPONDENT
S27 Pierce Co Superior
02-2-02911-1
10-29-2002
3
Willott, Wayne Ronald
Defendant
Sno Co-everett Div
5Z0379149
04-06-2015
4
Willott, Wayne Ronald
Defendant
Skagit County Dist
9Z0283053
02-19-2019
https://linxonline.co.pierce.wa.us/linxweb/Case/CivilCase.cfm?cause_num=02-2-02911-1
https://zbbb278hfll091.bitchute.com/oEqbnPG8c1fR/yTsw9aQgB8OI.mp4
Summary
The use of an alias for commercial sensitivity reasons is often clearly valid.
A Private Investigator has many reasons to protect their identity, but (as Jeffrey Prather constantly teaches) ALL COVER IS TEMPORARY.
Wayne has been an activist for many years calling in to radio shows selectively targeting maximum exposure. I like that and think that this is smart. He has also increased his exposure in the last year or so with his book and support for the recent movie.
In Wayne's case therefore, it is IMHO that it is probably time that he comes out from under his cover so as to stand tall and to boost his credibility in the process.
Attempting to deceive (hiding behind an alias is indeed that) runs contrary to his core message that the Truth (of Christ) will overcome evil. Those who justify the means by achieving an objective can never win against evil, for that is their strategy, not that demonstrated by the Master.
Thank you for swinging by again today. I trust this has helped you understand reality a little more. Feel free to comment, and while you are here make sure that you also go back to my detailed analysis of Wayne's book The Kid by the Side of the Road.
* UPDATE 28 March 2021: RDS advises his private membership that Juan O'Savin is happy to be known as Wayne Willott which he says was a "throw away identity". This concurs with my research on Wayne's LinkedIn referrals which found that none, (yes, none) of his LinkedIn referrals responded positively i.e. are genuine! My take, RDS is right. Wayne setup a few of his mates to support his alias on LinkedIn who needs to remove his listing forthwith.