In a recent post I shared the evidence that Samoa's Minister of ICT is corrupt. This post counters the BS that he apparently issued later that night to the media in which I am told that he claimed that any such claim was politically motivated … and therefore supposedly false. At the time of writing, Samoa is currently in a 5-year election process. My informant Graham Liao has already provided irrefutable proof of his claims. Minister of the Crown Rico is clearly just another Samoan crook.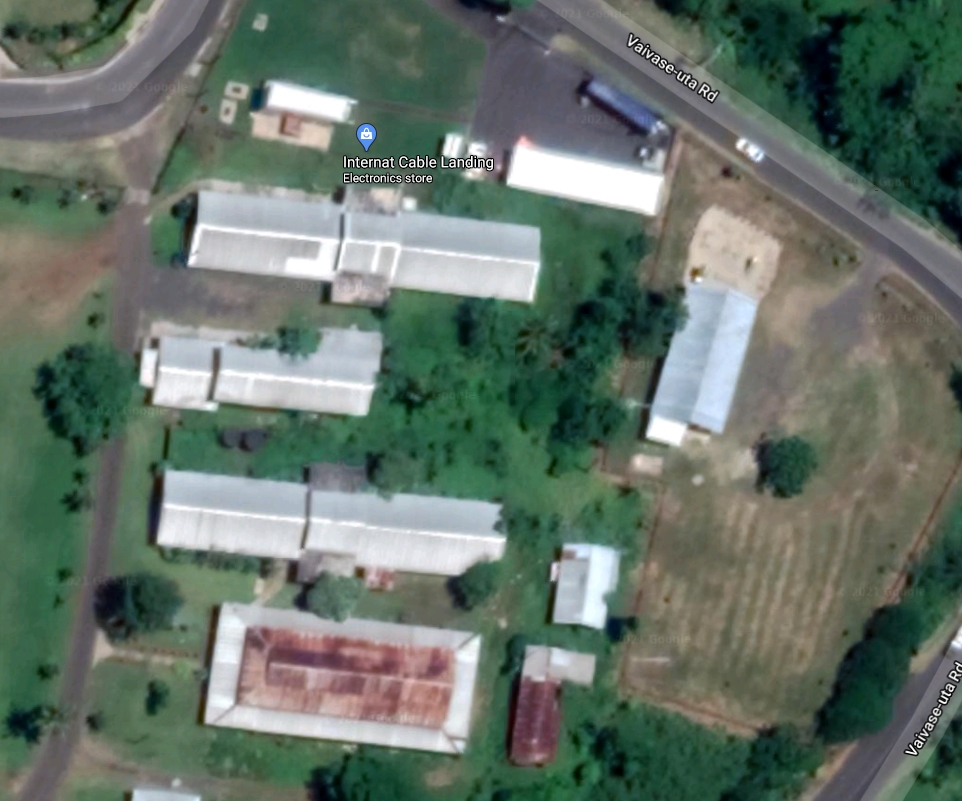 In discussing evil, I recently used an example of deception by Samoan Minister of ICT [job role], Afamasaga Lepuiai [Matai titles] Rico [personal name] Tupai [family, father's title name]. Apparently this example was explained away by the Minister on Samoa's TV1 and essentially denied along with some ad hominem attack. Let's' make this perfectly clear . . . deception by political leaders to their constituents is the norm. My 'money is on' an affidavit issued by a Palagi professional working in the IT security space and not a Samoan politician caught with his pants down talking to a TV station, in an election or not.
I've been out of the Samoan scene for a while so I don't listen to the privately owned TV up there, but I am told that Graham's affidavit has been denied by this crook Rico. I therefore draw greater attention now to the evidence of corruption issued recently.
First though, let's get into the circumstances of this Affidavit. Graham Liao was informed that his previously good name was being dissed by the Minister Rico in Samoa. An informant advised him of this. Whistleblowers are generally good for a country as even the anonymous editorial board of Samoan Observer notes recently. Of course everybody has a motive for doing what they do – that is only natural – but this is their right. So Graham had a few alternatives after being defamed. He could go the legal route – good luck on that one, suing a Samoan in Samoa with rampant corruption – and from Australia too! He chose to go the route of public defence. Good on him I say.
He forwarded the documents and his Affidavit to two dozen people (including me) and it appears that only I had the balls to share it. Speaks volumes about the way that the system works eh? Some random dude located in the backblocks of middle New Zealand is the only person who responds to a clear example and proof of Samoan corruption?
Well. speaking the truth is my game, so I did due diligence then used Graham's story in my current series which will develop the core content of my 37th book Evil UNMASKED!!
I share now for the record, Graham's email and it had as the subject line:
The truth about why I left Samoa and my dealings with Government.
He said to all of us recipients [embolding mine]:
Dear Parties,

I have decided it is time for me to let people know the story from my side. I have attached an Affidavit that I signed before a Commissioner of Declarations and I am liable to prosecution and imprisonment if I am found to have provided a false affidavit.

Yes, in my youth I did things that I wish I had not, but they were in my youth and yes there are stories on the internet that make me look bad, but there are no stories about the matters being found to be made by a disgruntled staff member, there has been no statement or retraction made about a story of me taking money from investors that was annulled.

Why have I not taken action against people for deformation – the cost is high, but the main reason is the big story NEVER leaves the internet or people's minds so I believe the best thing now is to put my side of the story out so at least people can decide for themselves what they wish to believe.

In closing I feel used, and I regret letting this go on for so long without reply and that it allowed others to use information to make myself look bad and cover up their wrong doings.
Let's go through the parts I have emboldened one by one.
it is time … the best thing now is to put my side of the story out … I regret letting this go on for so long without reply
Graham took his time because he cares. He does not and did not want to hurt others. My assessment is that this is a gentle giant we are talking about here. He is a big man and rides a wheelchair. He understands the issues that others have and unlike the users and crooks that he was dealing with, Graham shoots straight. Remember that he did not do anything for many many months but only acted when he was defamed.
I understand that this crook Rico turned things around and stated a falsehood that Graham actually asked to be a sponsor of Rico's rugby team. No Rico, that is an outright lie. You asked this man to sponsor the team, and knowing how the PM works using plausible deniability, it was probably as a result of Tuila'epa's 'suggestion' that you knock the new Palagi businessman up for the money you needed to get yourself out of the sh*t having previously misappropriated your church money.
I am liable to prosecution and imprisonment
Most people, and especially in Samoa where truth and integrity are rarely understood, will not grasp the significance of what Graham has done here. In the Western world we value abstracts such as truth and integrity. This is different in the Samoan (and Chinese actually) cultures where relationship is more valued. What Graham is doing here by providing an Affidavit affirmed by a JP is a VERY SERIOUS matter in his culture. He is giving the Minister a single finger salute saying in effect, "You have dissed me in my culture by ripping me off, using me and then trashing me by talking bad of me behind my back and so I'm responding in my culture by declaring war on you in your culture! I SPEAK THE TRUTH! You don't! I have integrity and can be trusted. You don't and can't be!"
in my youth … disgruntled staff member … no statement or retraction
This is an important aspect that catches Rico out given the context. The evidence that Rico tries to use against Graham about past indiscretions (when he was a teen) is readily acknowledged by this man. Rico on the other hand will not, because he cannot defend using truth or the facts. The PM Tuila'epa is experienced at and indeed highly skilled at covering up indiscretions of his people like this but IMHO Graham wins this round, especially when you see the actual communications. Watch out for that Samoan smile folks – it hides a knife destined for your back.
the big story NEVER leaves the internet
This is another gotcha from and for Graham as 'the Internet' holds information forever. The PM has a very poor understanding of technical matters. I know having tried myself for years to educate the fool. Graham getting his message out on the Internet is wise.
I feel used … I regret letting this go on for so long without reply
This part hurts me for this is indeed painful for the man. But he'll get over it, like we all do when we mature. Samoan's see the Palagi as a source of easy money. They wine and dine and make us feel special then they use us, bleed us and then spit us out when we're dry. It's stupid to believe otherwise. We get conned over and over again. The reason why they do this is because it works. Every now and then some dude (like me) stands and fights. The crooks up there simply take the knocks the same as crooked banks consider million dollar fines for billion dollar frauds just a cost of doing business. Another sucker will come along soon and so they will just wait, riding it all out. Look at Tuila'epa . . . four decades and still sucking from the same teat!
Rico is no different to the many before him. He will use and abuse others as long as they let him. He will use his power for personal benefit and personal advantage as long as he can, and his boss the PM will cover for him . . . ah this is just election BS they will claim. Yeah right! Once a crook, always a crook I believe the saying goes? Election or not – Graham is defending his actions in the face of yet another crooked lying Samoan Minister.
to make myself look bad … cover up their wrong doings.
As I try to explain here, corruption is normal. Just the same as dogs bark, politicians politick. People like Rico use and abuse others for personal benefit. That's how people like Rico and Tuila'epa can end up owning multiple properties. How do you think the Prime Minister can own a mansion in South Sydney as well as New York, and even a 'lowly' Minister like Rico can end up with three properties in New Zealand? Samoa has increased it's indebtedness by a factor of multiples while the crooks as Graham says here try to make others "look bad" and try to "cover up their wrong doings".
Just to reiterate the facts as previously shared here, this is Graham's affidavit in which he claims corruption along with the proof provided. There is more proof if needed. Personally, I believe the Affidavit 100% and I would write off any of Rico's claims of electioneering as the actual source of political BS.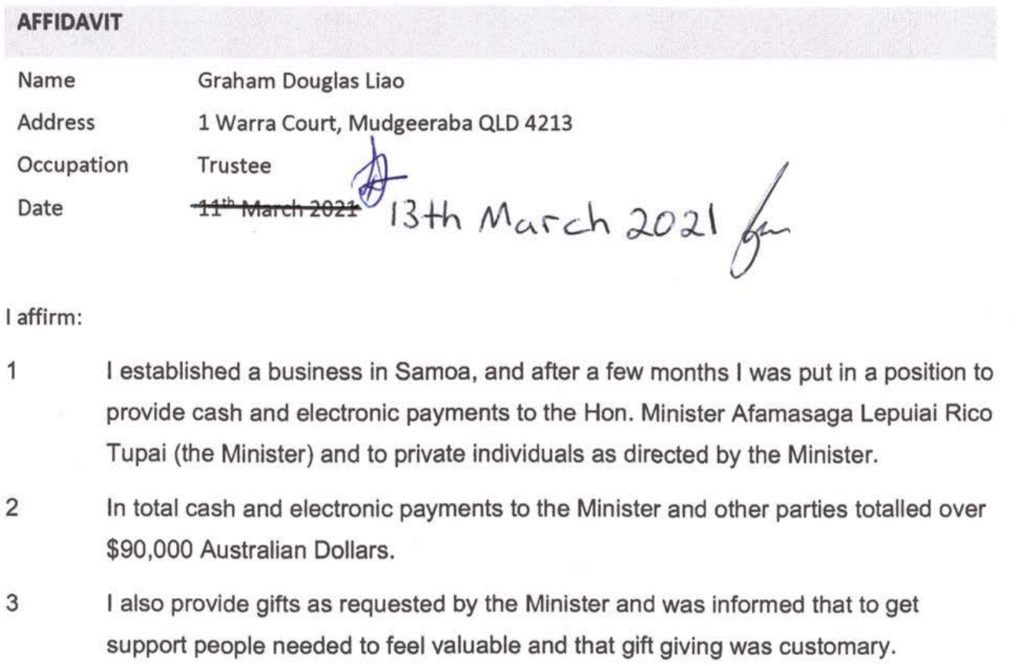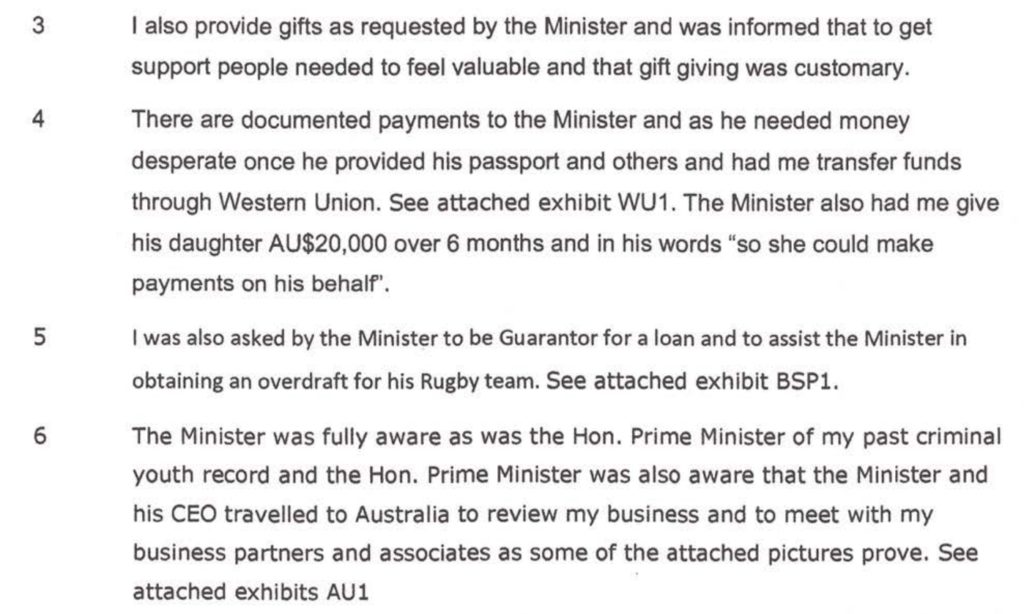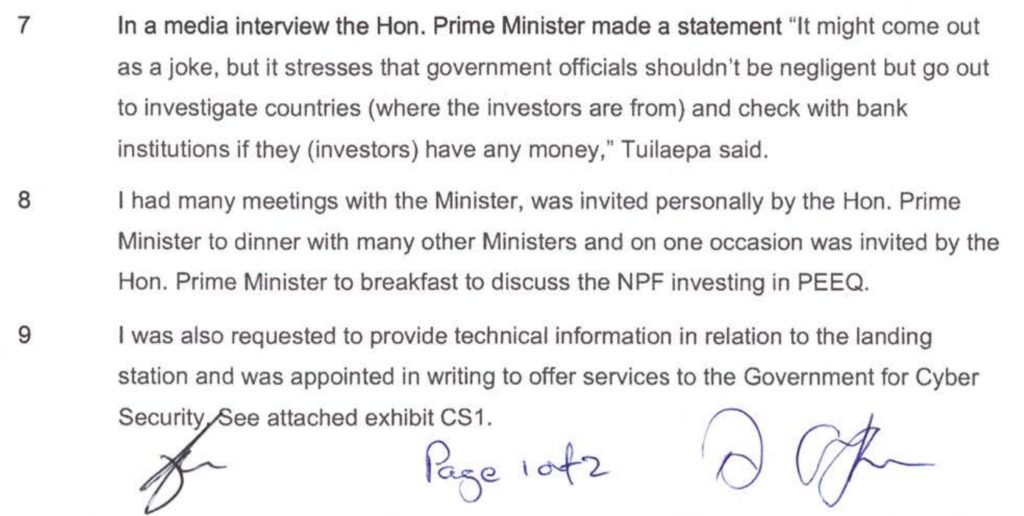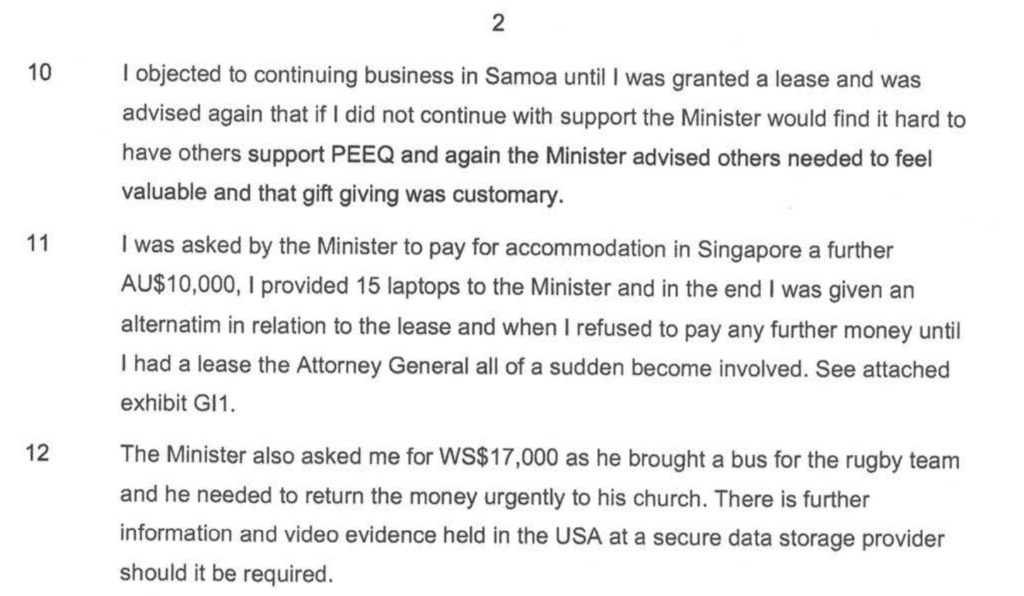 Rico chatted via Wechat with Graham Liao and asked him to pay for his accommodations [sic]. Samoans pluralise with an "s" BTW whereas most Westerners know that accommodation (without an "s") is both singular and plural. A commercial deal such as this is normally acceptable business practice albeit bribery – you pay me this and I'll get the entity that I represent to do that – sort of thing. The Samoan way though, is to present this personal benefit as "a cultural norm" – not corruption. Actually, as Graham eventually worked out it's all BS. Culture is a cop-out as it is a flexible 'beast' similar to the 'Palagi price' where the selling price adjusts to the perceived capacity of the customer to pay. This short-term thinking is the norm in Samoa and it creates mistrust in the Palagi. Graham views this as greed and came to realise that he was "being used".
The next image here shows that Graham would not proceed unless he had a lease, confirming the statement in his Affidavit. Here his lawyer Aumua Ming Leung Wai gets serious with the crooks. "Unless this lease is signed, my client pulls out":
The reason for all this BS was that the Samoans dug around and found some old stuff about Graham on the Internet: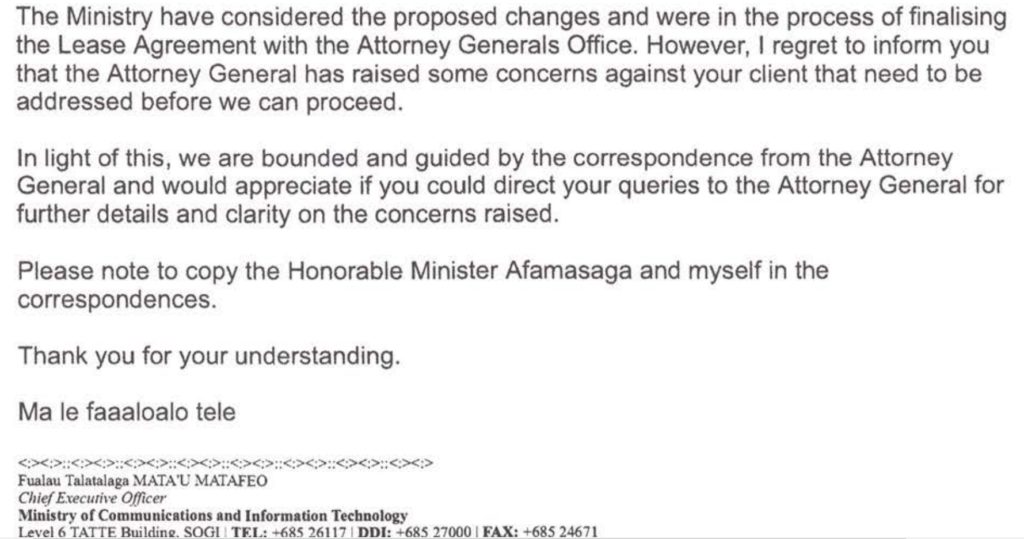 But what about the sweeteners that Rico had asked for previously?

That's right. Money for the boys!

Hmmm! You'll be waiting a long time now Mr Lawyer! Graham pulled out, and lost out too!
The next graphic shows again Rico personally leading the Palagi on AND asking Graham for the money:

Ouch!

Yes, very serious indeed Mr Lawyer. Please just forget about the details Ming, 'the Minister has spoken' remember? This is all election related, and therefore must never have happened – right?
WRONG!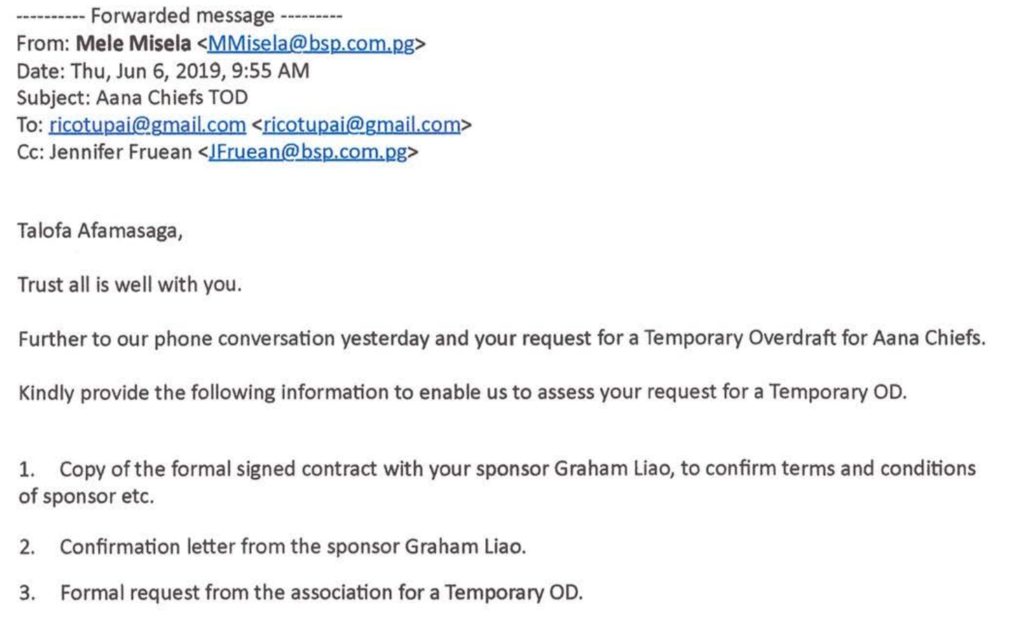 So this is a request from a Business Banking Senior Credit Analyst asking for a sponsor (i.e. a guarantor) for a TOD? (Temporary Overdraft)
OMG, this guy Rico is not only a crook, he's also a sloppy businessman too, getting a 'rich' Palagi investor to gurantee his rugby team's overdraft? What a goose! The sad thing is that this is typical of Samoa. I can tell you that this story is just yet another of thousands of similar stories. Yes I said thousands because I meant it. Hundreds and hundreds of these sorts of things happening in all villages, in all government departments and over centuries. I said centuries not decades because I mean this too, literally. You have to understand that corruption is the norm in Samoa, where people seek and always have sought leadership in order to benefit personally.


I know that it's a little hard to read here but note the receiver's name here "AFAMASAGA LEPUIAI RICO TUPAI" that she carefully spelled out in FULL CAPS correctly.
And that's the proof of payment – AUD $5k off to Rico . . . [as they say] boom!
But it gets worse for these idiots in power. Tuila'epa, the Prime Minister supposedly dealing with corruption under him but not corrupt himself [cough, cough] asked Rico to ask Graham for help – technical help: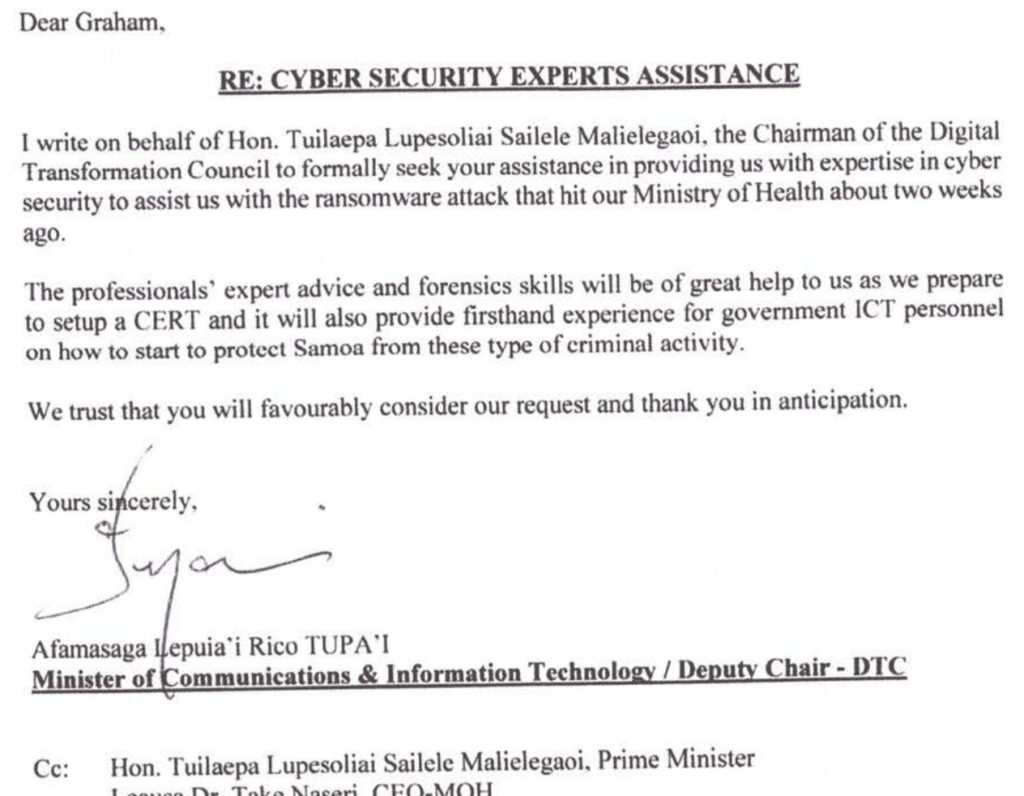 For those in the industry this says it all!
Now Graham what was it you were trying to do in Paradise? Run a business? Deal with a Minister of the Crown? Something to do with IT? Mate, the wisest thing you did was to give these fools the ar** card and get out. Sorry you got your fingers burned and lost some money, ok sorry it was a lot of money, but at least with this affidavit and the power of the Internet your professional reputation remains in tact. Unlike Rico's or TV1's.
My heart goes out to Graham (and every other Palagi who has gone through the same thing over the [many] years that this has been going on. Evil is indeed now UNMASKED!!
Now for those of you who think that I may have an axe to grind, or that I'm racist, or suchlike – no, I am nothing of the sort. For many years I have blogged openly and honestly about Samoa and the Samoan culture all written from a Christian perspective. I lived in and gave all to Samoa, many Samoans saying things along the lines that I was more Samoan than the Samoans around them, and encouraging me to never cease speaking it like it is . . . "Tenisi, you give us hope in this sea of corruption . . . you are a national treasure . . . you truly do understand [our plight]" and similar. I care. I truly care, but until the Samoan people face reality and do the honourable thing before God they will continue to be used and abused by their corrupt political leaders. God will never be mocked and the people always get the leadership they deserve.
Watch now as this corrupt Samoan fool Rico shuts his mouth and runs for the hills in shame. So too his boss, who can do nothing other than hide his face too and take it like the coward he is. I tell you, the Prime Minister of Samoa is not only a coward but he totally dreads to see yet another blog post from this blogger. His heart sinks a mile and needs his nappies changed every time they print it out and put it on his desk – guaranteed.
Graham has done the right and honourable thing but he's had it all and has now asked me to deal with media enquiries on his behalf. A pleasure Graham . . . an absolute pleasure. I dare them to make any contact. They won't either for I speak the truth, firmly and fairly. Samoa simply cannot handle that.
In my next post I show the true consequences of evil . . . sin always takes us further and costs us more than we think when we err.