I hate it when I have to engage with greedy, stupid people. In this post I share the issues I faced recently when dealing with more corruption in the King Country – this time it's the SPCA Op Shop in Taumarunui who created a scene over a couple of hundred bucks worth of . . . a bed. Yup! Spare me days!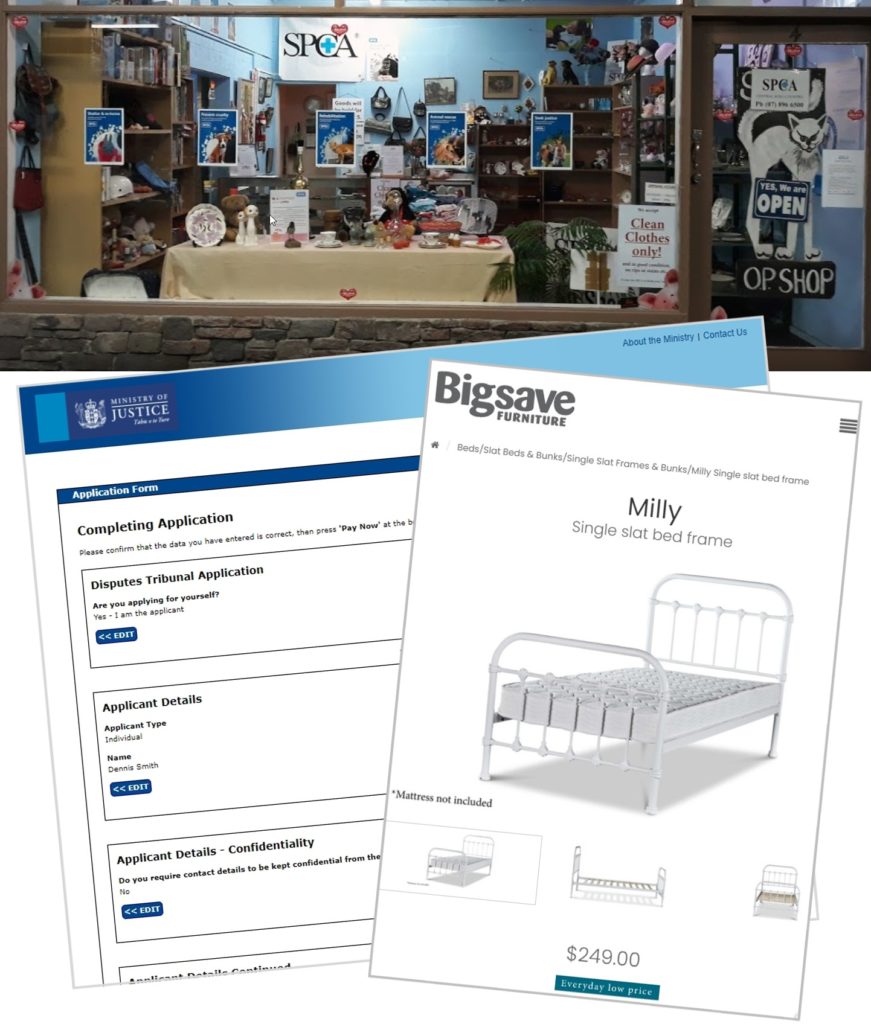 The SPCA runs an Op Shop in Taumarunui. It's one I frequent a little bit and have bought some stuff from over the years. Yeah, yeah, I know . . . it's genetic. I inherited the 'save a buck where I can' mentality from my father!
So I was sniffing out some junk; cheap stuff; bargains; second hand items on 29 October 2020 and met a friend by chance in there.
"Hey!" she said. "That's your missing bed!" pointing at a blue tubular bed head and foot unit.
"You sure?" I checked.
"Yeah, of course I'm sure!" she replied. "That's the missing bed."
So we went and got our lunch in the cafe opposite and talked about it. She explained that it was definitely mine – the blue colour and the curved shape matched.
After eating we went back into the shop and explained the situation to the ladies behind the counter. I had previously helped out my friend's daughter who owned the bed and she had given it to me. I had only taken the base and she was going to get me the other parts from her garage.
Obviously her tenants had donated them to the SPCA and these were the ones now offered for sale in the op shop. I could validate all of this if needed, after all there were two witnesses and I already had the matching base.
"You gotta speak to Debbie, the manager about that", the staff told me.
So the next morning I slipped the manager an email:
Hi Debbie
As discussed, herewith confirmation that the two blue bed ends in your store were promised to me and are arguably mine.
The background is that a long time ago I helped the owner who gave me the bed base and she promised me the head and tail units that you have ended up with.At the time she lived near me.
Because it was a gift I couldn't chase up her demanding that I get them and it appears as though her tenants have dropped them off to you sometime.
Yesterday I was in store with [name redacted] (the original owner's mother) and she identified them as the "missing" pieces. I already have the base down here at Matapuna
It is a little unusual as the base fits by way of screws, not the usual triangle unit
Could you please kindly put them aside for me or at least not sell them until the ownership matters are resolved?
Technically the goods have been stolen but I don't really want to involve the authorities in this matter. Thanks heaps!
And, [as I have since found out] like she is known for around town . . . ta dah . . . nothing.
So a few weeks later I pop into store and discuss this matter AGAIN. "Debbie, I DO NOT want to have to take the matter further but we have a problem that we have to sort out. You've got my bed in your shop and I've asked for it back . . . please!"
She refused to give it to me (or to do anything actually), told me I could buy it then asked me to tell her what the problem was that we had to sort out.
"I have already told you that you are selling my bed and that is 'receiving stolen property', technically".
She again said that she would not give it back to me but that I could buy it. She did say however that she would speak to her manager (Head Office I presume). I doubt that she ever did because SPCA is pretty tight on ethics and PR stuff and it is her that is known to hardly ever do anything, not her Head Office.
By then all the staff and even a customer were chipping in. I really was a troublemaker, even though the customer said, "I really understand your position".
So I asked the vocal customer what she thought I should do about it.
"Just let it go!" was her advice. I presume that, "Just bugger off and leave all these good people to save the poor animals" would have been her real thinking.
So I remained calm and polite, departed and awoke the next morning to a fresh day, having wiped the pesky second-hand bed from my mind. Yeah – let it go mate. It's only a bed somebody gave you. Get over it.
But it didn't sit right with me. A mistake had occurred – nothing to do with me. A friend had given me a bed and somebody else was getting it and didn't give too hoots about integrity and honour and so on.
Of course nothing happened. I waited for another week or two then went back into the store. The bed was gone and the woman behind the counter smirked, "Oh I don't think she's going to give you that bed!" And where was it? Well, she thought it had been sold!
So, back to the computer, write a report, off to the cops, lodge a complaint and then to the Small Claims Court.
Respondent Organisation/Company Name:
THE ROYAL NEW ZEALAND SOCIETY FOR THE PREVENTION OF CRUELTY TO ANIMALS INCORPORATED ("SPCA")

How much do you want the Tribunal to award you?
$249.00

Claim Details
The SPCA Op Shop in Taumarunui refused to return (and then knowingly sold) parts of a bed donated by the rightful owner to me. They admit that they cannot validate their legitimate possession (they do not know from whom they received my bed). I have explained that they are receiving stolen goods and have now lodged a Police complaint to that effect. This claim is for the value of a replacement bed.

Applicant's contact with the respondent(s)

I spoke to the SPCA staff in person three times; emailed Debbie (Taumarunui branch manager) on 30 October 2020 and Debbie in person explaining that I did not want to involve the authorities. They have refused to either return the bed; investigate nor validate my claims; nor to respond constructively, simply saying that I could buy it if I wanted it.
Suing the SPCA
New Zealand has a simple system for resolving property or civil disputes. The Small Claims court takes an adjudication role. It cost me $45.00 to lodge the complaint online.
My bed was given to me in good faith. SPCA sold it (or disposed of it), acting in bad faith. If I can prove the claim with my statement and evidence, SPCA has to cough up. Pretty simple.
There are a few interesting ethical and legal aspects to this case:
The donor and her family will be watching what I do. Do I care enough to stand and fight for something that is my right? In due course too my reputation around town will develop – "Oh he's that shit-stirrer who sued the SPCA" or "Oh he's the one who got given a bed that the SPCA sold". If I stand and fight for others' rights, I'd be a laughing stock and hypocritical if I didn't stand for my own.
As far as I can see, I did nothing wrong, yet copped aggression and no doubt will be seen by the town gossips as a shit-stirrer for standing up for my rights. Is this fair? Not in my book but shit happens in life. I'll take it because I always stand up to bullies and hate the greedy and fools!
These guys have no record of where the bed came from or how they got it. Normally a second-hand shop must comply with the Secondhand Dealers and Pawnbrokers Act 2004, in which Section 39 requires them to report and hold goods known or suspected to be stolen goods to the NZ Police. This does not apply though in the instance that they are a charitable organisation. Because the SPCA is a charity they are not required to hold a secondhand dealers license and Charities Services don't have the resources nor interest to get involved in operational matters of their charities. Hmmm. Zero legal accountability then! What can one do when a charity goes rogue like this? IMHO corruption and bad-faith conduct (like this) must be exposed.
The SPCA has very clear ethical guidelines with a top notch governance structure – at least on paper. You can view their comprehensive policies online from here and the latest was updated literally only weeks prior to this dispute. A Risk Management Policy, Media Policy, Code of Conduct and even a Fraud Policy. Whew! I could quote reams of these which would easily apply to this situation but the manager of SPCA Taumarunui clearly hasn't "gotten with it" yet. She better do so quick smart if she wants to keep her job. Debbie has also broken the law, specifically Section 246 of the Crimes Act 1961. Is she even aware of this? I doubt it!
When you manage a branch of a high profile national organisation (like the SPCA) your conduct is on show for all throughout the country to observe and analyse. It may be very easy to tell some dude like me in a 'hick town' like Taumarunui some porky that she will speak to Head Office and even to ignore him and to try to keep the goods. Pity though if that dude doesn't give up or give in and your greed and questionable ethics get exposed.
Taumarunui SPCA does not have the best of reputations around town. Does one support this status quo or blow it up with a court case, social media or blogging activity?
IMHO, the SPCA has a festering issue in the King Country. They would do well to resolve it, and the faster the better.
UPDATE: 23 April 2021. The Taumarunui Disputes Tribunal has ordered that SPCA turn over the bed ends to me. I offered to discuss the matters with Debbie Daldy, SPCA's representative to reach agreement rather than face a court judgment but Debbie was unwilling to engage so I elected to abide the court's ruling. I was offered the opportunity to collect them based on a verbal order, or to wait for the written judgment. I chose the latter option.