In 2010 the Minister of Police initiated a Review into
the Police Investigations into the Crewe murders. After
digesting their 2014 Report I found myself agreeing with
some of their conclusions but not all . . .
The writers claimed the Report Team used only evidence with little speculation. This is not my observation, and it is remarkable to me at the absence of certain critical matters.
If you say that some evidence disappeared and that conduct was negligent, but if you don't even consider why this may have happened, then you are effectively suppressing the investigation! What is NOT said speaks as loud as what IS said.
The bottom line is that no arrests have been made and the case has been a cold one, even though it needn't have been. For me it's been hard and lonely work probing so-called evidence that led nowhere. In the quest for finding facts to back up my gut feelings that something was terribly wrong, I was going to do my best to find the truth.
There have been a lot of loose ends and in this chapter I want to compare my investigations with this Investigation Review released by the Police on 30 July 2014.
I note from the Detective Superintendent Andrew J Lovelock's commentary, a strong bias towards supporting the Police's conduct, except of course when Police misconduct was undeniable when he simply notes it and accepts it without comment.
The 2014 Report wasn't a whitewash as such, but came up with incorrect conclusions in some areas, and made the same mistakes by way of assumptions just as the Police back in 1970 did.
Statements of fact such as, "The reason why the Crewes were killed is unknown" are true but meaningless. There were murders so there must have been a motive. I found the truth by digging but they either didn't, couldn't (or did but suppressed it for some reason).
Failure to investigate certain people or to capitalise on opportunities during their investigations may have been part of bias or incompetence. There's little point in digesting evidence alone without a motive otherwise you are grasping around in the dark.
Focusing on bullets when they didn't have the correct murder weapon has sent the Police around in circles. This makes a mockery of the entire Thomas saga. I've kept right away from this as I have found it to be a major distraction.
BIG 'BAD' BOB SOUTER
The 2014 Police Review summarises Maisie's disapproval of Bob Souter in paragraph number 1866: "In 1969, May Demler changed her Will leaving her personal assets to Jeannette, rather than both of her daughters as had previously been her intention. May Demler was unhappy about Heather Souter being in a relationship with a divorced man who already had three children and effectively sought to cut her out of her Will. Lenard Demler did not support his wife's stance in this regard."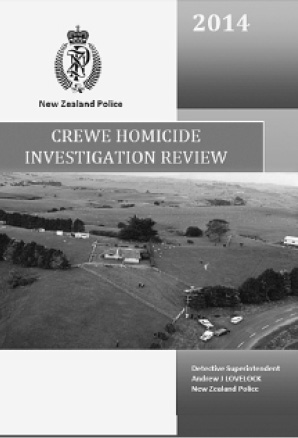 This is factually correct but like much of the Police investigation, it misses the point entirely . . . Maisie knew who the perpetrators of the fires and burglaries were, thus she would have known who the murderers would have been. More importantly though, she knew Bob Souter VERY well.
If you ignore the issue of Bob's claimed location as being in the United States at the time of the murders, I'd consider Bob Souter to be the prime suspect. He was a "nasty piece of work" who had motive, means and the mentality to shoot two people over monetary matters, execution style from point-blank range without compunction.
I knew that I'd never get access to his military records, so gave up on that route of enquiry, but Bob Souter was much more than just a "divorcee that Maisie disapproved of".
Investigators will find some big surprises in the circumstances surrounding his discharge from the military. He was a trained killer, an undischarged bankrupt and had 'a record'.
Bankruptcy regulations in the States are different to those in New Zealand and Bob remained a bankrupt until his death, for good reason too–it suited Bob and Heather quite nicely for financial reasons in both New Zealand and the USA.
Official records prevent Bob Souter from being a suspect as he was "in the United States" but while the Police state that "As a result of immigration enquiries undertaken in 1970, the investigation team were satisfied that Heather Souter was not in New Zealand on 17 June 1970 or 19 June 1970. She did not arrive from the United States until 25 June 1970." What about Bob though?
It is still an assumption that Bob Souter was with her, and that he did not have access to military systems or clearance. Stranger things have happened before, and I'd want to see strong proof that he was not in New Zealand before discounting Bob Souter as a prime suspect.
WHO IS LESLEE'S CHILD?
Talking about strange things, I've noted that Leslee had stretch marks yet there was never any mention of her child. I've often wondered if Rochelle was Leslee's child. She'd be the right age and they knew each other as cousins who grew up together.
Again I know that this is a far-fetched thought that may sound ridiculous but has Rochelle undergone any paternity (or maternity) test using modern methods? Kevin Ryan in his book JUSTICE Without Fear or Favour (page 141) refers to "Rochelle Thomas" rather than Crewe, a hint perhaps a hint of inside knowledge and I've been told Kevin didn't remove or correct it when it was drawn to his attention. The last thing I would want to do is cause an innocent person trauma of considering this possibility of doubting their pedigree but Leslee did confess that she was at the scene cleaning up and to feeding the baby.
If Leslee was Rochelle's birth mother and lost her two teeth in a fight to the death (literally) with Jeannette, possibly the adopting mother, then this could explain Leslee's conduct, presence and participation.
If Leslee was forced into this situation and leverage was exerted, this would definitely fit my observations of a woman who was under extreme stress while living a lie.
Again, these are simply ideas and matters that others can verify.
INCORRECT CONCLUSIONS
My claims in this book are that the perpetrators of these crimes were insiders and wanted the semblance of normality around the Crewe house for as long as possible. This runs contrary to Police (and other) thinking that the murderer(s) would want to high-tail it out of the scene of the crimes and never return so as to avoid detection.
These people knew that they were known within the Pukekawa community. Indeed many in the rural community would have either known who they were, or at least suspected who was involved.
This has resulted in what I think to be wrong conclusions. Some examples of this are when the 2014 Police Review said, "No one has ever come forward to Police acknowledging being the person in question and explaining their reasons for being there".
Oh sure, can you imagine Leslee fessing up to being there; participating in an assault and cleaning up a murder scene? Who said it was only a man involved in the murders too? Then again, "If the sighting [of a woman, probably Leslee] by Bruce Roddick occurred, it was either not on that day or was of an unknown and unidentified woman". The latter scenario is true. The first one is simply illogical guesswork and the very thing that the Police said they wanted to avoid!
Again the 2014 Police Review says in regards to the child allegedly seen at the Crewe property on Saturday 20 June 1970, "The alleged sighting of a child on the property that day by Queenie McConachie was supported by her husband, Maurice McConachie, although Maurice's alleged sighting was at a different time of the day. To have exposed Rochelle Crewe to public view would have placed the person present at serious risk of being identified as being complicit in the murders."
This is correct, but they make a big jump to then say, "It is concluded that if the alleged sighting occurred it was either not on that day and/or the child was someone other than Rochelle."
On the contrary, Leslee's job was to make sure that Rochelle was seen! Duh!
SHORTFALLS IN THE INVESTIGATION
Refreshing confessions came from the Police in the 2014 Review. Consider these statements, collated for ease of reading:
"Shortfalls that occurred early in the investigation certainly influenced aspects of it as the investigation progressed. The initial action phase failed to adequately secure and preserve the scene area which led to contamination. Scene management and security was less than adequate."
Then in regard to Len Demler's involvement, "Detective Inspector Hutton's belief in the guilt of Lenard Demler at an early stage in the investigation led to the exclusion of other worthy persons of interest being considered."
More damning however are the claims from three witnesses that Len had, "an unbreakable habit of having at least one meal a day" at the Crewe home. Perfectly understandable given the fact that he was recently widowed and Jeannette and Harvey lived next door. Heather remember, was living overseas.
To this huge discrepancy in behaviour the Police admitted, "The frequency with which Lenard Demler visited the Crewes became an important aspect of the investigation, because there had been no contact between them for six days. Whether this was a usual practice or represented unusual behaviour, was never fully explored."
That's a MAJOR shortfall and yet thoughts or discussion about the significance of this shortfall is notable by its absence!
SECTIONS 67 & 68
A few other things have also slipped past the Police and other authors in the intervening years. No mention has ever been made (at least that I know of) of Jeannette's half ownership of Sections 67 & 68 in 1965 (full details on page 110).
I find this extraordinary because it makes a perfectly logical dumping site for the bodies. As I mentioned earlier, their vehicles would be known around the area and their known red/brown International truck arriving on a weekday morning would raise no concerns to anyone.
Didn't the Police know of this? It seems incredible to me if they didn't!
HODGSONS, GURNEYS, SMITH & JONES
The lack of mention of the Hodgsons, particularly Alf Hodgson too surprises me. The Police only mention him in passing once as a trustee but in this book, he was one of my key players in the lead-up to the murders. There are also other names in the mix, Smith, Jones, specifically Gordon Hamilton Jones. Alf, Rose Amy and her sons, the Gurney boys (Alf's step-sons) were intimately involved with the Demlers for decades and they all knew more than anybody of the many financial comings and goings on.
Alf was as straight as a rifle barrel, even if his wife Rose Amy and her two boys (Alf's step-sons) weren't. Rose Amy was easily led and after Alf's death the Gurney boys ran the roost although she got all the chattels. She inherited some of Alf's responsibility and had the signing rights with a small input from those on Alf's side of the marriage. Rose Amy was always after "the residue" and to put it simply, it all boiled down to the fact that she knew too much.
Her death in 1993 followed an extended period when her mental capacity was impaired. The Gurneys ran the show, something important to understand for what will make more sense shortly.
Rose Amy was an outsider. She married into the Hodgson family and when Alf died her new man was Johnny. In a coincidence that is all too common within related farming communities, I met Rose and Johnny in 1965 when they came to the Waipa Sawmill. I lived in Te Kuitu at the time and worked at the Waipa Mill. I recognised the vehicle they were driving in first–a 1937 Chev Coupe–a bit worse for wear but the 'blue flame' motor was sound!
Alf had quite some standing in the Maori community and from 1926 on you can see a considerable number of Maori cross leases. Rose was well known in the area and was a 'favourite aunty' of many. Alf & Rose Amy's marriage along with Len and Maisie's meant that these families all had shared experiences Rose-Nellie-Maisie-Jeannette. Rose Amy for example was present when the Demler girls were born. She watched them grow up and cared for Maisie when her brother Howard died in 1950.
Missing all of this personal background has prevented people from seeing the context in which the Crewe's were murdered. It has to be understood that when Police follow one lead or take one direction in an enquiry like the Crewe murders, it leaves other options closed. Without any clear motive the Police will and did only follow the leads they had–like bullet fragments, a few fingerprints and a 'whacky' theory of a 'random' shooting through open louvres on cold, wet wintery night!
WHERE THE MONEY WENT
So to the other important things missing from the 2014 Police Review . . . where the wealth went. On page 66, I showed the broad pattern that substantial family wealth intended by Maisie to go to Jeannette Crewe (and thence to Rochelle) actually ended up in the control of Len Demler first, then Heather Demler and Bob Souter.
In fact Len's activities weren't simple and it was all quite complicated, so he obviously had good legal 'advice'. It is also interesting to note that it would have suited him to have BOTH Harvey as well as Jeannette out of the way which again conflicts with many of the assumptions inherent in the Police and other commentary that one or the other was the prime target and the other 'collateral damage'.
I hardly even touched the surface of these multiple intergenerational dealings with trusts and companies and land in this book but I did find lots of references to land sales backwards and forwards between the people involved. Len Demler bought then sold then bought back Lot 1–the corner of land of the Crewe farm that he always wanted
ROCHELLE'S FATE
I want to pause here for a moment and respectfully ask why Rochelle was actually allowed to live.
If her mother and father were killed execution style, then I'm sure it wasn't because of compassion to spare the baby as some believe. To my mind she was fed to keep her alive not only because she was to be the person to gain the most from her parent's estates but sadly through other high stakes that were at risk.
It also gave those controlling how the inheritances were to be split up almost 20 years grace to sort out the legalities, or any hiccups, before Rochelle turned 21.
Quite simply, with Rochelle dead there would have been a complete change in direction and apart from there being a huge inquiry plus a probate that could be held up for seven years until settled, Len would have been relentlessly grilled to answer a lot more awkward questions.
One has to think also about the implications of such an event, bearing in mind to do this, you need to view the problem through the eyes of a trustee or beneficiary.
My research along with logic here tells me that this child was deliberately kept alive. There is another possibility that has been suggested to me, and this is that she was not 'blood' anyway and that if push came to shove that could be proven. There are clues that this may be the case, but I didn't go down that track in my search for truth either. It's an uncomfortable possibility.
At the time Len (to the Police) was number one on the list as a suspect. Had Rochelle been killed I don't think Police would have hesitated in putting him behind bars, even if it meant fabricating evidence too.
Not being a professional lawyer my opinion on the subject is one that could be wrong. In all of what I've written I believe Rochelle was kept alive to play the part mentioned to distort the line of events where her grandmother's estate (her inheritance) was supposedly 'safe' in Len's care for her. It was a wild card for the public to play with thinking Rochelle would inherit her mother's estate.
THE COMPANIES
Lastly, a huge amount of my research time was spent analysing the various property transactions of the entities associated with the Chennell, Hodgson & Demler affairs prior to but also in the years following the Crewe murders.
If the question of where the money went is answered by my single chart (see page 66) pointing to Len Demler and his choice of daughter over Maisie's, then this is actually too simplistic. A large swathe of the Pukekawa environs was in the control of multiple entities, people, companies, Charitable Trusts and family trusts all bought and sold key plots of land–in particular from two years following the murders onwards. I suspect that those beachfront properties were 'paid' to professionals and insiders, hence the decades of silence!
The Phoenix Charitable Trust, Sterling Nominees Ltd, Honetana Farms Ltd, Day Dawn Farms Ltd and more all had their finger in the pie. In particular the role of Honetana Farms Ltd (the company that Lester Kershaw withdrew involvement with in disgust prior to the murders) drew a lot of my attention. There is no question in my mind that skulduggery surrounding Honetana Farms was central to the events that spawned the murders. The Police though seem to have no mention of this in either their initial enquiries nor any subsequent reports. This is a huge, glaring hole to my way of thinking.
Sections 67 & 68 (which are right next to where the bodies were found); Sections 190 & 191 the huge land areas adjacent to Section 3C4 (Rose Amy's land that had a perfect view of the Crewe farm) and of course the Crewe/Demler lands of Sections 7 (renamed 13 & 14), Section 2 (May and Len Demler's farm) and Section 4 (later owned by the Crewe girls) all featured prominently in the comings and goings of these intertwined moves.
Then there are the lands and interests in and around Te Kuiti, a neighbouring region to the south which Len Demler used extensively for farming purposes. This was so much the case that one person even called it "Demler country" when discussing the case!
There is so much more that I'd probably need another book to show how this all fitted in to aftermath of the murders."
In 2010 the Minister of Police initiated a Review into the Police Investigations into the Crewe murders. After digesting their 2014 Report I found myself agreeing with some of their conclusions but not all . . .
The 2014 Police report contains a wealth of detailed information but fails to prove a murder weapon; nor point even remotely in the direction of the killers; let alone gives justification for the millions of dollars spent on an investigation that remains unsolved. It makes basic errors of assumption and The Review itself contains 15 Chapters (328 A4 pages) plus 17 Appendices (excluding the Appendix 1, not released and unobtainable unless by way of an Official Information Act request) a grand total of 1467 pages.
And they said . . .
One wonders from this selection of quotes who was confused about where the truth lay . . .
Robert Adams-Smith (1979):
"That somebody did go back after the murders seems clear."
Keith Hunter (2012):
"Dogs don't go five days without food and act normally. Somebody fed them. Who?"
Owen Priest (1980):
Q. If these dogs had been left unattended for five days, would you have expected them to be sitting less quietly as they were on this occasion?
A. No they weren't quiet, they were quite normal as far as I was concerned.
Len Demler (1980):
Q. The dogs did they look as though they had been fed?
A. The dogs didn't look as though they were starved.
Barbara Willis (1970 Lower Court hearing):
"Before I gave her anything to eat she showed no signs of wanting anything to eat but she was pleased when she got it."
Dr Fox (1970):
"A child such as Rochelle, living under the same conditions outlined above might survive six days, but she would be seriously ill at the end of that time… Rochelle had been unattended for approximately forty eight hours with a maximum of seventy two hours prior to 1430 hours on Monday, 22nd June, 1970."
Bruce Hutton (1970):
"As far as I am concerned regarding the feeding of the baby, I accept Dr Fox's report."
Bruce Hutton (2001):
"I am convinced beyond any doubt in my mind that baby Rochelle was never fed and hence the mystery woman does not exist."
Professor Jenny (2014):
"[I am] certain that Rochelle had been provided with food and/or fluids following her parents' murder."
Crewe Homicide Review (2014):
"Of the medical professionals consulted, Professor Jenny is the most qualified to give an opinion . . . Whilst acknowledging the advice of Professor Jenny, when all aspects of the crime are considered in totality, the Review Team are not persuaded that Rochelle was tended to or provided with any sustenance following her parents' death until she was found on Monday 22 June 1970."
Leslee Sinton (nee Howard) (1976):
"I fed the baby!"