Most followers of the Crewe murders were only able to point the finger at 'whodunnit' from the information reported in the media or from the long-running court hearings but motives go further back than yesterday . . .
Almost everybody pointed their finger at Lenard William Demler as the villain but the lack of enough evidence to convict him, caused the Police to suddenly change direction and charge Arthur Allan Thomas for the double murders.
Unfortunately the Police did not put enough time into their investigative work sought to 'solve the crime' under political pressure, looked in all the wrong places and came up with the wrong answer, as history later showed.
The old story of never letting the facts spoil a good story didn't stop Arthur Thomas from being found guilty of the 1970 double murders then again in the 1973 retrial to suffer the same fate of life imprisonment.
It took a Muldoon initiated Royal Commission to rightly pardon Thomas for a conviction as a result of a faulty case. Thomas received a full pardon after serving nine years in prison plus $950,000 in compensation.
The total cost to the taxpayer may never be known but over the following four decades nobody has come any closer to naming who the killers were. Even Rochelle Crewe broke her silence in October 2010 to ask the Police to reopen the case supposedly with the hope of finding who had killed her mother and father.
Nearly four years were to pass before Detective Superintendent Andy Lovelock produced his findings and while he found serious deficiencies in how the case was handled, he was not able to name the people responsible for pulling the trigger either.
FACTS NOT EASY TO FIND
I do sympathise and I do understand why the Police have not had a result. It has taken me over 40 years of frustrating but patient research to find the facts outlined in this book. That's not taking into account all the speculation and jumping to conclusions that came with it. The work is still ongoing but I have certainly delved deep and been down too many blind alleys to give up now [Ed: 2016).
According to Andy Lovelock a number of "missed investigative opportunities" have now been officially catalogued including recognition that insufficient priority was given to a previous burglary and fires on the Crewe farm.
I believe, if these leads had been followed up, the front line killers would have been identified. Maisie Demler knew who they were but wanted to hush up the crimes by asking the local newspaper not to report them.
Maisie was quoted as saying, "What are they going to do next?" She did not mention who "they" were but "they" means more than one person which confirms my belief that there was never a single person involved.
I strongly suspect who "they" were but I'm not prepared to release names just yet [Ed: John's sentiments changed after writing this] because those who had issues with the trustees of the Chennells Estate had already made their feelings known and had started their aggravation as early as 1961 soon after the death of special trustee, Alf Hodgson.
CHAIN REACTION AFTER DEATH OF ALF
I mentioned in an earlier chapter that Alf's passing was to cause a chain reaction of bitterness, distrust and vengeance within family circles. This needs further explanation as I believe Alf's death was the turning point.
First, Alf was as straight as a gun barrel and when alive was a key player as a trustee. but his health and also that of his wife, Rose Amy, may have led Sturrock, fellow trustee and solicitor, six months later, to appoint Len Demler as replacement trustee.
Colin Sturrock realised Rose Amy could cause future problems as according to the interpretation of Clause 6g of Alf's will "notwithstanding the trust for sale hereinbefore contained" meant Rose Amy had probably inherited some responsibility of not only dealings regarding Alf's own estate but her knowledge of the affairs and investments of the Chennells and Demler families would have caused her name to appear on land transactions in 1971.
Sturrock was not taking any risks. I don't think he trusted her, so he appointed Len Demler as replacement trustee, which was later to backfire on Sturrock as Len ended up with more power to juggle events and to make sure the assets were protected.
BACK TO ALF HODGSON
Alf was also a "dabbler" and took part in many activities from local body politics to real estate and farming.
As the right hand man of Newman Chennells he was fully aware of all dealings from 1936 and as a consequence, played a major role in the running of the Chennells family estates for decades.
It is worth repeating again that Alf held a trusted position and had access to all accounts, investments, shares and particularly knowledge of a certain Deed of Family Arrangement and Mortgage to Howard from his mother Nellie (as I said, I believe there were others in addition to this one). Add to that returns from all investments, English income, including compound interest or residue plus other perks gained from the sale of Section 4 in 1944, the proceeds which amounted to £5,600 at that time.
Remember, this was the section originally purchased by Newman Chennells in 1924 and on his death, apart from a few procedural hiccups, any revenue was to go to his daughter Maisie under the governorship of trustees, Howard Chennells and Alf Hodgson. It became commonly known as the Chennells Family Trust.
This money was soon invested, compound interest loans were made to family members, agreements were made for repayment (some ended up on the never-never) but it all boiled down to the dangers of wheeling and dealing with land, fast growing assets then ultimately greed.
TIME WAS RUNNING OUT
While Alf Hodgson and Colin Sturrock were at the forefront throughout, others were lurking around the fringes but it was not until Alf died in 1961 that the realisation that time was running out became obvious. There was only another four years to run before Jeannette Demler reached the age of 25 and could claim her inheritance (in 1965). Legally her sister Heather had to wait another two years.
A very strange comment was made by Len Demler relating to the inheritance details that proved he didn't always tell the truth.
In taking the stand during the first trial in 1971, Paul Temm QC asked Len who was the trustee for his daughters in the Chennells estate? The transcription published in David Yallop's 1971 book quotes Len on page 127 with his response: "Alf Hudson and myself. He is dead now." (Readers will notice the incorrect spelling of Alf's surname which should have been Hodgson and I add that this is the only time Alf's name appears in court evidence).
Temm goes on to ask, "Did he die before or after your daughters came into their inheritance?" Len's answer: "He was still alive at the time." Len knew Alf had died in October 1961 and Jeannette was not due for her inheritance until 1965 so why did he have to bend the truth? He should have said he had replaced Alf and his fellow trustee was actually Colin Sturrock and that he was now sole trustee but he didn't.
LEN'S ANSWERS QUITE EVASIVE
Len Demler was also quite evasive with other answers in the same cross-examination by Temm. For example, he was less than forthcoming with answers relating to the family finances at the time of the murders. In fact, Temm really struggled, even with prompting, to get enough useful information.
Temm didn't realise at the time that he had reached the back door of true motive but didn't ask enough of the right questions to open it. Temm was so close to cracking the case wide open.
Meanwhile, the rules of land ownership were about to change again when the inheritance of Jeannette and Heather came into force, respectively in 1965 and 1967 then big time five years later on the death of Maisie Demler.
KNEW WHAT MONEY WAS AVAILABLE
Meanwhile, the 'three wise monkeys' now numbered two but the person keeping a close eye on their activities was Maisie. She knew about their gripes and in fact, as the keeper of the books, knew down to the last penny what "they" owed and what money could be available should Jeannette and Harvey go ahead with their future plans for much needed development.
In the meantime, my ever so valuable timeline reminds me of other events happening in 1965 particularly after Jeannette reached the age of eligibility. Not only did she collect her half share inheritance of Sections 13 & 14 but also on the same day, a half share of Sections 67 & 68 that had been purchased by the Chennells Trust as an investment in 1963.
Another transfer to keep in the back of your minds occurred in November 1965 with the transfer of Block XIV Sections 6 & 7 (and other small parcels) to Honetana Farms Ltd.
OTHER IMPORTANT MILESTONES
The remaining years of the 1960s also carry important milestones. June 1966 saw the marriage of Jeannette and Harvey then two months later Harvey's name appears on the Certificate of Title for Sections 13 & 14 (former Sec 7) on evidence of his marriage.
Also recorded on the same day is the residue of mortgage to State Advances. This transaction means that Harvey had purchased Heather's share of Sections 13 & 14 but readers will remember that Harvey did not purchase directly from Heather but from the Chennells Estate trustees, Colin Sturrock and Len Demler on 28 August 1966, the year before Heather was legally eligible.
From this point the farm became known as the Crewe Farm and somewhere within this period of tidying up Heather's inheritance issues, the battle lines between mother and daughter had been drawn.
HEATHER'S SHARE IN OTHER LAND
The next significant land transfer on my timeline occurred in February 1967 when the remaining half share of the joint interest of Colin Sturrock and Len Demler of Allotments 67 & 68 (80 acres) in the Parish of Onewhero went to Dianne Heather Demler of which Jeannette still held the mortgage. (Note: Heather is probably yet to be married to Souter as she is still signing legal documents with her maiden name).
Remember, in the month following the Crewe's first wedding anniversary, their house was burgled with the only valuables being taken belonging to Jeannette suggesting a woman was involved. The implication also being that it was not a genuine robbery. It seems Maisie didn't really want this crime (and those following) solved as she knew (or at least suspected) who "they" were. Again, it is important to note that one of the items of value not stolen was Harvey's gun, again of no interest to a woman.
By the end of August 1967, the Crewes had made out their separate Last Will and Testaments. Basically their estates would go to each other or in trust to any children on attaining the age of 25 (Rochelle would not be born until the end of the following year).
PORT WAIKATO BEACH SECTIONS
Sliding in almost unnoticed in November were the Port Waikato leases (a large block of beach sections under the name of Colebaker) due to be renewed after 21 years.
These leases came from probably the early investments made on Maisie's behalf by trustees Alf Hodgson and Howard Chennells who had received the £5,600 from the sale of Section 4 in 1944.
The original purchasers in 1946 included Alf Hodgson (he and his wife, Rose Amy, lived there for over 10 years), Clayton (Sturrock's legal clerk), Maisie Demler, Eileen Woods (a friend of Maisie's from Swanson), Walters (who farmed opposite Demler), Dauberry (a land agent turned farmer) and Tetzlaff (unknown).
RELATED EVENTS OF 1968
The year 1968 started off being reasonably quiet, until 5 June just 13 days before their second wedding anniversary. Then came the change of the mortgage for Sections 67 & 68 into the joint names of Jeannette and Harvey Crewe.
On Sunday 1 December Rochelle had been born and on the following Saturday while Harvey was visiting Jeannette in hospital, a fire was started in Rochelle's bedroom using new baby clothes as a starter.
I suggest again that the intruder was a woman, someone who was very familiar with the interior of the house. I feel the lighting of the fire was carried out on the spur of the moment probably as an action of spite or simply as another deliberate warning. Much later the Police were not able to find any evidence that linked these events with the murders of the Crewes but that doesn't mean they weren't.
ANOTHER FIRE BUT THERE'S MORE
The third and final warning came on the eve of their third wedding anniversary when their haybarn went up in flames. It was a Tuesday evening and the attack was planned but the arsonist (who had to be familiar with the farm layout and also knew the movements of the Crewes) did not want to be seen near the house.
The reasons for this fire and who possibly did it was covered in depth in Ian Wishart's 2010 book The Inside Story and also David Yallop's 1978 Beyond Reasonable Doubt where Yallop mainly covers Maisie's "What are they going to do next?" comment plus how frightened and nervous Jeannette was to be alone in the house.
To my mind there was another crucial and extremely important 1969 event that overshadowed the previous 'warnings' and one that was to have far-reaching consequences within the next 12 months.
MAISIE CHANGES HER WILL
On 18 July 1968, just under a year before the double murders, Maisie changed her will and completely cut her daughter Heather from an inheritance that she was, in the normal course of events, quite entitled to receive as instructed in her Uncle Howard's will.
Maisie's publicly stated reason for this brutal action was Heather's involvement with a divorced, bankrupt American (and father of three) who may or may not have had dollar signs in his eyes. Just because that was the main reason given for her punishment doesn't mean to say there wasn't more behind her actions.
My assumption is that Robert Souter, by his past attitude or body language, had other traits that Maisie immediately saw through, which meant, in her mind, he was not of an acceptable social standing or character to qualify for her daughter's hand.
She didn't have any problem with Harvey being involved with Jeannette and I believe it was because of Harvey's family background. His great grandfather, David Crewe, was a highly respected businessman of Pahiatua and served nine years as Mayor, frequently being returned unopposed. He was connected with many institutions and local bodies, even putting himself forward in three general elections for the Pahiatua seat in 1899, 1904 and 1908 but failed to get elected.
The senior Crewe arrived in New Zealand from Worcestershire in 1877 to settle in Masterton where he was involved with dairy farming for around seven years before moving to Pahiatua.
He lived in The Grange, an elegant residence that was the meeting place of the elite of Pahiatua's society. David was a popular man and was responsible for building three of the local hotels, a boarding house and other buildings in the town.
He subsequently went into the auctioneering and land agency business and was eminently successful in all his dealings.
David Crewe passed away on 10 November 1913 and his son Jonas, by now a councillor, was voted in unopposed three days later as Pahiatua's interim Mayor then at the next election was voted in again by the people and went on to win every election that he stood for after that.
Harvey's grandparents, Jonas David Candy Crewe and his wife, Lucy Elizabeth (nee Wakeman), had two children, Mary who was born in 1903 and William in 1912. William David Candy Crewe was the father of Harvey and Beverley.
Four generations of the Crewe family are buried at Pahiatua's Mangatainoka Cemetery along with a double grave of Harvey Crewe's mother, Marie Lal Crewe (nee Harvey) and Harvey's sister Beverley Turner.
MAKING THE GRADE
There was no question in Maisie's mind that Harvey's family had status both socially and professionally in the business world so there was no reason not to welcome him as a son-in-law.
While both men could be accused of marrying for money, obviously Maisie's hostility for Souter went deeper with my impression being that Maisie was not going to tell the world what she really felt in case it damaged her good family name.
In saying that, I can't imagine why Maisie would treat her daughter so harshly without having more reasons than to "do as I say or else I'll cut off your heritage" attitude, unless . . . there was something else! If she was using this threat as a means of making her toe the line romantically or to meet some other unrelated demand, then it bit her in the bum and backfired.
Predictably Heather wasn't going to be told who she could sleep with and angrily reacted, in essence, "Up yours Mum! I'm old enough to make my own decisions."
LEN ALSO IN FIRING LINE
Don't forget Maisie was also teaching her husband Len a lesson or two as well with her strict instructions of what he could receive from her will.
In a nutshell Maisie was allowing her husband the use, occupation of, and income from her share of his farm. Then to dig the knife in a bit deeper, she was leaving her half interest in the farm (that she took from Len as a result of his tax problem) to her daughter Jeannette.
Len, on the other hand, counter-attacked by changing his will as well. He cut Jeannette completely off by leaving his half share of the farm to his youngest daughter, Heather.
The last laugh eventually went to Len as Maisie was not to know that Jeannette would soon lose her life and would not collect her mother's inheritance. Heather could have contested mother's will under the Family Protection Act but this was not to be.
This left Len as the sole survivor after Jeannette's sad demise but how Len managed to play the last trump card showed his talent in outsmarting the system.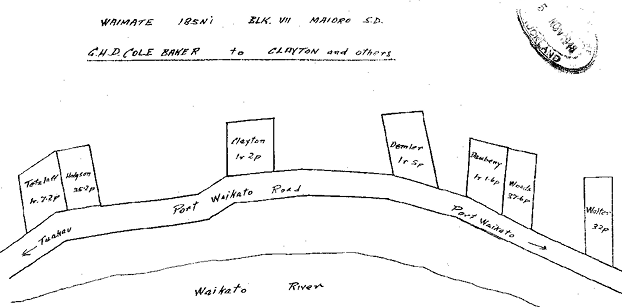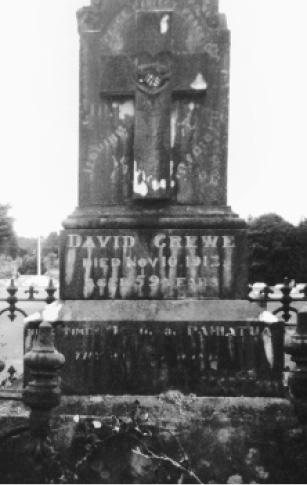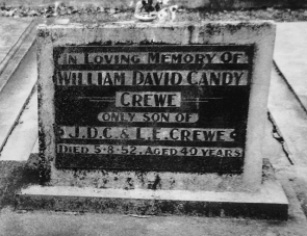 Both are buried at Mangatainoka cemetery Pahiatua along with other members of the Crewe family.