Life was settling down for Len but it was to be the calm before the storm. The years 1961 and 1962 were full of upheavals . . .
First Len's daughter Jeannette left on her big OE and then roughly six months later in October 1961, his friend and family trustee, Alf Hodgson passed away along with the possible implication that there were family connections that could upset the apple cart as far as Len was concerned.
According to his will, Alf left his estate (upon trust) to his wife Rose Amy Hodgson along with his motorcar and personal effects. His stepsons, Geoffrey and Donald Gurney, were to benefit after the death of their mother.
The biggest shock for Len at this time was his run-in with Inland Revenue for tax evasion. It was a highly publicised case where Len was fined £9,540 relating to unpaid tax for the years 1950 to 1957 but apparently he got away with it until 1961.
It must be remembered that in November 1955 Len had just purchased 27 acres (Lot 1) and in the following year, on 26 August, Len had just paid the price to gain the title to his farm (Section 2) from Charles Wheeler. Squeezed between all this was an overseas trip with Maisie to England.
One could easily speculate that Len was under severe pressure and to top it all off, fellow trustee Alf Hodgson passed away in October 1961 barely four months after IRD had imposed their fine.
Without knowing further detail about his 'crime' with IRD, statistics can give an idea of the severity of his fine.
The first Golden Kiwi lottery being drawn in December 1961 had a first prize of £12,000, theoretically being able to purchase "a three bedroom house in middle class Wellington suburb, a new six-cylinder car, and some spending money to boot".


The end of capital punishment also occurred in 1961 when the National Goverment had a free vote to abolish the death penalty (not that Len's crime warranted being strung up). Author Chris Birt put it in a nutshell: "The public humiliation and financial hardship must have been a devastating blow for someone who had worked so hard for what he had." It must have had the same effect on Len's wife.
Birt continues: "With no financial resources to fall back on, Demler reluctantly and, it is said, "begrudgingly" sold half his farm to his wealthy wife, Maisie. He accepted £9540 from her, and as the certificate of title shows, transferred that portion of his estate to his wife."
David Yallop writes on page 26 of his book Beyond Reasonable Doubt that Maisie Demler had paid her husband £9,540 in August 1962 and signed a Memorandum of Transfer acknowledging the deal (a copy of which was reproduced in his book as Appendix 1 and shown opposite).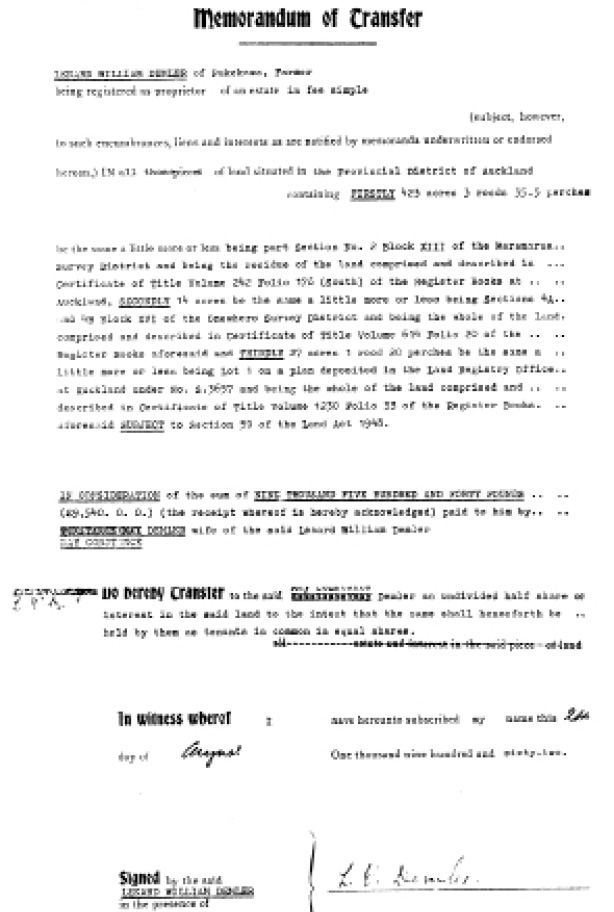 The interesting aspect of a tenancy-in-common agreement is that the share in the title can be passed to a beneficiary of the owner's choosing. Fate played a hand as the 1969 will of Maisie does state that her share would go to her daughter Jeannette and not her husband Len. History will show that Len eventually did get his land back after the death of Jeannette as the Memorandum of Transfer, dated 6 August 1971 (reproduced above), clearly shows.
Further proof is provided on the Certificate of Title. The transfer of "an undivided one half share" in his farm was not finalised until two months later, on 11 October 1962. It not only included Len's
Section 2 but also half of Lot 1 that he had acquired from the Chennells Estate (originally Section 7 later to become Section 13).
LEN SWORE ON OATH
Len swore on oath during the second trial of Arthur Thomas that he did not receive this money from his wife.
A transcript of what Len Demler said during cross-examination in Trial 2 appears in Keith Hunter's 2012 book The Case of the Missing Bloodstain (page 60) where authorities tried to get some honest answers from Len while his hand was on the bible.
When he was asked where he got the money from to pay IRD, his reply was simple, "I had it in the bank." He was then asked if his wife Maisie had paid any of it and he said "No".
The cross-examiner took a different line in trying to find why Len had transferred an undivided half share of his farm to Maisie.
He asked if he was "regularising" his own affairs to which Len relied, "Yes, It was to save paying so much tax, that's all, to make it half shares."
The next question confirmed that Len had, in fact, given a free gift of half his farm to Maisie. His typical replies were his trademark: "Yes, that's right" with another reply to a similar question being, "You could say it that way."
Most followers of this case would come to the conclusion that he was obfuscating or worse!
QUESTIONING THE SO-CALLED FACTS
In a sense, Len's answers were probably true in his mind. If the money had been paid into his bank account by someone else such as a family trust then he was technically telling the truth.
Around six months prior, having acquired control of the original Chennells trust investments, Len was in a position to use trust funds to pay IRD which meant he retained control of his farm.
However, Maisie was well aware of his past land dealings with the late Alf Hodgson and had no hesitation in saying a firm "No!" to Len's request for the money. She immediately drew up a land transfer agreement to which Len had no option but to sign. Once Len's signature was on paper she gave him the money to pay the IRD the amount that Len owed.
Maisie wasn't a fool and to have added advantage she included the 'tenants in common' clause to give herself the final say in the property she would personally own as 'undivided half share'.
The definition of 'tenancy in common' is that two or more people to have equal ownership interests in a property. Each owner then has the right to leave his or her share to any beneficiary upon their death.
Maisie must have had a premonition, as future rifts in the family would show justice being done when she updated her will in 1969.
DOCUMENT IS QUITE CLEAR
In confirming the true legalities, the Memorandum of Transfer document is quite clear with these words:
IN CONSIDERATION of the sum of NINE THOUSAND FIVE HUNDRED AND FORTY POUNDS (£9,540.0.0) (the receipt whereof is hereby acknowledged) paid to him by MAY CONSTANCE DEMLER wife of the said Lenard William Demler.
As he stated in court he could have easily given a "free gift" to his wife Maisie for tax purposes even regardless of his present tax difficulties but we will learn later on, that he did expect his land back after the death of his wife.
Was Len smarter than he looked or was he being outsmarted?
There are several more twists, yet to be explained, to the changing ownership of Section 13 after the deaths of the Crewes.
Additionally, in the lead up to the final sign off of Len's own property (Section 2) another quirk of fate occurred that possibly played right into Len's hands when he ended up as a sole trustee to Maisie's estate effectively giving him the upper hand.
The death of Alf Hodgson, on 6 October 1961, may have removed one of the three wise monkeys (Hodgson, Sturrock & Demler) from the ring of deceit, but his passing was to cause a chain reaction of bitterness, distrust and vengeance within family circles.
These may be strong words and while their significance will become clear as the story progresses, there are a lot of dealings that have not been easy to untangle.
Hodgson's name has been mentioned on previous pages and mentioning his death seems a good time to enlarge further on his involvement.
He was a key player as a trustee and was fully aware of all trust dealings from the very start. It will be remembered that Alf was appointed a special trustee from the 1936 will of Newman Chennells and as a consequence, played a major role in the running of the Chennells family estates for decades.
Special trustees are sometimes used as trustees for a particular asset that will not be passed on to a beneficiary for a considerable time.
In a nutshell, Alf held a trusted position and would most probably have had access to all accounts, investments, shares and knowledge of a certain Deed of Family Arrangement and Mortgage plus returns from all ventures including compound interest plus other possible perks gained from the sale of Section 4 in 1944.
This was the section originally purchased by Newman Chennells in 1924 and on his death was left to his son Howard and daughter
Events were coming to a head between Chennells Estate trustees during the early 1960s with the risk of shady deals being exposed by others involved . . .