In a previous post I mentioned that understanding money was the second most important question in life. This post discusses the big one – Jesus. To be a little more precise, how to answer His question of Simon Peter, "Who do you say that I am?" Read on, I dare you!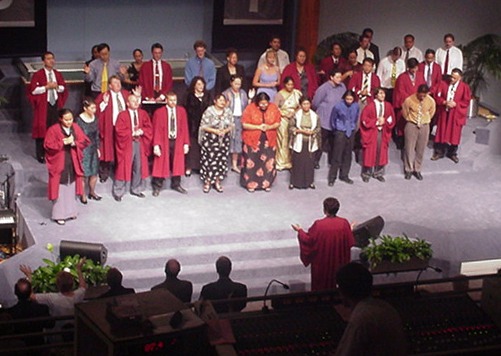 If there's one thing that R-E-A-L-L-Y pisses me off, and probably most people with half a brain also, it is religion. Ohhhhh, I could go on and on about this blot on humankind without limit. Not only that, the bl**dy thing evolves every second minute into another ugly shape that needs whacking about the ears like the Triffids of John Wyndham's horror story.
Thank God though that I'm in good company with this pathological hatred of evil religion, for Jesus too came to sort it all out, and boy did He do just that! According to my bible he took on the religious leaders of the day with a passion and then left them powerless when some 2,000 years ago He just walked out of that grave quite untouched thank you very much!
It makes me laugh out loud to think of their consternation at realising that they had been outsmarted, out classed and exposed as the crooks they were.
So the question that haunts mankind is really quite simple, and Christ asked it of his followers way back when, but it rings the same today for us as it did then, "Who is this dude?"
It has been said that He was either speaking the truth (and He is the Son of God) or he was a nutter . . . a fruitloop! [The differing tense and capitalisation intentional] The interesting thing about His claims are that they are exclusive; binary; an all or nothing situation. As a black and white kinda guy, I like that. Absolutes. Truth.
Jesus claimed some things that make your hair stand on end, your ticker to get going and your palms to sweat (unless you're on the whacky backy). Like that He and the Creator were one. If you'd seen Him then you'd seen the Father. And that no one could come to the Father except by Him. And that He didn't just know the Truth but that He WAS the Truth! And that He was there before the beginning of time. Then that He would conquer death and send the Holy Spirit and so on!
Whew! What a collection!
But He seemed to understand things and to know things that those around Him didn't. He seemed to have wisdom beyond the norm; and to be able to control nature and to move in and out of compliance with the physical world more than we can. And lastly, bringing it into the current dispensation when we circle a room it is the God botherers that we bypass, not the ones with red dots, Birkahs or rags on their head. When we hit our finger with a hammer, or we want to get 'down and dirty' with anger, we don't swear saying, "Buddha!" or "Ommm" or "Mohammed". Nah – we use the Master's name – for a reason.
Hmmm, makes you think doesn't it?
So let's dive into what I call the Christian worldview – it's the paradigm, it's the angle or the perspective that I come from in my teaching and preaching.
If there was a Creator and if He created time then we are in the middle of this continuum called life. We would then be born and then die, but logically something would exist outside of this created thing called time. For the moment we'll call this entity God (in a Christian context we call Him "the Lord"). If His nature was good (it is) then logically He would have created good (He did), and if He set the parameters for life in godly living also good (again, He did) and if mankind broke those rules (tell me about it!) then He would (if He was good) invoke the penalties that He set. And . . . He did!
If . . . the above is true then Christ's claim to bridge the gap between man and God that entered into life at the Fall makes perfect sense. It would explain everything that challenges mankind – everything.
Now, religion on the other hand (defined as a set of rules; a set of [often] blind beliefs), ensnares, controls and gives power to other men. It closes an adherent down and empowers others. Christianity (defined as following Christ, aka establishing a relationship) motivates, teaches and empowers us.
Now this doesn't mean that I personally know it all – at any one given moment – but it does give me a huge sense of security to place it all before Him, trusting that He's got it covered.
The Jesus that I know, love and serve isn't into things by halves. He is who He said He was [past tense] and is who He says that he is [present tense]. In my book and after having spent more than 50 years as an active truth seeker, Christianity (as detailed by what I call the Christian worldview) has legs. Religion doesn't.
I'll share my specific experiences that led me to this conclusion in a future post but in case you haven't noted from the 1.8 million words I've blogged thus far, I'm 'in', boots and all. Just leave off the religion thing for me please, at least for the moment!
In the next post I share how the Holy Spirit gives us the power to change the world [hopefully for the better]. Acknowledging Christ's redeeming work without utilising the power offered to us in the work of the Holy Spirit is as pointless as a fish swimming past a drowning man, telling him that he's over his depth, out of his natural environment and should go upwards to get out of the water.
A man going down doesn't need advice . . . he needs a rocket up his ar** someone to reach down and hoist him up out of the water. In a Christian context, that's the Holy Spirit who does exactly that.